Mammoth Energy Services: An Overview
Mammoth Energy Services (TUSK) provides equipment & services to the North American onshore energy producers. It also serves the utility companies through its energy infrastructure business. TUSK has grown significantly in the past couple of quarters after it diversified into the power infrastructure business. However, unless TUSK can add to its customer base, it will not be able to maintain the robust growth seen in recent times. In 2018 so far, Mammoth Energy Services' stock price has gone up by 50% and outperformed the VanEck Vectors Oil Services ETF (OIH), which declined by 2% during this period. OIH represents the oilfield equipment & services (or OFS) industry. Before we find out what's moved TUSK and whether it has the potential to rise even further, let us understand the business first.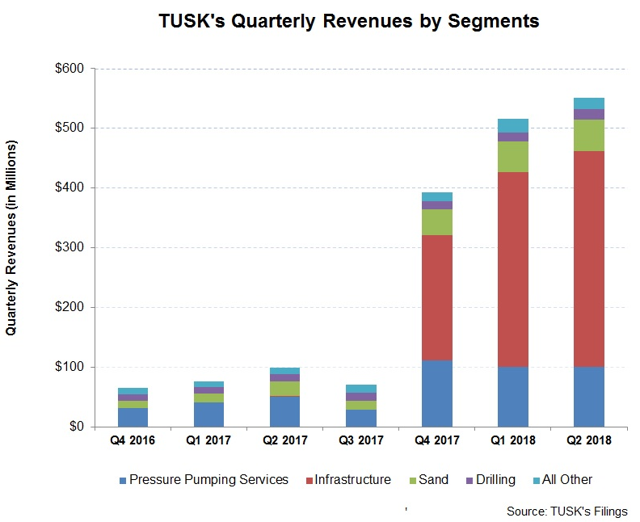 TUSK's Pressure Pumping Services segment owns and operates hydraulic fracturing units to perform fracturing services as well as offers contract drilling services. The company's Infrastructure Services segment provides restoration, repair, transmission and distribution (or T&D), and commercial services. TUSK also offers natural sand proppant services which sell frac sands to the energy producers operating in the unconventional shales. The Infrastructure segment accounted for 65% of TUSK's Q2 2018 revenues, followed by Pressure Pumping (18%), frac sand (10%), Drilling (3%), and others (4%).
Infrastructure segment's spectacular rise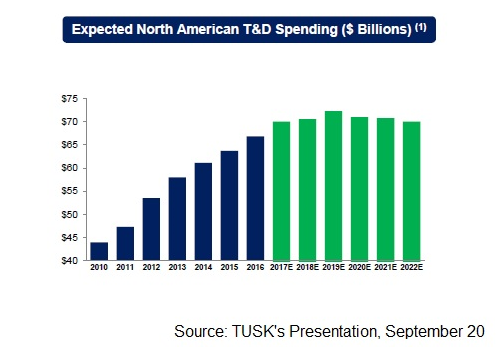 TUSK's stock price run-up in 2018 has been a direct function of the infrastructure business's inclusion in the company's portfolio and its growth. From being absent four quarters back, the infrastructure business has become the dominant revenue earners in Q2 2018 (65% of Q2 revenues). According to TUSK's FY2017 10-K, spending in the T&D industry will exceed $60 billion each year through 2022.
The story began when TUSK added the infrastructure segment following the agreement with the Puerto Rico Electric Power Authority (or PREPA) in October 2017. The initial PREPA contract had a one-year term for up to $200.0 million of services. Following successful implementation, PREPA, in January 2018, increased the total contract amount by an additional $245.4 million up to a total of $445.4 million. On February 27, 2018, Cobra and PREPA again amended the PREPA contract to further increase the contract amount by $500.0 million up to a total of $945.4 million. On May 26, 2018, TUSK and PREPA entered into a new master services agreement to complete the restoration of the electrical transmission and distribution system components damaged by Hurricane Maria. The New PREPA Contract, which has a one-year term ending May 25, 2019, will not exceed $900 million. TUSK generated $347 million, or 96% of total infrastructure services revenue, from the restoration contract with PREPA in Q2.
TUSK's infrastructure business is not limited to providing electricity and transmission business in Puerto Rico alone. Mammoth Energy's infrastructure teams are looking at multiple utility business opportunities across the northeastern, mid-western and south-western portions of the United States. On top of that, TUSK has now integrated cementing and acidizing offerings following its acquisition of RTS Energy Services in Q2. Such diversified infrastructure services will improve TUSK's revenue and earnings base, going forward.
Risk factors: PREPA is now TUSK's largest customer, accounting for nearly 62% of its Q2 revenues. Gulfport was TUSK's largest customer for FY2017, accounting for 30% of its annual revenues. If a significant customer decided not to continue to use TUSK's services, the financial condition could be negatively affected by a significant amount. If PREPA contracts are not periodically renewed, TUSK's revenue may decline significantly. Also, PREPA is facing bankruptcy proceedings in the U.S. District Court for the District of Puerto Rico. In an adverse outcome of the matter, TUSK's revenues can be significantly hampered.
The Permian opportunity: To augment the infrastructure side of its business, TUSK is also investing in various acquisitions. In May, it acquired WTL Oil LLC which provides service offerings into the crude oil hauling business. TUSK is smartly looking to tap the Permian takeaway capacity constraint issue as an opportunity to cash in on. The takeaway capacity bottleneck in the Permian has led to reduced local crude oil pricing as compared to WTI and Brent-linked benchmarks. According to BP Capital Fund Advisors, by the end of 2018, Permian production could exceed available pipeline space by 300,000 to 400,000 bpd. By late 2019, the gap could reach 750,000 bpd. The fallout of the capacity constraint is higher prices crude oil transportation, or a production shift from Permian, or both.
The integration of crude transportation into other logistics offerings allows TUSK to be a comprehensive transportation company. As of December 31, 2017, the company owned 42 trucks to move rigs and four cranes to assist in moving rigs in the Permian Basin. Since entering into the Texas market, TUSK has doubled the fleet and anticipates further expansion through 2018-end. TUSK being an Oklahoma-centric company now sees demand for making the longer hauls from Owen Lake, which is just outside the Permian to Gardendale, which is southwest of San Antonio.
Ramp-up in frac sand: Natural sand proppant, also known as frac sand, is the most widely used type of proppant. It enjoys broad applicability in unconventional oil and natural gas wells because of its cost advantage relative to other proppants. TUSK has three frac sand facilities located in Wisconsin supplying Northern White silica sand. As of December 30, 2017, its frac sand facilities consisted of three dry plants with a total capacity of 6.6 million tons of sand per year and two wet plants.
Now, as a result of strong demand coming out of the tight-oil production growth from the unconventional resource shales, TUSK has recently completed the Taylor facility capacity enhancement to 1.75 million tons per annum from 1.5 million tons of wet frac sand per year. The company is also on its way to upgrade the dry plant at Piranha to 1.9 million tons per year by Q3 2018. According to TUSK's management, approximately half of its processing capacity is expected to be consumed by customers utilizing its pressure pumping services. Plus, TUSK has another 1.3 million tons under long-term take-or-pay contracts at an average sales price of $43 per ton across multiple grades. So, TUSK has managed to leverage its existing customer base with relatively low marketing costs.
However, during Q2, constraints in the rail system adversely impacted frac sand deliveries from the Taylor sand facility. As a result, TUSK estimated that its Taylor-facility production was 23% lower than anticipated.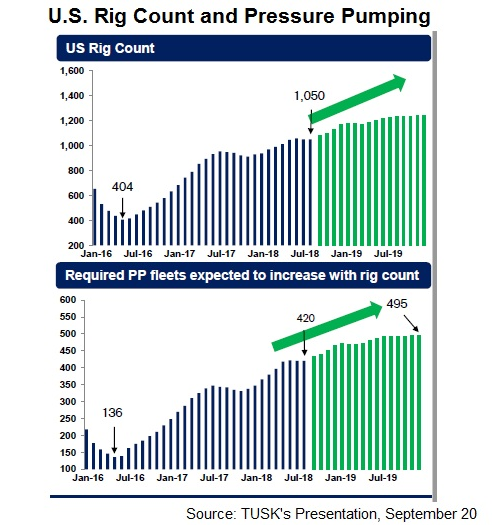 Pressure pumping contract extension: As of December 31, 2017, TUSK owned 12 land drilling rigs, ranging from 800 to 1,500 horsepower. Eight of these rigs are designed for drilling horizontal and directional wells. Investors may note that the U.S. rig count increased by 12% in the past year until October 5, primarily as a result of energy companies increasing onshore horizontal drilling. TUSK serves mostly energy operators in the Utica Shale in Ohio, the SCOOP/STACK in Oklahoma, and the Permian Basin in West Texas. In July 2018, TUSK and Gulfport Energy Corporation extended the term of their existing pressure pumping contract by additional 39 months beyond the original termination date. The deal will now expire on December 31, 2021.
Some concerns over frac: TUSK's pressure pumping revenues in Q2 2018 were significantly higher than its Q2 2017 revenues. The start-up of TUSK's additional pressure pumping fleets in the SCOOP/STACK and Permian Basin in the past year primarily drove the growth. However, on a sequential basis, TUSK's revenue growth has been muted in the past three quarters until Q2. This is also because the number of active rigs fell to four in Q2.
What are the industry drivers?
In recent times, the higher intensity completions wells have required the higher horsepower pressure pumping fleets. According to an estimate disclosed in TUSK's September presentation, the U.S. rig count may touch 1,238 by 2019-end, or 18% higher compared to the current rig count. This is expected to drive pressure pumping requirement to 21-22 million Hhp up from the existing working capacity of ~19 million Hhp.
New dividend declaration
As TUSK moves to a more stable revenue base which is less cyclical, its management became more confident of its earnings capacity and balance sheet strength. So, TUSK's board initiated a quarterly dividend of $0.125 in July, which will be paid starting in mid-August. Regarding this, TUSK's CEO commented,
Mammoth's strong financial results and favorable outlook support an increased level of growth capex as well as some balanced return of capital to our stockholders.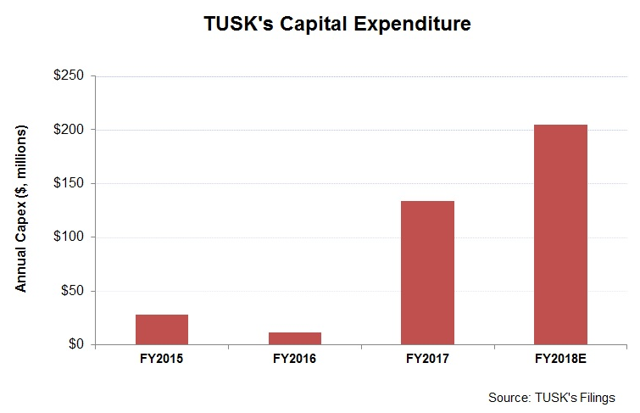 Capex growth
In FY2018, TUSK expects to spend $205 million in capex. This would be a 53% rise over the FY2017 capex. TUSK plans to invest in electrical infrastructure, logistics, rentals and areas of the industrial sector in 2018.
In FY2017, Mammoth Energy spent $133 million in capex, which was a significant jump compared to $11.7 million in capex expenditure a year ago. A majority of TUSK's FY2017 capex budget was related to the purchase of three new fleets following an increase in customer demand for TUSK's pressure pumping services. The rest of the annual capex was spent on truck and equipment purchases for the infrastructure segment and the natural sand proppant services segment.
Zero debt and strong cash flow position
TUSK's has no long-term debt. Its net debt was negative as of June 30 as a result of cash & cash equivalents balance. TUSK's cash balance was $10.7 million as of June 30. Being a debt-free company is an attractive feature. When energy price nose-dives, the company's earnings dip, and servicing of debt becomes difficult. TUSK is better equipped to survive a downturn compared to many of its OFS industry peers.
TUSK's aggregate cash flow from operations was $260 million in the past four quarters until Q2. At this run rate, TS is likely to fund its 2018 capital expenditure program and dividend from internal cash generation. However, if revenue falls, cash flow can also decline, which can make funding capex difficult from internal cash generation.
TUSK has substantial related-party transactions
As of June 30, 2018, approximately 22% of TUSK's share ownership lied with Gulfport, while Wexford owned 49.7% of TUSK's shares. Revenues from transactions with Gulfport amounted to 9.4% of TUSK's Q2 2018 revenues. Wexford provides certain administrative and analytical services to TUSK.
What does TUSK's relative valuation say?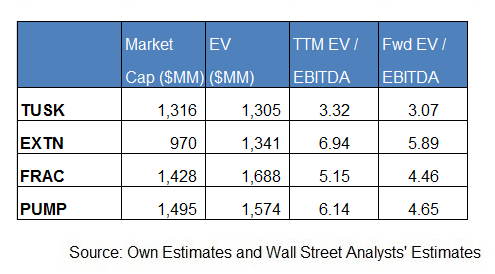 Mammoth Energy is currently trading at an EV-to-adjusted EBITDA multiple of 3.3x. Based on EBITDA estimates in the next four quarters, TUSK's forward EV/EBITDA multiple is 3.1x. This is significantly lower than its EV/EBITDA multiple of 16.4x from FY2016 to FY2017.
TUSK's forward EV-to-EBITDA multiple contraction versus its adjusted trailing twelve months EV/EBITDA is less steep than the industry peers' average multiple compression, as noted in the table above. This is because I expect TUSK's EBITDA to improve less sharply compared to the rise in the peers' average in the next four quarters. This would typically reflect in a lower current EV/EBITDA multiple compared to the peers' average. TUSK's TTM EV/EBITDA multiple is lower than its peers' (EXTN, FRAC, and PUMP) average of 6.1x. In this analysis, I have used sell-side analysts' estimates provided by Thomson Reuters.
What's the take on TUSK?
The shift in Mammoth Energy's strategy through its foray into the infrastructure services business in the past three quarters has paid a rich dividend. More particularly, the electricity transmission & distribution contracts it received from the Puerto Rican authority following the weather-related disruption have boosted revenues and earnings. However, there is no guarantee that TUSK will be able to renew similar contracts. So, it's a majority share of its revenue-visibility stretches only through a limited period. TUSK is also trying to make a foothold into the integrated cementing and acidizing offerings. However, TUSK's legacy businesses of pressure pumping and drilling have found it difficult to maintain growth in the recent quarters. What also increase its risk factors are ownership concentration and related party transactions.
On the other hand, TUSK has no debt and its cash flow position has been strong. Its relative valuation multiples are not expensive compared to the past average. I think TUSK has stock price appreciation potential based on relative valuation, but its risks are also on the higher side. Investors should wait for more stable infrastructure revenue base before considering TUSK for long-term potential.
Disclosure: I/we have no positions in any stocks mentioned, and no plans to initiate any positions within the next 72 hours.
I wrote this article myself, and it expresses my own opinions. I am not receiving compensation for it (other than from Seeking Alpha). I have no business relationship with any company whose stock is mentioned in this article.