Andritz AG (OTCPK:ADRZF| OTCPK:ADRZY) is a supplier of plant and equipment services for the industrial sector. The four business segments are hydropower, pulp and paper, metalworking and solid-liquid separation. It has about 250 locations in over 40 countries. The company is active in power generation with steam boiler plants, biomass power plants, recovery boilers and gasification plants.
Figure 1: Revenue breakdown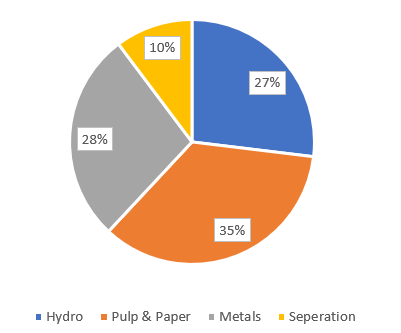 Source: annual report 2017, own graphic
Andritz offers a wide range of innovative products and services in Industrial Internet of Things (IIoT) sector. There they operate under the brand name Metris. Metris cover three large areas:
Industry 4.0 products (sensor equipment, data analysis, augmented reality)

Smart Services (online ordering of spare parts more efficient)

Ventures (research and acquisition activities combine in the digital sector)
The goal behind Metris is a stable, optimized and largely autonomous plant operation.
The company invests in their R&D to keep up with the fast evolving IIoT industry. The vision is to produce more with less. Around 3% of sales are invested every year in R&D with special focus on digitalization to make Andritz a full-service provider in all their business areas. In my opinion 3% is not quite enough to keep up with the fast digitalization trend.
Business overview
In Q2 2018 around 39% of sales were from emerging markets and 61% were from Europe/North America.
Figure 2: breakdown of sales

Source: Q2 2018
As you can see in Figure 3 the sales are nearly flat for the period between 2013 and 2017. One positive thing to mention is that the EBIT margin improved from 1.6% to 6.8% and the net income was increased from 53.2 EUR million to 265.6 EUR million.
Figure 3: financial overview 2013 - 2017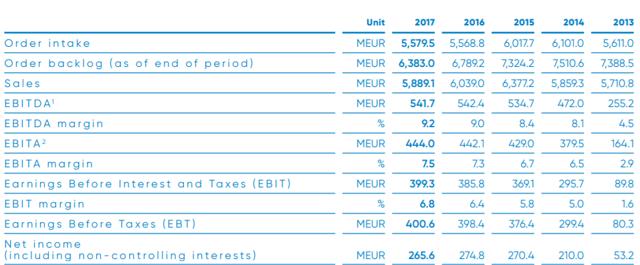 Source: annual report 2017
It is important to see how Andritz did in the last financial crisis of 2008/2009. The company was able to maintain a positive earnings result throughout the crisis. Figure 4 shows how the EPS declined in 2009 but increased in 2010 to an even higher level than before the crisis. The next takeaway from this overview is that the company has problems with improving the EPS and revenue since 2015. Therefore, the company seems to be on the peak of their cycle.
Figure 4: financial overview between 2008 and 2017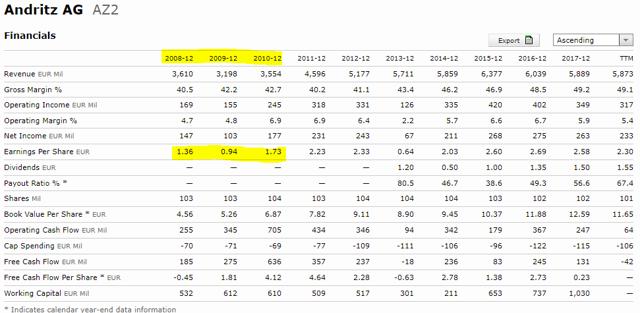 Source: Morningstar
Outlook
The order intake in Q2 2018 was 1.7 EUR billion with an increase in all four business areas. Let us look at the four business segments and try to see where Andritz has potential.
The Hydro segment has to fight against low electricity and energy prices especially in Europe. Because of that investment activities by hydroelectric power companies remained at a very moderate level. Some of the modernization projects are postponed or temporarily stopped. In Southeast Asia and Africa are some larger, new hydropower projects in the planning process. The overall outlook for Hydro is to remain stable.
The project and investment activity for the Pulp & Paper segment are continued to be at a good level especially for modernization of existing plants. In the next few months should be some new greenfield pulp mill projects be awarded. The investments activity for tissue and packaging in the emerging markets is continued to be satisfactory.
The project activity in the metal forming segment is to remain stable or even improve slightly in comparison to 2017. Investment activity in metals processing is going to remain at a moderate level.
The separation segment has reasonable market activity in environment, mining and chemicals. A low investment activity in food is going to be continued.
All in all, a slow growth can be expected for the whole company and the profitability is expected to be solid.
The whole industry shows indications of consolidations. Therefore, a strategy for growth is to acquire other companies. Andritz has a strong balance sheet with a strong cash position to make takeovers. Acquisitions are a part for the future growth. These should complement and strengthen their product and service portfolio. Andritz is looking for acquisition in all four business segments.
Risks
The current political tension between the USA and of their trade partners could have a negative impact on Andritz. It might lower global trade and the confidence to invest in new machineries. The Brexit is not going to have a big impact on Andritz as the direct business sales in the UK are small. Only a slowdown in Europe, sales account to 40% of total sales, could have a negative impact to their bottom line.
Andritz does business with some countries which are classified as politically risky or very risky. Also, the currencies in the emerging countries could have a negative impact.
The sales of Andritz are dependent on the underlying supply and demand in the industry. For example, the metals segment derives most of of its sales from the automotive industry. The automotive industry is generally exposed to cyclical swings.
Andritz often has obligations to provide performance guarantees and obligations to meet deadlines in their projects. If the deadline is significantly exceeded, the customer has the right to terminate the agreement and return the subject for a full refund and recover damages.
Dividend, Debt and Cash
Andritz's goal for the dividend is to be around 50% of earnings per share. The pay-out ratio should be increased to 60% in the next years. It should not be taken for granted that the dividend is increasing or remaining stable in an economic downturn as earnings will be volatile.
Next values are from the annual financial report 2017.
The debt is around 850 EUR million or around 8.40 EUR per share. (350 EUR million bonds + 500 EUR million current and non-current bank loans). The debt could be paid back easily with the cash.
The company has around 16 EUR cash per share (1.071 EUR million cash + 565 EUR million investments / 101 million shares). If we subtract the debt we get a net cash per share of 7.60 EUR. In the end, I'm going to add the cash per share to my calculated present value of the company. It is definitly a good sign for a healthy balance sheet. Therefore, the volatility of the dividend could be reduced. But we don't know if the management is going to use the cash for stabilizing the dividend in a crisis or using the cash to make cheaper acquisitions. I would favor an acquisition over a stable dividend as the acquisition could offer a better long-term value for shareholders.
Valuation
Andritz is cyclical stock. These types of companies can offer a high return for investors if bought at the right time. The best time would be in a recession as there the companies fall very low in price. For my valuation I took a 15% discount rate as it is my expected return and with that I compare all my investments. Yes, it is quite high, but it brings room for errors in my estimations. Also, a recession is possible in the next few years. The near impossibility to forecast the exact moment and impact, the high discount rate protects me. A value investor should be patient. As Andre Kostolany said:"You should never run after a tram and a stock. Just patience: the next one will come for sure".
Figure 5: earnings model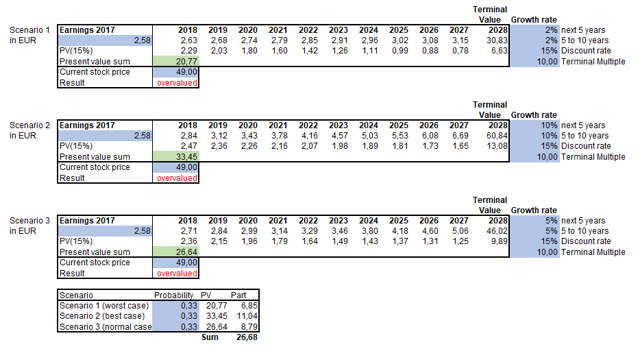 Source: own calculation
The worst case describes a scenario where the company can only grow with the inflation and they can't capitalize from further acquisitions.
In the best case their investments in digitalization bring more growth and stability to the company. Their underlying markets are growing, and their strategic acquisitions benefit the overall growth of Andritz.
Finally, the normal case is growth rate of 5%. 2% from the inflation plus 3% from their own growth through acquisitions and their investments in R&D.
I have used a linear growth which is not very likely but again my high discount rate is protecting me there. If I hit the growth rates not exactly then I may get still around 10% return over the long-term and be still happy!
In Figure 6 you can see that in the crisis of 2008/2009 the stock traded at around 7 EUR per share! My calculated fair value for the stock is at around 27 EUR. This was the price at the beginning of 2012.
Figure 6: stock performance 2007 to 2017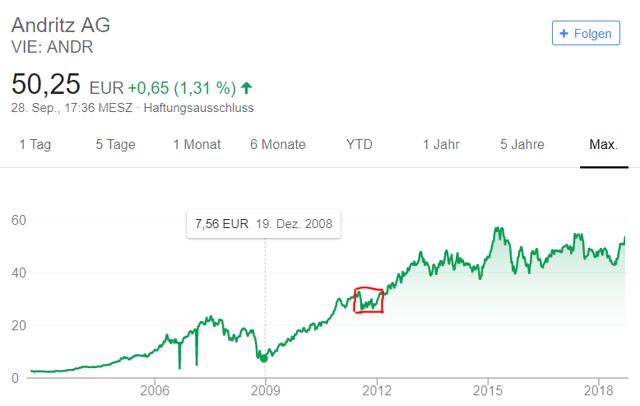 Source: google
Conclusion
Andritz offers a, a well-diversified portfolio of industrial machineries and the potential to be a cyclical investment play as well a nice dividend while waiting. But keep in mind that the earnings and cash flows from Andritz are going to be volatile in the future. A good, well-managed company doesn't mean that the stock is at any time a good investment.
If we add back the calculated net cash per share of 7.60 EUR to the calculated present value of earnings, the new fair value would be around 34.60 – 37.60 EUR. So, at these levels I'm going to take a closer look.
Disclosure: I/we have no positions in any stocks mentioned, and no plans to initiate any positions within the next 72 hours.
I wrote this article myself, and it expresses my own opinions. I am not receiving compensation for it (other than from Seeking Alpha). I have no business relationship with any company whose stock is mentioned in this article.
Editor's Note: This article discusses one or more securities that do not trade on a major U.S. exchange. Please be aware of the risks associated with these stocks.