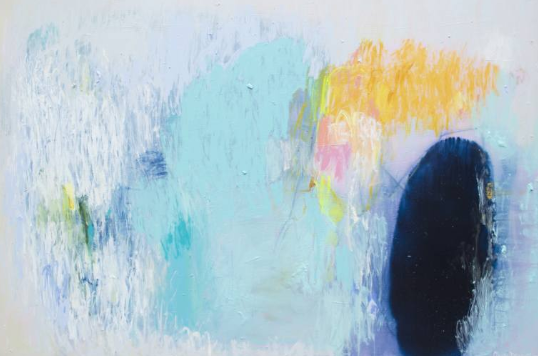 Hold My Breath, Claire Desjardins
Introduction
Welcome to my Gold Weekly.
In this report, I wish to discuss mainly my views about the gold market through the GraniteShares Gold Trust ETF (BAR). BAR is directly impacted by the vagaries of gold spot prices because the fund physically holds gold bars in a London vault in the custody of ICBC Standard Bank.
To do so, I analyse the recent changes in speculative positions on the Comex (based on the CFTC) and ETF holdings (based on FastMarkets' estimates) in a bid to draw some interpretations about investor and speculator behavior. Then, I discuss my global macro view and the implications for monetary demand for gold. I conclude the report by sharing my trading positioning.
Speculative positions on the Comex
The CFTC statistics are public and free. The CFTC publishes its Commitment of Traders report (COTR) every Friday, which covers data from the week ending the previous Tuesday. In this COTR, I analyze the speculative positioning, that is, the positions held by the speculative community, called "non-commercials" in the legacy COTR, which tracks data from 1986.
It is important to note that the changes in speculative positioning in the gold futures contracts do not involve physical flows because it is very uncommon for speculators to take delivery of physical on the futures contracts that they trade. Due to the use of leverage by speculators, the changes in speculative positions in gold futures contracts tend to be much greater than the changes in other components of gold demand like ETFs or jewellery.
As a result, the impact on gold spot prices tends to be relatively more important and volatile, which, in turn, affect the value of BAR because the latter physically holds the metal in vaults in London and therefore, have a direct exposure to spot gold prices.
Gold ETF positions
The data about gold ETF holdings are from FastMarkets, an independent metals agency which tracks ETF holdings across the precious metals complex. FastMarkets tracks on a daily basis a total of 21 gold ETFs, which represent the majority of total gold ETF holdings. The largest gold ETFs tracked by FastMarkets are the SPDR® Gold Shares (NYSEARCA:GLD), whose holdings represent nearly 40% of total gold ETF holdings, and the iShares Gold Trust (IAU), whose holdings represent roughly 15% of total gold ETF holdings.
Speculative positioning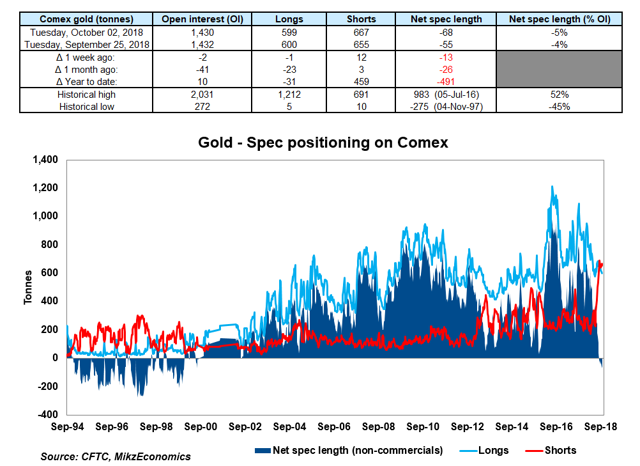 Source: CFTC
The latest Commitment of Traders report (COTR) provided by the CFTC has the latest statistics for October 2. It shows that non-commercials were net short gold by 68 tonnes as of October 2. This is the 8th consecutive week that non-commercials are net short gold.
Over the latest reporting period of September 25-October 2, gold's speculative deteriorated for a 10th week over the past 12. The net short fund position held by non-commercials increased by 13 tonnes w/w, which was driven primarily by short accumulation (12 tonnes) and reinforced further by long liquidation (1 tonne).
Over the past month, non-commercials have cut 26 tonnes of net long positions.
Since the start of the year, non-commercials have slashed 491 tonnes of net long positions.
Although the net spec length is currently above its historical low of -275 tonnes (established in November 1997), the current speculative positioning in Comex gold is deemed excessively bearish.
Bottom line: the risk of a strong bout of short-covering in the gold's futures market is elevated in the final quarter of 2018, which if materialized, could push gold prices and BAR's value much higher.
Investment positioning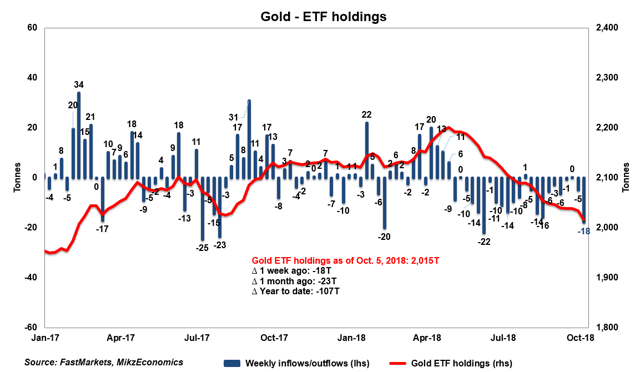 Source: FastMarkets
ETF investors held around 2,015 tonnes of gold across various ETFs as of October 5, according to FastMarkets' iterations. Gold holdings held by ETF investors are at their lowest since February 2017.
Over the last reporting period of September 28-October 5, ETF investors liquidated roughly 18 tonnes of their gold holdings. This is the 20th week of gold outflows over the past 21 and the largest weekly outflow since the week ending June 8.
Over the past month, ETF investors have cut about 23 tonnes of their gold holdings.
Since the start of the year, ETF investors have cut roughly 107 tonnes of their gold holdings. Last year, they lifted their gold ETF holdings by 173 tonnes, marking a 9% increase in total gold ETF holdings.
Bottom line: the pace of gold ETF outflows has accelerated in recent weeks, pointing to an increased bearish investor sentiment toward gold.
Macro backdrop
The macro backdrop has become increasingly bearish in recent days, with the dollar (proxied by the DXY) and long-term US real rates (proxied by the 10Y US TIPS yield) pushing higher and higher, on the back of a Fed showing conviction to maintain a quarterly hiking pace and an increasingly tight labour market. The crucial question is whether this trend will continue.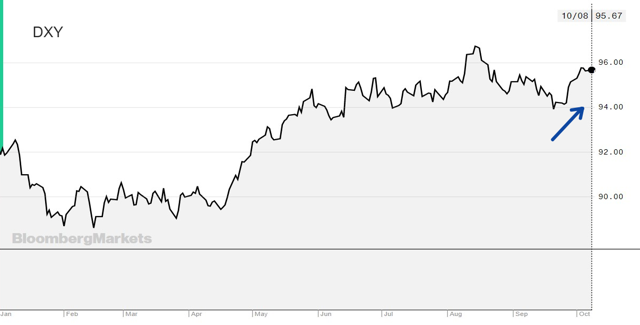 Source: Bloomberg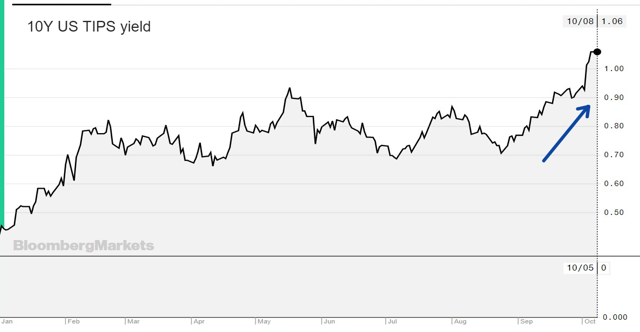 Source: Bloomberg
In my view, the rise in the dollar and US real rates are unsustainable, which is mainly due to the fact that history shows us that "something" in the financial markets ends up breaking, which should, therefore, undermine the prevailing dynamic.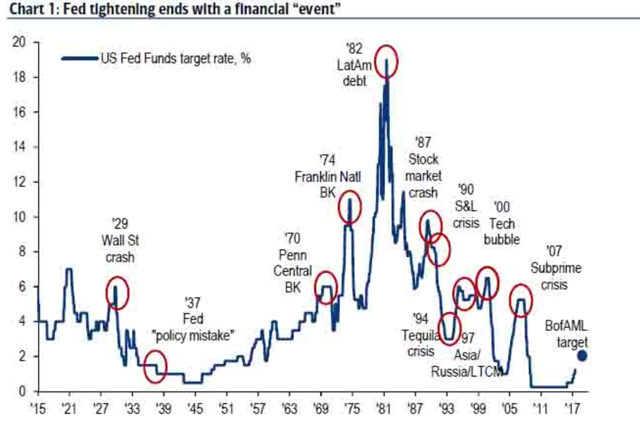 Source: Bank of America
As the chart above elegantly illustrates, every Fed tightening cycle ends up with a "financial event". More precisely, among the past 13 Fed's tightening cycles, 10 have ended in recessions and the other three have triggered a crisis in the EM world. It is fair to argue that this time won't be different, which will likely force the Fed to reverse course by cutting rates again and halting its balance sheet normalization. In turn, the dollar and US real rates should come under renewed downward pressure, which will be supportive of monetary demand for gold, pushing gold spot prices and the value of BAR higher.
Bottom line: Expect the presently negative macro backdrop to prove unsustainable in the months ahead. Expect, therefore, a weaker dollar, lower US real rates, and stronger monetary demand for gold. BAR would appreciate in the process.
Trading positioning
To take advantage of the expected rally in spot gold prices, I have a long position in the GraniteShares Gold Trust ETF. I implemented this long position on May 7, 2018, at $131.20, with a maximum risk of 3% of my Fund.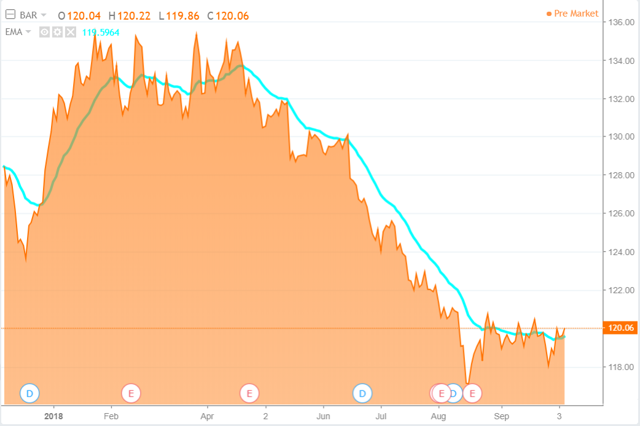 Source: Seeking Alpha
BAR - GraniteShares - Review
BAR is directly impacted by the vagaries of gold spot prices because the fund physically holds gold bars in a London vault in the custody of ICBC Standard Bank. The investment objective of the fund is to replicate the performance of the price of gold, less trust expenses (0.20%), according to BAR's prospectus.
The physically-backed methodology prevents investors from getting hurt by the contango structure of the gold market, contrary to ETFs using futures contracts.
Also, the structure of a grantor trust protects investors since trustees cannot lend the gold bars.
BAR provides exposure which is identical to established competitors like GLD and IAU, which are nevertheless much more costly to hold over a long period of time. Indeed, BAR offers an expense ratio of just 0.20% while GLD and IAU have an expense ratio of 0.25% and 0.50%, respectively.
As of October 5, BAR traded at a slight discount of $0.06 per share or 0.05% to its net asset value, which has occurred around 20% of the time (in term of number of days) since its inception. This compares with a premium of $0.04 per share two weeks ago. I expect the deviation to tighten amid arbitrage opportunities, which is positive for BAR's value. The historical behavior of BAR's value since its implementation corroborates my view, as the chart below illustrates.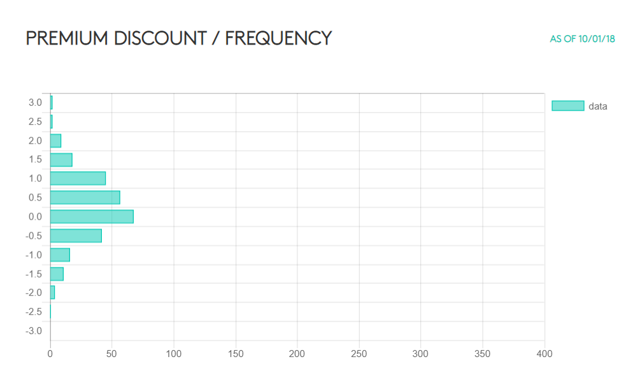 Source: Granite Shares
BAR's average spread (over the past 60 trading days) is 0.02%, which is lower than that of its competitor IAU at 0.09% or SPDR Gold MiniShares Trust (GLDM) at 0.08%.
As a result, BAR offers the lowest total cost of ownership (expense ratio + spread) among gold ETFs.
BAR's average daily volume (over the past 45 trading days) is ~$2 million, which is much lower than that of IAU, at ~$126 million.
As of October 5, 2018, BAR's assets under management totalled $284 million, with 2.4 million shares. BAR's gold holdings were at 7.3 tonnes. In contrast, IAU's assets under management amounted to $10.295 billion, with 983.5 million shares. IAU's gold holdings were at 266.46 tonnes.
Bottom line: I remain long BAR because I am convinced that the rally in spot gold prices will continue.
For the sake of transparency, I will update my trading activity on my Twitter account.
Final note
Dear friends, if you enjoy reading my research, thank you for showing your support by clicking the "Follow" orange button beside my name on the top of the page and sharing/liking this article. I look forward to reading your comments below.

ETFs: GLD, GDX, NUGT, GDXJ, JNUG, GGN, DUST, IAU, PHYS, JDST, SGOL, JJC, GOEX, UGLD, SGDM, UGL, DGP, GLL, ASA, GTU, GLDI, OUNZ, RING, DZZ, SGDJ, DGL, DGLD, TGLDX, DGZ, CPER, PSAU, GOAU, GDXX, GYEN, BAR, GEUR, GDXS, GLDW, GHS, CUPM, UBG, QGLDX, GHE, MELT, IAUF
Disclosure: I am/we are long BAR.
I wrote this article myself, and it expresses my own opinions. I am not receiving compensation for it (other than from Seeking Alpha). I have no business relationship with any company whose stock is mentioned in this article.