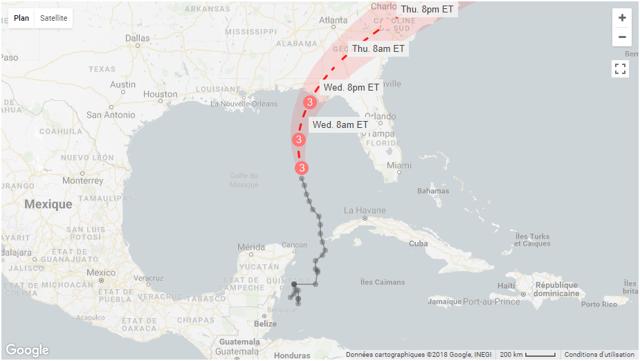 Introduction
Welcome to my Oil Weekly report. In this brief report, I wish to discuss my views on oil markets and the iPath S&P Oil Total Return Index ETN ( OIL).
OIL replicates the performance of its sub-index the S&P GSCI® Crude Oil Total Return Index through the West Texas Intermediate (WTI) crude oil futures. Issued by Barclays Bank PLC, OIL is riskier than ordinary unsecured debt securities, given that it has no principal protection depending on the issuer's creditworthiness. With an investor fee rate equal to 0.75% per year, OIL provides an interesting investment vehicle to get direct exposure to crude oil futures.
In this report, I analyze weekly crude oil storage levels published by the Energy Information Administration (EIA) and the vagaries of the Commitment of Traders report released by the Commodity Futures Trading Commission (CFTC) in order to assess investor and speculator behavior on the oil complex. Then, I identify key economic and macroeconomic developments and their corresponding impacts on OIL shares.
Crude and petroleum stocks
According to the latest EIA report, U.S. oil stockpile accelerated its build, up 2.01% (w/w) to 404m barrels on the September 21-28 period, while Cushing inventories surged 7.45% (w/w) to 24.49m barrels. The strong inventory lift reported by the EIA allowed storage deficit to improve; however, the shortage still persists, down 3.5% or 14.5k barrels below the 5-year average and 13.1% or 60.9k barrels under last year's level. If the deficit carries on, it will continue to sustain crude futures and OIL share.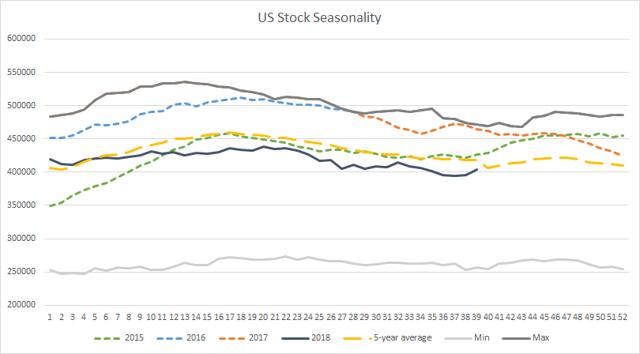 Source: EIA
The five-year U.S. crude oil storage spread improved consequently compared to last week but remains short of 26.1k barrels on the respective period, which is still bullish for OIL shares.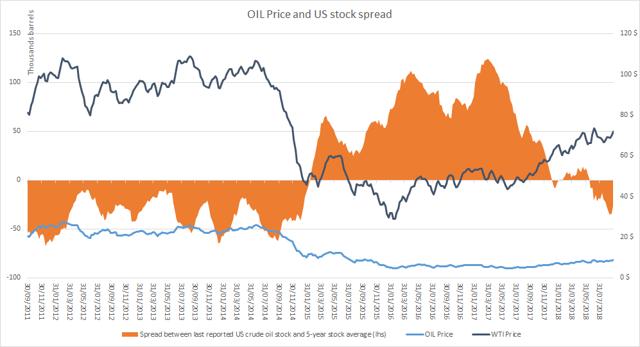 Source: EIA
Meanwhile, refined petroleum products inventories declined over the period, following although steady refining utilization rates. Indeed, gasoline (w/w) storage decreased marginally, down 0.19% to 235.2m barrels, whereas distillates lost 1.27% (w/w) to 136.1m barrels.
U.S. oil balance deteriorated during the week. Exports dipped sharply, down 34.73% (w/w) to 1.72m barrel, whereas net imports lifted 20.92% (w/w) to 6.24m barrels, following the beginning of the maintenance season.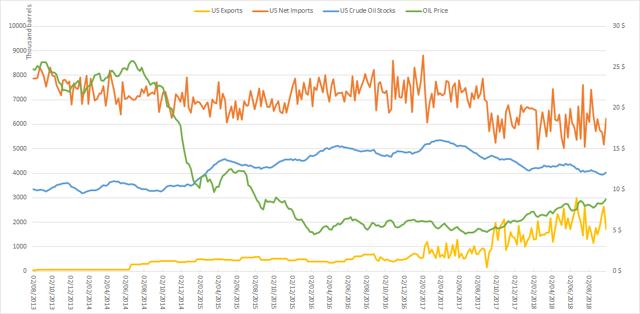 Source: EIA
U.S. oil throughput steadied on the September 21-28 period to 11.1m barrels and an improvement should not be expected on the coming week given that latest Baker Hughes rig count reported two withdrawals, which might provide marginal support to OIL shares.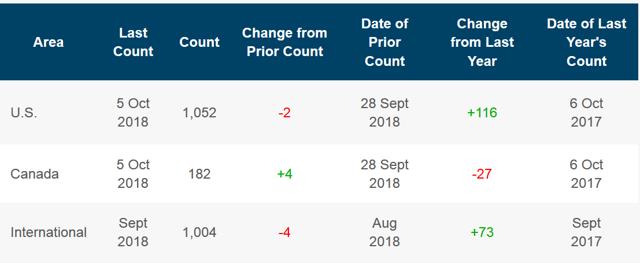 Source: Baker Hughes
In the meantime, OIL advanced 4.64% to $9.24 per share, amid global oil supply worries and hurricane Michael, which shut some oil fields in the Gulf of Mexico.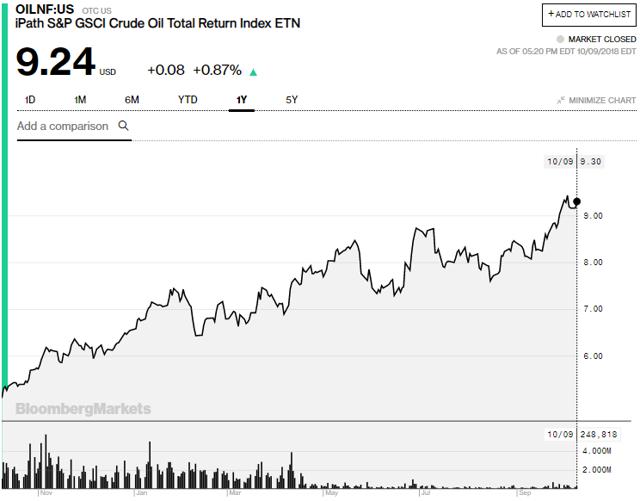 Source: Bloomberg
Speculative positioning
According to the latest Legacy Commitment of Traders Report (COTR) released by the CFTC for September 25-October 2 period, crude net speculative length on NYMEX futures decelerated, down 2% (w/w) to 548 909 contracts, while OIL shares gained 4.98% to $9.28 per share.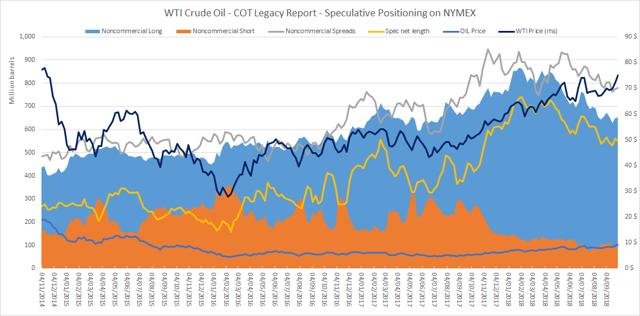 Source: CFTC
This net speculative decline is mainly attributable to surging short accretions, up 20.5% (w/w) to 104,990 contracts and is slightly offset by long accumulations, up 1.03% (w/w) to 653,899 contracts. This strong short push could be explained by recent highs reached on the black commodity, indicating that speculators are now positioned to gain from an upcoming pullback, which is negative for OIL shares
Since the beginning of the year, net speculative positioning on crude contracts is still down 12.06% or 753,014 contracts, whereas OIL's (YTD) surged 27.12% to $8.39 per share.
Hurricane Michael shuts some offshore oil platforms, whereas Iranian oil sanctions alleviate slowly
Since my last article, OIL continued to post solid gains, up 4.64% to $9.24 per share, with persisting fears on spare production capacity. Furthermore, Hurricane Michael approach is also crystalizing these fears, given that it is on a potential collision trajectory with Gulf of Mexico oil platforms. Nevertheless, the application of Iranian sanctions has somewhat eased recently, following rumors that U.S. administration might apply waivers to some Asian importers, which eased a bit of concern on Iranian barrels deserting the market.
In the meantime, Brent-WTI spread tightened significantly, from $10.3 to $8.39 per barrel for the September 25-October 2 period, amid increasing arbitrage operations. This benefitted the U.S. crude benchmark but will likely weigh on OIL price if the spread eases.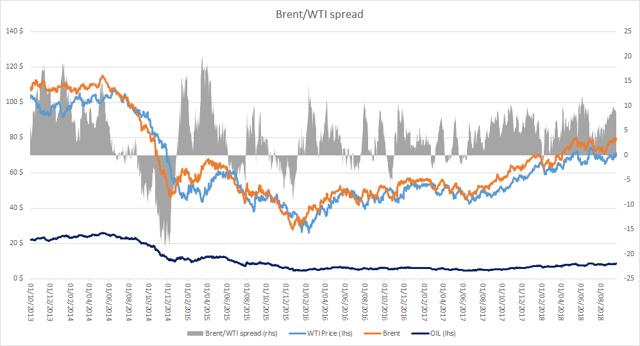 The dollar index (DXY) tracking the evolution of the greenback against a basket of major currencies rebounded toward its upper horizontal trading range thanks to the latest solid unemployment rate published by the U.S. economy. Thus, the dollar appreciation brings adverse winds to OIL shares and with U.S. economy heating up, the Federal Reserve tightening intensification could significantly weigh on the black commodity.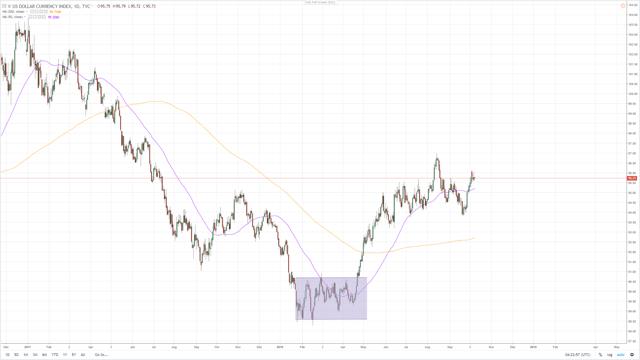 Source: TradingView
Concomitantly, WTI futures curves continue to evolve in backwardation, with a flattening slope on short-term maturities and steepening one on longer deliveries. This is a sign that investors have hedged oil price risks associated with Iranian sanctions and could indicate that a pullback is under construction, given the robust speculative short interest reported last week.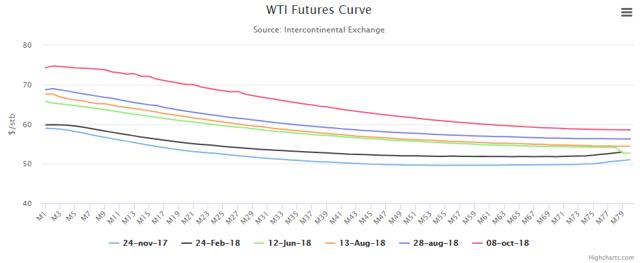 Crude markets and OIL share might be poised for another bullish week, given Hurricane Michael progress, which is set to disrupt multiple oil platforms in the Gulf of Mexico.
I look forward to reading your comments. If you enjoyed the article, thanks for showing your support by following my account or sharing the article.
Disclosure: I/we have no positions in any stocks mentioned, but may initiate a long position in OIL over the next 72 hours.
I wrote this article myself, and it expresses my own opinions. I am not receiving compensation for it (other than from Seeking Alpha). I have no business relationship with any company whose stock is mentioned in this article.