Last week, I discussed the post-earnings trading scenario with BlackBerry (BB), which again saw a pop that was quickly eliminated. As management has sat on the sidelines recently, investors have bailed, and the latest market downturn has certainly not helped. At the stock's current price, it is time for this management team to step up to the plate.
Shares topped out at $12 the day the company reported its fiscal third quarter, but they have only had one day in the green since. Wednesday's close at $9.25 puts them down nearly 23% from the high, putting the stock in bear market territory. A lot of tech stocks have been hit hard, although the Technology Select Sector SPDR ETF (XLK) is only 8.8% off its recent high. BlackBerry has been trading more like one of those high beta momentum names lately, falling much faster than the overall market.
One myth in the past couple of years is that BlackBerry was going to go bankrupt. This was never really the case, because as you can see below, the balance sheet value of cash minus debt at its lowest point was more than $950 million (on the positive side). Many companies out there have net debt positions for years at a time, sometimes in the tens of billions, so while BlackBerry was losing money, there were a lot of non-cash charges that made the situation look different than it was. Primarily thanks to the adjustment in the valuation of the convertible bond, the book value of net cash and investments rose a bit in the recent quarter.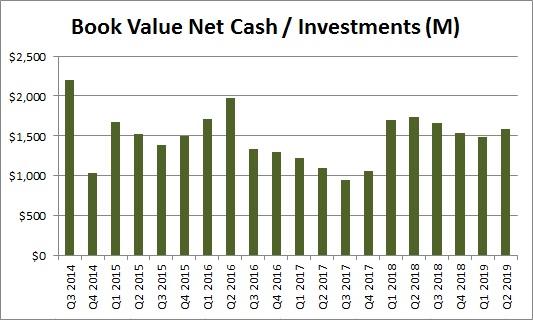 (Source: BlackBerry financial information page, seen here)
The convertible bond is a key flashpoint for investors in my opinion. That's because last year, management launched a buyback program to potentially offset dilution from these bonds and stock based compensation. However, they didn't really follow through with their plan, so the number of shares outstanding has risen since and investors still face the possibility of major dilution. This borrowing is $605 million in total, convertible at $10 a share for 60.5 million shares, and it matures in November 2020. By holding cash and investments that are mainly short term in nature, the company could likely earn about 3%-4% over the next two years in total interest.
However, with shares now at $9.25 per share, there's a big argument to be made to repurchase stock. That's especially true if you believe shares are going to soar into the mid teens or higher, which a major portion of the CEO's newest pay package depends on. At Wednesday's close, offsetting the dilution would cost just under $560 million, an implied saving of more than $45 million from the $605 million worth of dilution with the stock over $10 (before subtracting lost interest income). Should the stock decline further, the savings grow even more, and let's not forget that a stock buyback is a good sign that management believes its shares are undervalued. As I always say, if a company with a strong balance sheet isn't buying back stock, why should investors be buying?
The other item that really needs to be considered at this point is mergers and acquisitions. After that major legal win with Qualcomm (QCOM), management said it could use the cash to help grow the business from external sources. It hasn't done so in the roughly 18 months since, and CEO John Chen made the following statement regarding M&A (as well as buybacks) on the recent conference call:
Paul Treiber

Okay. Thanks for clarifying that. One last question for me and it's a problem you have but rather good problem is just on the cash and potential uses of cash. You talked about M&A and share buybacks to potentially offset this dilution. Do you have any updates on that, particularly in regards to the M&A with valuations are where they are and then also maybe share buybacks?

John Chen

Yes. We're not really doing much buyback. This is really -- the reason is, when we do our calculation, we believe that cash for our shareholders return is best used on expanding the business and expanding the capability. I'm a very cautious guy and you could use the word cheap, but I don't think I'm cheap. I'm just value seekers.

What I don't want to do is to buy very, very high multiple. There are number of interesting opportunities out there. We have a team of people that they go around and that they try to understand the landscape and the company and so forth. So, acquisitions continue to be a high priority item for us. We will be very careful not to overpay. This market, as you will agree, is going higher, sometimes for very little reasons that I could understand. But then, I'm not you guys, it's not my day job. But because of that I'm little cautious of jumping in and paying high multiples. So, I guess I'm doing a wait and see there a little bit. So, in the meantime, we have plenty of things to do ourselves organically. We're building our ISS technology. And next week we're going to announce some new stuff. So, we're quite busy ourselves. But we will do some acquisition. Buyback is currently at the backburner.
Now I've been making the argument that valuations were much better a year and a half ago when BlackBerry got the cash boost, so that appears to have been a missed opportunity. Recently, however, the market has taken a hit fears of rising interest rates, so valuations have certainly improved. With revenues in the latest quarter hitting a new low under John Chen, the company certainly good use the help. Adjusted EBITDA, which was $725 million for a trailing 12-month period at the end of fiscal Q4 2015, was down to $135 million in the latest four quarters.
With the overall market helping to bring BlackBerry down to a 52-week low, there are no more excuses for this management team to sit on its hands. It is time to use that large cash pile to help the business, whether through M&A or offsetting the potential dilution from the convertible bonds. John Chen was brought in to turn this name around, but total revenues have plunged and the stock has massively underperformed the tech sector as seen below. Investors are likely to get even more fed up until this company makes a move.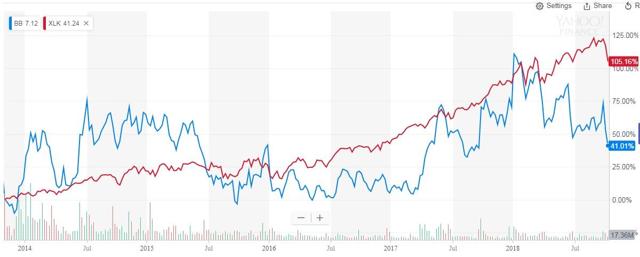 (Source: Yahoo! Finance)
Author's additional disclosure: Investors are always reminded that before making any investment, you should do your own proper due diligence on any name directly or indirectly mentioned in this article. Investors should also consider seeking advice from a broker or financial adviser before making any investment decisions. Any material in this article should be considered general information, and not relied on as a formal investment recommendation.
Disclosure: I/we have no positions in any stocks mentioned, and no plans to initiate any positions within the next 72 hours.
I wrote this article myself, and it expresses my own opinions. I am not receiving compensation for it (other than from Seeking Alpha). I have no business relationship with any company whose stock is mentioned in this article.