We argued not so long ago that headwinds were turning into tailwinds for Silicon Motion Technology Corp. (NASDAQ:SIMO). Well, by the looks of it, that didn't last very long: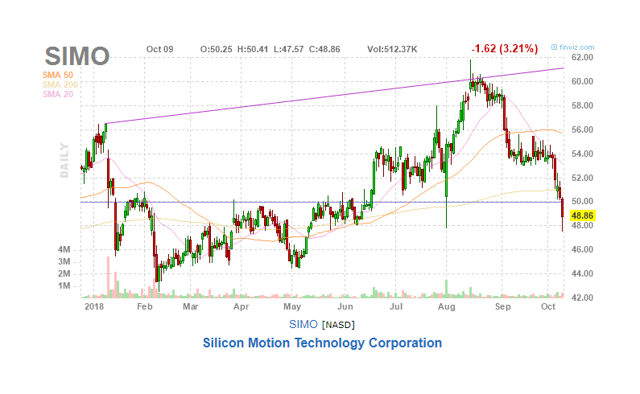 The key for our optimism was this quote from the company's Q1CC:
Unlike last year, our business no longer is negatively affected by lack of the NAND supply and rising NAND prices. Currently, NAND supply is rapidly a variable and NAND prices continue to soften. In Q1, increasing output of 64 and 72-layer 3D NAND had led to modest NAND price reductions. We believe NAND supply will continue to grow as the year progresses and price will decline further, both favorable trends to us.
And indeed, Q2 results came in way above expectations with a substantial EPS beat of $0.14-0.92 (non-GAAP). We see a number of growth drivers:
Falling NAND prices increasing market demand
Open-channel SSD controller
Hyperscale cloud players configuring their own SSD solutions
Shift from eMMC to UFS controllers in smartphones
NAND prices
Here is what management had to say (from the Q2CC):
NAND prices have fallen meaningfully since the start of this year. Dollar per gigabyte cost of NAND has been falling and will continue to fall rapidly with current high-volume 64 and 72-layer 3D NAND production. Scaling of 4 bits per cell QLC NAND and migration to 96-layer and upcoming higher layer count NAND. Since the NAND industry is very competitive with now seven suppliers, the benefit of increasing lower NAND costs is quickly passed to device OEM and consumers. We continue to believe that as NAND costs fall further, SSD demand will accelerate further.
So the following isn't really a surprise (from the Q2CC):
As a result of flash partners' improved SSD growth outlook, we are increasing our full-year SSD controller sales growth to, at least, 30%, with sale accelerating in Q3. Additionally, during this quarter, we grew our pipeline of SSD controller projects at our 3D NAND flash partners Intel (NASDAQ:INTC), Micron (NASDAQ:MU) and WD (NYSE:WDC) by over 50% sequentially and more than double compared to last year.
That is, the tailwind we foresaw half a year ago is now materializing. One might add to this that management argues controller ASPs will remain roughly stable, on average.
Open-channel
The company is working with two Chinese hyperscale customers for the use of their high-performance open-channel SSD controller specifically designed for data center applications.
Open-channel SSDs don't have a firmware Flash Translation Layer implemented on the device. Instead, the management of the physical solid-state storage to the computer's operating system (like Linux 4.4 kernel).
Management expects these two hyperscalers to finish testing in Q3 and move to implementation directly after, which would make the Silicon Motion controller the first open-channel SSD controller in commercial production. This could be a very significant development, because the Chinese market seems set on moving towards open-channel SSD.
And just as you might think China poses a bit of a risk (which it does, but this is all future business), Microsoft (NASDAQ:MSFT) is also quite keen on open-channel, and Silicon Motion has joined its Project Denali.
Hyperscale data centers
Here is a trend management is spotting (from the Q2CC):
Increasingly, the global leading hyperscalers, given their considerable scale and unique technology requirements are taking greater control of their SSD requirements. They're independently procuring NAND flash components and SSD controllers, designing their own SSD and outsourcing to contract manufacturers.
Management also thinks that the company is well-positioned to profit from this trend (from the Q2CC):
as a supplier of high-performance, highly configurable hardware plus firmware, data center-class SSD controller solutions to hyperscalers. We can directly supply controller solutions whether for open-channel SSD or standard NVMe SSD, or as in the case of Alibaba (NYSE:BABA) and other Chinese hyperscalers, SSD controller solutions plus SSD solution design and driver software development.
We think management has a point, as there is a chance that this opens up the market here. One has to keep in mind that there are SSD producers which have their own captive controller solution.
Headwinds
There are also a few possible headwinds:
Q3 won't be the usual strong quarter because of the delay in Shannon sales.
eMMC controllers will be down (cancelling out the gain in UFS).
Legacy products (memory card and USB flash drive controllers etc.) will decline.
Shannon
Q3 is normally a strong quarter for Silicon Motion's SSD solutions (Shannon and Fermi), but this quarter, an important client, Alibaba, is postponing orders, and management expects these to come in Q4 instead.
There was a lot of analyst angst at the Q2CC, but management assured them that this was just a one-off transition relating to a technology transition (from the Q2CC):
it's really in the product transition. As you know, we have MPGAD product in the past from Shannon, although transitioning to the ASIC with both dual mode open-channel and NVMe standard. Through the product transition, we believe the original forecast is Q3 is pretty strong. But through the product transition, we believe Alibaba have their preference and to see which product become more important for Ali, not just one quarter, it's more long-term. And everything for Ali is important for - the real production test is for November 11. So that is a milestone. They need to be 100% sure whether they want to focus on the legacy product or focus on the new coming transition for new product. So this is their priority call. And just for the product transition and that's why we see ramping for the new product delay for one quarter.
Management believes that whatever the outcome of that November 11 testing, demand for Shannon will come back in Q4 and then expand materially in 2019 (from the Q2CC):
And I believe, this close relationship will generate significant revenue from 2019, expand to 2020 and beyond. And this will become one of China's standard for data centers, not just Alibaba or BAT players. We believe majority of the e-commerce, the private carmaker, they will also try to adopt open-channel, because that can be customized to make specific workload meet their application need.
All in all, there is a bit of a guidance change as a result (from the Q2CC):
we no longer expect our SSD solutions to grow at least 20% for the full-year. Instead, our SSD solutions will at most grow 20% for the full-year.
eMMC
A business that will gradually fade is the company's eMMC business, but here there is a technology transfer at work as well, as the Android space is gradually shifting towards UFS, first in the high-end phones, but gradually, this moves down to the mass market next year with integrated solutions from Qualcomm (NASDAQ:QCOM) and MediaTek.
However, the combined eMMC and UFS sales will be flat.
Q3 preliminary results
The company just announced preliminary Q3 results (PR):
revenue is expected to be within the lower half of the original guidance range of $136.0 million to $142.9 million that the company issued on August 1, 2018. Gross margin (non-GAAP) is expected to be at the high-end of the company's original guidance range of 48.5% to 50.5%.
Somewhat disappointing revenue but some upside in gross margins suggest that the Q3 revenue decline of the Shannon is a little more pronounced than what management predicted during the Q2CC.
China
There was no mention of tariffs during the Q2CC, what we do know is that the company has a close relation with Alibaba - it is Alibaba that is responsible for the large order delay for the Shannon in the present quarter. This is after a sharp increase (35% sequentially) in Q2 sales though.
Could Silicon Motion's China business come unstuck? Not because of any trade dispute between the US and China, as Silicon Motion's headquarter is actually in Hong Kong. From the 2017 20-F:
We are a Cayman Islands corporation with principal executive offices in Hong Kong and have most of our operations outside of the United States. We undertake our design and development activities primarily in China, Korea and Taiwan. Our integrated circuits are manufactured, assembled, tested and packaged by third-parties located primarily in China, Korea, and Taiwan. We generated 89%, 89% and 92% of our revenue in 2015, 2016 and 2017, respectively, from sales to customers outside the United States, and for the year ended December 31, 2017, 72% of our revenue was from sales in three jurisdictions - Taiwan, Korea and China.
The shares you buy and sell on the Nasdaq are actually ADS. So no trade worries here, which makes the poor share price performance a bit of a mystery to us.
It's a little premature to mention this, but a further escalation in the trade tension between the US and China could even benefit the company should China make life harder for the likes of Micron and Intel.
Guidance
From the PR: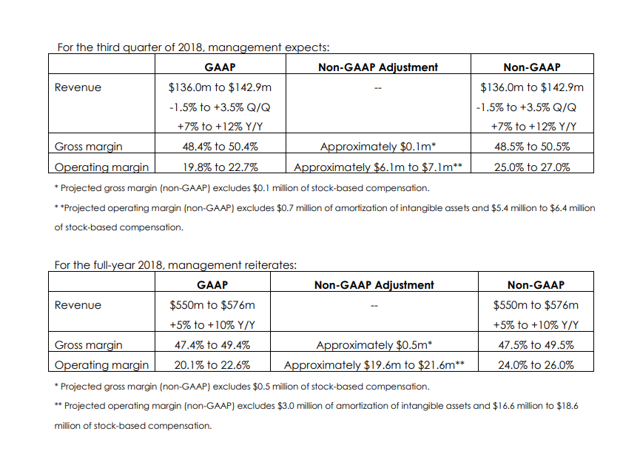 What is perhaps most notable is that management expects SSD controller sales will grow at least 30% (up from 20% guided previously).
Margins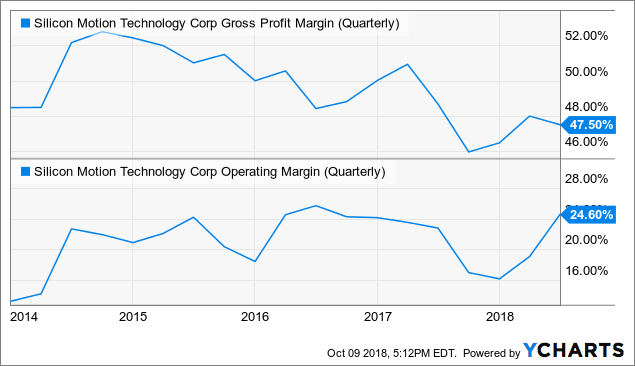 Gross margins declined a bit, as Q2 saw strong sales of the company's lower-margin SSD solutions, something which will reverse in Q3 when gross margins are guided between 48.5% and 50.5%. Full-year gross margins will be higher than previously guided at 47.5-49.5%.
What's most notable perhaps is the strong recovery in operating margins. The non-GAAP Q2 figure is 25.7%, up from 22.1% in Q1, primarily on lower R&D spending. Q3 might even improve on this, as it's guided between 25% and 27%, and for the year as a whole it will be 24-26%, which is basically its historic high.
Cash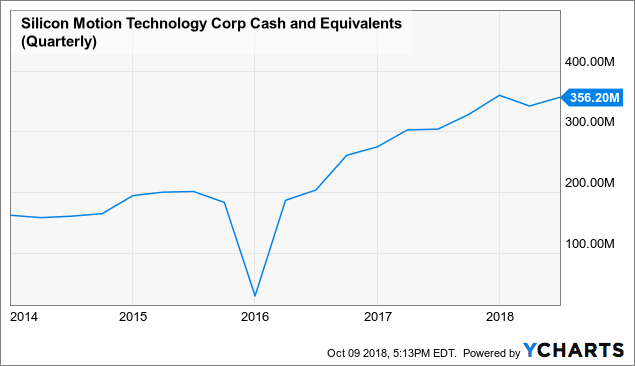 Silicon Motion keeps increasing its cash and cash equivalents holding (there is another $8 million in short-term investments), which amounts to $10 a share - really quite substantial and underappreciated, in our view.
The company does pay a dividend of $1.20 a share (in quarterly installments), providing a dividend yield of 2.46%.
Stock-based compensation is guided at $16.6-18.6 million, and its $200 million share buyback program expired in July, so the company hasn't purchased any shares in the quarter.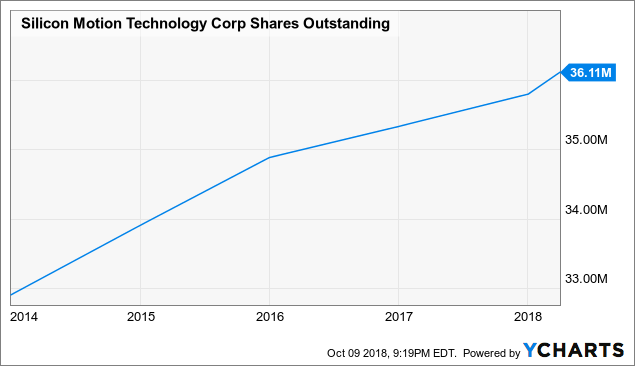 Valuation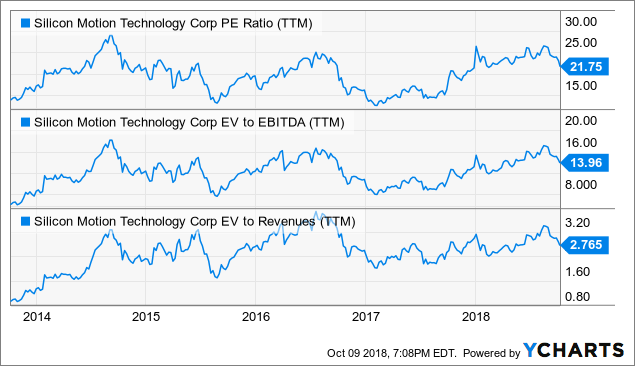 Analysts expect an EPS of $3.42 this year, rising to $3.8 in 2019, giving the shares a very reasonable multiple. Keep in mind that the company has a whopping $10 per share in cash and pays a dividend yielding 2.46%.
Conclusion
Flash prices are coming down and flash availability is improving rapidly, boosting the company in two ways:
Increased sales as flash is used in more products and it increasingly replaces HDDs.
Increased gross margin.
There is some offset in delay in a large order from Alibaba for the Shannon SSD and some legacy products (overall eMMC and UFS controllers will be flat, the decline in the first is cancelled out by increased demand for the latter). That is, the company is going to have a much better year with increased sales and gross margins, and operating margins are already recovering sharply.
We do not see any of this in the share price; the shares are very reasonably priced, in our view. We are struggling a little for explanation, unless investors fear that Alibaba's one-quarter delay isn't a delay but a cancellation.
Disclosure: I/we have no positions in any stocks mentioned, but may initiate a long position in SIMO over the next 72 hours.
I wrote this article myself, and it expresses my own opinions. I am not receiving compensation for it (other than from Seeking Alpha). I have no business relationship with any company whose stock is mentioned in this article.