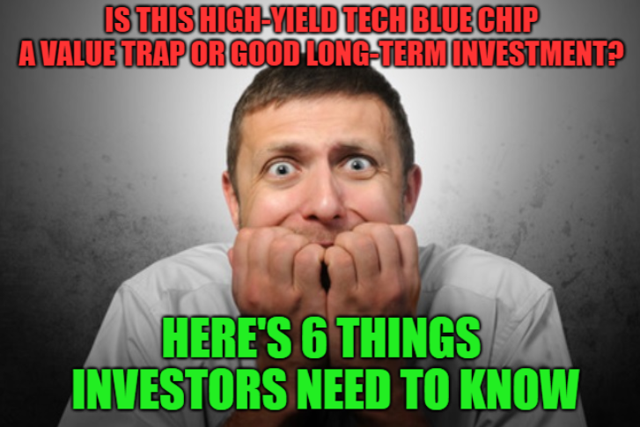 (Source: imgflip)
Qualcomm (QCOM) investors have had a rough few years. Since CEO Steve Mollenkopf took the reigns in March 2014, the stock has badly underperformed the broader market and tech heavy NASDAQ.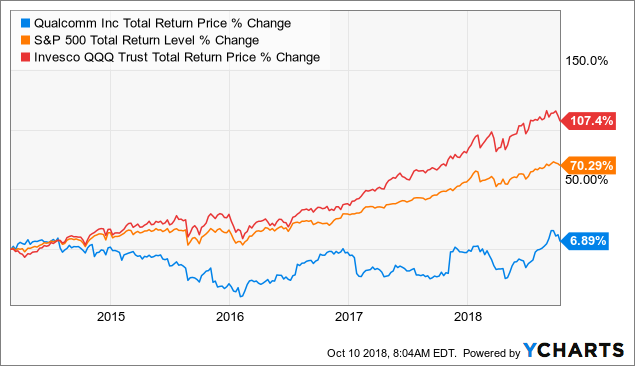 QCOM Total Return Price data by YCharts
That's largely due to a seemingly never ending soap opera consisting of:
global regulatory fines over its licensing practices
legal battles with key customers like Apple (AAPL)
US government blocking Broadcom's (AVGO) attempted acquisition of Qualcomm
the failure of its $44 billion acquisition of NXP Semi (NXPI)
I've received several requests from readers asking me to take a close look at Qualcomm to see if this former Wall Street darling is a value trap to avoid, or a potentially great long-term dividend growth investment.
So let's look at the six most important things investors need to know about Qualcomm, including its risks, strengths, and long-term growth potential. Most importantly, we'll examine how strong of a dividend growth stock QCOM is likely to be going forward, and whether or not investors should buy it at today's share price.
1. The Beauty Of Qualcomm's Business
Qualcomm was founded in 1985 and was one of the pioneers of 3G and 4G wireless communication technology. As a result, it has over 130,000 global patents either granted or awaiting approval.
Thanks to its early lead in wireless technology in 2017 Qualcomm's chips found their way in 823 million of the estimated 1.8 billion mobile devices sold that year (46% market share). Qualcomm has three business units:
Qualcomm CDMA Technologies (QCT): 78% of 2017 sales
Qualcomm Technology Licensing (QTL): 22% of sales
Qualcomm Strategic Initiatives (QSI): less than 1% of sales
QSI is the company's smallest business but potentially a major growth driver as it represents its efforts to break into the automotive, internet of things (IoT), 5G mobile, data center, and healthcare industries.
The important thing to know about Qualcomm is that while the vast majority of revenue comes from chip sales (such as to smartphone makers), its profit share is the reverse.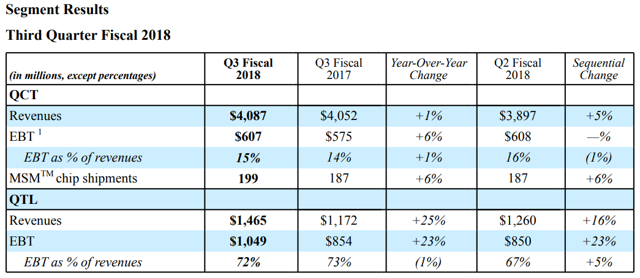 (Source: earnings release)
Specifically, the licensing business generates the majority of profits thanks to the incredibly high margins it enjoys. That's due to a near monopoly on 3G and 4G patents that allows it to extract a 3% to 5% royalty on the wholesale cost of a smartphone (on average $200). Because QTL has almost no overhead expenses, the operating margins on QTL revenue are about 85%. Basically, QTL is the company's biggest driver in both its top and bottom line.

(Source: earnings release)
In fact, in the most recent quarter, Qualcomm's chip sales barely grew at all, while QTL sales soared. This helped boost EPS by 22%. Even looking at operating income (factors out tax reform), the company's bottom line in the most recent quarter was very strong. That was thanks in large part to a $500 million payment from Huawei, who had been withholding royalties while it sues Qualcomm over its controversial licensing practices (more on this in a moment).
| | | | | | |
| --- | --- | --- | --- | --- | --- |
| Company | Gross Margin | Operating Margin | Net Margin | TTM FCF Margin | 5 Year Avg Return On Invested Capital |
| Qualcomm | 55.5% | 18.5% | 21.8% | 25.7% | 12.9% |
| Industry Average | 27.5% | 6.8% | 5.3% | NA | 11.6% |
(Sources: Gurufocus, Morningstar, CSImarketing.com)
As a result of the money minting QTL business, Qualcomm enjoys far superior profitability to its rivals. The most impressive and relevant to income investors are its sky-high free cash flow margin. Free cash flow is what's left over after running a business and investing in future growth. FCF is what ultimately pays for buybacks and dividends.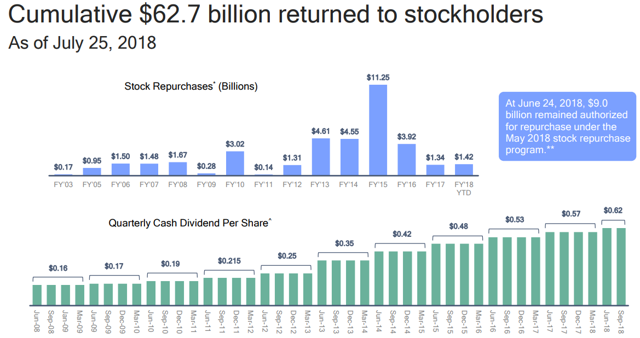 (Source: earnings presentation)
Qualcomm has proven itself very shareholder friendly in terms of capital returns, to the tune of nearly $63 billion over the past 15 years. More importantly, it's raised its dividend for 15 straight years, including a 9% payout hike for 2018.
And while Qualcomm's patent dominance is strongest in older wireless tech, Morningstar's Abhinav Davuluri expects the company's QTL business to see continued steady mid single digit growth (and about 3% QCT sales growth) through 2022. And thanks to the need for phones to be backwards compatible with older wireless technology Mr. Davuluri thinks that Qualcomm's strong intellectual property portfolio should continue paying strong royalties for the next 10 years at least.
But while Qualcomm is a world leader in chip design and enjoys a cash flow rich wide moat patent portfolio, the risks to the company's future are rising.
2. Risks To Business Model Are Mounting
One of the key threats to Qualcomm's business is slowing global smartphone sales. Due to longer product cycles and market saturation, smartphone sales have been flat since 2016. And the coming switch to 5G is expected to provide only a modest sales bump.
Global Smartphone Sales Trend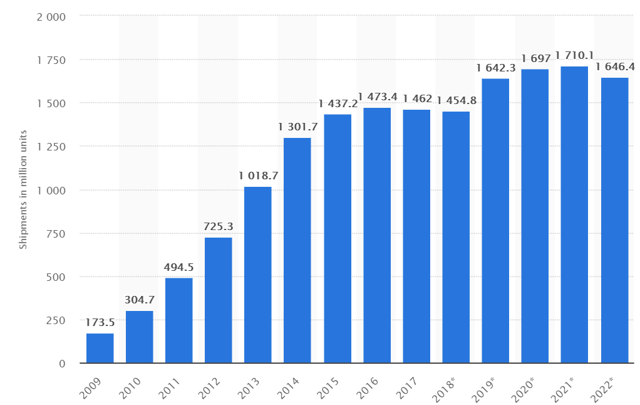 (Source: Statista)
Fortunately, Qualcomm's chips are also crucial to mobile devices such as wearables, which is why the total addressable market or TAM for its QCT business continues to grow at a modest pace.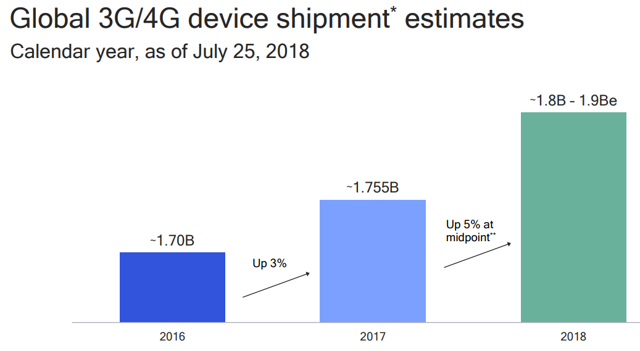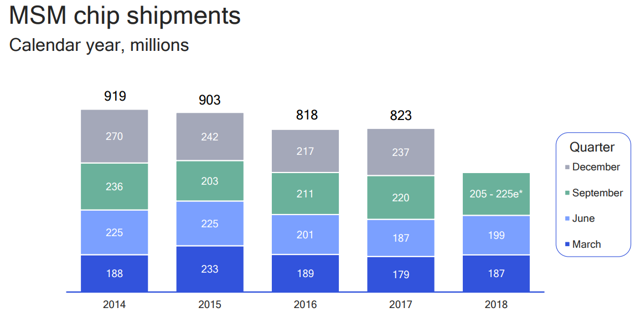 (Source: earnings presentation)
The bad news is that large phone makers like Samsung, Huawei, and Apple (AAPL) are now designing their phone chips in-house. As a result, Qualcomm's market share in system on a chip or SOCs is declining. That's why its chip volumes peaked in 2014. What's worse Qualcomm's baseband chip (cell modem chips to connect to wireless networks) business also took a big hit recently. That's because Apple, who had previously relied upon Qualcomm for its iPhone baseband chips, has been transitioning away to rival Intel (INTC). That's largely due to the ongoing licensing battle its waging with Qualcomm.
Between 2011 and 2015. Apple sourced 100% of its baseband needs from QCOM. However, starting with the launch of the iPhone 7 series, and escalating with the iPhone 8 and iPhone X, Intel won an increasing cut of this business. And starting with the iPhone XS series, Qualcomm is not in any new Apple phones at all (just legacy products still being sold).
The reason for Apple switching to a rival supplier is due to the legal battle between the two companies. This began in April 2017 when Apple suspended all royalty payments to Qualcomm because the current licensing model was "illegal". Apple claimed that Qualcomm had been using rebate payment incentives (discounts) to strong-arm it into using only its chips. Apple even ordered its suppliers to withhold royalty payments to QCOM. Huawei ended up joining Apple in its royalty embargo, though it recently settled for a partial payment.
But Qualcomm's licensing practices have hardly only drawn the ire of Apple and Huawei. Numerous global regulators have accused it of abusing its virtual 3G and 4G patent monopoly to decrease competition for global mobile chips.
In 2015 Chinese regulators fined QCOM $975 million and forced it to lower its 3% to 5% royalty from 100% to 65% of a phone's wholesale cost.
In 2016 South Korea's Fair Trade Commission fined the company $873 million for violating its competition laws.
In 2017 Taiwan's Fair Trade Commission fined Qualcomm $773 million over its IP royalty structure.
In 2018 the EU fined QCOM $1.2 billion over its use of rebate payments to Apple to try to block the phone maker from using competitor products. This fine is currently being appealed.
The good news is that Qualcomm was able to strike a deal with Taiwan's FTC to avoid actually paying that hefty fee. In exchange for investing $700 million into Taiwanese companies over the next five years, Taiwan has agreed to keep the $93 million in fines already paid, and allow QCOM's existing royalty structure to remain in place. Thus Qualcomm, while forced to make a big cash outlay over time, will likely see a positive return on what would otherwise be a big fine.
But the point is Qualcomm's lucrative cash cow has spent years embroiled in courtroom and regulatory battles that call into question how much earnings growth it can generate for the company. That's because if regulators ultimately decide that Qualcomm can only take royalties on the chip component part of a phone (average of $50 vs $200 wholesale price), then QTL's top and bottom line could plummet.
Many investors see this large risk as a reason the company has resorted to rather desperate moves, such as recently suing to ban iPhone sales in the US. This is just the most recent volley in Qualcomm's lengthy battle with Apple, which also includes it withholding the final $1 billion in rebate payments it owes Cupertino. Apple is countersuing QCOM in order to get that money. It's important to note that Qualcomm's attempt to block iPhone sales are not likely to succeed. In fact, back in 2017, when the legal battle with Apple first started, QCOM sued to block all Chinese iPhone production and sales. Since iPhones are assembled in China, this would have effectively destroyed Apple's global iPhone business that year. Which is why, not surprisingly Qualcomm lost that legal fight in China, where the judge was not willing to risk massive job losses at Foxconn.
These major challenges to both its QCT and QTL business are why management's guidance for the final quarter of fiscal 2018 is rather bleak.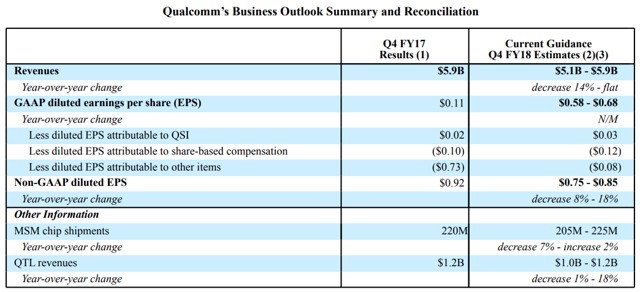 (Source: earnings release)
Qualcomm is expecting a roughly 3% decrease in chip volumes and a substantial decrease in YOY QTL royalty revenues. That drop in QTL sales is due to the one time nature of Huawei's back payment which won't be repeated. This is why QCOM is guiding for a 13% decline in quarterly EPS.
So with Qualcomm's core businesses (QCT and QTL) under continued pressure, it's no surprise the company turned to a needle moving and game changing acquisition to help it diversify away from its troubles. That's would be the $44 billion final bid for Dutch chipmaker NXP Semiconductors. The failure of this mega merger is a major blow to Qualcomm's future growth efforts, though management has a plan to offset it.
3. What NXP Merger Failure Means For Investors
The reason for acquiring NXP Semi was because of that company's dominant position in the technologies of the future, specifically automotive, Internet of Things (IOT), security, and networking.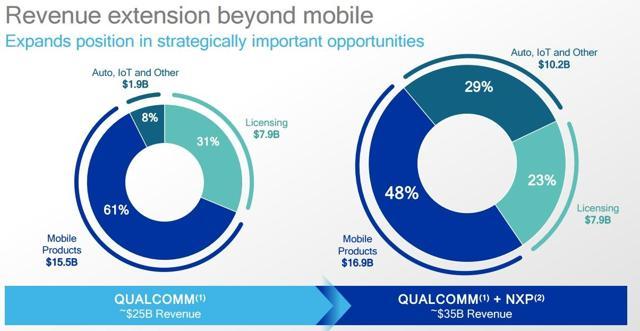 (Source: Qualcomm NXP acquisition presentation)
Had Qualcomm been able to close that deal it would have significantly reduced the company's reliance on mobile, which currently accounts for 92% of sales. Better yet, QCOM expected its addressable market size to grow 40% overnight. But while Qualcomm's final bid was accepted by NXP shareholders, ultimately Chinese regulators failed to approve the deal by the July 25th "drop dead" date. This was widely believed to have been due to the escalating trade war between the US and China. As a result, Qualcomm will be paying NXP a $2 billion breakup fee.
So, with the NXP failure such a major blow to the company's future growth plans, does that mean Qualcomm is no longer a good investment? Not necessarily. In the short term, management's plans to power growth in EPS and FCF/share include cost-cutting plans targeting $1 billion in annual savings by the end of fiscal 2019. In the past 12 months, QCOM's operating income was $3.1 billion, which means that $1 billion in cost savings represents a 32% boost to the bottom line.
Then there's the share buyback authorization, which management raised from $9 billion to $30 billion. Management says that most of this buyback will be completed by the end of next year, which would represent a share reduction of 29% at current prices. In fact, in September management announced it would be pursuing the first part of the buyback to the tune of $16 billion in buybacks in the coming quarter or two.
This is why analysts expect continued strong EPS growth from QCOM in the next few years.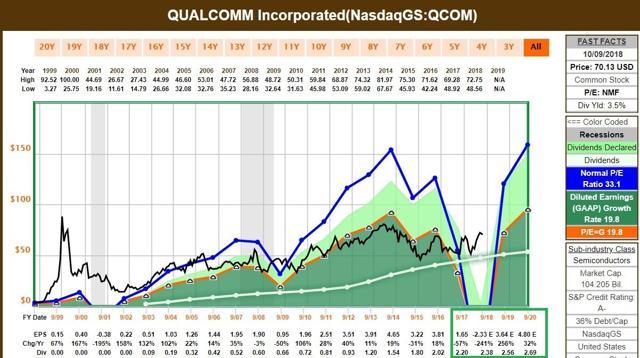 (Source: Fast Graphs)
Note that 2018's -$2.33 EPS figure is due to the company's one time $6 billion charge resulting from repatriating foreign cash post tax reform. This is why in 2018 EPS is expected to plunge, followed by a massive increase in 2019, but continued strong growth in 2020. Most importantly, the company's dividend is expected to continue growing steadily. That's thanks to management's plans to distribute 75% of free cash flow to investors via dividends and buybacks each year.
Ok, so maybe Qualcomm's short-term cost cutting plans and epic buyback program will help to drive solid results over the next few years. But what about the long-term? Well, that's where the company's 5G plans come in.
4. Qualcomm's Long-Term 5G Growth Potential Is Strong
5G is the next generation of wireless technology and will use millimeter wave spectrum and ultra high frequencies. It's expected to result in industry and economy revolutionizing improvements.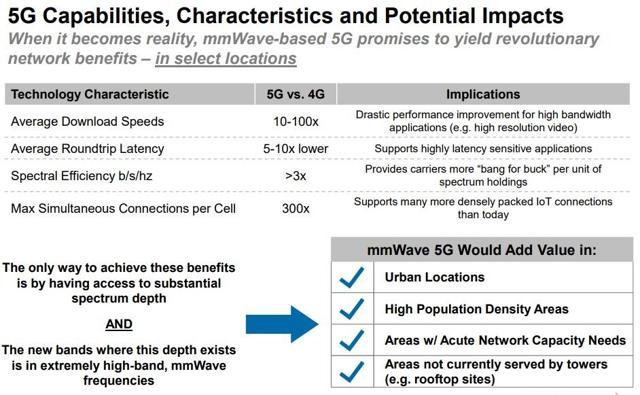 (Source: American Tower investor presentation)
That's because 5G will allow for download speeds of between 10 and 100 times as fast as current 4G. More importantly, latency, how fast it takes for data to get from one device to another, is expected to be reduced by 80% to 90%.
(Source: American Tower investor presentation)
Today 5G standards are being finalized, but companies are already planning on launching 5G wireless or home internet services in late 2018 and early 2019. Qualcomm actually helped pioneer the first 5G standards, via its partnership with Ericsson and ZTE. In 2019 it will be shipping its Snapdragon X50 5G modem (5X faster than current modem), which will mean the first 5G compatible smartphones will be coming next year.
But what does 5G mean for QCOM investors in the short and long-term? Well, according to management, sales connected to growth industries that are set to accelerate under 5G will hit $5 billion in 2018, up 70% since 2016.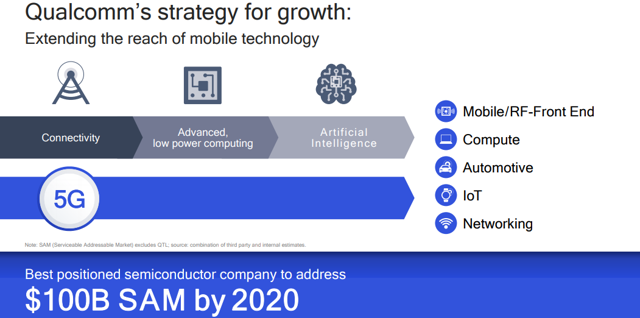 (Source: investor presentation)
More importantly, Qualcomm believes it's well positioned to compete in the early 5G rollout, with the global market for 5G chips will hit $100 billion by 2020. But what investors really need to focus on is the massive long-term growth potential created by 5G, which will enable huge growth in driverless cars and the internet of things or IOT.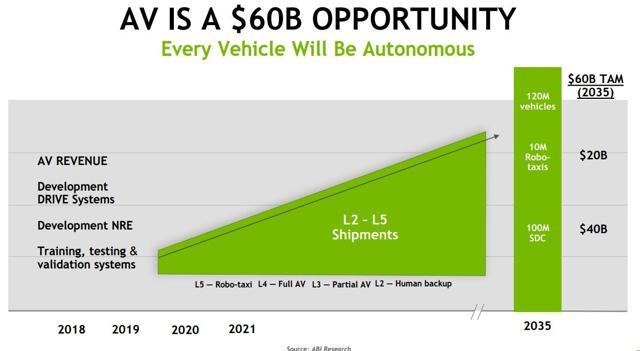 (Source: NVIDIA investor presentation)
According to NVIDIA (NVDA), by 2035 there will be 120 million driverless cars on the road. This will only be possible due to the super fast data connections and low latency that 5G allows.
Meanwhile, IOT, the connecting of various devices to the internet to provide real time data and AI driven optimization analysis tools, will also grow exponentially. According to ARM by 2035 IOT will connect 1 trillion global devices to 5G networks, and represent a $5 trillion global market all on its own. IOT will be a gamechanger for not just all industries, but the global economy as a whole.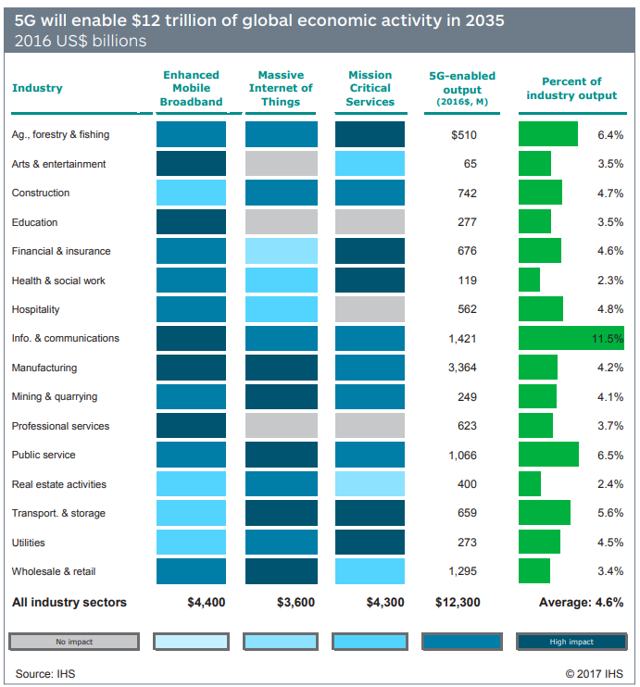 In fact, according to analyst firm IHS, by 2035 5G will generate:
$3.5 trillion in addition revenue through the supply chain
22 million new jobs
$12.3 trillion in economic benefit to companies
$3 trillion in additional global economic growth (compared to non 5G world) - equivalent to India's GDP today
And keep in mind even by 2035, IHS estimates that just 4.6% of total industry output will be benefitting from 5G. That shows the kind of massive growth runway we're looking at, which will extend out for several decades.
Ok, so 5G is going to be a revolutionary technology coming in the 2020s, and over the long-term will lead to far better productivity growth, corporate earnings, and prosperity around the world. But what about Qualcomm's part in this exciting "technology of tomorrow".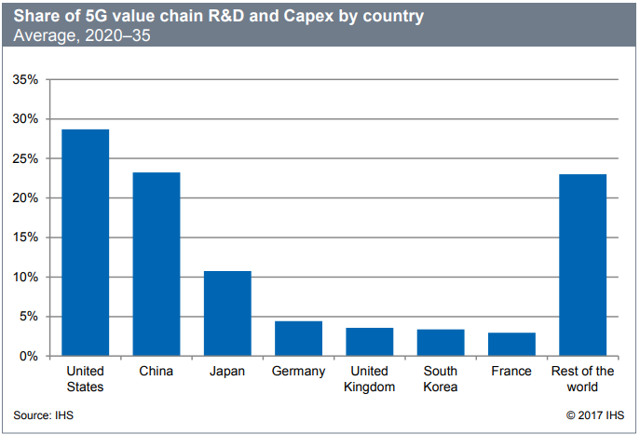 Well, the good news is that when it comes to 5G R&D spending the US is the world leader. Between 2020 and 2035 IHS estimates that US companies will account for 28% of total 5G R&D spending, followed by China at 24%. In China the government is funding much of that R&D but in the US it's mostly private companies like Qualcomm. QCOM is one of the biggest names in chip R&D, spending $5.6 billion, or 25% of revenue over the past 12 months. Most of that is focused on taking an early lead in 5G. But what exactly is Qualcomm's 5G development plans and what evidence do we have that management will be able to execute well on them?
Well, for one thing, Qualcomm says that 5G is a potentially great way to break into the radio frequency front-end components (like power amplifiers and signal filters) or RFFE market. RF components have historically be dominated by companies like Skyworks (SWKS) and Broadcom. But thanks to a recent joint venture with Japan's TDK, Qualcomm has been making big inroads into this space. In fact, it's recently received orders for RF components from some of the largest global players including over $2 billion in orders over three years from: Lenovo, OPPO, Vivo and Xiaomi.
In addition in early 2018 Qualcomm signed RFFE contracts with:
Contract wins with the biggest global players in 5G shows that Qualcomm is on the right track. Specifically that it will be able to leverage its large and growing R&D budget into a massive amount of 5G patents.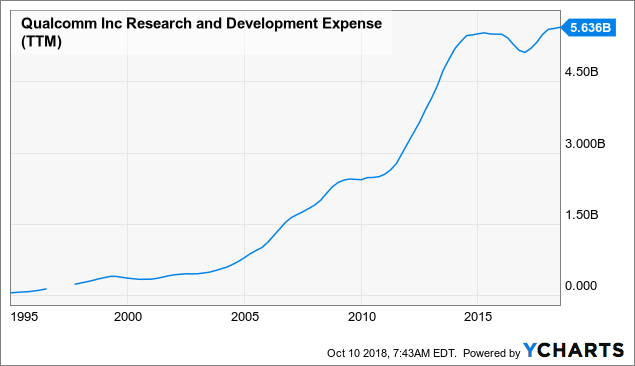 QCOM Research and Development Expense (TTM) data by YCharts
(Source: IAM Media)
When it comes to self declared granted 5G patents, QCOM has already disclosed nearly 10,000, more than any other company in the world. And signing major contracts for 5G radios with some of the world's largest smartphone makers, including Chinese giants who are moving to in-house SOC designs, will help stabilize and ultimately drive modest growth in its QTC segment.
It should be noted that 5G chips and RF components are not going to be a winner take all market. While Qualcomm is likely to be a leading contender in this space, only time will tell how much of the 5G chip market it's able to capture and at what kinds of margins. However, thanks to its massive economies of scale and R&D budget, if anyone can generate good cash flow from 5G it's probably Qualcomm.
Which bodes well for the future of its generous, safe, and fast growing dividend.
5. Dividend Profile: Safe And Steady Payout Growth And Market Beating Long-Term Returns Like To Continue
The most important component of any income investment is the dividend profile which consists of three parts: yield, dividend safety, and long-term growth potential. Combined with valuation, this is what tends to determine total returns.
| | | | | | |
| --- | --- | --- | --- | --- | --- |
| Company | Yield | TTM FCF Payout Ratio | Expected 10 Year CAGR Dividend Growth (Analyst Consensus) | Expected Total Return (From Fair Value) | Valuation Adjusted CAGR Total Return Potential |
| Qualcomm | 3.5% | 59% | 11.3% | 14.8% | 15.1% |
| S&P 500 | 1.8% | 38% | 6.4% | 8.2% | 0% to 5% |
(Sources: Morningstar, Fast Graphs, Gurufocus, Simply Safe Dividends, Multpl.com, Yardeni Research, BlackRock, Vanguard, Gordon Dividend Growth Model, Dividend Yield Theory)
Qualcomm's yield is nearly double that of the S&P 500 and the industry median of 1.9%. More importantly, that yield appears safe thanks to a modest 59% FCF payout ratio. This means that Qualcomm's dividend likely has a sufficient safety buffer to ride out its current challenges.
Of course, there's more to dividend safety than just a good payout ratio. The balance sheet is also important, especially in an industry where heavy investment into future technology is critical.
| | | | | |
| --- | --- | --- | --- | --- |
| Company | Debt/EBITDA | Interest Coverage Ratio | S&P Credit Rating | Average Interest Rate |
| Qualcomm | 3.6 | 5.5 | A- | 3.2% |
| Industry Average | 1.7 | 57.8 | NA | NA |
(Sources: Morningstar, Gurufocus, Fast Graphs)
At first glance, Qualcomm's balance sheet might appear rather dangerous. After all, its leverage ratio (Debt/EBITDA) is more than double the industry average and its interest coverage ratio is very low. But there are two important things to remember about Qualcomm's debt.
First is that the company actually has $13.4 billion in net cash (cash minus total debt). Even accounting for the $30 billion buybacks over the coming year, the company's net debt/EBITDA ratio is actually just 2.6. This explains why QCOM still enjoys a strong credit rating and borrowing costs that are about four times less than its returns on invested capital. Or to put another way, the company's debt is manageable and is actually driving stronger cash flow and dividend growth in the future.
What about Qualcomm's dividend growth prospects? Well, management's policy of paying out 75% of FCF to shareholders means that its impressive dividend growth record should continue. Based on the current payout ratio (high end of safe range), I'd expect the dividend to grow only as fast as long-term FCF/share. Analysts currently anticipate that will be about 11% over the next decade. That will come from a modest sales growth in both QTC and QTL, ongoing cost cutting, and steady buybacks.
When you combine the current yield with about 11% long-term dividend growth (in line with historical norms), you get an expected total return of about 14.5% assuming the stock is starting at fair value. For context the S&P 500's historical return (since 1871) has been 9.2%. Thus assuming no valuation changes Qualcomm appears to be offering:
double the market yield
superior long-term dividend growth (S&P 500's median payout growth since 1990 has been 6.4%)
far better total return potential
But actually when we consider valuations, then Qualcomm may be an even better investment. That's because from current valuations Morningstar, BlackRock and Vanguard expect the S&P 500 to deliver between 0% and 5% CAGR total returns over the next five to 10 years.
What about Qualcomm's valuation? Well, there is both good and bad news on that front.
6. Valuation: Fairly Valued Today Given The Risks Company Is Facing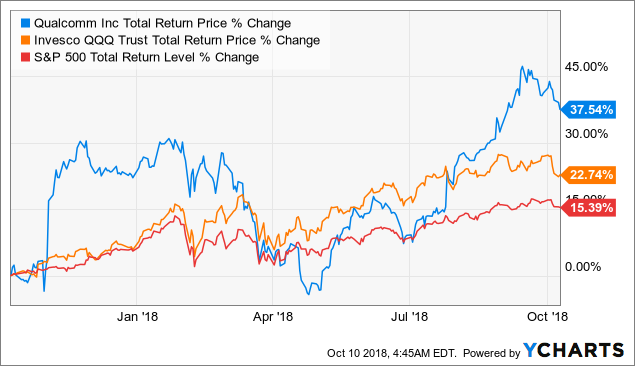 QCOM Total Return Price data by YCharts
Despite the ongoing soap opera, Qualcomm has actually delivered superior returns over the past year relative to the S&P 500 and NASDAQ. That's largely thanks to the recent spike caused by management announcing the $30 billion share buyback. But what does that rally mean for investors looking to potentially buy QCOM today?
There are dozens of ways to value a stock, but historically for tech dividend stocks, two are most useful. One is looking at the PE ratio, and comparing it to historical levels.
Current Forward PE Ratio: 18.4
Average PE ratio: 33.1
Average Tech Stock Forward PE: 17.9
From that perspective, Qualcomm's forward EPS (which I'm using due to messiness of EPS this year from tax reform), appears reasonable. It's in line with most tech stocks, and far below the company's historical average. But that doesn't necessarily mean that QCOM is a screaming buy. We have to remember that in the past EPS grew much faster thanks to the boom in smartphones and QTL's thriving high margin cash flow growth. With QTL likely to remain under pressure in the future, Qualcomm's growth rate will probably slow, making a lower multiple appropriate.
Fortunately there is another time tested valuation method that can determine whether the stock is a good buy today. That would be dividend yield theory or DYT. Since 1966 asset manager/newsletter publisher Investment Quality Trends has been using this valuation/investing approach to generate strong market beating total returns, and with lower volatility to boot.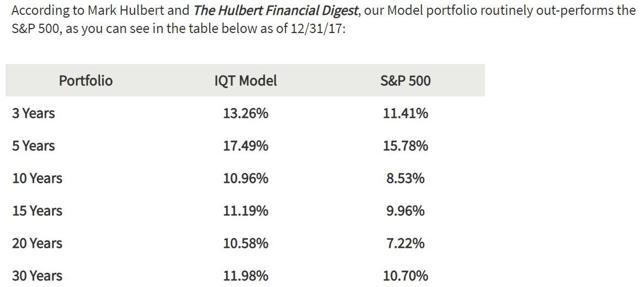 (Source: Investment Quality Trends)
DYT is based on the idea that as long as a company's cash flow and dividend growth is roughly stable over time, the yield will be mean reverting. That means it will cycle around a relatively fixed level that approximates fair value. If a stock's yield is above this fair value yield, then you are buying at a discount or margin of safety. When the yield returns to its historical norm, you will see shares outpace FCF and dividend growth, thus boosting returns.
| | | | | | | |
| --- | --- | --- | --- | --- | --- | --- |
| Yield | 5 Year Average Yield | 13 Year Median Yield | Estimated Fair Value Yield | Discount To Fair Value | Expected Long-Term CAGR Return Boost | Expected CAGR Total Return |
| 3.5% | 3.4% | 1.8% | 3.4% | 3% | 0.3% | 15.1% |
(Sources: Gurufocus, Simply Safe Dividends, Moneychimp, Dividend Yield Theory, Gordon Dividend Growth Model)
However, it's important to use the appropriate historical yield when using this valuation method. In the case of Qualcomm the 13 year median yield is far lower than the five year average. That's due to much stronger past growth and less regulatory/legal risks surrounding QTL.
When applying DYT to Qualcomm I prefer to use the more conservative five year average, which prices in most of that risk, as well as slower future growth. This means that I estimate QCOM's fair value yield to be 3.4%, implying just a 3% margin of safety. Note this DYT estimated fair value matches perfectly with Morningstar's fair value estimate of $72. Morningstar's estimate also implies a 3% discount to fair value, based on its conservative three stage discounted cash flow model.
What does a 3% discount to fair value mean for investors? Well, that over the next decade, assuming Qualcomm delivers the growth analysts expect it to, you'd see a 0.3% CAGR total return boost from buying at today's price. Normally I'd be happy to recommend a blue chip at fair value, under the Buffett principle that "it's better to buy a wonderful company at a fair price than a fair company at a wonderful price."
While QCOM is certainly an industry-leading blue chip, I'm not ready to call it a "buy" at this time, at least not for all investors. That's because with the kinds of risks QTL is facing for the next few years, I'd like to see a higher margin of safety (10% to 15%) before recommending it to conservative income investors.
But if your risk tolerance is higher, and you're comfortable with the ongoing legal/regulatory risks facing it, then Qualcomm is probably a good long-term investment at today's price. Just remember that there is a high amount of uncertainty surrounding its long-term growth projections.
Bottom Line: Qualcomm Is Still A Good High-Yield Investment Today For Those Comfortable With Its Risk Profile
I fully understand if more conservative income investors want to avoid the ongoing soap opera that is Qualcomm. After all, while the company has a solid short-term post merger failure plan to drive strong EPS and FCF/share growth in the next few years, there are still lots of risks to keep in mind. That would be ongoing regulatory risk and legal battles that could drag on for several more years, and calls into question the future profitability of the company's cash cow QTL segment.
That being said, as far as long-term dividend growth investments go, I am still cautiously bullish on Qualcomm. That's entirely due to the company's strong early lead in 5G chip and RF component patents. Qualcomm continues to invest massive amounts of R&D into the hardware that will underpin the future of the global economy. More importantly, it's winning major contracts with some of the world's biggest mobile hardware and IT companies, showing that its 5G patents are likely to pay off.
And we can't forget its existing treasure trove of 3G and 4G patents. These should still generate modest growth in high margin revenue for years to come, which is why I agree with analysts that Qualcomm is likely capable of low double digits EPS and FCF/share growth in the coming decade. That should allow strong long-term dividend growth, and make Qualcomm a potentially excellent long-term investment. One that from current valuations might generate about 15% long-term CAGR total returns over the next 10 years.
However, it's important to realize that there is a large amount of uncertainty baked into those long-term forecasts. And with shares currently about 3% undervalued, that might not be a high enough margin of safety for conservative investors to climb aboard at this time.
Disclosure: I/we have no positions in any stocks mentioned, and no plans to initiate any positions within the next 72 hours.
I wrote this article myself, and it expresses my own opinions. I am not receiving compensation for it (other than from Seeking Alpha). I have no business relationship with any company whose stock is mentioned in this article.