Ford Motor (F) is a bit in a tough spot now. The company reported weaker-than-expected U.S. sales for the month of September, and the tariff war between the United States and China went into yet another round last month. On the back of such developments, the company slashed its 2018 EPS guidance, and risks to the guidance have grown lately. Investors remain fearful of Ford Motor, as evidenced by a sky-high 6.7 percent dividend yield. What is the best course of action for investors now?
Shares dropped to a new 52-week (and multi-year) low @$8.95 Tuesday, extending their series of new lows in the last couple of months. Shares dropped below $9 on Tuesday, the first time in six years. Ford Motor is on the brink of being oversold, according to the Relative Strength Index, RSI, which flashes a value of 33.51. Year-to-date, Ford's share price has slumped ~28 percent.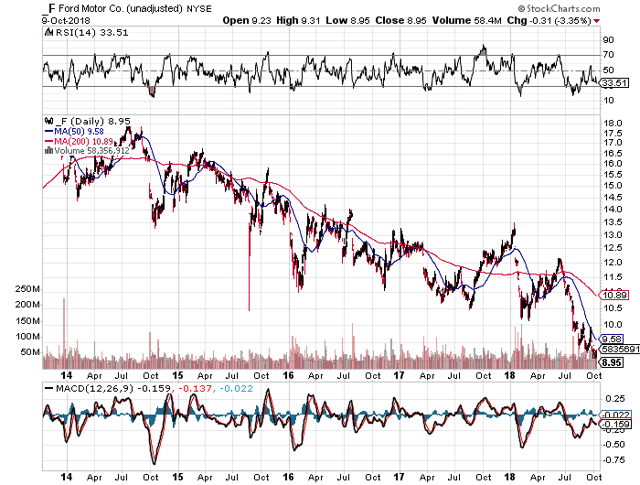 Source: StockCharts
Fighting An Uphill Battle
Investor sentiment, right now, is not in favor of Ford Motor.
For one thing, uncertainty about yet another round of tariffs in the U.S.-Sino trade stand-off is weighing heavily on the auto company. President Trump slapped another $200 billion of tariffs on Chinese imports last month in an effort to pressure China to change its trade policies. The U.S. imposed a 10 percent tariff on Chinese goods, which will rise to 25 percent at the beginning of next year. China responded in kind, slapping $60 billion worth of import taxes on U.S. goods. Trade talks are currently at a standstill, and yet another round of new tariffs in the near future is entirely within the realms of possibility.
The leverage right now, I assume, works in favor of the United States. The U.S. economy is in excellent shape and America imports a lot more goods from China than the other way around. That being said, though, I continue to believe that the trade conflict between the two largest economies in the world will eventually be resolved at the negotiating table.
Ford Motor also lowered its 2018 earnings guidance ~11 percent earlier this year, a response to the escalating tariff situation with China. A new round of tariffs, however, might even put the lowered EPS guidance at risk later this year, or dampen Ford Motor's profit outlook in 2019.
In any case, it is hard to see a positive catalyst for Ford Motor's shares over the short haul, especially with the risk of new tariffs hanging over the auto sector.
If Ford slashes its 2018 EPS guidance again (the company has guided for $1.58/share in adjusted profits this year), there is a growing risk to the dividend. I don't believe at this point that Ford Motor will pay a special dividend in Q1-2019 given the current tariff situation, something the company has done in the last three years. If the company slashes its regular dividend on the back of yet another round of tariffs, its shares could head a lot lower over the short haul.
What Are Your Options Now?
If you already own Ford Motor, the best action is probably to do nothing. Selling into the current weakness and near multi-year lows is a bad idea, in my opinion. As long as the company continues to pay its $0.15/share quarterly base dividend, there is a reasonable chance that the stock price will recover.
If you are sitting on the sidelines, waiting for an entry opportunity, this could be it. Ford Motor is widely unpopular now, and the reduced guidance and the tariff conflict heavily weigh on investor sentiment. Shares are quite cheap, selling for ~6.4x next year's estimated profits, and investors are probably not overpaying for the company's dividend stream.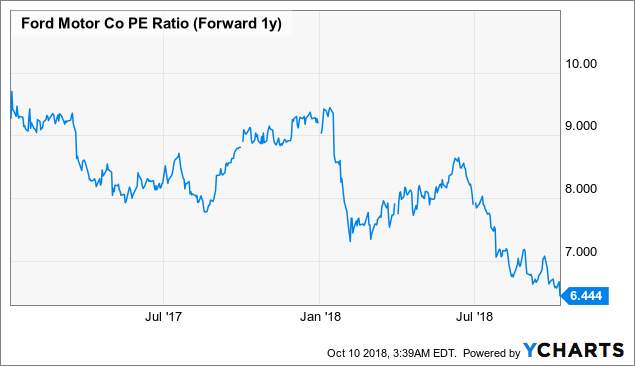 Your Takeaway
Ford Motor has not been a good investment at all this year, and there are significant risks on the horizon, most importantly a continued escalation of the tariff standoff between the U.S. and China, which in turn could put its guidance at risk. While I expect Ford to scrap its special dividend in 2019, the company remains a compelling income vehicle. As long as Ford maintains its regular dividend, further downside, I would think, is quite limited. Speculative Buy for income and capital appreciation.
If you like to read more of my articles, and like to be kept up to date with the companies I cover, I kindly ask you that you scroll to the top of this page and click "follow". I am largely investing in dividend paying stocks, but also venture out occasionally and cover special situations that offer appealing reward-to-risk ratios and have potential for significant capital appreciation. Above all, my immediate investment goal is to achieve financial independence.
Disclosure: I am/we are long F.
I wrote this article myself, and it expresses my own opinions. I am not receiving compensation for it (other than from Seeking Alpha). I have no business relationship with any company whose stock is mentioned in this article.