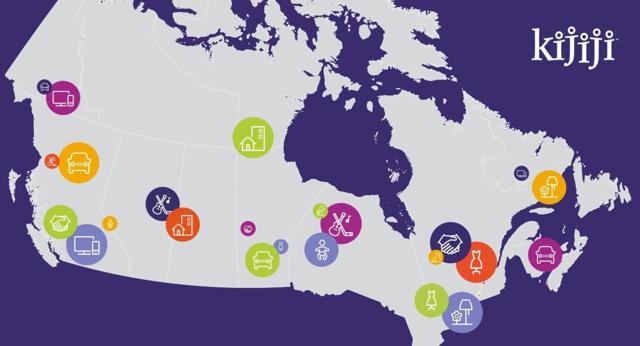 *Taken from Kijiji
Almost everybody who knows anything about eBay (EBAY) sees the company as an online auction house and, in a sense, that's what the business is at its core. That said, the business itself is far more complex than that, with its hands dipped in a number of areas, not only in the US but abroad as well. And while eBay has not demonstrated the same kind of robust growth over the years that rival Amazon (AMZN) has, it has thrived in its own way. In particular, an increasingly-vital part of the enterprise is its focus on the fragmented Classifieds market. It is through this small part of its operations that eBay is experiencing some of its fastest growth, growth that, in the long run, should add value for the company's shareholders.
A look at Classifieds
eBay, at this time, owns several properties that fall under its Classifieds business. In particular, we have platforms like mobile.de, Kijiji, Gumtree, Marktplaats, and eBay Kleinanzeigen. mobile.de, for instance, is positioned as a major platform for Germans to list and buy cars from. Kijiji, meanwhile, allows people to list homes for rent, cars for sale, tools, furniture, and more. According to the company's website, Kijiji, which was founded in 2005, is the largest Classifieds site in Canada, with 2 new ads posted by users every second. Collectively, the site boasts that 16 million users utilize it every month.
Gumtree has operations in markets like the UK and Australia (where it was founded in 2000 and eventually acquired by eBay). In the UK, the company is considered the nation's largest Classifieds site for postings ranging from job opportunities, to vehicles and properties for sale, to enlisting tutors and joining clubs. Based on the company's website, an estimated one-third of the UK's adult population uses the site each month. Marktplaats, eBay Kleinanzeigen, and other platforms are known to be significant players in their markets as well.
Revenue generated by Classifieds is considered MS&O revenue. This means Marketing Services & Other, and is essentially a catch-all classification by management and includes final value fees, listing fees, service ads, vehicles listing fees, and more. For Classifieds specifically, the bulk of the revenue appears to be attributable to advertisements posted by the company.
Though this collection of digital properties may not be looked upon favorably by some investors, the fact of the matter is that there can be big value extracted from their sale if eBay ever decides to go that route. Though a private business with no significant public filings and a more singular focus than assets like Kijiji or Gumtree, job hunting service Glassdoor sold earlier this year for $1.2 billion. It's not inconceivable that these miscellaneous assets eBay happens to be sitting on could be attractive assets for prospective buyers.
Sadly, eBay does not issue any fundamental data related to individual Classifieds-centric companies, but it does provide investors with a look at the operations on the whole. As you can see in the graph below, sales growth posted by Classifieds has been quite significantly over the past few years. Back in 2015, revenue came in at $703 million. By 2017, that figured had grown to $897 million. To put this in perspective, StubHub, which is the only part of eBay that's growing faster than Classifieds, generated sales in 2017 of $1.03 billion, just $131 million lower than what Classifieds generated.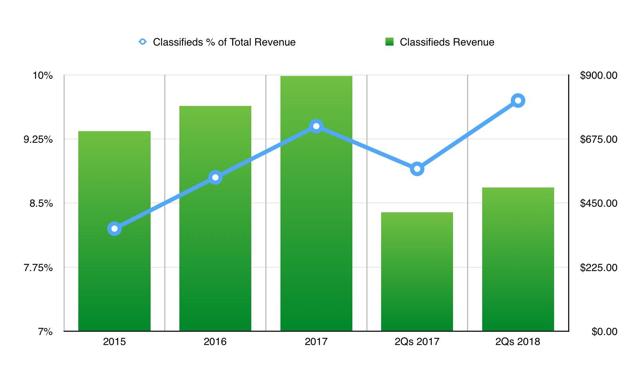 *Created by Author
Aggregate growth from Classifieds in the past few years is nothing to sneeze at. According to eBay's financial filings, revenue from 2015 through 2017 expanded by 27.6%. This is slower than the 45.2% (including some corporate impacts) reported for StubHub, but it was enough growth to see Classifieds become a more relevant part of the business. Back in 2015, Classifieds accounted for just 8.2% of eBay's revenue. By 2017, that figure had grown to 9.4%. So far, that trend shows no signs of stopping. In the first two quarters of 2018, the operation's revenue totaled $505 million, up 20.8% compared to the same two quarters of last year, and as a percent of sales, it has risen to 9.7% versus the 8.9% that was seen in the first two quarters of 2017.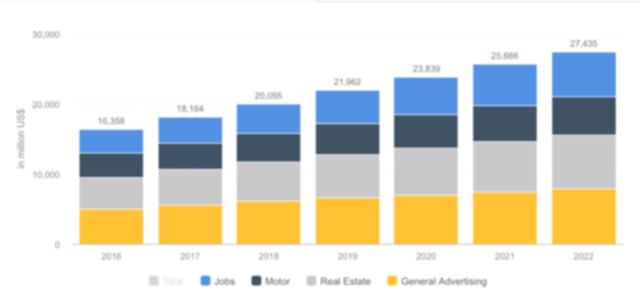 *Taken from Statista
As internet access grows globally, and as commerce becomes even more tied to the web than it is today, we will see the Classifieds space grow at a nice clip. According to one source I found, total global revenue associated with Classifieds came out to around $18.16 billion in 2017. By 2022, that figure is expected to grow by 51% to $27.44 billion. That translates to an annual increase of about 8.6%. Given that management at eBay likely recognizes this trend, and thanks to the $2.2 billion in projected free cash flow the whole entity is expected to generate this year, eBay will have plenty of opportunities to capitalize on this area.
Takeaway
While it is true that eBay is an online auction house, the company is far larger and far more complicated than just that. Case-in-point, we have its Classifieds business, which consists of a menagerie of digital assets that collectively bring in significant sales and growth for shareholders. Individually, it's impossible to tell how much these assets are worth, but with attractive aggregate sales nearing or possibly even surpassing $1 billion this year, and with years of robust growth prospects ahead, shareholders in eBay should find this part of the business compelling.
A community of oil and natural gas investors with a hankering for the E&P space:

Crude Value Insights is an exclusive community of investors who have a taste for oil and natural gas firms. Our main interest is on cash flow and the value and growth prospects that generate the strongest potential for investors. You get access to a 50+ stock model account, in-depth cash flow analyses of E&P firms, and a Live Chat where members can share their knowledge and experiences with one another. Sign up now and your first two weeks are free!
Disclosure: I/we have no positions in any stocks mentioned, and no plans to initiate any positions within the next 72 hours.
I wrote this article myself, and it expresses my own opinions. I am not receiving compensation for it (other than from Seeking Alpha). I have no business relationship with any company whose stock is mentioned in this article.