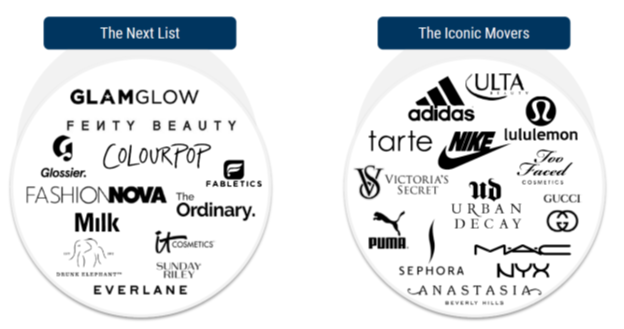 Image credit: Goldman Sachs Global Investment Research
Investment Thesis
Nordstrom Inc. (NYSE: JWN) is still considered a fashion destination with a differentiated product range for designers and consumers alike. We cannot deny the fact that JWN is still one of those few retailers that sell high-end luxury brands. Recently, the company has focused on sourcing newer brands while also developing a private label product.
The company has robust omnichannel capabilities that allow it to reinforce its defenses relative to competitors. The portfolio of luxury brands of JWN is skewed to better quality malls compared to its peers. However, JWN store outlets are big and mall-based. The company is exposed to declining mall traffic.
Compared to industry peers, the company has invested more in existing stores. At the same time, the company has been spending on a number of growth drivers such as the rollout of Rack stores, Trunk Club and some new store outlets in New York City. Physical stores now account for only approximately 50% of total sales.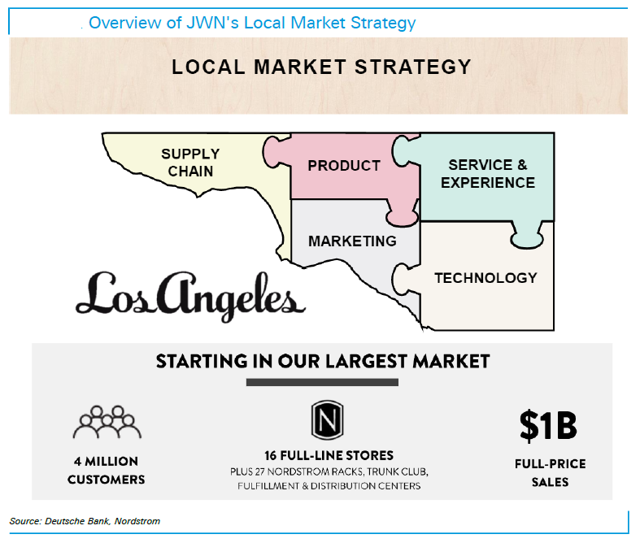 Source: Deutsche Bank, Nordstrom
Generally, consumers are shifting where they choose to buy apparel. Specialty retailers, department stores and the broader mall ecosystem have been giving up market share in recent years to online pure-plays, fast fashion, off-price and to brands' own direct-to-consumer efforts. I expect these trends to persist.
Investments in these growth opportunities have weighed on the company's margins and returns in recent years. However, we noted an inflection in these metrics ahead as these businesses start to scale while investment activities ease. We will try to unravel the magnitude of inflection in JWN's margins given the investment in growth opportunities.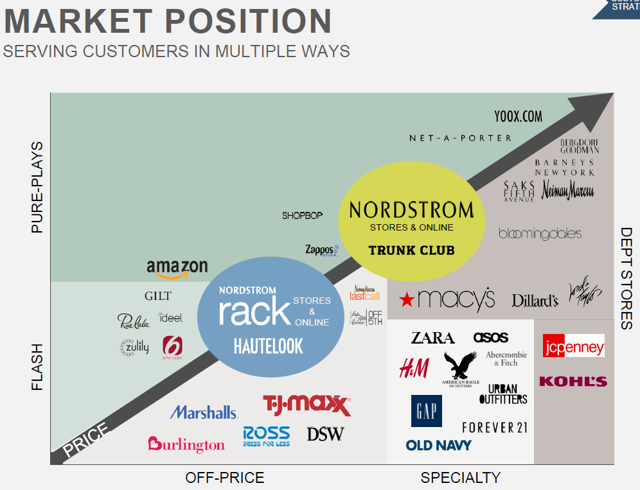 Source: Nordstrom
Market Position: A Widening Gap
The shift online by most retail vendors persists as the single biggest inflection. Goldman Sachs (NYSE: GS) noted that Amazon (NYSE: AMZN) is becoming an increasingly dominant retailer in almost every apparel category. They also believe that one caveat here is the observation that fashion-forward consumers appear to be resisting this change. They choose to spend a greater proportion of their spending money in-store than the mainstream spenders.
There is a widening gap between Amazon and more traditional retailers like JWN. GS also indicated that there is a rising preference for Amazon with the GS consumer demand index rose from high single digits to mid-teens. This firm showing was particularly notable across mainstream women. AMZN jumped to the top spot from number 4 last year (see table below). It gained 4 points of share year-on-year. (Goldman Sachs x Conde Nast: The 2018 Top Brands & Retailers Love List).

Source: Conde Nast, Goldman Sachs
But Survey Says Traditional Format Wins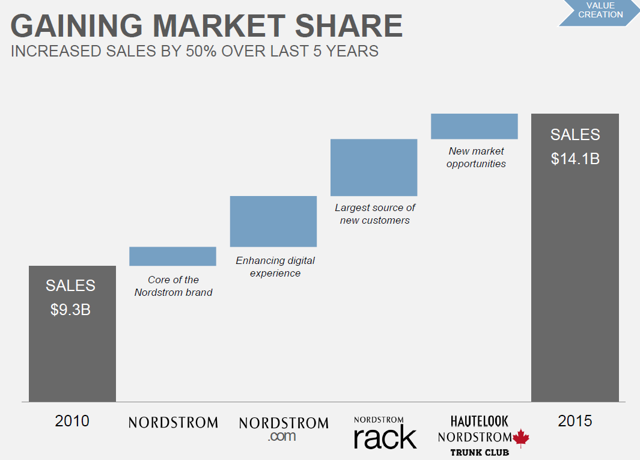 Source: Nordstrom
GS acknowledged that changes in the way consumers prefer to shop for apparel are a long-term structural challenge for the traditional department store and large box retail formats. They argued that market share shifts within the category are equally important for share price performance. This is especially true among department stores in recent years. Sears (NASDAQ: SHLD) and JC Penney have seen material declines in sales and market share, while Kohl's (NYSE: KSS) and JWN have each increased their market share, in an environment where there is a shrinking market pie.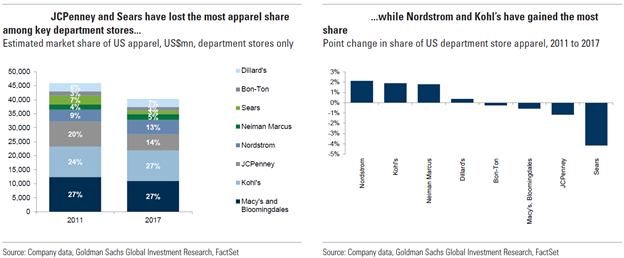 Source: Company data, Goldman Sachs and FactSet Research.
And Even Walmart, Macy's & Target Win
Fashion forward women remain loyal to traditional retail formats, gravitating in particular towards JWN and other fast fashion retailers.
Within GS' department store coverage, I noted JWN retained its top spot but lost modest share. KSS gained momentum in the national sample for Millennials and across both genders but saw some softness in the Generation Z crowd. Macy's (NYSE: M) gained momentum in the national sample. Walmart's (NYSE: WMT) share of responses increased among national sample participants, while Target's share declined. This was driven by male shoppers and Generation Z, whose preference for WMT is greater. Interestingly, this also mirrors trends in the apps category, where a preference for WMT's app increases while the affinity for Target (NYSE: TGT) more often declines. (Conde Nast, Goldman Sachs, Initiate with Attractive View on Department Stores and Off-Price Retailers).
Earnings Quality
A rundown of JWN's earnings revealed that the company recently announced a disappointing earnings year to date. Generational investments negatively impacted earnings before income tax (EBIT) by $160 Million or 15% in 2017. This translates to a total of $585 Million or 8% since 2012. Missteps in off-price along with the unseasonable weather in California (JWN's largest market) pulled down earnings. Historically, gross profit margins have declined by approximately 250 basis points since 2011. (Company 10-K Filing, 2017)
Hence, Deutsche Bank forecast JWN would not return to peak EBIT margins of 13% to 14% seen last 2006 and 2007. The company also has to deal with the structural changes in both the industry and its current business model. Although, the analyst at Deutsche Bank is optimistic that at least 200 basis points of margin recapture within the next five years is achievable, as benchmarked against 2017's EBIT margin of 6.2%. (Deutsche Bank, Laying Down the Red Carpet; Path to EBIT Margin Growth at Investor Day).
The reason: the combination of achieving scale at generational investments and accelerating comp sales growth, accompanied by higher than expected gross profit margin should pump in more fresh blood to the anemic margins.
Being a Filipino tourist in the United States, I shopped a few times there in the past, and I was amazed by the reasonable prices of signature brand shoes of Nordstrom Rack. Every purchase is worth the penny.
Earnings Outlook: Aiming For High-End of Guidance
Obviously, investors are inclined to be more cautious on earnings outlook and will remain on the lookout for signs of stabilization in off-price. They will also keep a watchful radar on the acceleration in comp sales growth, whether JWN is capable of achieving the high-end of guidance to rise 1.5% in 2018. Nordstrom Rack should do the trick to offset its losses. Its business concept will never compromise the Nordstrom brand image. (Deutsche Bank, Laying Down the Red Carpet; Path to EBIT Margin Growth at Investor Day).
Market Outlook: The Inflection Drivers
A number of companies have talked to the recent strength in the demand for fashion product, which is outstripping the demand for basics. Alongside the better consumer environment, this could also be driven by new fashion cycles, including athletic, denim, and streetwear.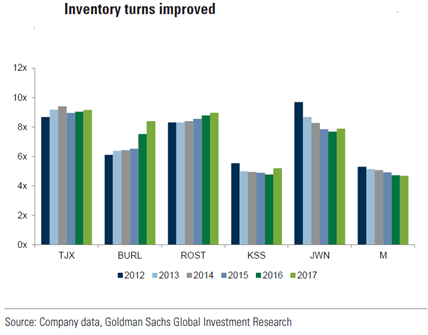 Source: Company data, Goldman Sachs
The GS survey also reported that retailers and brands have proactively been reducing inventories, with positive implications for full price sell through. Individual tax cuts, higher wages and wealth creation from higher asset prices are buoying consumer spending. Hence, apparel sales are benefiting. (Goldman Sachs, Goldman Sachs x Conde Nast: The 2018 Top Brands & Retailers Love List).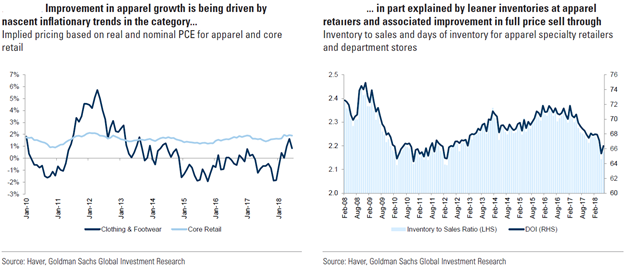 Source: Haver, Goldman Sachs
I'm cautious, however, that many of the structural drivers of economic deflation persist. Among them are the shift to more casual wardrobes, price transparency driven by e-commerce and continued growth in value shopping formats. However, I also expect this trend will be offset by moderate apparel inflation that will persist in the near term, driven by lean inventories at retail.
Timeline of Generational Investments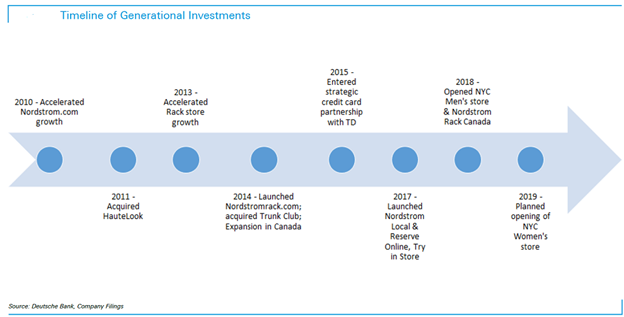 Source: Deutsche Bank (Path To EBIT Margin Growth at Investor Day).
My Takeaway
To recap, the company's generational investments have been underway for several years. It thus marked a period of elevated operational expense growth and capital spending. Investments included accelerated digital and Rack store growth plus a few acquisitions. JWN has continuously engaged with customers both online and offline to drive its business despite years of elevated spending.
Hence, I believe that generational investments will pump in more fresh blood to boost the retailer's differentiated and limited "strategic brands". These strategic brands not only have higher sales growth but also carry greater gross margins. In effect, the company will enhance its margins through its successful brick and mortar retail format that provide superior value and superb customer experiences.
I argue that JWN will continue to play an important, despite diminished role, in the US apparel retail space. They will continue to compete better and have a competitive advantage for off-price retailers. Going forward, I would expect JWN will formulate its five-year strategic plan to coincide with its present five-year capital expenditure outlook. From there, the company would be able to lay out a clear path for its EBIT growth for 2019 and beyond.
Disclosure: I/we have no positions in any stocks mentioned, and no plans to initiate any positions within the next 72 hours. I wrote this article myself, and it expresses my own opinions. I am not receiving compensation for it (other than from Seeking Alpha). I have no business relationship with any company whose stock is mentioned in this article.
Additional disclosure: If you found this article to be informative and would like to hear more about my investment research, please consider hitting the "Follow" button above.