Owning shares of United Technologies (UTX) has long been a goal of mine. I like the company's mix of businesses as well as its long dividend growth history. The stock has made several of my watch lists over the years, but I've never added the name to our portfolio. While the S&P 500 has gained ~8% in 2018, shares of United Technology are up 4.5%. Has this slight underperformance relative to the market given us another chance at owning shares of this aerospace and defense company? Let's find out.
Company Background
United Technologies is divided into four separate businesses. Pratt & Whitney provides and services engines for both commercial and military jets. The Otis division is a global leader in elevators and escalators. The UTC Climate segment provides heating, ventilation and air conditioning products. The Aerospace division manufactures aerospace and industrial products. United Technologies had more than $60 billion in sales in 2017 and has a current market cap of $106 billion.
United Technologies paid $30 billion to acquire Rockwell Rollins in 2017. This acquisition will diversify the company's aerospace segment and add roughly $8 billion to sales. The acquisition is likely to close sometime in the third quarter.
Recent Earnings Results
United Technologies most recently released earnings on July 24th. The company earned $1.97 per share during the second quarter.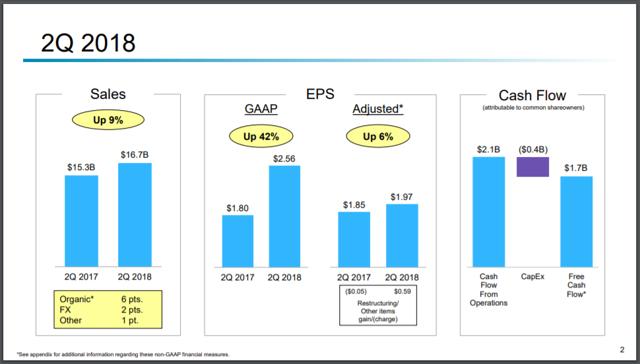 Source: United Technologies' Second Quarter Earnings Release, page 2.
United Technologies earned $1.97 during the quarter, a 6.5% increase year over year and a $0.12 beat of the average analysts' estimate. Revenue increased 9.4% from the second quarter of 2017 to $16.7 billion. This was $440 million above what the market was expecting.
The company produced 6% organic growth during the quarter, the fourth consecutive quarter of at least 5% organic growth. Each of United Technologies' business segments showed increased sales during the quarter.
Pratt & Whitney saw 16% revenue growth. Large commercial engines saw nearly 50% growth from the prior year. United Technologies' Geared Turbofans shipments tripled from the second quarter of 2017. United Technologies expects to deliver 740 GTF engines in 2018, almost double 2017's deliveries. The company expects that they will deliver 2,500 engines over the next three years.
Otis sales improved 3% organically, with high teens growth in Europe and high single-digit growth in Asia driving demand for products. Otis sales in China were down 10% during the quarter. New orders, however, were up 10% organically, with China unit growth improving 2%.
Climate, Control and Security sales had 4% organic growth. Transport refrigeration sales increased 11% year over year as container sales showed strong growth. Revenues for residential HVAC improved 5%.
Aerospace Systems delivered 8% organic sales growth, with aftermarket services being a significant portion of this sales growth.
One aspect of United Technologies' business that has always attracted me to the stock is the high level of aftermarket services that the company provides. Aftermarket services account for nearly half of net sales.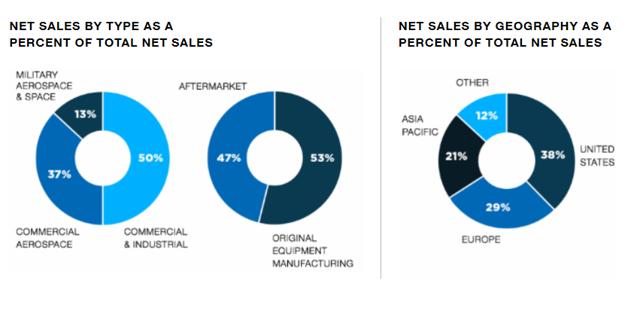 Source: Investor Relations
Engines, elevators and other equipment require upkeep and fixing from time to time. Instead of going to a different provider, customers use United Technologies to make repairs and updates. This is a very high margin business that creates a fairly steady source of reoccurring revenue for the company. Aftermarket revenues were up 12% company-wide during the second quarter.
United Technologies also revised guidance for the year based on quarterly results.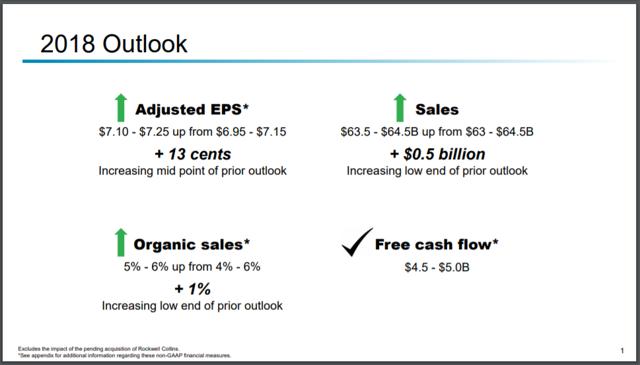 Source: United Technologies' Second Quarter Earnings Release, page 1.
After second quarter earnings results, United Technologies increased its expected midpoint for earnings per share to $7.18 from $7.05 previously. If achieved, this would represent a nearly 9% increase for earnings from the prior year. The expected mid-point for sales would represent growth of more than 7% from last year's total. United Technologies now expects their tax rate to be 24.5% for 2018, slightly below their prior estimate of 25.5%.
United Technologies releases third quarter earnings results on October 23rd.
Dividend History
For industrial companies, whose earnings are more tied to the health of the economy than other sectors, I like to see ten-year and five-year dividend growth rates of at least 10%. Higher dividend growth often means that the management of the company sees solid earnings growth going forward. While not perfect, it does give me a window into the company's thinking.
United Technologies has increased its dividend for the past twenty four years, making the company one year away from becoming a Dividend Aristocrat.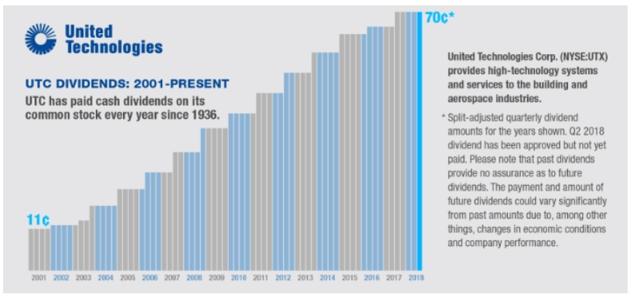 Source: Investor Relations.
The last increase was announced on June 15th, 2017. The dividend payment that occurred at the beginning of September marked the fifth consecutive payment of $0.70. This isn't that out of the ordinary for United Technologies as the company has varied the timing of the dividend increase in previous years. Still, the company has increased its dividend by:
6% annually over the last five years.

9% annually over the last ten years.
These dividend growth rates are below my targeted annual increase of 10% for both the last five and ten-year periods of time. This is not exactly a deal-breaker for me if a company has a long dividend growth streak. With almost a quarter century of dividend growth, United Technologies has shown a commitment to dividend growth through several economic cycles and managed to grow its distributions. Shares currently yield 2.1%. This is slightly above the yield of the S&P 500 (1.8%).
If the company doesn't increase the dividend for the December payment, United Technologies will pay shareholders $2.80 in dividends for the year. Based off of expected earnings per share for 2018, the company's dividend payout ratio is 39%. According to Value Line, the average dividend payout ratio over the last decade is 36.5%. The current payout ratio is very much in line with the company's average and also leaves plenty of room for United Technologies to increase its dividend even if earnings decline.
My Valuation For United Technologies
If you're not familiar with how I value stocks, I take the current price and compare it to fair values and price targets from a number of different sources to see how over or undervalued shares are currently. I then take the average of these values to determine a price target. For companies that have increased their dividend by at least a decade, which United Technologies has done, I am willing to pay 5% above what I consider fair value, because I can be fairly confident that the dividend is likely to continue due to the company navigating the last recession while increasing its dividend.
| | | |
| --- | --- | --- |
| Current Yield | Years of Div Growth | 5-Year Div Growth |
| 2.11% | 24 | 6.00% |
| CFRA 1-Yr Price Target | CFRA Fair Value | Morningstar Fair Value |
| $155 | $137.96 | $140 |
| Current P/E | F.A.S.T. Graphs P/E | Value Engine 1-Yr Price Target |
| 18.5 | 16.8 | $149.04 |
| Value Engine Fair Value | Value Line Safety and Fin Strength | My Price Target |
| $122.60 | 1 / A++ | Under $145 |
Prior to purchasing a stock, I use Value Line to help me determine if a company is healthy financially. Value Line gives United Technologies a 1 for safety and an A++ for financial strength. These are the highest scores a company can receive in either category.
As I write this, United Technologies is trading for $133. Based off of expected EPS of $7.18, United Technologies has a price to earnings ratio of 18.5. This is a 9.3% premium to the company's average five-year average P/E of 16.5. United Technologies is attractively valued when compared to the S&P 500 (23.3).
CFRA's one-year price target of $155 means that the stock offers 16.5% upside as currently priced. CFRA estimates fair value to be $137.96, which means that shares are 3.7% undervalued at the moment. Morningstar sees fair value for shares of United Technologies at $140, meaning shares are trading at a 5.3% discount to their fair value. Value Engine sets a one-year price target of $149.04, offering 12.1% upside potential. Their fair value estimate is $122.60, which would have shares trading at a 7.8% premium to Value Engine's fair value.
Taking the average of these numbers, I find that shares of United Technologies are currently 3.4% undervalued. I find fair value to be $138. Since United Technologies has twenty four years of dividend growth, I don't mind paying 5% above what I see as fair value. Any price under $145 qualifies United Technologies for purchase.
Conclusion
United Technologies had a very strong second quarter. Each segment of the business experienced growth, with revenues growing 6% organically. The addition of Rockwell Collins will likely be a positive to the company in future years.
While the company's dividend growth rates over the last five and ten years is below what I traditionally target for industrial companies, United Technologies will become a Dividend Aristocrat with one more increase. I find that shares of the company are undervalued to what I consider to be fair value. While United Technologies is not yet in our portfolio, I would consider adding the stock if capital was available to invest.
What are your thoughts on United Technologies? Is there another industrial you prefer? Feel free to leave a comment. If you liked what you read, please consider hitting the "follow" button at the top of the page.
Disclosure: I/we have no positions in any stocks mentioned, and no plans to initiate any positions within the next 72 hours. I wrote this article myself, and it expresses my own opinions. I am not receiving compensation for it (other than from Seeking Alpha). I have no business relationship with any company whose stock is mentioned in this article.