Recent BDC Pricing Volatility
Readers may have noticed the recent volatility in BDC pricing over the last two weeks. Please see "BDC Market Update: October 9, 2018" that discussed current yield spreads, sector oversold/overbought measures, and recently improved BDC fundamentals including higher portfolio yields, improved net interest margins, improvements in underlying general economic fundamentals including unemployment rate, labor force participation, consumer consumption and corporate earnings.
However, I am expecting temporarily lower BDC prices for the reasons discussed in the update including widening of rate spreads and general market volatility driving 'flight to safety'. As you can see, the average BDC yield is currently trending higher: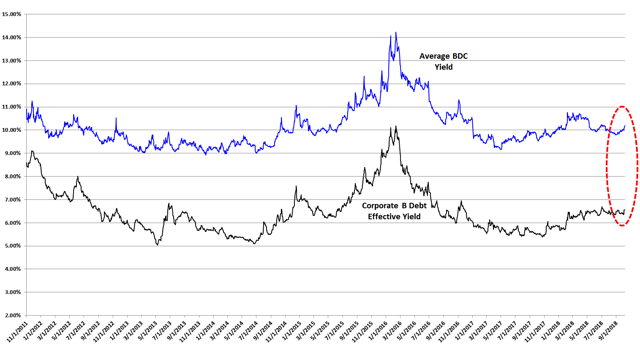 Source: SEC Filings and BDC Buzz.com

As mentioned in "Upcoming BDC Dividend Cuts For Q3 2017", I previously sold shares in FS Investment Corp. (FSIC) due to the predicted dividend reduction and my previous public FSIC article "10% Yield And 18% Discount To Book: Priced For Upcoming Credit Issues?", focused on the growing amount of investments with a rating of '3':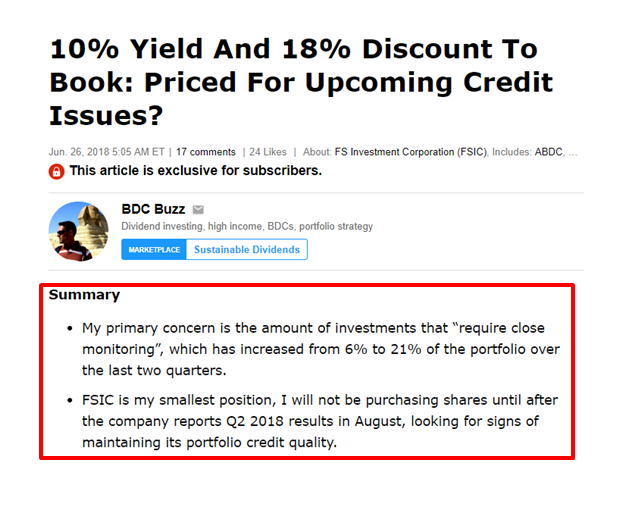 Immediately after FSIC reported Q2 2018 results on August 9, 2018, I sold my remaining shares (before the recent decline shown below) for the reasons discussed in this article.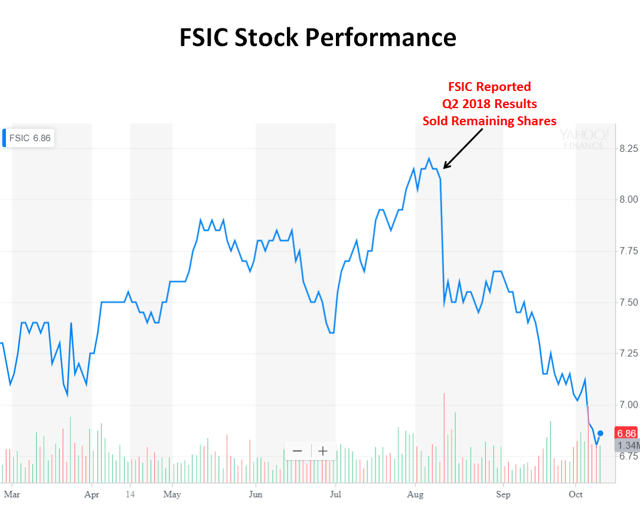 Obviously, timing is important when investing, but especially with business development companies ("BDCs") for many reasons, including opaque reporting standards, general sector volatility, and being largely retailed owned. The opaque and inconsistent reporting for BDCs often results in retail investors making poor decisions. Focusing on simple coverage of the dividend with the previous quarter net investment income ("NII") or changes in net asset value ("NAV") are not enough.
BDCs will begin reporting calendar Q3 2018 results later this month: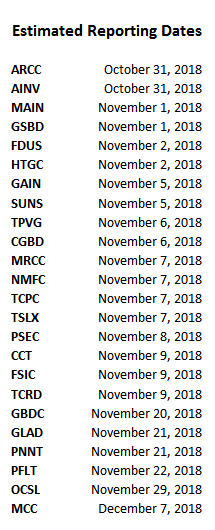 FSIC Risk Profile Update
FSIC continues to experience credit issues driving declines in NAV per share and potentially lower dividend coverage. The article linked above, mentioned the growing amount of investments with a rating of '3':
"My primary concern is the amount of investments that "require close monitoring" which has increased from 6% to 21% of the portfolio over the last two quarters."
During Q2 2018, some of these investments were marked down further and migrated to a rating of '4' of "which some loss of interest or dividend possible, but still expecting a positive return on investment". Also, the amount of investments requiring close monitoring is now 23% of the portfolio and only 6% is "exceeding expectations and/or capital gain expected".

Source: FSIC Earnings Call Slides
For the quarter ended June 30, 2018, NAV per share declined by 3.2% due to markdowns in multiple investments, including ThermaSys Corp. as well as the previously discussed Advanced Lighting Technologies, Global Jet Capital, JW Aluminum (second-lien position was converted into equity), and Mood Media.
"The fund's net asset value declined from $9.16 per share as of March 31, 2018 to $8.87 per share as of June 30, 2018, driven primarily by mark-to- market unrealized losses in our investments in ThermaSys, Advanced Lighting, Hudson Technologies, Logan's Roadhouse and Global Jet Capital, partially offset by realized gains on our equity investments in Sequel Industrial Products and The Stars Group, as well as the positive impact of share repurchases. The mark-to-market unrealized losses were primarily driven by financial underperformance relative to budget and underwriting in each of these investments. We are proactively working with the company's respective sponsors and management teams to maximize our returns on these assets. The funds and asset value decline has been driven primarily by idiosyncratic company-specific reasons, as in ThermaSys, as well as smaller EBITDA companies, such as Advanced Lighting and Logan's Roadhouse, as well as volatility in the prices of our equity investments. We are working closely with the management teams of these companies to address their operational and/or liquidity needs, as well as seeking ways to accelerate the monetization of our equity portfolio."
Source: FSIC Earnings Call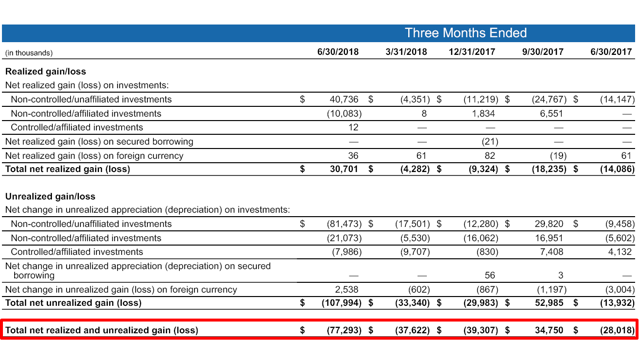 Source: FSIC Earnings Call Slides
The largest markdown was ThermaSys and discussed further on the recent call:
"ThermaSys is the manufacturer of heat exchangers, basically radiators and coolers and condensers that go into various industrial end markets. We have 148 million face value of 11.5% notes, which are behind our senior term loan. The company has faced some headwinds in performance over the last couple of quarters. We're continuing to work with management and the sponsor on maximizing our value on this loan. But I think, you know generally it is a company that we're keeping a very close eye on, and we're hoping for - we expect to see some better results later in this year, but the mark reflects what we've seen so far."
Source: FSIC Earnings Call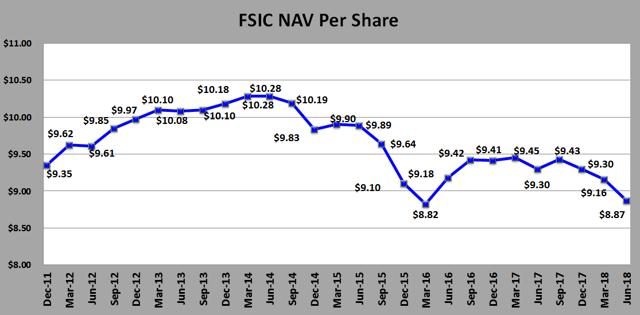 Source: SEC Filings and BDC Buzz.com
As shown below, FSIC is currently priced closer to other BDCs that have previously cut dividends and/or credit issues driving NAV declines, including Medley Capital (NYSE:MCC), Alcentra Capital (ABDC), Oaktree Specialty Lending (OCSL), Prospect Capital (PSEC), Garrison Capital (GARS), Apollo Investment (AINV), Capitala Finance (CPTA), KCAP Financial (KCAP), Horizon Technology Finance (HRZN), BlackRock Capital Investment (BKCC), THL Credit (TCRD), Barings BDC (BBDC), Harvest Capital Credit (HCAP), and Oaktree Strategic Income Corp. (OCSI). These BDCs typically trade at a 20% to 30% discount to NAV with higher yields likely due to potential additional credit issues driving further dividend reductions.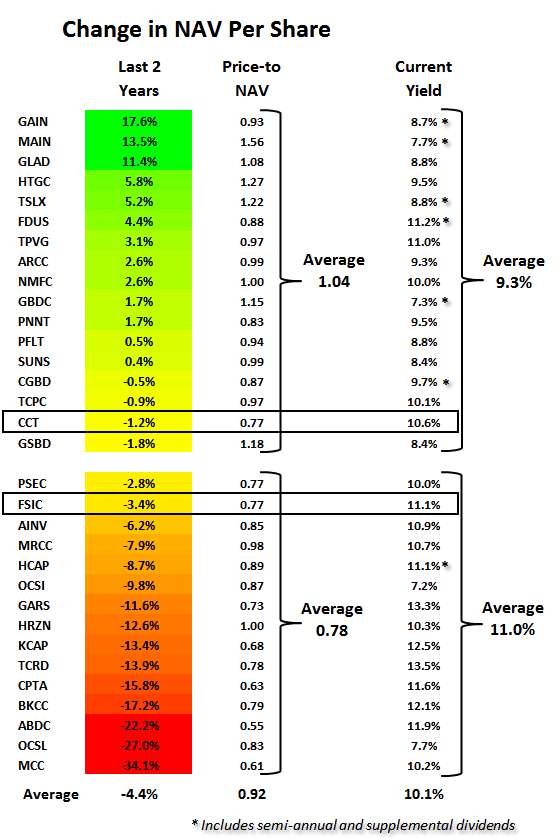 Source: SEC Filings and BDC Buzz.com
Primary concern for FSIC: As shown below, many of the recently marked down investments are among the largest positions including Global Jet Capital, Safariland LLC, ThermaSys Corp., and JW Aluminum that still account for around 14% of the portfolio and need to be watched: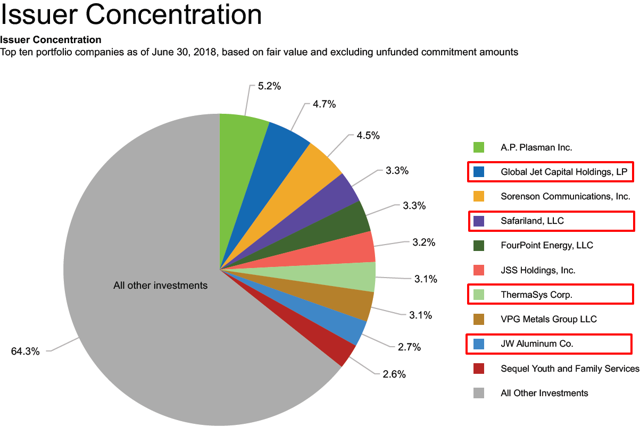 Source: FSIC Earnings Call Slides
As of June 30, 2018, approximately 0.2% of investments were on non-accrual (based on fair value) and included Logan's Roadhouse, Inc. that was added to non-accrual during the quarter with fair value of $6.1 million and H.M. Dunn Co. that was previously on non-accrual with fair value of $0.2 million.
"During the second quarter, our second lien investment in Logan's Roadhouse was placed on non-accrual, making it the only new non-accrual asset for the quarter. The position totals approximately $6.1 million, based upon fair value and $22.1 million based on amortized cost. Additionally, EV Energy was removed from non-accrual status following its restructuring in June. Our ownership in the restructured entity is reflected in our investment in the common shares of Harvest Oil & Gas Corp."
Source: FSIC Earnings Call
The amount of first-lien continues to increase from 60% to 67% over the last four quarters as management has been focused on "investing at the top of the capital structure".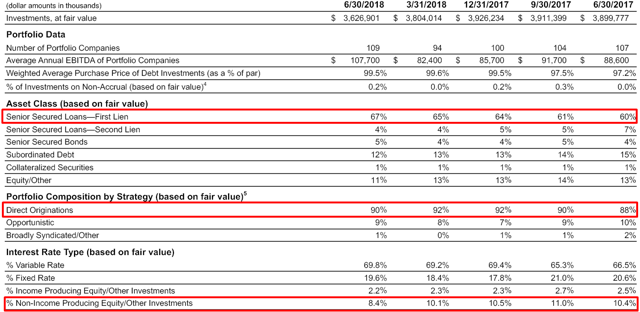 Source: FSIC Earnings Call Slides
Previously, FSIC was focused on reducing its exposure to energy/oil from 12% to currently around 7% of the portfolio and FourPoint Energy and Ascent Resources remain the largest energy investments in the portfolio fair value.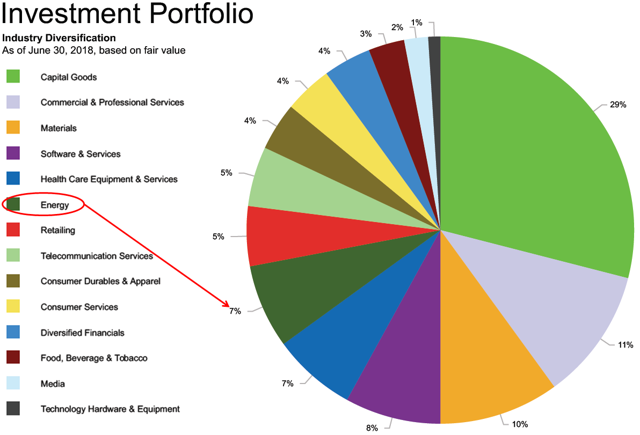 Source: FSIC Earnings Call Slides
FSIC Dividend Coverage Update
On August 9, 2018, FS/KKR Advisor announced the closing of a new $3.435 billion, five-year senior secured omnibus revolving credit facility priced at LIBOR plus an applicable spread of 1.75% or 2.00%, depending on collateral levels. The new facility will be used to pay off its current credit facilities at higher rates and improve FSIC's net interest margins with around $2 million in annual savings that I have taken into account with the updated projections.
The following slide is from the previous quarter discussing synergies for the combination with Corporate Capital Trust, Inc. (CCT) discussed later.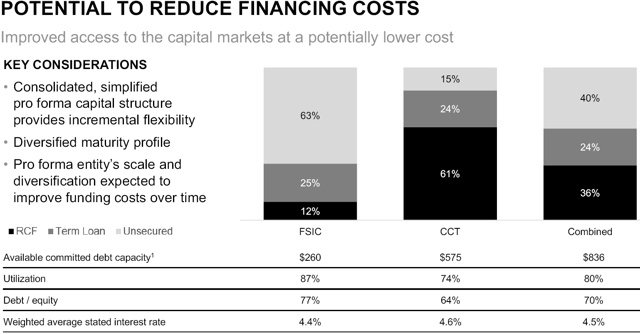 Source: Merger of FSIC and CCT Slideshow
FSIC's debt-to-equity remains around 0.77, and there is almost $195 million in cash for additional share repurchases and/or portfolio investments.
"Yesterday, we closed a $685 million revolver for FSIC as part of a $3.4-plus billion, five-year omnibus revolving credit facility that will be used by FSIC, FSIC II, FSIC III, and CCT. More than 20 lenders participated in this syndicate. Proceeds from the new revolving credit facility will be used to refinance FSIC's existing revolving credit facilities. This new revolver provides many key benefits to FSIC. It provides cheaper financing, allows us to consolidate our existing leverage facilities, provides greater flexibility to originate assets across many different asset types. Allows us to more efficiently manage cash and extends the maturity of our revolver to August of 2023. At 685 million, FSIC's new revolver is more than double the size of the existing revolver, and the rate of LIBOR plus 175 is 50 basis points lower than the cost of one of the existing revolvers and 75 basis points lower than the other existing revolver."

"I guess, first point is that we expect about $2 million of annual savings. It's a LIBOR plus 175 facility at close, $685 committed for FSIC, and $201 million drawn. FSIC is going to use those initial proceeds to pay down $84 million of the existing revolver, which is more expensive at LIBOR plus 225. $67 million will be used to terminate one of the ABL facilities, which is currently at LIBOR plus 250, and then $50 million will pay down another ABL facility, which is at LIBOR plus 268. There is a few others just advantages given that we're on the revolver in terms of the impact on the platform beyond cheaper financing."
Source: FSIC Earnings Call

Source: FSIC Earnings Call Slides
Management has been working to reduce the amount of non-income producing equity investments that decreased to 8.4% of the portfolio mostly due to exiting its positions in The Stars Group, Sequel Industrial Products, AP Exhaust Holdings, and SandRidge Energy as well as previous and continued markdowns in Global Jet Capital, JW Aluminum, Advanced Lighting Technologies, Safariland LLC, and Mood Media. Management mentioned that the company will be fully exiting its $25 million equity investment in PSAV Aluminum Co. generating a "realized gain in the third quarter":
"During the second quarter, we fully exited positions in three names, including The Stars Group and Sequel Industrial Products, generating total proceeds of approximately $73 million. The results were positive as these equity sales comprised the majority of the $31 million of net realized gains during the quarter. Additionally, we expect to fully exit our common equity investment in PSAV at the realized gain in the third quarter in conjunction with the announced sale of the company. And as we stated last quarter, equity investments are not a core part of our origination and investment strategy, and as we actively work to reduce this exposure, we believe the strength of the current equity markets may present attractive exit opportunities."
Source: FSIC Earnings Call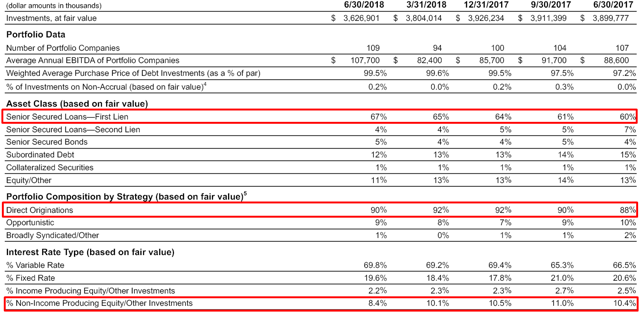 Source: FSIC Earnings Call Slides
In February 2018, FSIC's board of directors authorized a stock repurchase program to repurchase up to $50 million in outstanding common stock at prices below the current NAV per share. During the three months ended June 30, 2018, the company repurchased almost 5.0 million shares at an average price per share of $7.58 (17% discount to previous NAV) totaling $38 million. From July 1, 2018, to August 8, 2018, the company repurchased another 1.1 million shares at an average price per share of $7.66 totaling $8.5 million for a total of $47.4 million.
"In February 2018, our board of directors authorized a stock repurchase program. Under the program, we may repurchase up to $50 million in the aggregate of our outstanding common stock in the open market at prices below the then-current net asset value per share. The program went into effect on March 28, 2018 and will be in effect through February 21, 2019, unless extended or until the aggregate repurchase amount that has been approved by our board of directors has been expended. The program may be suspended, extended, modified or discontinued at any time. As of August 8, 2018, we had repurchased a total of 6,230,651 shares our common stock at an average price per share (inclusive of commissions paid) of $7.61 (totaling $47.4 million)."
Source: FSIC Earnings Call

Source: SEC Filings
For the quarter ended June 30, 2018, FSIC hit my base case projections with net investment income ("NII") of $0.19 per share covering its quarterly dividend with only $3 million of non-interest income (compared to an average of around ~$10 million).
"Fee and dividend income totaled $3 million in the second quarter of 2018, compared to $9.8 million in the first quarter of 2018. Fee and dividend income was lower quarter-over-quarter, due to more measured direct origination activity, as well as the recognition of a large dividend payment from PSAV during the first quarter and the repayment of assets that were beyond their call period or stepping down in protection."
Source: FSIC Earnings Call
There was also a larger-than-expected decline in portfolio investments to $3.6 billion due to $288 million of sales and repayments and partially due to the previously discussed markdowns.

Source: FSIC Earnings Call Slides
There is the potential for special distributions if annual NII exceeds $0.76 per share for 2018, but I am now expecting this to be less than $0.05 per share.
"Finally, as we announced last year, the board intends to make a special distribution in the fourth quarter of 2018 to the extent that net investment income earned from the fourth quarter of 2017 through the end of the third quarter of 2018, exceeds the current annualized distribution amount of $0.76 per share. In other words, our stockholders will receive the benefits of any outperformance over the current annualized distribution rate."
Source: FSIC Earnings Call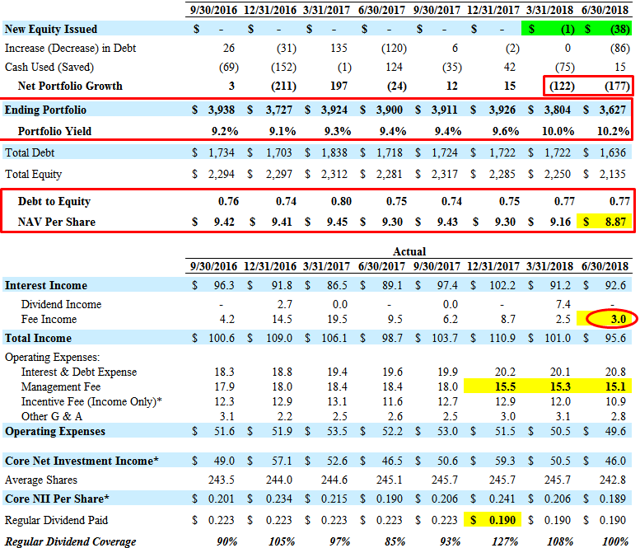 Source: SEC Filings and BDC Buzz.com
Interest Rate Sensitivity Analysis
Interest rate sensitivity refers to the change in earnings that may result from changes in interest rates. Most BDCs continue to experience higher portfolio yields mostly due to the rising LIBOR that should improve (or at least maintain) net interest margins and dividend coverage for the sector in the coming quarters.
FSIC's portfolio yield continues to increase from 9.4% to 10.2% over the last three quarters (as shown in the previous table) supporting interest income that has mostly remained stable between $90 million and $100 million over the last two years. However, additional credit issues could result in additional investments added to non-accrual or converted into non-income equity positions.
"The increase in FSICs gross portfolio yield was driven by an upsize in existing directly originated portfolio investments, as well as an increase in LIBOR."
Source: FSIC Earnings Call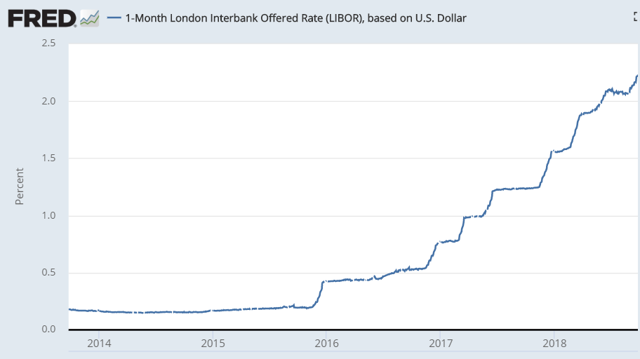 Source: FRED
Later this year, the Fed will likely hike rates by another 25 basis points: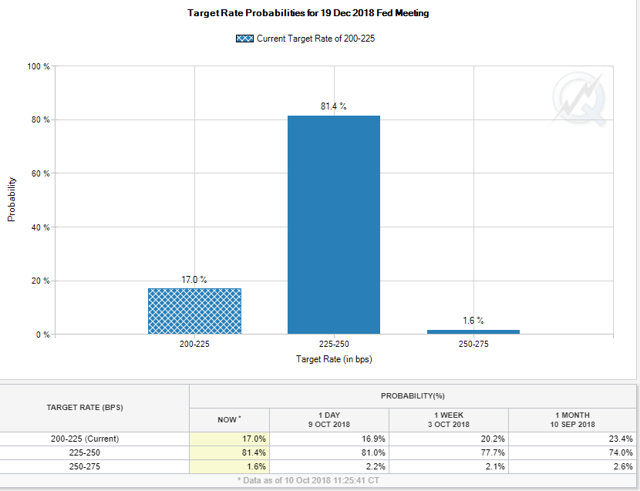 Source: CME Group
As of June 30, 2018, 69.8% of FSIC's portfolio investments bore interest at variable rates, most of which are subject to interest rate floors and 34.0% of borrowings are at fixed rates. I consider FSIC to have average positioning for rising interest rates.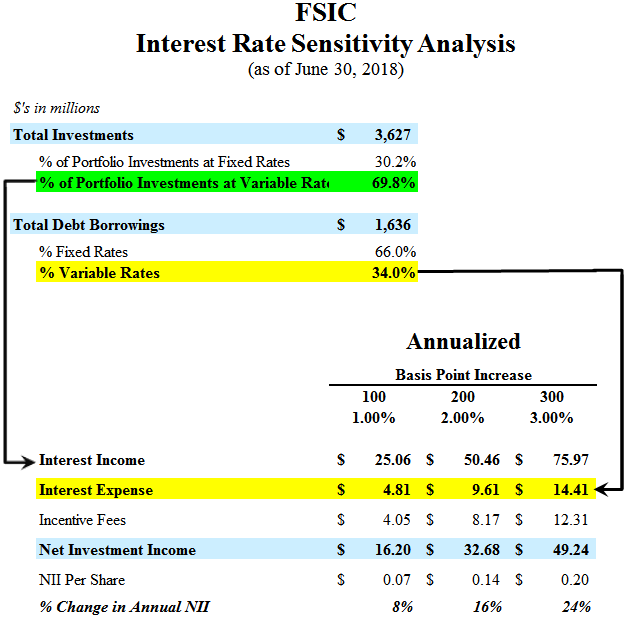 Source: SEC Filings and BDC Buzz.com
Fee Agreement, KKR Partnership & CCT Merger:
Management remains focused on shareholder alignment through share repurchases, insider purchases and a fee structure with a 3-year lookback to help protect shareholder returns. FSIC's new and previous fee structures included a 'total return hurdle' which means that its incentive fee structure protects total returns to shareholders by taking into account capital losses when calculating the income portion of the fee. However, the previous total return hurdle calculation added back base management fees when calculating 'total returns' which allowed the manager to get paid more during periods of capital losses and declining NAV per share.
From previous 10-K: "the "cumulative net increase in net assets resulting from operations" is the sum of pre-incentive fee net investment income, base management fees, realized gains and losses and unrealized appreciation and depreciation of the Company for the then-current and eleven preceding calendar quarters."
The new fee agreement with KKR removes this portion of its fee structure (see below) and is now more aligned with shareholders, similar to other BDCs such as TCP Capital (TCPC), Golub Capital (GBDC), and Goldman Sachs BDC (GSBD). Also, the management fee is now permanently reduced to 1.50%.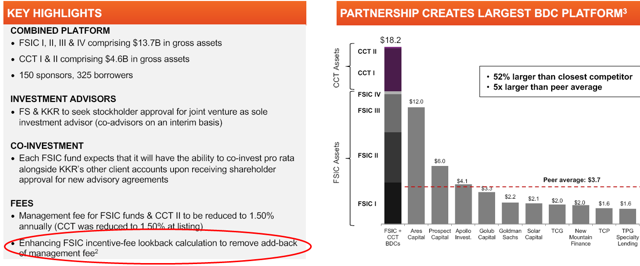 Source: Merger of FSIC and CCT Slideshow
As discussed in articles, there are certain BDCs that benefit from having an external manager providing scale, relationships, and an experienced credit platform. Clearly, the new partnership with KKR will provide many benefits, but one of my primary concerns is the ability to maintain $18 billion in assets at an appropriate risk-adjusted yield, especially given the refinance risk of previous GSO investments.
On July 23, 2018, FS/KKR Advisor, LLC, announced that FSIC and CCT entered into an agreement under which they will be merging portfolios, which is a positive for both companies for many reasons including increased scale, portfolio diversification, reduced operating and borrowing expenses. For FSIC shareholders, the combination will mitigate the risk of upcoming higher repayments and exits of GSO deals, typically at higher yields.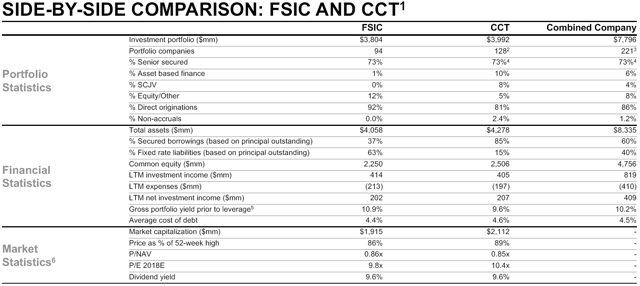 Source: Merger of FSIC and CCT Slideshow
The combined company will have over $8 billion in assets invested in 221 portfolio companies across 23 industries. The Boards of Directors of both FSIC and CCT have approved the transaction, with the participation throughout by, and the unanimous support of, their respective independent directors. Under the terms of the agreement, CCT shareholders will receive a number of FSIC shares with NAV equal to the NAV of the CCT shares they hold.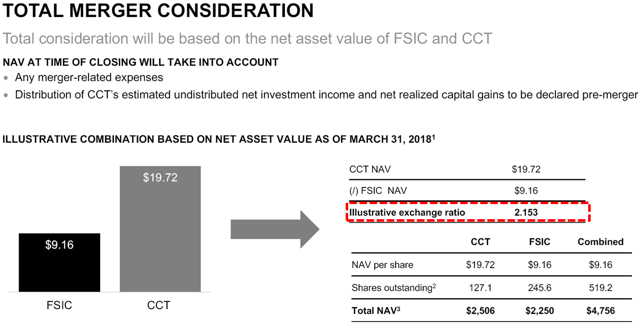 Source: Merger of FSIC and CCT Slideshow
As a result of the merger, FSIC and CCT shareholders will hold a more diverse portfolio as only one portfolio company is held by both FSIC and CCT as of March 31, 2018. The percentage of fair value represented by the top ten portfolio companies is expected to fall from 35% and 27%, respectively, for FSIC and CCT to 19% for the combined company.
However, it should be noted that CCT had/has previous and current investments on non-accrual mostly related to exposure to the energy and retail sectors that I have taken into account when assessing its risk ranking and pricing as discussed in "CCT: June 2018 Results" linked at the end of this article.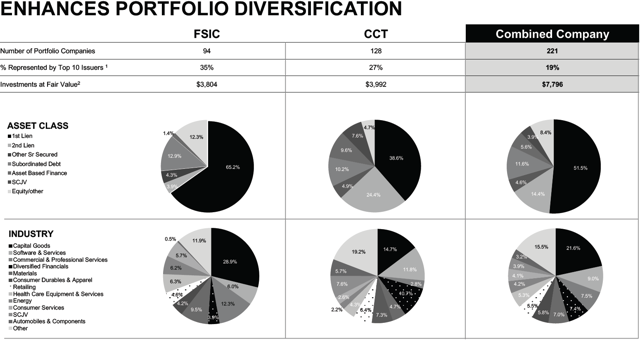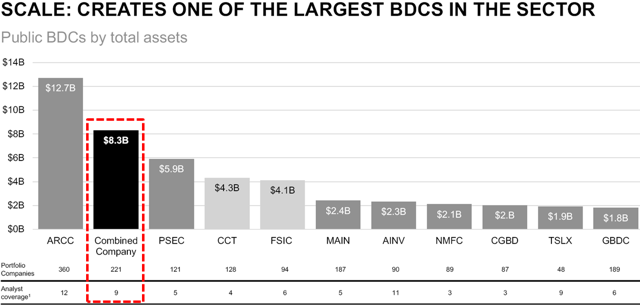 Source: Merger of FSIC and CCT Slideshow
Reduction in general and administrative expenses:
The merger is expected to create operational synergies as FSIC's fixed costs will be spread across a larger asset base and duplicative fixed costs historically borne by CCT will be eliminated.
As a result, although certain one-time costs will be borne by FSIC and CCT in connection with the merger, the annual operating expense borne by FSIC and CCT shareholders as a percentage of assets is expected to be reduced in part due to the reduction in general and administrative expenses.

Source: Merger of FSIC and CCT Slideshow
To be a successful BDC investor:
As mentioned earlier, BDCs will begin reporting calendar Q3 2018 results later this month, and investors should be ready to take advantage of market volatility and look for opportunistic buying points, including RSI near 30.
Closely monitor your BDCs, including dividend coverage potential and portfolio credit quality.
Identify BDCs that fit your risk profile.
Establish appropriate price targets based on relative risk and returns (mostly from regular and potential special dividends).
Diversify your BDC portfolio with at least five companies (there are over 50 publicly traded BDCs, please be selective).
Changes to Public BDC Buzz Articles:
Over the coming months, I will have fewer public articles on Seeking Alpha (about three to four per month) and publishing upcoming content to other platforms for many reasons, including increased exposure and eventually more interactive content.
Recent public articles:
BDC Market Update: October 9, 2018 (linked above)
The information in this article was previously made available to subscribers of Sustainable Dividends, along with:
Real-time changes to my personal BDC positions
Target prices and buying points
Real-time announcement of changes to dividend coverage and worst-case scenarios
Updated rankings and risk profile
One-month preview of upcoming public articles
Disclosure: I/we have no positions in any stocks mentioned, and no plans to initiate any positions within the next 72 hours.
I wrote this article myself, and it expresses my own opinions. I am not receiving compensation for it (other than from Seeking Alpha). I have no business relationship with any company whose stock is mentioned in this article.