I recall on election night in November of 2016, just as it had appeared that Donald Trump was closing the leading gap Hillary Clinton had early on, stock futures tanked some 870 points or so.
Looking back, the drop in the futures was very likely due to the concern that the vote would be so close that there would not be a clear winner akin to what had happened in 2000 when the votes in Florida were so close, a re-count had to be done. Worse, that either Trump or Hillary would not accept the end result.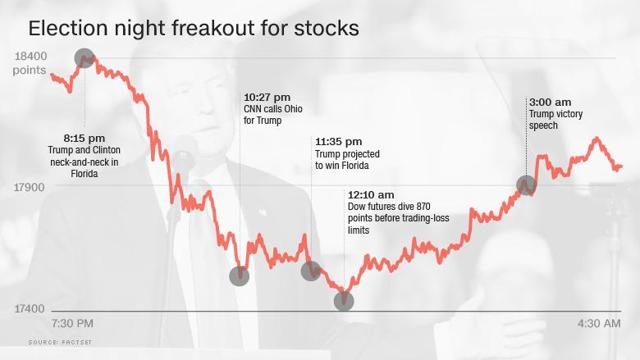 Source: CNN Money
However, once the result of Trump being the winner was seen as a done deal, stock futures were free and clear to turn around. This was a classic case of uncertainty driving stocks lower. The investment community proved optimistic right from the start post the election.
The Dow Jones Industrial Average was about 18,000 in November of 2016. It quickly ran to over 26,000 by the end of Trump's first year in office.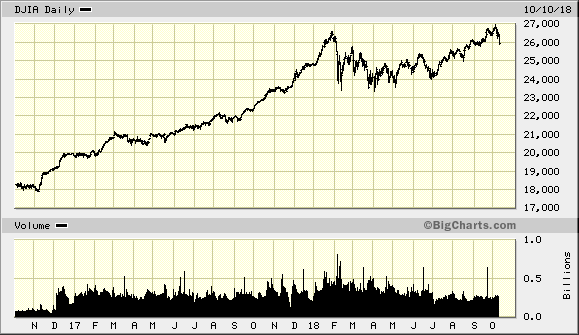 Just by looking at this chart above of the Dow Jones, we've come a long way, and the correction we saw in February was more pronounced than what we're seeing so far.
There is some room for a pullback and profit taking post these first two years of a Trump administration and agenda. Political uncertainty is most certainly a good reason to maybe lighten up on risk. That may well mean selling stocks.
Congress
Congress, otherwise known as the House of Representatives, has 435 seats. Currently, Republicans hold a majority with 235 of those seats. Democrats hold 193 seats, and there are 7 seats vacant.
The term of a congress representative is two years. That means every seat is up for election this coming November 6th.
The mid-term elections are going to provide a chance for Democrats to take back the house if they can prove to win more races and gain more seats in Congress.
Senate
In the Senate, where there are 2 representatives for each of the 50 states, the seats are for terms lasting 6 years.
Currently, there are 51 Republicans, 47 Democrats, and 2 Independents in the Senate. The Republicans hold the majority in both the House and the Senate currently.
Of the 100 seats in the Senate, 35 are up for re-election. Of those 35, 26 are held by Democrats.
In order for the Democrats to be able to take control of the Senate, they need to win not only all the incumbent races but also 2 out of the remaining 9 races.
Note: Of the 2 Independent Senators, Bernie Sanders of Vermont is one and Angus King of Maine is the other. Both tend to side with the Democrats.
Result Expectations
Anything can happen and so I have no idea what to expect with regards to the results of this coming election; hence the uncertainty.
As an example of not liking uncertainty, I heard on the radio this morning a story about Exxon Mobil (XOM) pledging $1 million to a proposal for a carbon tax plan. It asked (sic): "Why a company that produces oil and gas, carbon emitting products, would support a tax to its own product."
The answer had to do with providing regulatory certainty that the plan would bring.
With respect to the election results and how the markets would react, I trust that given how the economy and the stock markets have performed since the last election, a maintaining of the Republican majorities would prove more bullish on stocks than if Democrats were to gain control of either the House or Senate or both.
However, I'd prefer to wait and see and take it one investment at a time.
Conclusion
We seem to be in deeply polarized times politically. This I think is exacerbating the degree that this election uncertainty is having on business and investment.
Until the results of the coming mid-term elections come in, elevated levels of risk in the stock and bond markets may very well prevail and more selling may well be coming as a result.
I'm bearish on the overall market in the short term and believe that more selling could very well be coming.
Disclosure: I/we have no positions in any stocks mentioned, but may initiate a short position in SPY over the next 72 hours.
I wrote this article myself, and it expresses my own opinions. I am not receiving compensation for it (other than from Seeking Alpha). I have no business relationship with any company whose stock is mentioned in this article.
Additional disclosure: I may write a bear call spread on SPY post the publication of this article as a way to play the short side of the markets selling off.