Bayer AG (OTCPK:BAYZF) has four major operating segments namely Pharmaceutical, Consumer Health, Crop Science and Animal Health. In terms of stock price performance, it has been a rough year for the German pharmaceutical conglomerate. The stock price has nearly halved during the past 12 months.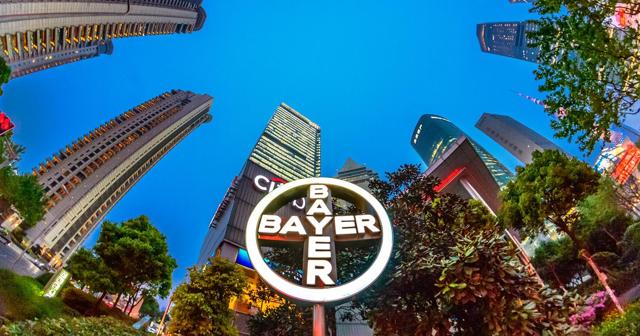 Figure-1 (Source: Bayer)
Investor Takeaway:
In this analysis, I have compared BAYZF and selected competitors based on valuation and growth metrics. This comparison indicates that the stock is undervalued and likely to grow. A fundamental analysis of Q2 results also indicates business growth, thanks to the continuous R&D (read: Research and Development) undertaken by the company. Bayer scored a great deal by acquiring Monsanto, however, there are some risks that might cause problems for the company going forward. Finally, BAYZF has been on the lower side of the 52-week range and a technical analysis of the stock's performance suggests that the stock may find support somewhere around $85 before it could recover. As such it would be a good buy at those prices.
BAYZF has an attractive valuation among peers:
I have compared BAYZF's valuation and growth against selected peers namely: Roche Holdings (OTCQX:RHHBF), BASF SE (OTCQX:BFFAF), and Novartis AG (NVS). The comparison is based on P/B, P/E, and EV/EBITDA metrics to assess the valuation of these companies respectively. Have a look at Table-1 below:
| | | | | |
| --- | --- | --- | --- | --- |
| Stock | P/B | P/E | EV/EBITDA | Market Cap ($ B) |
| BAYZF | 1.46 | 9.35 | 16.98 | 80.39 |
| RHHBF | 7.56 | 19.28 | 10.43 | 208.29 |
| BFFAF | 2.03 | 11.31 | 6.59 | 81.38 |
| NVS | 2.58 | 14.38 | 12.58 | 198.17 |
Table-1
Comment on P/B and P/E:
BAYZF's P/B ratio is slightly lower than that of BFFAF and NVS and significantly lower than RHHBF. It denotes that the market price of BAYZF is only 1.5x compared to its net assets. Generally, a P/B ratio between 1x and 2x is considered desirable. For blue-chips, a higher P/B ratio may also be considered appropriate. Among the selected peers, BAYZF has the best valuation in terms of P/B ratio.
Although the P/E ratio is ~10x, it's also the lowest among peers and is indicative of the share's relative undervaluation.
Comment on EV/EBITDA:
BAYZF has one of the lowest market caps yet it has a high EV/EBITDA. This is an indication of excessive debt. This is supported by the fact that BAYZF's net debt issued peaked during the past 12 months (Figure-2).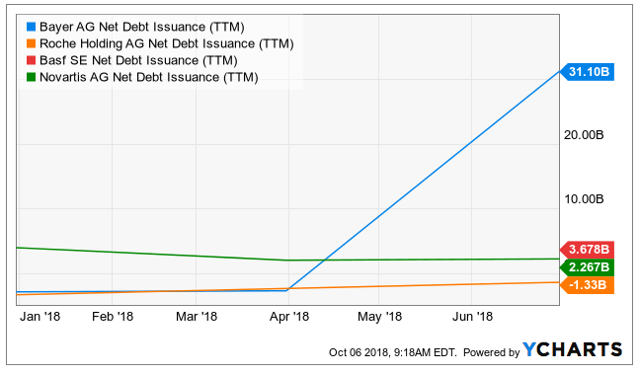 Figure-2 (Source: Ycharts)
Based on the EV/EBITDA metric, BAYZF appears to be overvalued. In my opinion, a high debt is the root cause of such notional overvaluation and we have seen how BAYZF compares favorably with its peers on other price metrics.
Moreover, BAYZF has a suitable dividend yield among its peers and only ranks second to BFFAF. Dividend yield for BAYFZ, RHHBF, BFFAF and NVS is 3.7%, 3.5%, 4.17%, and 3.3% respectively. We may say that DY for BAYZF is above the industry average. Similarly, Y/Y earnings growth for these companies (in the same sequence as above) is 47%, 10.5%, 38%, and 115%. BAYZF's earnings growth surpasses the average growth rate observed for the selected companies.
Since BAYZF has materially shrunk in price during the past 12 months, it appears that the stock may not have significant downside from the current levels. This aspect of the analysis will be covered in more detail later.
Business performance analysis and the impact of Monsanto acquisition:
BAYZF has four revenue segments. Figure-3 shows their relative proportions based on the FY 2017 when Pharmaceuticals accounted for nearly half of the company's sales.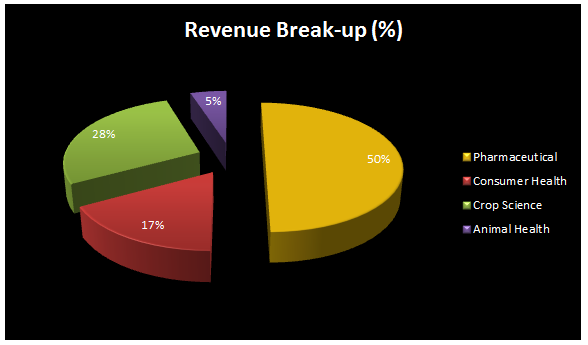 BAYZF's Q2 revenue stood at ~€9.5 B, increasing by 8.8% Y/Y. Segment-wise Q2 revenue results show that Pharmaceutical sales grew by 3.1%, Consumer Health sales fell by 1.4% (partly due to declining business across all locations except for the Asia Pacific, and also due to supply chain issues), Crop Science sales increased by a healthy 21% (primarily due to expansion in product portfolio after acquisition of Monsanto), and Animal Health sales rose by 7.6% (due to the increased business from the North American region).
Apart from the acquisition of Monsanto (MON), innovation was the other major contributor to BAYZF's rapid growth. During Q2, the company incurred R&D expenses of €1.3 B. This accounted for ~13% of quarterly revenues. The nature of business requires constant R&D and product innovation to survive and grow in a fiercely competitive life sciences business.

Figure-4 (Source: Bayer)
Monsanto deal: BAYZF completed the acquisition of MON in June 2018. Monsanto was an agrochemical and agri-biotechnology giant that was part of the S&P 500 index before the acquisition. BAYZF is part of DAX 30 (read: Deutscher Aktien IndeX); an index that tracks the performance of the top 30 German blue-chip stocks trading on the Frankfurt Stock Exchange. Nevertheless, BAYZF's price performance was lower than the DAX index (Figure-5).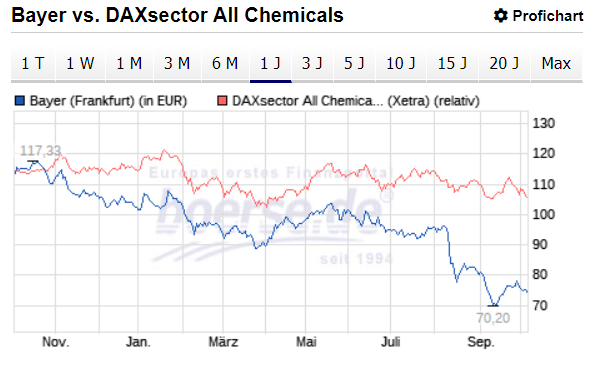 Figure-5 (Source: Boerse.de)
With this deal, we saw the merger of two top companies in the life sciences business; one that was part of the S&P 500 and the other that is still part of the DAX index. This acquisition resulted in synergies and BAYZF's revenues from the Crop Sciences division spiked ~21% during Q2 (Y/Y). MON's acquisition also altered the overall proportion of revenue from the four business segments. For comparison, have a look at Figure-3.
According to the Q2 results, the respective revenue proportions for the four business segments were: Pharmaceuticals (46%), Consumer Health (16%), Crop Sciences (33%), and Animal Health (5%).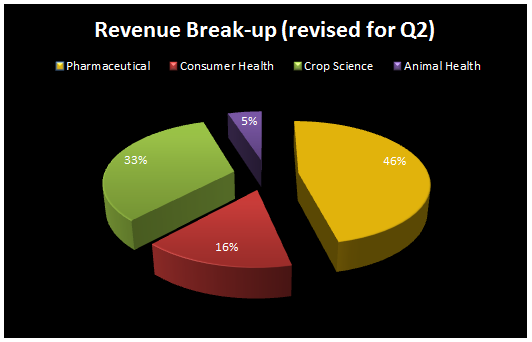 Figure-6 [Prepared by Aitezaz Khan for Seeking Alpha].
The deal envisaged integration to take place somewhere in August. It was anticipated that the results of the business integration will start to reflect in Q3. Going forward, BAYZF may announce new products in the Crop Science business; owing to the merger with MON. BAYZF expects value generation from the MON deal and expects earnings to increase from 2019 onwards (Figure-7).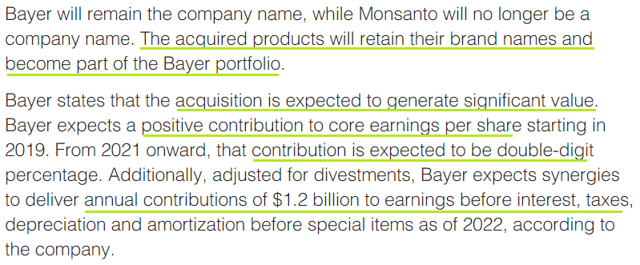 Figure-7 (Source: PharmTech)
Based on MON's seasonal performance trends (Figure-8), we can make few assumptions of the accruing results for BAYZF in the second half of the year.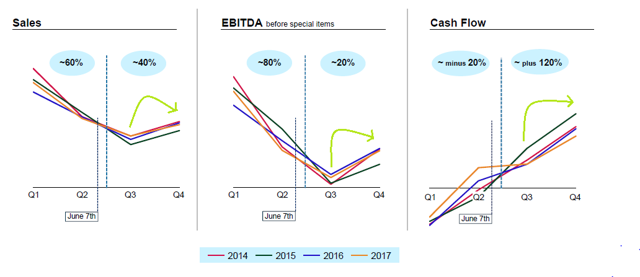 Figure-8 (Source: Q2 conference call presentation)
Sales of MON's agri-products generally decline in the Q3 and regain strength in Q4. A similar trend is observed for EBITDA and Cash Flows. This indicates that the true upside (arising from MON's acquisition) will be reflected during the Q4. However, MON's cash flows will definitely support BAYZF's cash assets in Q3 and also strengthen the company's liquidity position, going forward.
Nevertheless, there are some negatives from the MON acquisition. MON's herbicides with the name of Roundup are believed to be carcinogenic. To date, over 4,000 farmers who have used Roundup, have sued MON for exposing them to a certain type of cancer named NHL. MON is also alleged to have window-dressed their herbicide in front of the public and regulatory authorities. If there is an adverse decision against MON, BAYZF's stock will take another dip.
Share prices have been thrashed during the past 12 months and it's time for a rebound:
At the time of writing this article, BAYZF last traded at $87.23. BAYZF has a 52-week range between $81.15 and $140.21, and the 1-year price chart in Figure-9 indicates that the stock lost nearly 42% during the past 12 months.

Figure-9 (Source: CNBC)
The sharp decline in the stock price also indicates that the stock has reached the safe zone and is less likely to drop significantly from these levels. Nevertheless, there is still room for another dip due to the bearish sentiments prevailing in the pharmaceutical sector. The technical chart in Figure-10 indicates that BAYZF may gain support between $80-85.

Figure-10 (Source: CNBC)
The price trend has seen three similar patterns since August. These begin with a sharp decline and then a brief rally. The stock first plummeted from $110 to $90 then moved back to $100. Next, it fell from $100 to $85 before rallying up to $90. Note that the second fall had a lower magnitude than the first one. The third fall from $90 could find support somewhere around $85 and then there could be another rally. Those levels would be a good entry/accumulation point, in my opinion.
At this point, we should also consider the analyst rating for BAYZF (Figure-11). The target price is set at €85.90 (that makes ~$100 at the current rate).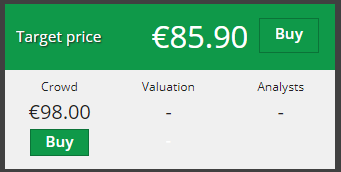 Figure-11 (Source: Sharewise)
Based on the above discussion, I believe BAYZF would be a suitable buy below $85, with a target price exceeding $100.
Conclusion:
BAYZF has a suitable valuation compared with its peers, based on P/E and P/B ratios. The EV/EBITDA metric indicates that the company is relatively overvalued compared with peers. However, I believe the high EV/EBITDA multiple was caused by excessive debt. BAYZF significantly increased its debt during H1 2018 to facilitate the acquisition of MON. Now BAYZF has high expectations for their Crop Science segment thanks to the synergies accruing from the acquisition.
The seasonal nature of MON's business indicates that BAYZF will struggle during the Q3 but likely to have a strong Q4. However, MON has been sued on account of concealing the harmful nature of some of its products. Any adverse decision will limit the impact of expected upside in Q4 (or may actually cause another dip in share price).
Nevertheless, BAYZF has been underperforming during the past 12 months; declining by more than 40% during the said period. A technical analysis also suggests that BAYZF may be a good buy within the range of $80-85.
Disclosure: I/we have no positions in any stocks mentioned, and no plans to initiate any positions within the next 72 hours.
I wrote this article myself, and it expresses my own opinions. I am not receiving compensation for it (other than from Seeking Alpha). I have no business relationship with any company whose stock is mentioned in this article.
Editor's Note: This article discusses one or more securities that do not trade on a major U.S. exchange. Please be aware of the risks associated with these stocks.