For those of us who are rather distant from the equator, winter is something we experience in worse ways than others. When the Farmers Almanac for the 2018-19 winter was released. I refused to believe it. But, as snow began to fall about two months early, I realised it was no joke. And I needed to prepare for it. I began to look to natural gas. Upon scanning, I came across Atmos Energy Corporation (ATO). Utilities can be a cash machine simply because of regulation. Being backed by the government has its pros as they work with government to determine the rates they will charge, which in turn makes their revenue rather predictable.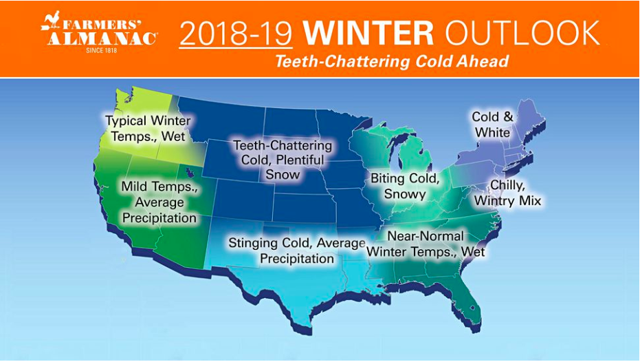 ATO is headquartered in Dallas (yes they have winter there), and they are the largest fully-regulated, natural gas only distributor in the United States. Serving over three million natural gas distribution customers in over 1,400 communities across 8 states. Atmos Energy also manages company-owned natural gas pipeline and storage assets, including one of the largest intrastate natural gas pipeline systems in Texas.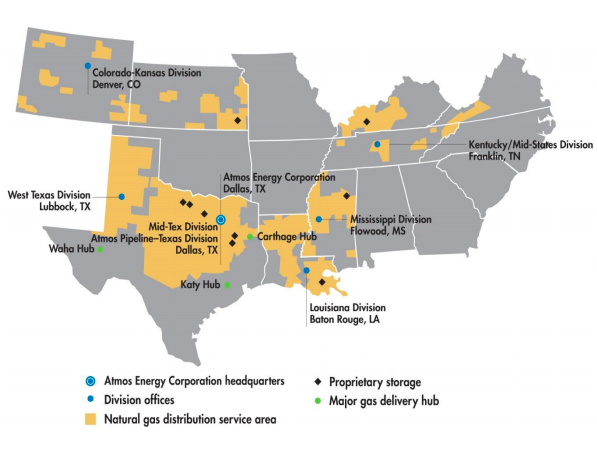 (Source: Atmos Energy Presentation)
Certain states such have the Gas Reliability Infrastructure Program, or "GRIP". This law basically allows utilities to increase their base rates quickly to regain investments into infrastructure rather than proceed through formal base rate increase filings, which take a bit longer.
This is important because ATO can invest in pipelines, and get a quick return. Because of this, ATO is able to begin earning on 85% of its annual CAPEX within six months, and basically its entire CAPEX within a year.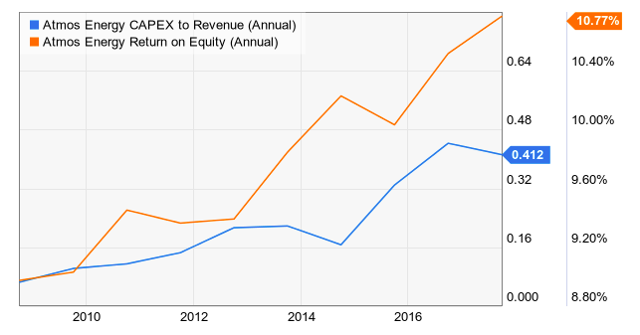 (Source: YCharts)
Natural gas companies such as Atmos Energy have really benefited from the regulations working in their favor. Since 2011 when implementing a growth by infrastructure investment strategy, the performance of ATO has excelled ever since. As you can see above, CAPEX has shot up and guess what followed. The return on equity, which is what we really care about.
What Impact Does Cold Weather Have?
Quite simply, if the weather outside is cold, people use natural gas to heat their homes. Yes, "cold" is a relative term, but nonetheless. The heat comes on when temperatures drop below what people are used to living in.
Natural gas storage is at a low natural gas storage inventory level of 3.30 TCF at the end of October, the lowest level since over a decade. As you can see below, demand across the country is expected to climb by 3.4 BCFD over the previous winter. If the winter is as cold as predicted, these numbers may increase.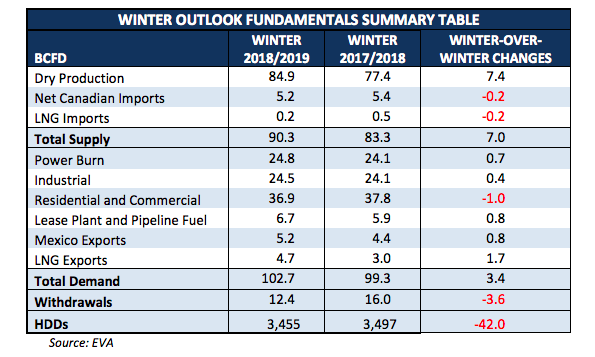 Are The High Debt Levels A Concern?
Let me preface by saying most utilities have to run with a large CAPEX. It is why during the major oil downturn, you saw so many oil companies slashing their CAPEX. These massive projects don't fund themselves up front. It is very common to use debt and equity in addition to cash flows to fund their CAPEX.
ATO has a forecast CAPEX expenditure of approximately $8B through the year 2022. $3.5-4$4 billion of which will be financed by long term debt offerings. A majority of the debt is pushed to the long term. Just $575 million is due through fiscal year 2019. The rest is pushed to 2025 and beyond.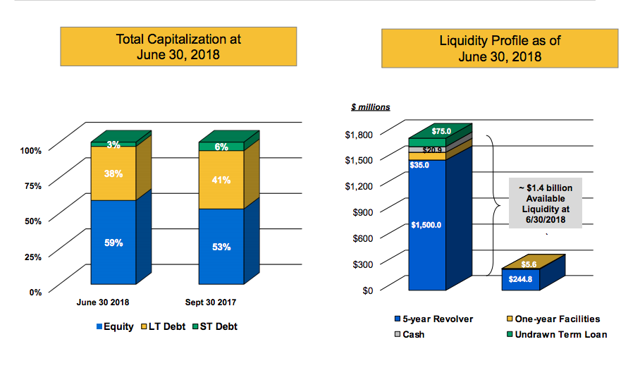 (Source: Atmos Energy Presentation)
Debt is well covered by operating cash flow (34.1%, greater than 20% of total debt), and interest payments on the current debt is well covered by earnings (EBIT is 6.3x coverage). Going back to the regulatory side of things, ATO is able to have a very good idea of where their revenue is going to be before committing to massive debt. I am not worried about their current situation, and neither is management based on their actions.
Below you will see what I have mentioned previously. Between the $8B in CAPEX, and earning 85% on annual investments within six months, ATO is set up for success on an EPS basis. The ranges they show under EPS growth are pretty consistent with what I am seeing. Most expecting $3.95 and $4.27 for 2018 and 2019 respectively. Their projection of $5-$5.40 for 2022, is not far off. It could even be better than that if things continue to go as well for them as they have. The good news in that, is it is increasing consistently.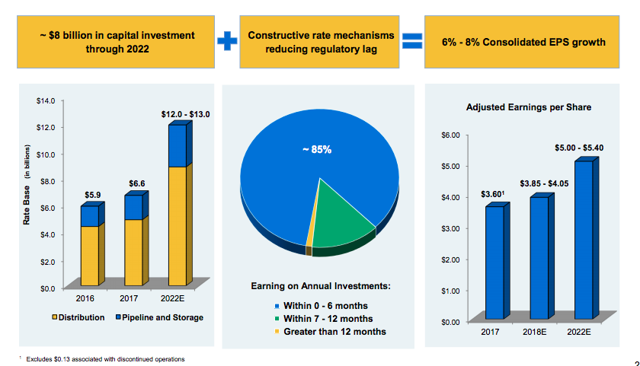 (Source: Atmos Energy Presentation)
The Dividend
ATO currently has a yield of 2.00%. This is a great, safe number that you can trust. Currently paying out $0.485 on a quarterly basis. This is a free 2% that you can lock in year in and year out with ATO. Not only has the dividend been stable in the past 10 years, but it has increased rather consistently. Typically increasing by 7-10% annually, it is fair to assume the dividend will move to the $0.52 range when the earnings report is due in November.

(Source: Simplywall.st)
As you can see above, the dividend is well covered by earnings and will continue to be. This is definitely not a risk one is taking when investing in ATO. There have been 34 straight years of dividend increases, and it is about to be 35.
What Do The Charts Say?
Everything about this company screams consistency. Which is exactly what shareholders want from management. There is nothing wrong with being predictable. Looking at the charts, that does not change.
Let's first take a wide monthly view of price history. It is very clear that ATO has been moving in a single direction since 2009. That direction is up! Producing a return of approximately 300%. This means that it has outperformed the market, on price action alone. Not including the dividend. Until this 9 year trend breaks, I don't see a reason to be bearish long term on the stock. There have been multiple tests of the current trend, all of which have been successful as shown below.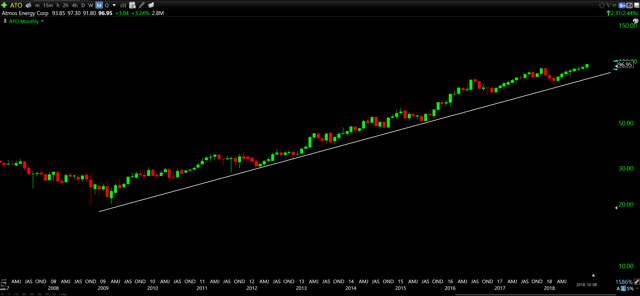 (Source: TC2000.com)
Looking more recently, we can see the stock made new all-time highs in November of last year (2017). Quickly, the stock plummeted 20%. This is natural after an extended run. The price pulled back around the 9-year trend line shown above, before getting back on track to test those highs again.
As you can see below, the price ran back up to the $94-$95 range, making all-time highs again. But there was no breakout... until today!! As the stocks volatility narrowed, the spring was loaded, and it blew through the roof closing at an all-time high of $96.95. The breakout occurred almost right where the triangle formation predicts it too. Due to the recent failed tests, I'm confident that old resistance can turn into new support.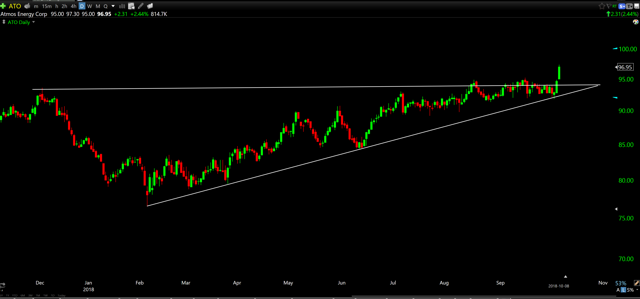 (Source: TC2000.com)
Something I don't always mention, but deserves mentioning here is the relative strength index (RSI). The RSI is a momentum indicator that measures the magnitude of recent price changes to analyze overbought or oversold conditions. This is an attempt, not a guarantee. But, it can be used to look at how a stock behaves at given conditions. Typically a stock is officially overbought around the 80 mark (Red), and oversold at the 20 mark (Green). ATO is a good example (recently anyways), of setting its own oversold point. As you can see, its rather consistent.
The reason I'm pointing out this indicator today, is I often get criticism for buying at all-time highs. Looking below, we can see that as the stock tested the previous high, the RSI indicated it was oversold, and the price fell off slightly. This time, as the stock broke through the highs, the RSI is sub 60. Again, this is no guarantee that the price will increase. But history would say there is room to run.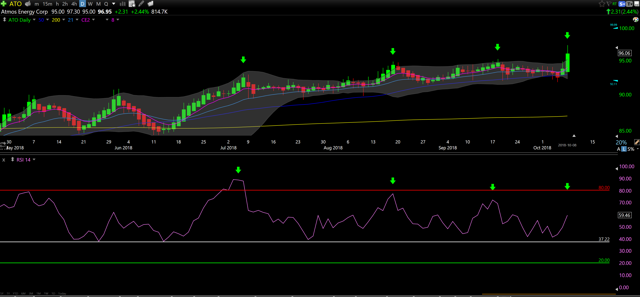 (Source: TC2000.com)
How Am I Positioned?
Given all that I have mentioned both fundamentally and technically, I have bough ATO at $95.68 as it breaks to new highs. My stop is set at $84.21, which as you will see below is at previous lows. This gives me roughly 12% of room to play. This is a little more than I would prefer to be risking, and I anticipate this stop moves further north rather quickly as long as the price corporates. I would like to get closer to the $90 mark, where the price consolidated a bit in July and August of this year.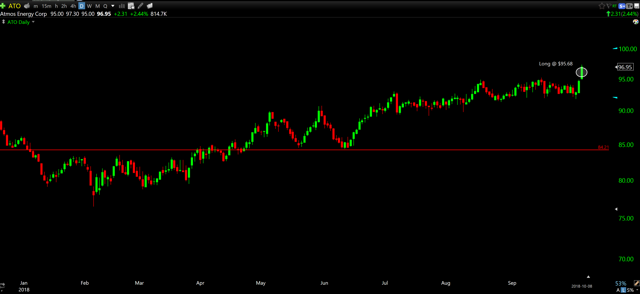 (Source: TC2000.com)
Naturally, I expect some resistance at the $100 mark. But given the positive trend line, and the upcoming cold winter, I don't see why the stock can't touch $110 by the spring. If I'm correct, I will be extra happy this spring as the snow melts away. Feel free to check out my previous picks at Tip Ranks. At the end of the day, always remember, the trend is your friend.
Disclosure: I am/we are long ATO.
I wrote this article myself, and it expresses my own opinions. I am not receiving compensation for it (other than from Seeking Alpha). I have no business relationship with any company whose stock is mentioned in this article.