"A 60:40 allocation to passive long-only equities and bonds has been a great proposition for the last 35 years …We are profoundly worried that this could be a risky allocation over the next 10."
Sanford C. Bernstein & Company Analysts (January 2017)
"Bull markets are born on pessimism, grow on skepticism, mature on optimism, and die on euphoria."
Sir John Templeton
"Life and investing are long ballgames."
Julian Robertson
Introduction
For a value-oriented investor/speculator who got defensive too early, who engineered a terrific 2016, only to be beaten, battered, and bruised beyond recognition for a majority of the last two years, and for someone who has authored the following sampling (see the list below) of articles about the worst prospective real returns in modern market history, the current market sell-off is remarkably normal from my vantage point, which is a good thing.
Watching History In The Making
Be Prepared For A Crash - Part II
How can someone who authored two Be Prepared For A Crash articles in the past year, on October 26th, 2017 and on February 6th, 2018 respectively, be so sanguine about the current market sell-off, that saw the Dow Jones Industrial Average (DIA) lose over 800 points on the day today, and Invesco QQQ Trust (QQQ) have its worst day since the aftermath of Brexit?
Let me explain...
Thesis
The market sell-off is actually healthy as normalization is occurring in interest rates, in valuations, and in investor expectations.
Forward Real Returns Are Still Abysmal
Before I delve into the constructive nature of the recent sell-off in the U.S. equity market, especially how it compares with the January/February 2018 sell-off, let me get one thing clear.
Expected real returns from today prices are still abysmal, perhaps the worst expected real returns in modern market history for U.S. equities.
To illustrate this, I have been using the following two charts, one a table with data I have put together from GMO, and one from Goldman Sachs (GS) research group.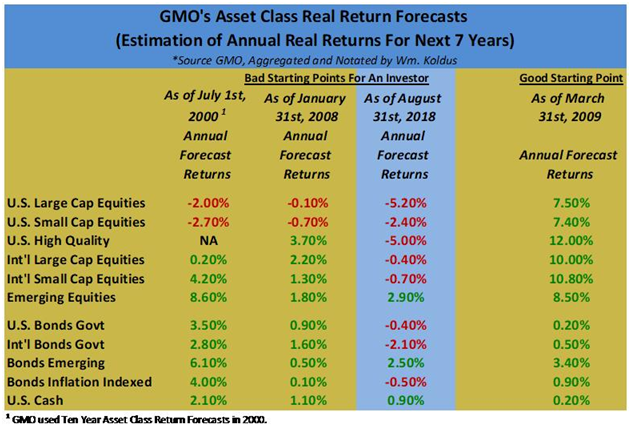 (Source: WTK & GMO)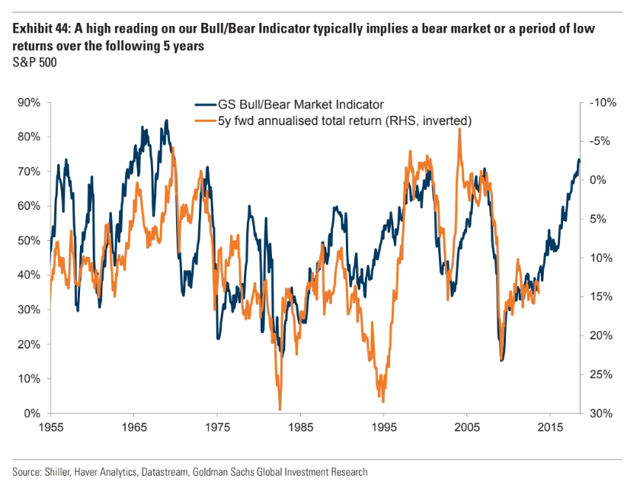 (Source: Goldman Sachs)
While GMO has been taken to task for their incorrect real return projections over the past several years, an increasing number of market barometers, including Goldman's Bull/Bear Indicator, are triangulating GMO's dismal real return expectations going forward, particularly for U.S. equities, adding to the veracity of GMO's expectations.
Real Returns Going Forward Are Abnormal, However Current Market Sell-Off Is Normal
Something odd, or more accurately several odd occurrences, happened in a day where the NASDAQ closed lower by -4%, the iShares MSCI EAFE ETF (EFA) closed down over -2%, the iShares Emerging Markets ETF (EEM) closed lower by almost -3%, and both the S&P 500 Index (SPY), and the Dow Jones Industrial Average closed lower by over -3%.
First, longer-term bond yields around the world actually rose today, including in the United States, where the 30-Year Treasury Bond Yield finished higher by 0.6%. Read that again, think about what you would have expected to happen to bonds with a severe sell-off in the broader U.S. equity market.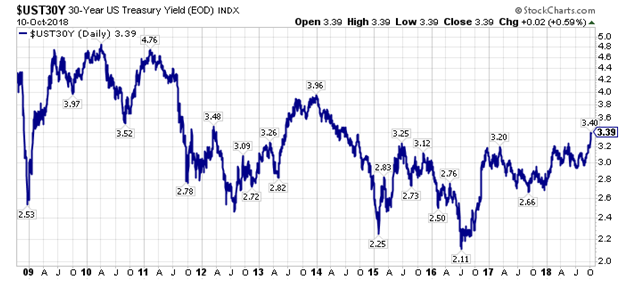 (Source: WTK, StockCharts.com)
Thus, the iShares 20+Year Treasury Bond ETF (TLT) was actually down when the SPDR S&P 500 ETF (SPY) was off substantially, which is a rather unusual occurrence.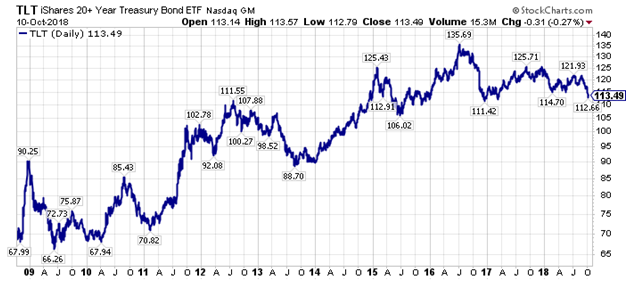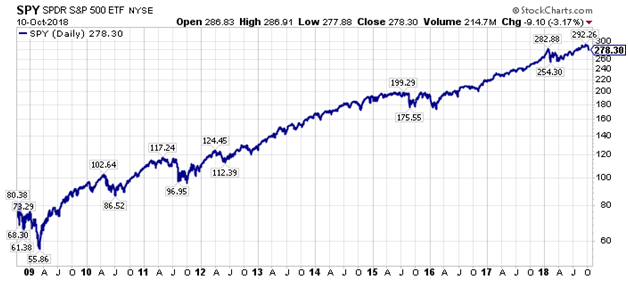 (Source: WTK, StockCharts.com)
Second, the U.S. Dollar Index actually finished lower on the day.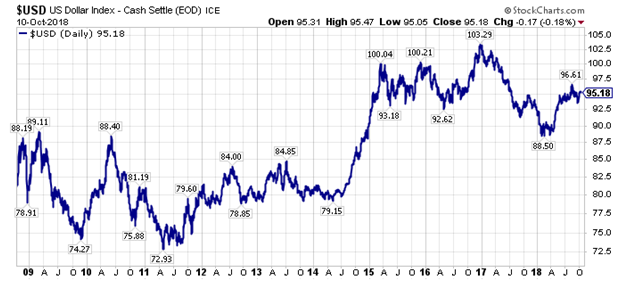 (Source: WTK, StockCharts.com)
Importantly, the U.S. Dollar Index is still materially below its 2015-2017 highs, and this is when interest rate differentials favoring the United States are at record levels.
So far, I would say this is a negative divergence in the U.S. Dollar Index, which could have important, positive ramifications for Dollar sensitive assets going forward.
Third, high yield bond spreads, as measured by the ratio of the iShares iBoxx $ High Yield Corporate Bond ETF (HYG) to the iShares Core U.S. Aggregate Bond ETF (AGG) remain remarkably stable.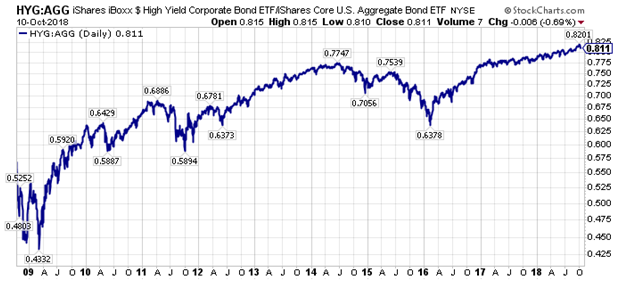 (Source: WTK, StockCharts.com)
Summarizing, we are seeing the opposite of panic. Rather, it is an orderly market sell-off, or dare I say, even a capital rotation in the United States.
Value Outperforming Growth
After roughly a decade where growth has trounced value, with the notable exceptions of 2016, which featured secular turning points in commodities and bonds, and for a year from the middle of 2012 to the middle of 2013, value equities have found a bid once again, as the ratio chart of the iShares Russell 1000 Value ETF (IWD) pitted against the iShares Russell 1000 Growth ETF (IWF) shows below.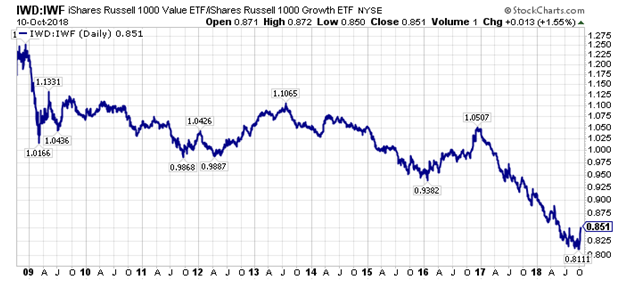 (Source: WTK, StockCharts.com)
The same performance is evident in smaller capitalization equities as measured by the iShares Russell 2000 Value ETF (IWN) versus the iShares Russell 2000 Growth ETF (IWO).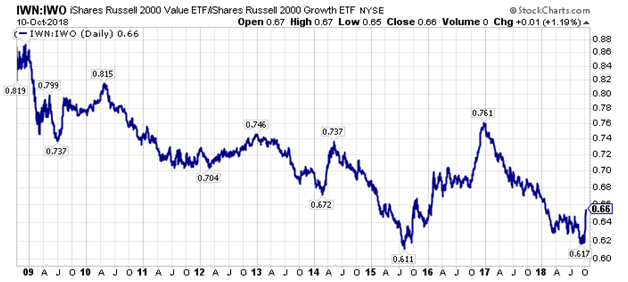 (Source: WTK, StockCharts.com)
Looking at the charts above, the out-performance of value over growth is just a blip right now, however it is a noticeable blip, and this bears watching going forward, as value is due to outperform, after growth stocks have raced ahead of value stocks for the majority of the past ten years.
FAANG Struggling For First Time In A Long Time
Adding to the narrative of value equities taking the baton from growth equities, leading growth stocks, specifically the fabled FAANG equities, have been the epicenter of selling pressure, which was different from the January/February 2018 market decline, where FAANG equities were the last stocks to capitulate.
Facebook (FB), Amazon (AMZN), Apple (AAPL), Netflix (NFLX), and Alphabet (GOOGL) have all done technical damage, with each of these equities trading below their respective 50-day moving averages.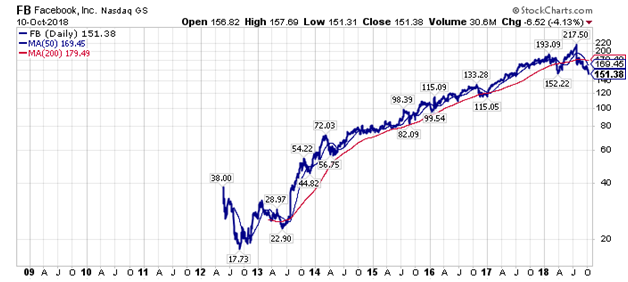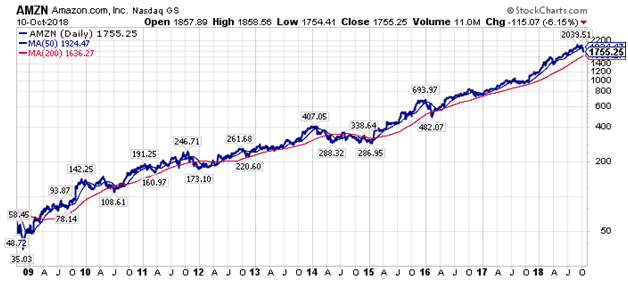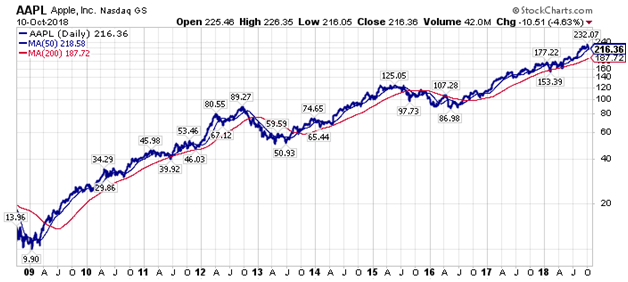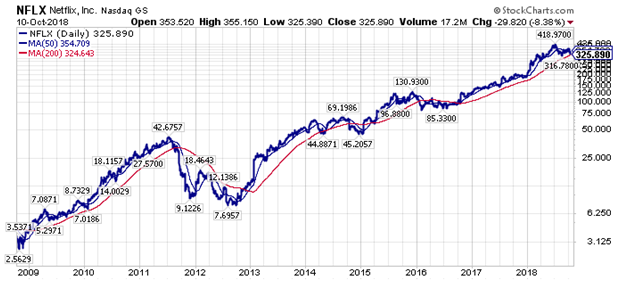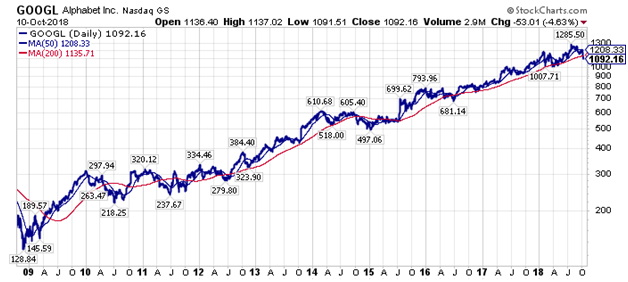 (Source: WTK, StockCharts.com)
Looking at the charts above, two things stand out.
First, these large-cap growth stocks have had an incredible run the past decade, and even from the early 2016 lows through today's prices.
Second, their corrections could just be getting started, given the magnitude of their respective moves higher.
With Facebook and Alphabet shares below their 200-day moving averages, how long until their peers follow suit?
Takeaway - Sell-Off Is Not A Panic, It Is A Rotation
Economic growth turned up on a global basis in 2016, and this has continued into 2017, and 2018.
However, for a majority of the past two years, yield curves have flattened, led by the U.S. yield curve, as the market simply did not believe in a sustainable, increased pace of economic growth.
When a majority of market participants expected the yield curve to invert, something interesting has happened, specifically, the yield curve has steepened, turning higher vigorously.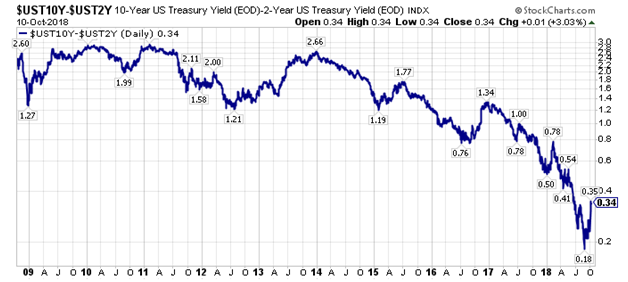 (Source: WTK, StockCharts.com)
Is this a counter-trend rally, or is there something bigger taking place?
Specifically, are investors reconsidering the possibilities of a sustained higher economic growth rate alongside higher long-term yields?
Personally, I think this is what is happening, and the orderly nature of the market sell-off, which has been punishing the highest flying equities disproportionately, after these same equities have thrived in an environment of lower interest rates, suggest that a reworking of investor expectations is taking place, and a potential capital rotation is developing.
Bigger picture, the U.S. equity market remains historically overvalued, however, perhaps value equities will outperform on the march towards normalized interest rates, and normalized valuation ratios.
For further perspective on how the investment landscape is changing, and for help in finding underpriced, out-of-favor equities with significant appreciation potential relative to the broader market, consider joining a unique community of contrarian, value investors that has thrived in 2016 and weathered the storm in 2017 to become closer as a collaborative team of battle-tested analysts. Collectively, we make up "The Contrarian," my premium research service.
Disclosure: I am/we are short TLT PUTS AND SPY AS A MARKET HEDGE. I wrote this article myself, and it expresses my own opinions. I am not receiving compensation for it (other than from Seeking Alpha). I have no business relationship with any company whose stock is mentioned in this article.
Additional disclosure: Every investor's situation is different. Positions can change at any time without warning. Please do your own due diligence and consult with your financial advisor, if you have one, before making any investment decisions. The author is not acting in an investment adviser capacity. The author's opinions expressed herein address only select aspects of potential investment in securities of the companies mentioned and cannot be a substitute for comprehensive investment analysis. The author recommends that potential and existing investors conduct thorough investment research of their own, including detailed review of the companies' SEC filings. Any opinions or estimates constitute the author's best judgment as of the date of publication, and are subject to change without notice.