There is no denying cannabis companies are just getting started and this industry has tremendous potential. Regardless of your personal or political views, there is a growing trend in cannabis becoming legal for medical and recreational purposes. Canada will be completely legal for recreation October 17, 2018, while in the United States eight states have fully legalized cannabis for recreational use while an additional twenty-one states have legalized cannabis for medical uses. I believe The Green Organic Dutchman (OTCQX:TGODF) is grossly undervalued and has the potential to become the premier brand in the cannabis space. Currently, the space is in its infancy and I want to be invested in a company that has great products with superior brand recognition. There will be many companies producing cannabis which ultimately will become a commodity controlled by supply and demand. I believe that the packaged space is where the most deals will be made and will fuel shareholder profits the most. The Green Organic Dutchman has a proven leadership team and a phenomenal organizational structure to carry out their objectives.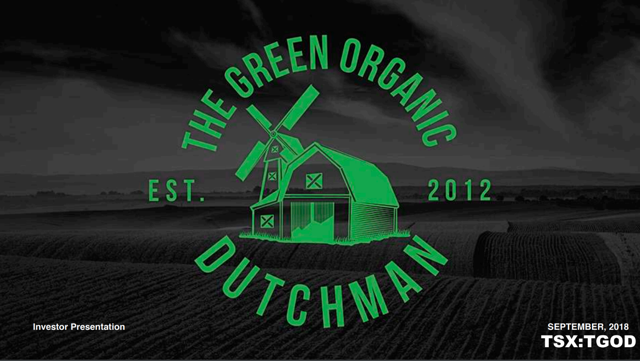 (Source: The Green Organic Dutchman Investor Presentation September 2018)
Leadership and proven talent will take The Green Organic Dutchman to the promise land
The Green Organic Dutchman has constructed a management team with over 125+ years of experience in the cannabis, pharmaceutical, retail, and beverage markets. It all starts at the top and CEO Brian Athaide is worth betting on. He has 28+ years of global executive experience including CFO/EVP of Andrew Peller Limited which is a publicly listed Canadian wine producer and has held various positions in the finance division of Procter & Gamble (PG) including CFO of multiple international divisions over his 25+ years with PG. TGODF's VP of Sales Mike Gibbons has 25+ years of consumer-packaged goods experience in beverages and food. He spent over 15 years with Cott Corporation including Sr. Vice President. Mr. Gibbins gained experience in both branded and private-label business at Cott Corporation while leading teams in geographic expansion and building distribution and new product introductions. Another key executive is Andrew Pollock who brings over 25 years of experience in consumer-packaged goods, retail, and subscription businesses. Mr. Pollock most recently helped Weight Watchers Canada drive double-digit growth in their subscription service and led marketing at Maple Leaf Foods Inc., Canada Bread Company, and Cott Corporation.
In addition to a stellar management team, TGODF's Board of Directors has a tremendous amount of firepower as well. Marc Bertrand is a Director on the BOD who is a seasoned consumer products executive with three decades of experience in brand building, strategic licensing, international markets, and manufacturing. He was previously the President and CEO of Mega Bloks which was sold to Mattel (MAT) for $500 million in 2014. He has also developed strategic license agreements with iconic entertainment franchises including Disney (DIS), Nickelodeon, and Marvel.
How The Green Organic Dutchman will differentiate in a market that could become extremely saturated
The Green Organic Dutchman is committed to building an organic brand as they see the cannabis industry as a consumer goods packaged business. TGODF is looking to become the whole foods of the cannabis industry as the recognized brand in organic products. This management team understands the value in brand recognition and is creating a full array of organic products.
The Green Organic Dutchman has outlined their three steps to success within their R&D strategy. First, TGODF will start with cultivation where they are focused on genetic development from breeding, developing strains, plant health, yield, and cycle time. The goal will be to maximize their internal yields and increase the flavor profiles.
Next, TGODF will conduct internal clinical trials to advance the cannabis industry. The focus will be on micro dosing and the delivery of the products. TGODF will be able to increase the potency where the user will get the same effects from less of the product. There will also be a focus on sustained release and fast acting delivery to the user. This will allow TGODF to develop proprietary intellectual property and patents for their products which could lead to licensing deals.
The third step is product development. TGODF is envisioning that the industry will be driven by packaged goods. The focus will be on formulations for new products in beverages, edibles, topicals, skincare, vapes, water soluble solutions, etc.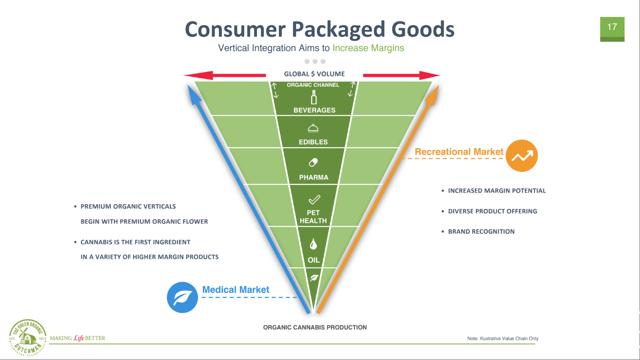 (Source: The Green Organic Dutchman Investor Presentation September 2018)
The Green Organic Dutchman Launches Their Premier Certified Organic Cannabis Brand
Just a little more than a month before recreational use of cannabis is legal in Canada, TGODF launched their premier certified organic cannabis line during the Canadian Organic Week which is the largest annual celebration of organic food and products across Canada. There are currently 116 licensed producers of cannabis in Canada and TGODF is one of two that are certified as organic.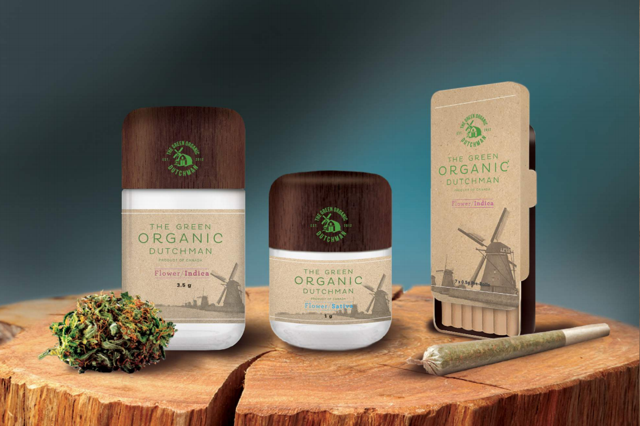 (Source: The Green Organic Dutchman Investor Presentation September 2018)
The Green Organic Dutchman's Path To Revenue
TGODF has three cannabis growth facilities under construction. TGOD entered the Jamaican market by acquiring a 49.18% interest in Epican which is a vertically integrated Jamaican cannabis company with licenses which include cultivation, extraction, manufacturing, and retail sales. The current capacity is 1,300 kg with a planned capacity of 14,000 kg across a 1-acre area. The potential capacity can be expanded to over 100+ acres. Epican has five dispensaries planned for Jamaica with their flagship location in Kingston which has been open since July 2018.
TGODF's second facility in Hamilton, Ontario has an expected completion in Q1 of 2019 with their first harvest expected in the 1st half of 2019. Their indoor facility of 7,000 sq. feet which was used as a beta test for the phase 1 expansion will produce 1,000 kg of cannabis. The second indoor facility consisting of 20,000 sq. feet will be used for specialty growth and formulations and will produce 2,000 kg. The hybrid facility which will consist of 123,000 sq. feet will be used to grow high-quality organic cannabis with a capacity of 11,000 kg.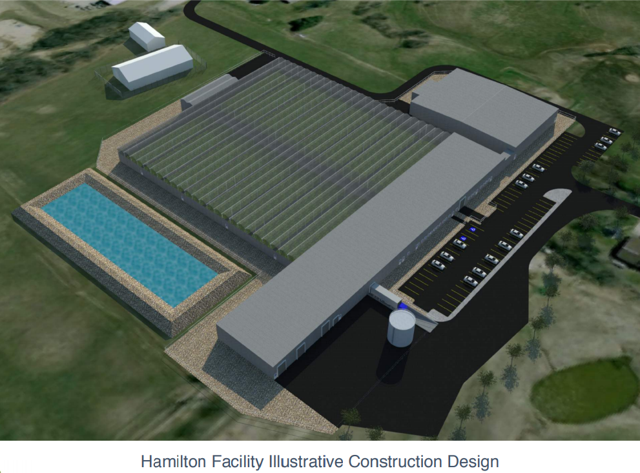 (Source: The Green Organic Dutchman Investor Presentation September 2018)
TGODF's Valleyfield Facility will be the world's largest organic cannabis facility. This facility is a state-of-the-art hybrid facility including positive pressure systems, robotized internal logistics, customized glass ensuring optimal light penetration, specialized nutrient delivery systems, advanced HVAC units, and it is highly automated. This location is dual zoned which allows vertical integration including cultivation, R&D, and product manufacturing. The Valleyfield facility is just over 1.1 million sq. feet and is capable of producing 142,000 kg of high organic cannabis annually.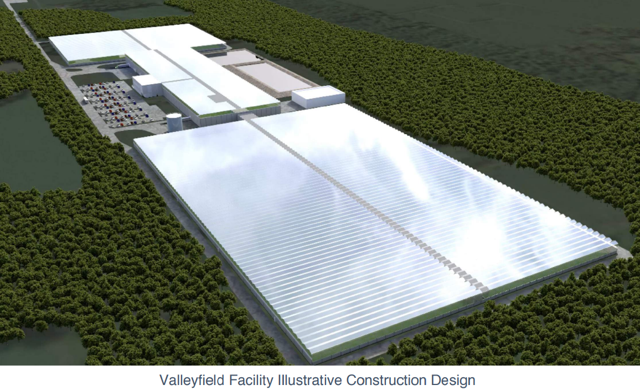 (Source: The Green Organic Dutchman Investor Presentation September 2018)
Currently, the medicinal cannabis market in Canada has an industry average of $9.16 price per gram with organic cannabis commanding a 34% premium selling for an average of $12.30 per gram. Once all of TGODF's facilities are operational, they will have a capacity to produce 170,000 kg annually which is 374,785.40 pounds or 169,999,659.16 grams. At the current price per gram, TGODF's revenue would be just over $2 billion on an annual basis.
The Green Organic Dutchman Cannabis Production
Location
Expected Production
Capacity in Kilograms
Conversion to Pounds
Conversion to grams
Jamaica
2nd Half 2018
14,000.00
30,864.68
13,999,971.93
Hamilton Ontario
1st half 2019
14,000.00
30,864.68
13,999,971.93
Valleyfield Quebec
1st half 2019
142,000.00
313,056.04
141,999,715.30
Total
170,000.00
374,785.40
169,999,659.16
Industry Price Average
Revenue
$9.16
$1,557,196,877.88
Organic Average
Revenue
$12.30
$2,090,995,807.63
(Source: Steven Fiorillo) (Data Source: The Green Organic Dutchman)
The Green Organic Dutchman's Financial picture
As of June 30, 2018, which was the end of Q2 for TGODF, a total of $20,734,000 has been spent on the construction of its facilities in Ancaster, Ontario and Valleyfield, Quebec. Their operating expenses equaled $7,196,000 for the second quarter which included strategic initiatives in consumer market research, marketing, and brand building. TGODF completed an Initial Public Offering on the Toronto Stock Exchange which raised $132,264,000 and expanded its shareholder base from 4,000 to over 20,000. Through the second quarter, TGODF maintained a strong balance sheet with cash and cash equivalents of $261,816,000. TGODF is fully funded to finish construction on their facilities and launch all of their organic brands.
The bigger picture of future profits
TGODF will be a vertically integrated cannabis company with branded products in the flower, oil, edible, and beverage markets. This management team will most likely utilize their harvests to build their branded products and then the doors are opened for licensing deals. Once proof of concept is validated, other companies who are pure harvesters could hire TGODF to create private label products with their cannabis for them.
Aurora Cannabis Inc. (OTCQX:ACBFF) purchased a 15% stake in TGODF for $78.1 million. The investment from ACBFF is a huge endorsement of TGODF's differentiated business model and the partnership includes a supply option for 20% at wholesale pricing. ACBFF has the option to increase to 33% based on proportionate ownership. ACBFF has a current capacity of 430,000 kg which will increase to 570,000 kg annually upon the closing of the MedReleaf (OTCPK:MEDFF) acquisition. With the partnership of ACBFF, there will most likely be access to enough raw material for TGODF's packaged goods.
Potential Partnerships and Acquisitions
Cannabis is becoming a huge business legally and has been relevant in the medicinal world for some time now. Big Tobacco has felt the squeeze of a reduction of smokers and a shift to e-cigarettes. The cannabis industry is a logical next step to diversify their portfolios. Big Pharma could also be interested in entering the medicinal cannabis space by entering into partnerships or flat out acquisitions. The food industry is another logical partner or acquirer to diversify into these markets as well.
Risks that potential investors should consider
TGODF is building a business in a sector with many unknowns and potential threats to their future revenue streams. Cannabis is a controversial product because it is classified as a drug. The biggest threat, in my opinion, is the uncertainty of legislation. In the future, Canada could potentially revoke legalization of cannabis and roll back regulations for it to be legal for medicinal purposes only. If this was to happen a significant portion of the market and profits would disappear.
Expansion should be considered under construction as the barriers of entry into new markets revolve around government legislation. Cannabis is not a product that TGODF can just expand their supply chain and distribute. They are bound to what countries have already legalized cannabis for medicinal and/or recreational use. Expansion is the key to growth but you can't expand into a market of the product isn't legal.
In addition to regulations and legislation TGODF also needs to worry about Big Tobacco looking to compete in the cannabis space to offset declining cigarette revenue. Big Tobacco companies such as Philip Morris (PM) or Altria (MO) could decide tomorrow that they are going to spend $5 or $10 billion to enter the cannabis space. They already have the expertise in manufacturing with a global supply chain and distribution operations. Mo and PM could simply purchase current grow facilities and integrate them into their operations and disrupt the entire industry.
Other companies such as Coca-Cola (KO) or PepsiCo (PEP) could look to enter the cannabis space with packaged goods in the form of beverages and edibles. Both companies have world-class beverage and food lines. They could simply just purchase cannabis as a raw material and create their own lines of products or purchase current grow facilities and internalize the entire process. KO and PEP are masters at distribution and brand loyalty. If they took a gamble on this industry the machine would be hard to stop as they have world-class resources including marketing, advertising, distribution, supply chain, packaging, and manufacturing.
Final Thoughts
I personally believe the cannabis industry is here to stay. The recent trends have shown that society and governments are becoming desensitized to cannabis. In 2018 the organic kick is bigger than ever. I believe in TGODF's management team as they have brought in top talent from every sector they are looking to enter. This is a leadership team with a proven track record in an industry which has enormous potential. I wouldn't be shocked if we see The Green Organic Dutchman trading at $100 per share by 2022 or getting acquired before then. Unless there is a radical shift in society I really don't see a scenario where TGODF won't deliver healthy returns to their shareholders.
Disclosure: I am/we are long TGODF.
I wrote this article myself, and it expresses my own opinions. I am not receiving compensation for it (other than from Seeking Alpha). I have no business relationship with any company whose stock is mentioned in this article.