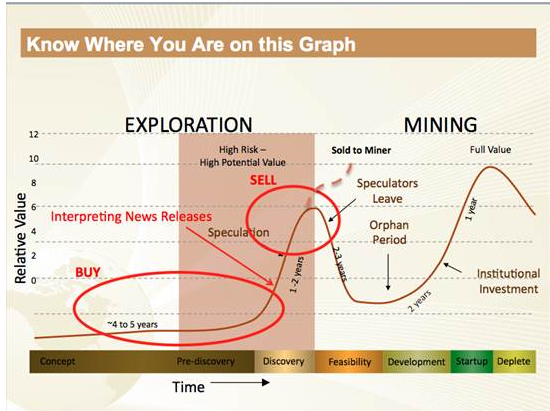 Source: Exploration Insights
Introduction
Welcome to Gold Panda's weekly series of articles covering the best drill interception in the metals mining sector.
If you're into investing in the mining sector, you should know the above chart very well. Exploration and discovery can add a lot of value for a mining company across all stages of its life cycle, although the greatest increases in the share price usually happen when a small company makes a major discovery and the hype arrives. However, great exploration results can also improve the economics of large projects of established global mining companies.
I'm planning on writing a weekly series of articles in which I will analyze the three projects with the most significant drill interceptions over the past week as well as the prospects of the companies which own these projects. I will use data from the weekly bulletin of RSC Mining and Mineral Exploration which can be found on their website. Note that the drill interceptions are converted into grades of gold equivalence using the following formula:

Source: RSC Mining and Mineral Exploration
RSC Mining and Mineral Exploration have chosen gold as the metal equivalent for all conversions as they consider it the most widely used and best understood benchmark to determine or appreciate the grade tenor of a drilling intercept.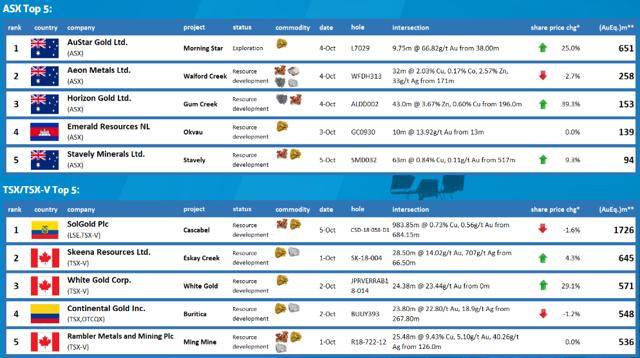 Source: RSC Mining and Mineral Exploration
1) Casbabel copper-gold project in Ecuador
By far the best drill intercept last week was 983.85m @ 0.73% Cu and 0.56g/t Au from 684.15m in hole 58-D1 at the Cascabel copper-gold project of SolGold (OTCPK:SLGGF). This is equal to 1,726 (AuEq.)m.
SolGold has so far added 70,400m of drilling since it announced the initial resource estimate for the project in January. There are 24,000m of drilling currently awaiting assay results and the company plans to complete another 32,000m of drilling before the end of 2018. There have been several very impressive infill drilling results and they confirm the core of Cacabel to have uninterrupted true dimension of up to 750m vertically, 700m long, and 300m wide, at a cut-off grade of 1.5% CuEq.
I have covered Cascabel in more detail in my article for the week ended 19 August here.
SolGold currently has 12 rigs at the project and is targeting a mineral resource of 10 million tonnes of copper and 25 million ounces of gold, which is starting to look realistic with the latest drilling interceptions. On 22 September, the Angry Geologist updated his resource model for Cascabel based on the recent drilling results and it points to a 37% increase in global resources at a cutoff of 0.3% CuEq: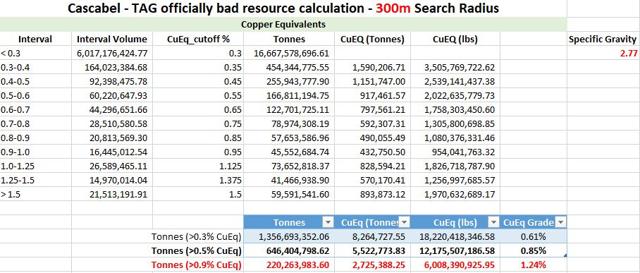 Source: Angry Geologist
There is a preliminary economic assessment underway for Casbabel and I think that a project with this much promise will turn SolGold into a takeover target, with the likely buyers being Newcrest (OTCPK:OTCPK:NCMGF) and BHP (NYSE:BHP). I have covered the history and prospects of SolGold as a takeover target here.
2) Morning Star gold project in Australia
On 4 October, AuStar Gold announced that it intersected 9.75m @ 66.82g/t Au from 38m in hole L7029 as part of a recent round of diamond drilling at its Morning Star gold mine in the Australian state of Victoria. This is equal to 651 (AuEq.)m but you have to keep in mind that the interval does not reflect a true thickness as the hole was drilled sub-parallel to the McNally structure, meaning that it was directed at a very low angle that resulted in it running down the length of the zone for around nine meters.
AuStar has an interesting project, but the company is unfortunately not listed in the U.S.
Morning Star is located around 200 km from Melbourne and was one of the largest gold mines in Australia in the late 1950's, having reportedly produced over 800,000 ounces of gold at an average grade of 26.5 g/t over its lifetime.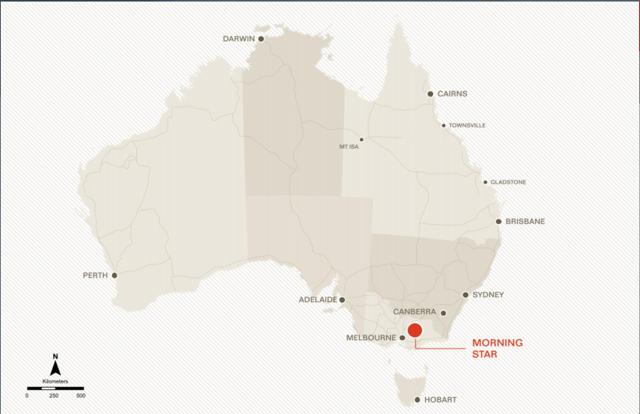 Source: AuStar
The project currently has an historical gold resource of 910,000 ounces, including 726,000 ounces at 11.2g/t. AuStar Gold is currently undertaking detailed remodelling of the resource estimate and is mainly targeting a restated estimate for the upper, rehabilitated levels of the project.
Cumulative capital expenditure on mine infrastructure by the previous operator of Morning Star stands at around A$30 million.
In May, AuStar successfully recommissioned the gravity processing plant at the project with the processing of low grade stockpiles from 2012. Mining is currently undertaken as bulk sampling.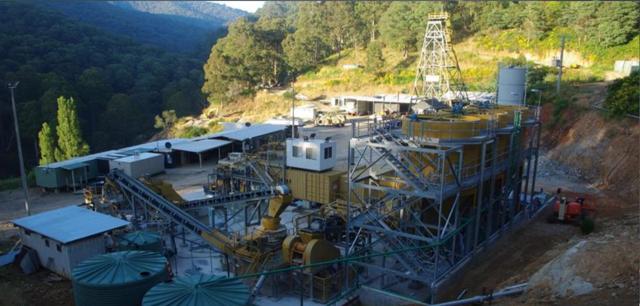 Source: AuStar
3) Eskay Creek gold-silver project in Canada
On 1 October, Skeena Resources (OTCQX:SKREF) announced that it has intersected 28.5m @ 14.02g/t Au and 708g/t Ag from 66.5m in hole SK-18-004 as part of the Phase I surface drilling program at the past-producing Eskay Creek gold-silver project. This is equal to 645 (AuEq.)m and I expect that the company might make it into the top three for next week's article as it announced on 10 October that hole SK-18-009 intersected 42.65m @ 9.49g/t Au and 111g/t Ag.
This project already made its way into my weekly series with an intersection of 27.7m @ 29.49 g/t Au, 973.01 g/t Ag from 62.30m for 1,136 m (AuEq.) in the middle of September.
Eskay Creek is located in the Golden Triangle of northwest British Columbia and it used to be the world's highest-grade gold mine and fifth-largest silver mine by volume. It produced around 3.3 million ounces of gold and 160 million ounces of silver at average grades of 45 g/t gold and 2,224 g/t silver and was closed due to depletion in 2008.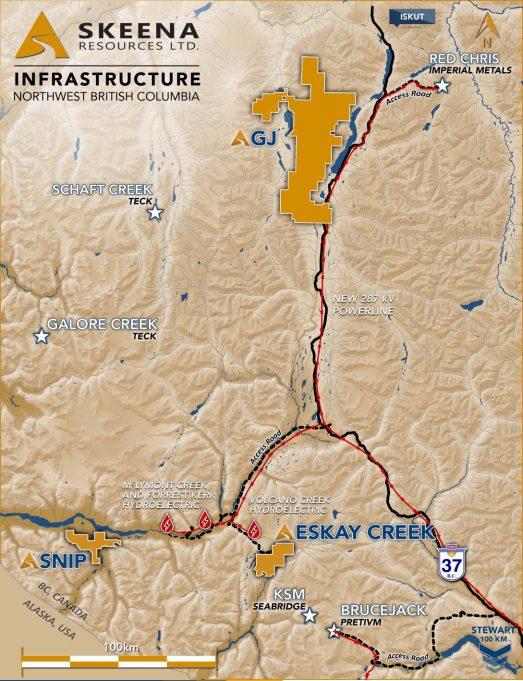 The Phase I drilling program is focused on the project's 21A, 21C and 22 zones and it aims to infill areas with low drill density to sufficient drill spacing.
On 17 September, Skeena announced a maiden resource estimate for Eskay Creek. The pit constrained indicated resource includes 207,000 gold equivalent ounces at an average gold equivalent grade of 5.9 g/t, while the underground indicated resource estimate includes 814,000 gold equivalent ounces at an average gold equivalent grade of 10.1 g/t: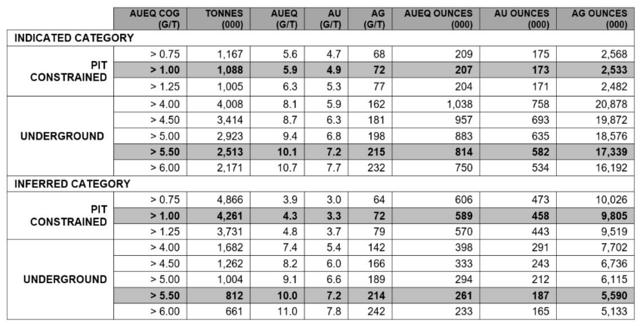 Source: Skeena Resources
However, the resource estimate does not include the ongoing Phase I drilling program.
Skeena president and CEO Walter Coles Jr said that the amount of ounces in the resource estimate were almost double the internal targets which I think highlights that the project has a very good exploration potential. He added that that the company could initiate a preliminary economic assessment next spring.
Conclusion
SolGold is continuing to release very impressive assays from Cascabel and I think that this is a world-class project which will see a tremendous resource upgrade in the near future. I think that the strategic investment by both BHP and Newcrest in SolGold highlights how major miners are stepping up efforts to partner with smaller sector players to restock production pipelines and I wouldn't be surprised if SolGold becomes an acquisition target soon. Even if a bidding war for SolGold doesn't materialize, I think that the fact that BHP is willing to invest in the company at a $580 million valuation today compared to $300 million less than two years ago comes to show just how much potential Cascabel has.
AuStar released some good drilling interceptions at Morning Star and I like that this project has a decent size and a lot of existing infrastructure, including a working processing plant. However, there are few details on the economics of the project and I prefer to pass on investing in the company until more information is released.
Skeena has once again reported good drill results from Eskay Creek and I like the project very much. I'm attracted to projects which involve the restart of a major gold mine as they usually have great infrastructure and a lot of existing permits, which makes them easier and cheaper to put into production than new mines. I also think that the grades and strip ratio at Eskay Creek are very good and I like that the next resource estimates for the project will include base metals such as zinc, lead and antimony. Skeena is in my shortlist and I expect the company to release a preliminary economic assessment sometime in 2019.
Disclosure: I/we have no positions in any stocks mentioned, and no plans to initiate any positions within the next 72 hours.
I wrote this article myself, and it expresses my own opinions. I am not receiving compensation for it (other than from Seeking Alpha). I have no business relationship with any company whose stock is mentioned in this article.
Additional disclosure: I am not a financial adviser. All articles are my opinion - they are not suggestions to buy or sell any securities. Perform your own due diligence and consult a financial professional before trading.
Editor's Note: This article covers one or more stocks trading at less than $1 per share and/or with less than a $100 million market cap. Please be aware of the risks associated with these stocks.