The Sears in Hackensack, NJ (photo via author).
I can't stand this indecision
Married with a lack of vision
Everybody wants to rule the world
Tears for Fears -- "Everybody Wants To Rule The World"
Tears For Sears
With Sears Holdings (SHLD) on the verge of filing for bankruptcy, it's worth remembering that some top value investors bought this stock thinking it might be the next Berkshire Hathaway (BRK.A), (BRK.B). Let's look at a couple of warning signs that were ignored along the way, so that maybe we can avoid the next Sears.
A Bricks and Mortar Retailer Isn't A Hedge Fund
Eddie Lampert famously came out of the Goldman Sachs (GS) risk arbitrage department to start his own hedge fund. Running a huge retail chain requires different skills and interests though. One of the earliest warning signs for Sears shareholders was the disdainful attitude Lampert displayed toward the upkeep of his company's retail stores in a Fortune article from early 2006 ("Edward Lampert: The Best Investor of His Generation"). That article described a strategy session Lampert held with two dozen senior Sears executives in 2005:
"What's the benefit of that?" He (Lampert) asked again and again. "What's the value?" He shot down a modest $2 million proposal to improve lighting in the stores. "Why invest in that?" He skewered a plan to sell DVDs at a discounted price to better compete with Target (TGT) and Walmart (WMT). "It doesn't matter what Target and Walmart do," he declared.
The article went on to note that when the Sears executives asked Lampert to share his future vision for the retailer, he didn't answer.
The Limits Of Real Estate
When it became clear that Sears was still a shabby retailer, some longs pinned their hopes on its real estate. I had long been skeptical of the value Sears bulls had imputed to its real estate. Looking for an image of a Sears store for this article, I came across a post from 2008 from my old blog, The Mystery Of Sears:
Sears Holdings (Nasdaq: SHLD) announced another desultory quarter today (AP: "Sears' 2Q profit drops 62 percent"). No mystery there. The mystery I refer to in the title of this post is what well-respected professional investors such as Bruce Berkowitz see in the company. I've heard the pitch that Eddie Lampert is a great asset allocator, and Sears has great assets in its brands and its real estate, but I don't see it. I have no idea what its brands are worth, but their association with a shabbily run retailer can't be making them more valuable. Whatever the real estate was worth a few years ago, it's certainly worth less now, and, in any case, this would seem to be an inauspicious time to try to monetize it.
To be fair, not every investor had the time to read the interviews with Lampert or the details of Sears' quarterly filings. There was another, simpler warning signal though.
A Warning Sign To Watch For Next Time
A warning sign to watch next time is the cost of hedging a company using optimal, or least expensive, put options. I first noticed this issue with Sears back in 2011. In an article published in December of that year ("Hedging Bruce Berkowitz's Top Fairholme Fund Holdings"), I included this paragraph noting the high cost of hedging one holding in particular, SHLD:
Regarding the stock below with the highest hedging costs, Sears Holdings Corporation (SHLD), recall a previous article ("High Optimal Hedging Costs: A Red Flag?") where we speculated that high hedging costs could presage future underperformance.
At the time, the cost of hedging Sears Holdings against a greater-than-27% decline, using optimal puts, was 24.2% of position value - by far the most expensive of Berkowitz's top holdings to hedge. If you're wondering why I was looking for hedges against >27% declines, the reason is that was the smallest decline threshold at which it was possible to find optimal put hedges for Sears then. In contrast, when Portfolio Armor selects its top names (which tend to outperform the market, as you can see in the table below), it gives preference to ones that can be hedged against >9% declines with optimal puts.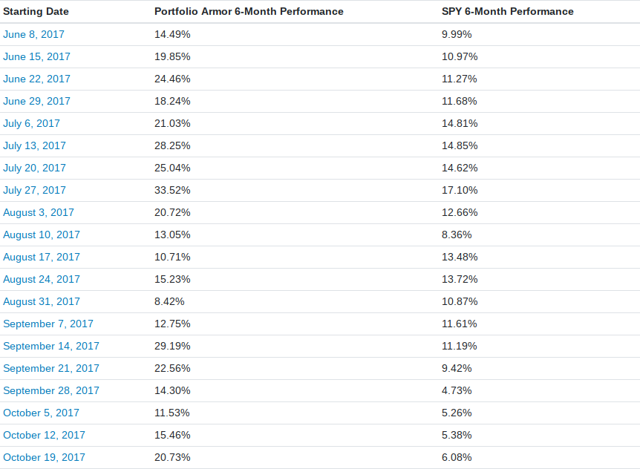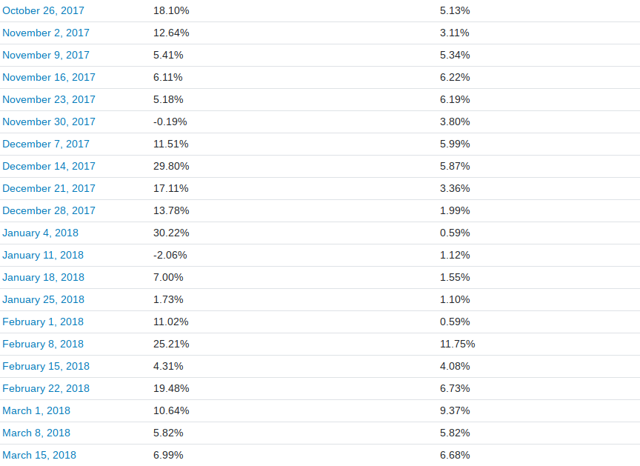 That table shows securities that (all else equal) are less expensive to hedge, tend to outperform. But it's even more important to recognize that securities that are expensive to hedge tend to do worse.
That wasn't just the case with Sears. I gave some examples of other securities that were expensive a couple of years ago ("Guru Picks Gone Bad"). The first screen alluded to below (and detailed in that last link) is a measure of past total returns. The second is a measure of hedging cost: Which names could be hedged against >9% declines over the next several months with optimal puts.
Guru Picks That Passed Both Screens, Six-Month Returns:

Advance Auto Parts (AAP), -7.84%
Precision Castparts, +2.35%
Cigna Corporation (CI), -2.23%
Danaher Corp (DHR), +11.55%
Humana (HUM), -1.28%
Perigo (PRGO), -23.06%
Shire (SHPG), -22.85%
Time Warner (TWC), +10.47%

Average six-month return: -4.11%

Guru Picks That Didn't Pass, Six-Month Returns:

Average six-month return: -29.86%
Applying that second screen to Sears competitor Target, for example, as of Wednesday's close, you can see it passed, in that it was possible to hedge it against a >9% decline (image via the Portfolio Armor iPhone app).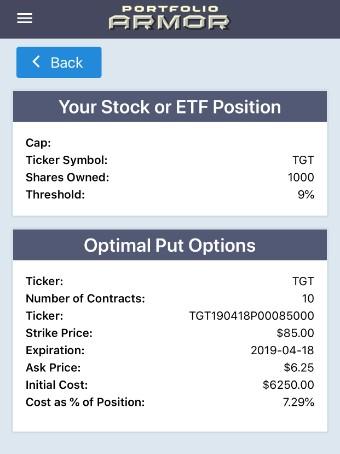 Target also passed the total return screen. To put this in perspective, out of ~4,500 securities in Portfolio Armor's universe, 1,712 passed both the total return and hedging cost screens, and of those, Target was ranked #179 (Sears, circling the drain, of course failed both screens, as it has for years.).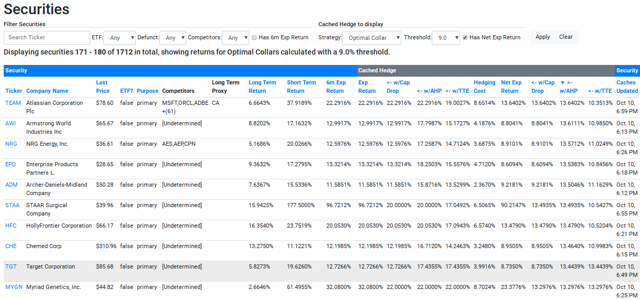 Wrapping Up
There's no magic screen that's going to help you avoid every dog, but scanning for optimal hedging cost is one that has weeded out a number of them. It might be worth trying on some of your holdings to reduce the risk that one of them is another Sears in waiting.
To be transparent and accountable, I post a performance update for my Bulletproof Investing service every week. Here's the latest one: Performance Update - Week 45.
Disclosure: I/we have no positions in any stocks mentioned, and no plans to initiate any positions within the next 72 hours.
I wrote this article myself, and it expresses my own opinions. I am not receiving compensation for it (other than from Seeking Alpha). I have no business relationship with any company whose stock is mentioned in this article.
Editor's Note: This article covers one or more stocks trading at less than $1 per share and/or with less than a $100 million market cap. Please be aware of the risks associated with these stocks.