The short-term headwinds associated with Brazil's Presidential election are over - at least this is my understanding. Even though right-wing (and market-favored) candidate Jair Bolsonaro failed to secure the 50% of the valid votes needed to clinch Brazil's top government seat in the October 7th primaries, I am confident that Bolsonaro's Presidential race victory will be confirmed on October 28th, when the run-off elections are scheduled to take place.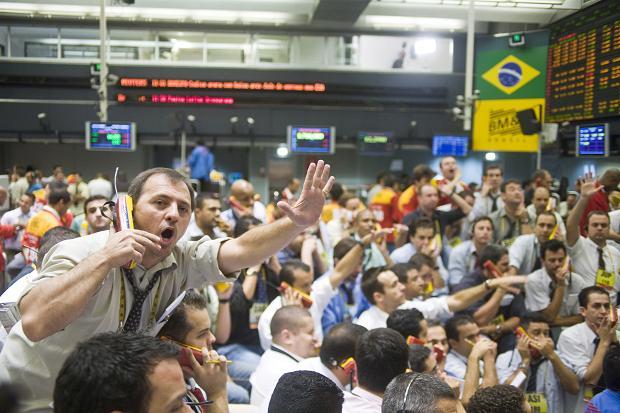 Credit: BRICS Business Council
Supporting my convictions was a primary win that surpassed even the most bullish expectations. Last week, I reacted to the last poll numbers released prior to election day (see graph below). I conveyed caution, as Bolsonaro's rejection rate had reached an astonishing 44%. Because it seemed highly unlikely that the candidate would receive the majority of the votes in the first round, I believed that Bolsonaro would step into the run-off campaign at least slightly weaker than his opponent - whether Worker's Party Fernando Haddad (most likely to qualify for the face-off stage) or former Ceará state governor Ciro Gomes (least market-friendly, in my view).
Source: globo.com
Instead, Bolsonaro clinched an impressive 42% of the total votes on October 7th (the equivalent of 46% of the total ex-protest votes), falling only four percentage points short of the magic number needed to prevent the end-of-month ballot. A closer look at the table below leads me to believe that the right-wing candidate should be appointed President later in October with about 55% of the total number of votes - likely ten percentage points more than what he needs to win the race.
To understand why, I have added below a green star next to the candidates that attracted right-winged voters in the first round. They are most likely to reject the Worker's Party candidate and converge towards Bolsonaro on the 28th. Geraldo Alckmin's followers should be fairly evenly split between the two finalists (hence the half star), while Ciro's supporters are likely to stay left of center. With the final ballot less than three weeks away, I do not believe that the landscape presented below will change much.

Source: montage using tables from globo.com
Of course, the above only speaks to this year's political events that, I believe, have caused much of the turbulence in the Brazilian markets in 2018. A much more relevant topic of discussion for Brazil's long-term prospects is whether the new government will be able to successfully tackle the many problems that the country currently faces: high interest rates, rampant unemployment, erosion of real purchasing power, deteriorating budget deficit, and lack of proper infrastructure investments.
But even in that regard, last week's House of Representatives election seems to have favored Mr. Bolsonaro.
As the reader may know, the political landscape in Brazil is highly fragmented, and House seats will be occupied by legislators of 30 different parties in 2019 (up from 25 currently, see below). However, PSL (Bolsonaro's right-wing party) rode the popular wave this year, securing an impressive 52 spots in parliament (about 10% of the total) - up from only one currently. Also, brand-new libertarian party NOVO managed to grab eight seats right out of the gate, helping to shove aside "old establishment" names in the traditional MDB and PSDB parties. Meanwhile, key opposition Worker's Party lost five federal representatives.
I believe that negotiating the much-needed tax and social security reforms with Congress, while far from an easy task, should be a bit less painful for an eventual Bolsonaro cabinet than many might have originally anticipated.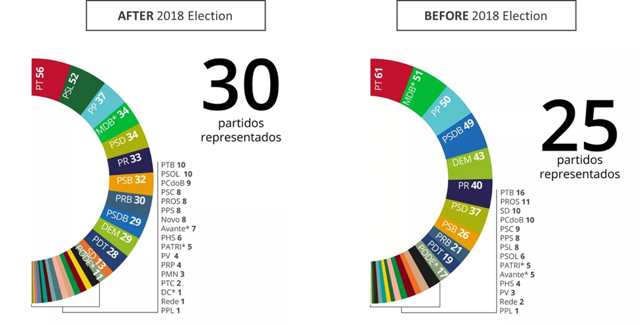 Source: montage using charts from globo.com
Using an ETF to play the potential recovery
Given the first round results of Brazil's Presidential election, I believe the local currency and the country's equity markets will finally breathe a sigh of relief that should last at a minimum through the end of the year. Brazil remains a highly speculative place in which to invest, but I believe that the risk-reward dynamic is now much more balanced than it was earlier in 2018.
Those who are risk-tolerant enough to place a bet on the country may still find it more prudent to use diversification in their favor. I continue to see the iShares MSCI Brazil Capped ETF (EWZ) as one of the best options available to U.S. investors (see key facts table below). Not only is the fund large and highly liquid, having traded an average 37.7 million shares per day over the past three weeks, its management fees are small enough at 0.6% to further justify my preference.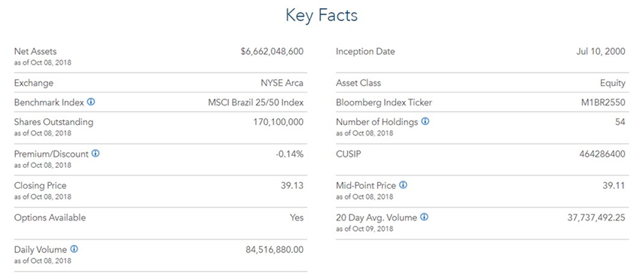 Source: iShares
To be clear, I do not believe that EWZ will allow investors to capture alpha opportunities in the Brazilian market. The ETF has mirrored its benchmark MSCI Brazil 25/50 with minimal tracking error, as the table below illustrates. The benchmark, in turn, is market-cap weighted and diversified across 54 stocks that cover approximately 85% of the free float-adjusted market capitalization in the country. Therefore, an investment in EWZ is primarily a macro play on Brazil's potential recovery and, indirectly, a bullish bet on the results of the Presidential election in the immediate term.

Source: msci.com
Last few words
EWZ's early week rally of 8% (the Wednesday pullback was less pronounced than the drop in the broad U.S. market) may have erased some of the upside opportunity that existed a few days ago. However, I now expect a bit less short-term volatility and downside exposure for Brazilian equities (all relative to recent historical averages) than I did as recently as last week.
Holding securities that trade at an average trailing P/E of only 15.9x, EWZ still looks cheap and may very well ride another leg up in market value over the next few months.
Note from the author: If you have enjoyed this article and would like to receive real-time alerts on future ones, please follow D.M. Martins Research. To do so, scroll up to the top of this screen and click on the orange "Follow" button next to the header, making sure that the "Get email alerts" box remains checked. Thanks for reading.
Disclosure: I/we have no positions in any stocks mentioned, and no plans to initiate any positions within the next 72 hours.
I wrote this article myself, and it expresses my own opinions. I am not receiving compensation for it (other than from Seeking Alpha). I have no business relationship with any company whose stock is mentioned in this article.