With the markets falling over the past week thanks to fears over what rising interest rates will do to the US economy, one name that's lost a bit of media attention is Tesla (TSLA). It does seem like things have calmed down after a very busy few weeks for the electric vehicle name, but unfortunately, recent events are not looking good. As we get closer to the company's Q3 earnings report, the forward looking trends show that trouble is mounting.
As we approach the midway point of October, it doesn't appear that Tesla is making any major progress on the Model 3 front. There have been no declarations that production hit the 6,000 a week goal for late August, and the Bloomberg Model 3 tracker remains in the low 4,000 a week rate. Without a cheaper version or deliveries to Europe soon, Tesla may be exhausting its US demand quite quickly. The company also raised its lending rate on the vehicle, making it even more expensive for consumers who need to borrow.
Another major item I've been focused on is competition. A flood of new premium electric vehicles are about to hit the market in the coming quarters, and Tesla is about to lose a major tax break in The Netherlands plus see the start of the US tax credit roll back, or perhaps even eliminated soon. These two countries will see major demand headwinds in 2019, and Tesla already is struggling in China thanks to the trade war and tariff situation.
Thus, the company is going to rely on some of its other main sales leaders, like Norway, to make up some of the slack. Unfortunately, recent trends do not look good, with the Jaguar i-Pace hitting that market. I put together the following chart, which shows how Tesla sales cumulatively compare against 2017 since the start of September, vs. the end of week number of i-Pace registrations (and through Wednesday this week).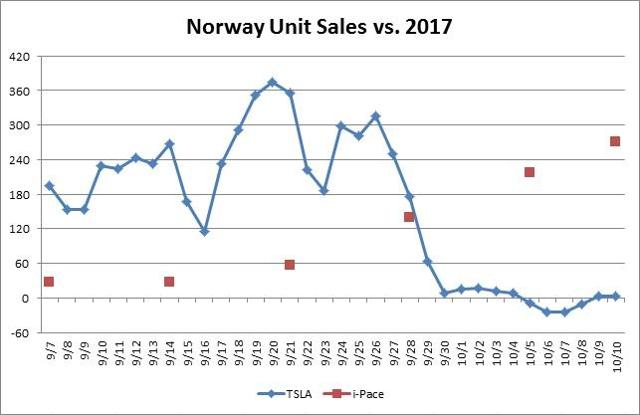 (Source: teslastats.no and Norway EV registrations)
Through September 20th, Tesla was up 385 vehicles in Norway over the first 20 days of the month last year. Almost a week later, it was still over plus 300. However, as i-Pace registrations have started to jump, Tesla has basically returned to the flat line, and we're only talking about the i-Pace doing a couple dozen units a week right now. This could look much worse once we get the Audi e-Tron and others that apparently are seeing large pre-orders.
Another major issue is the rising rate situation, which isn't good for a company that's well into a net debt situation. Tesla has hundreds of millions of low rate debt coming due in the next five months, and its variable rate debt will be hit by rising LIBOR rates as seen below. Plus, it seems that Tesla's interest rate hedges have decreased in recent quarters, meaning the company will be increasingly exposed to the surge in LIBOR. Interest expenses may soon approach $200 million a quarter, making it even harder to be profitable if S/X headwinds build and the Model 3 remains stagnant.

(Source: St. Louis Fed page, seen here - current rate found here)
Tesla underwent a major restructuring in Q2 in order to help the company move closer to profitability, but apparently more job cuts have been ordered. Recent reports on Twitter, here and here, suggest that Tesla laid off all employees from its SolarCity center in Salt Lake City, Utah. As the solar business has cratered since Tesla took it over, investors continue to be hurt by the acquired segment's huge losses and cash burn. One must wonder how much better Tesla's financials would look without that "bailout," even if Elon Musk's image would have lost a bit of luster by letting SolarCity go bankrupt.
Tesla also took a small hit this week when the NHTSA came out and rebuffed the company's notion regarding the Model 3's safety. Like a fair number of Tesla statements, there are always two sides to the story, so you have to read between the lines. Investors certainly aren't too happy with the current situation, as shares are getting closer to a potential Elon Musk margin call scenario, while Tesla's 2025 bonds have hit a new closing low seen below.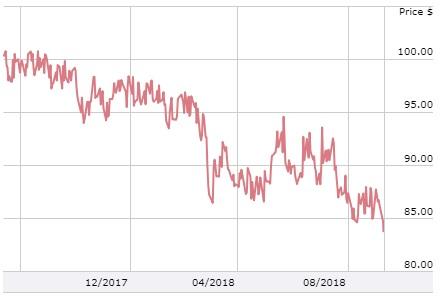 (Source: Finra bond page, seen here)
In the end, the cracks are starting to show at Tesla. Model 3 progress seems to be well behind schedule still, with management not updating production plans or giving a reservation count at the Q3 quarterly announcement. You would have figured we'd hear something if the numbers were good, so what does that tell you? In the last couple of weeks, Norway sales have dropped just as Jaguar i-Pace deliveries are starting to ramp, and more competition is coming along with major tax break headwinds in 2019. With interest rates on the rise, Tesla's debt pile is becoming even more dangerous, which has resulted in investors selling both the company's stock and bonds recently.
Author's additional disclosure: Investors are always reminded that before making any investment, you should do your own proper due diligence on any name directly or indirectly mentioned in this article. Investors should also consider seeking advice from a broker or financial adviser before making any investment decisions. Any material in this article should be considered general information, and not relied on as a formal investment recommendation.
Disclosure: I/we have no positions in any stocks mentioned, and no plans to initiate any positions within the next 72 hours.
I wrote this article myself, and it expresses my own opinions. I am not receiving compensation for it (other than from Seeking Alpha). I have no business relationship with any company whose stock is mentioned in this article.