On October 12, the Anaplan (PLAN) IPO will take place on the NYSE. Anaplan is a leading, cloud-based platform for connected planning focused on large organizations. Almost a thousand companies in 46 countries use Anaplan's platform to solve various business tasks, including budgeting, sales planning, and operational planning.
This summer, one of the company's main competitors, Adaptive Insights, was acquired for $1.55 billion, which suggests that Anaplan will attract investors' attention during its IPO. Despite significant risks of high competition and a long history of losses, the current price leaves a pretty good upside potential.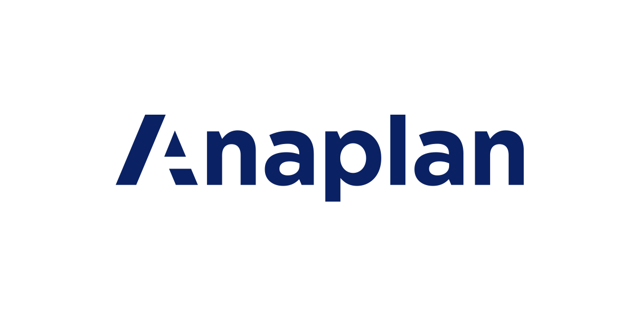 Source: Google Images
Quick Take
Anaplan was founded in 2008, and three years later, the company launched its first product. Anaplan is a platform for planning and managing business processes. The platform allows combining all employees, data, and projects of a company to plan and make decisions in real time in all areas of work: finance, sales, supply chain, marketing, and HR. The company's customers are mainly large corporations, including representatives of the Global 2000 list: Coca-Cola (KO), HP (HPE), and United Airlines (UAL). The average contract size with each customer is $200,000 and at the moment, the company has 979 customers from 46 countries.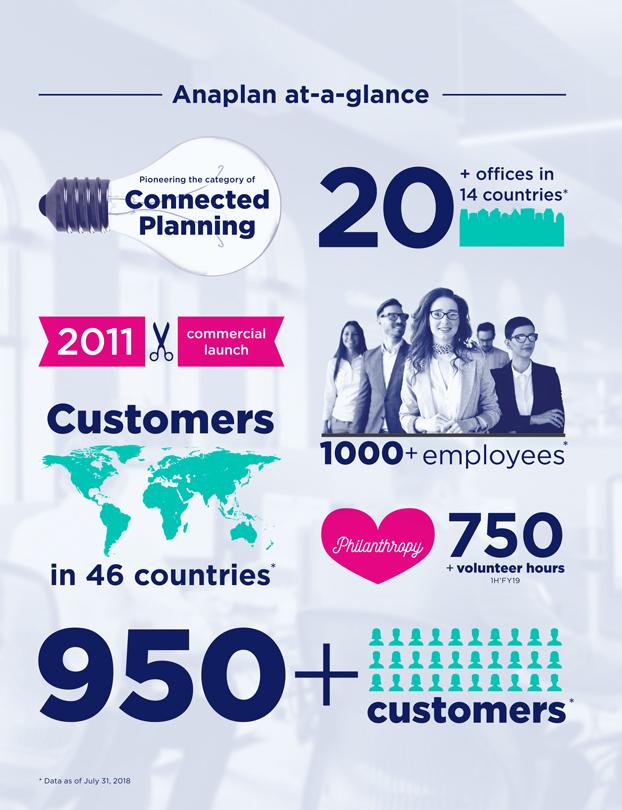 Source: S-1/A
The CEO of the company is Frank Calderoni. Among the largest investors are Shasta Ventures and Granite Ventures.
The company's revenue for FY18 was $168 million, an increase of 40% Y/Y. The company also demonstrates a noticeable improvement in gross margin and reduces operating losses.
Offering Details
During the public offering, Anaplan plans to raise $217 million, selling 15.5 million shares of common stock.
Shares will be offered in the price range of $13-15 with the valuation of $1.6 to $1.8 billion. The IPO will take place on October 12 on the NYSE. The underwriters of the IPO are Goldman Sachs, Morgan Stanley, Barclays, KeyBanc Capital Markets, Canaccord Genuity, Evercore ISI, JMP Securities, Needham & Company, Piper Jaffray, and SunTrust Robinson Humphrey.
Also, one of the company's investors decided to buy its shares for up to $20 million at the price of the public offering:
Affiliates of Premji Invest, all of which are affiliates of certain of our existing stockholders and a member of our board of directors, have agreed to purchase up to $20 million of shares of our common stock in a private placement at a price per share equal to the initial public offering price. (Source, p.11)
The company plans to use the money received from the IPO for working capital and other general corporate purposes.
Market
The market for the company's product is truly large. Most organizations still use Excel for planning and forecasting, which for many reasons is inferior to the cloud solution from Anaplan. 220 companies from the Global 2000 list are already using the Anaplan product, which indicates a very strong demand from large organizations and the migration of companies to cloud services.
We address a very large existing market of legacy and emerging business software categories, which are tracked in market research studies. According to International Data Corporation, or IDC, the worldwide performance management and analytic applications software market is forecasted to be approximately $17 billion in 2018 and to grow to $21 billion by 2021. This market includes applications for customer relationship management, workforce management, supply chain management, production planning, services operations, and enterprise performance management. (Source, p.5)
The company's main competitors in this market are Oracle (ORCL), SAP (SAP), IBM (IBM), and Workday (WDAY) (including the recently acquired Adaptive Insights).
Business Model
"Excel On Steroids", this is how the company's products were described by one of the employees of United Airlines. The video below fully describes the specific benefits of using Anaplan's products for business purposes of one of the largest airlines.
Of course, Anaplan is much more than just "Excel On Steroids". The core of the company's product is Hyperblock technology, which allows thousands of users to simultaneously access a centralized data source. The platform also provides the ability to visualize data in different formats, import and export data, as well as instant processing of almost any data arrays.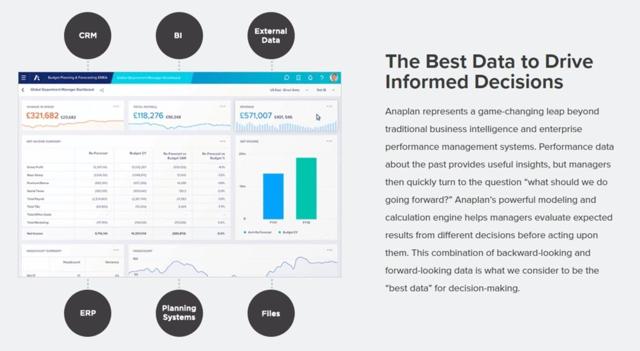 Source: Anaplan Website
Anaplan platform is used in sales, finance, HR and marketing departments of various companies ranging from DocuSign (DOCU) to Coca-Cola. Below are examples of problems solved by Anaplan's products in various departments of companies:
Sales. Managing sales performance, including incentive compensation, territory and quota planning, sales forecasting, account segmentation and scoring, and sales capacity planning.

Finance. Managing financial and overall enterprise performance, including financial budgeting, planning, and forecasting. Other areas include tax and treasury planning, financial consolidations and reporting, and long-range planning.

Supply Chain. Managing supply chain performance, including demand planning, supply planning, sales and operations planning, inventory, and merchandise optimization.

HR. Managing workforce plans and performance, including workforce and headcount planning, workforce optimization planning, succession planning, and global compensation.
Marketing. Managing marketing performance, including trade promotion planning, pricing optimization, and marketing performance management.

Operations. Managing performance for many additional operational areas, including IT, project budgeting and performance analysis, retail merchandise planning, call center planning, resource capacity planning for professional services, actuarial and premium modeling for insurance, capital planning for banking, clinical trial planning for pharmaceuticals, and commodity sensitivity analysis for consumer goods. (Source, p.5)
Such widespread use is very beneficial for Anaplan, as this allows it to increase revenue from an already existing customer by expanding subscription. Net expansion rate of the company keeps above the level of 120% for the last three years.
The company sells its products through a direct sales team and a broad network of consulting and implementation partners. The company's sales are focused on the largest companies, as evidenced by the large average contract size, which is about $200,000.
As of June 30, the company has 979 customers, +13.3% from the beginning of the year, and 213 customers who bring Anaplan more than $250,000 in revenue.
Financials
Anaplan's financial performance is pretty typical for a SaaS company; rapid revenue growth coupled with a gradual reduction in operating losses. The company's revenue for FY18 was $168 million, an increase of 40% Y/Y. Revenue for the first half of FY19 was $109.5 million, +40.5% Y/Y. At the same time, the growth in revenue in the first half of the year does not look entirely natural due to the greatly increased marketing expenses, therefore, most likely by the end of FY19, we will see a slower growth of 30-35% compared to FY18.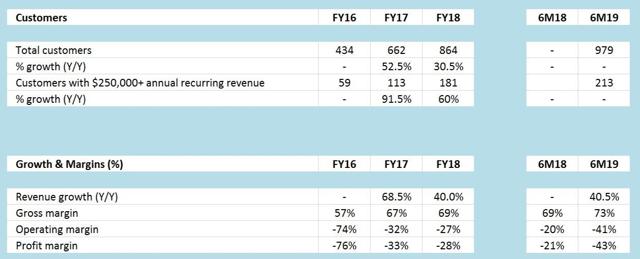 Source: S-1/A, calculations by the author
As can be seen from the picture below, Anaplan gradually reduces operating expenses along with an increase in gross profit. Gross profit for FY18 amounted to $116 million, an increase of 43% Y/Y. Operating loss for the FY18 was $46 million compared to $40 million in FY17. The company is unprofitable for 10 years from its inception, which may alienate interest from potential investors.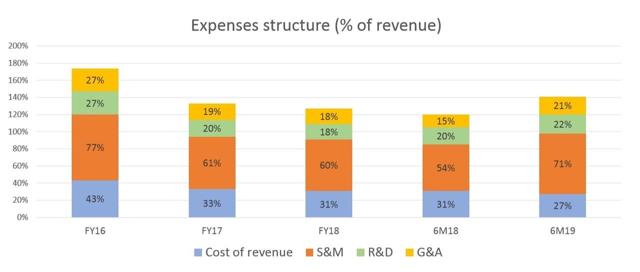 Source: S-1/A, calculations by the author
After the IPO, the company's cash position will be $324 million, which is almost 11 times the annual loss from operating and investing activities.
Valuation
Since its inception, Anaplan has raised a total of about $300 million. The last time, the company raised a total of $60 million in December 2017 with a valuation of $1.3 billion.
At the midpoint of $14 per share, the market capitalization will be about $1.7 billion, which is 10 times the revenue for FY18.
One of the company's competitors, Adaptive Insights, was acquired by Workday this summer for $1.55 billion. Prior to the acquisition, Adaptive was planning an IPO, so we can compare the financials of the two companies.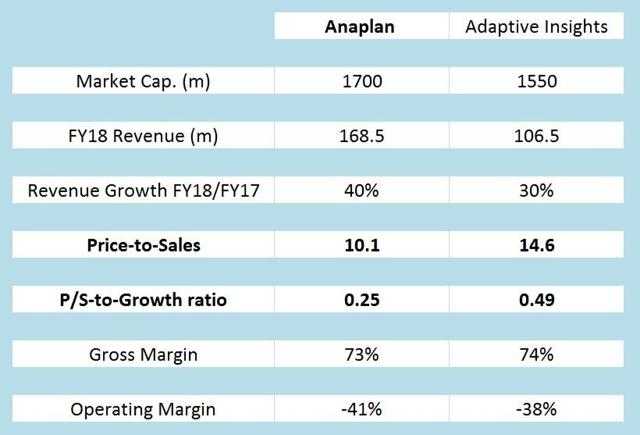 Source: S-1/A, calculations by the author
Price-to-Sales (FY18) multiple of Adaptive Insights at the time of acquisition was 14.6x, which is 45% higher than the similar multiple of Anaplan. In addition, Anaplan shows a faster growth pace, which is confirmed by the P/S to Growth multiple, which is almost 2 times lower than that of a competitor. Given the approximate acquisition premium of 20%, Anaplan is undervalued to its competitor by 62% per the PSG multiple.
Final Thoughts
The company's products are in demand by large corporations, and the number of customers is constantly growing, leading to a steady increase in revenue. At the same time, the company for 10 years has not been able to achieve break-even, which is a pretty negative signal for investors. In comparison with Adaptive, the company looks undervalued and has the potential to grow from the initial price range.
Disclosure: I/we have no positions in any stocks mentioned, and no plans to initiate any positions within the next 72 hours.
I wrote this article myself, and it expresses my own opinions. I am not receiving compensation for it (other than from Seeking Alpha). I have no business relationship with any company whose stock is mentioned in this article.