At this point, Alphabet (GOOG) (GOOGL) hasn't seen any impact to long-term financial targets due to tangles with regulators. Though, the company is playing a dangerous game with regulators. The $175 dip in the stock to a recent low below $1,115 is an opportunity unless the search giant continues to antagonize regulators.
Just Stop It
Despite a $5 billion fine from EU regulators that the company is appealing, Alphabet appears to not have learned its lessons about dealing with regulators. The tech giant famously failed to appear in front of Congress last month and is now closing down Google+ following the disclosure of a data breach.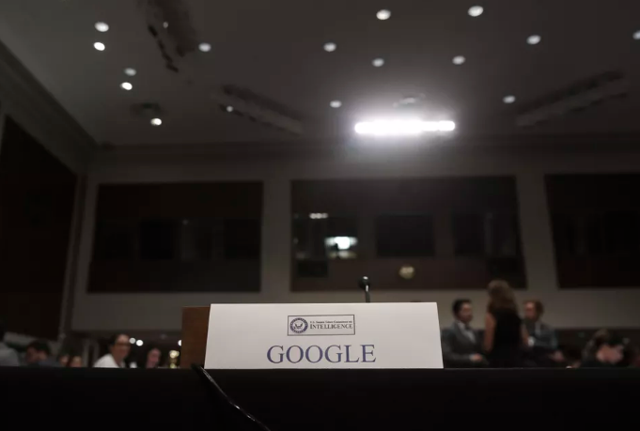 Image Source: Cnet
The company faced backlash from Senators including this harsh statement from Mark Warner from Virginia:
Google has immense responsibility in this space. Given its size and influence, I would have thought the leadership at Google would want to demonstrate how seriously it takes these challenges.
The company had failed to disclose a Google Plus security breach that occurred back in March. The breach allowed outside developers to potentially get access to private profile data for years so it is likely that the company's executives weren't that excited about appearing in front to the Senate Intelligence Committee.
To add injury to insult, Alphabet keeps pulling out of deals to work with the U.S. government while apparently working behind the scenes on a search engine that will cater to the restrictions of the Communist Chinese government. Working with the Chinese and not the U.S. is a very bad visual for a company where shareholders want the leaders to take on profitable ventures.
The positive that helps make Alphabet a reduced risk to buy on this dip is the recent decision for Google CEO Sundar Pichai to appear at a White House summit with social media and tech companies later this month. The agreement followed an apparent meeting with While House advisor Larry Kudlow that likely talked some sense into the Google executive on how to handle Capital Hill.
The move is one of the first signs that Alphabet will start to work with regulators in favor of its shareholders.
Focus Here
What investors want to see is a much bigger focus on Waymo and consumer devices like Pixel phones. A leader in self-driving technology will naturally need regulators in the U.S. and the EU to support their plans. Considering analysts have placed valuations in excess of $100 billion (via Business Insider) on Waymo and a sure way to kill shareholders is to have this business blocked due to regulator ire from data privacy issues in other areas.
In addition, the Pixel phone is a potential catalyst for Alphabet. The Pixel 3 release on October 9 still doesn't get the hype of the iPhone and no reasonable expectations exist for Google to take meaningful market share in the premium smartphone sector. More focus here could solve a mounting financial liability for the company.
The recent suggestion by Goldman Sachs that the company has to pay Apple (AAPL) up to $12 billion next year to be the default search engine on the iPhone is a big problem. Not only would success of the Pixel smartphone line provide a possible path to the revenues and profits of the device, but also Alphabet would be less reliant of mobile traffic from Apple.
Alphabet suggested on the Q2 earnings call that traffic acquisition costs (NYSE:TAC) would continue to rise, but at a slower rate. While a $3 billion jump in both 2018 and 2019 technically makes the latter amount a smaller percentage change, the market wasn't likely expecting a similar financial jump each year. As well, the indication is that the TAC payments to Apple might grow at an infinite rate into the future, if the Pixel isn't successful in taking market share in mobile search.
Within cost of revenues, the biggest component is TAC. As we've discussed for the past couple of quarters, we expected the pace of year-on-year growth in sites TAC as a percentage of sites revenue would slow after the first quarter of 2018, and you can see that clearly in our results of this quarter.

As frequently discussed, we do expect the sites TAC rate to continue to increase year-on-year, reflecting ongoing strength in mobile search (read Apple), albeit at a more moderate pace relative to the year-on-year increases experienced over the past several quarters.
The end focus is on 2019 EPS estimates that remain at solid levels. The growth rate forecast by analysts is rather meager. The projection suggests a little under a $3 gain on a $46 EPS base from 2018.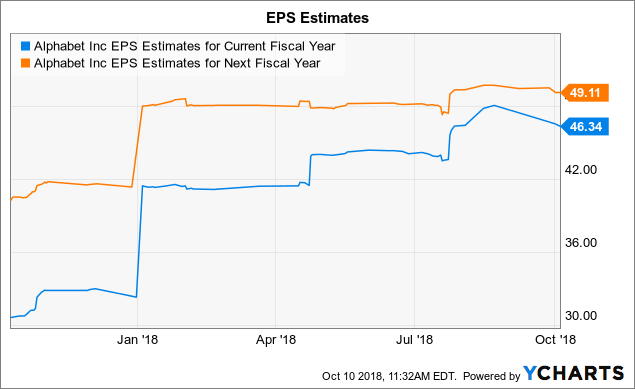 Part of the issue remains that analysts shift to using GAAP numbers that include stock-based compensation. Remember that based on my previous research after Q2 results, the SBC hit was around $13 per share.
One quickly arrives at a non-GAAP EPS estimate of around $62 per share when adding the SBC hit back into EPS estimates. The enterprise value sits at ~$1,000 now due to the roughly $130 in net cash. Based on this updated EPS target, the stock only trades at 16.1x EV/2019 EPS estimates.
Takeaway
The key investor takeaway is that risks are plentiful, but Alphabet can quickly resolve a lot of the fears by working directly with the U.S. government on data privacy issues. The stock remains cheap due to a solid earnings stream supporting the current price as a good entry point on Alphabet unless the company goes back to antagonizing regulators.
Disclaimer: The information contained herein is for informational purposes only. Nothing in this article should be taken as a solicitation to purchase or sell securities. Before buying or selling any stock you should do your own research and reach your own conclusion or consult a financial advisor. Investing includes risks, including loss of principal.
Disclosure: I/we have no positions in any stocks mentioned, but may initiate a long position in GOOGL over the next 72 hours. I wrote this article myself, and it expresses my own opinions. I am not receiving compensation for it (other than from Seeking Alpha). I have no business relationship with any company whose stock is mentioned in this article.
Additional disclosure: Long AAPL.