Turnaround
When I was at Signal Iduna Park for the Super Cup match against Bayern Munich back in 2013, it was like a dream. Borussia Dortmund (OTCPK:BORUF) won the match 4-2, won the Super Cup in its home stadium, there was confetti everywhere. At the time, I thought that BVB (Ballspielverein Borussia) was a great success story - both in terms of football and in terms of business - the club played in the Champions League final not long before that win (despite losing the final, it was still a tremendous success).
More than five years have gone by and by the beginning of this season it seemed things would never go back to that time and to winning titles. Borussia had sold most of its core and talented players, including Lewandowski, Hummels, Aubameyang, Goetze and others. It has not come close to the Champions League final since and has not won the Bundesliga with Bayern dominating this tournament for six years in a row. It won the DFB-Pokal one time, but that is nothing compared to winning the national league, let alone Champions League.
But now things seem to be going well. As I write this article, BVB is on top of the national league, is in first place in its Champions League group, having dominated against Monaco 3-0. But the most important fact - it has a great squad full of young talented players, who will be sold for tens of millions of dollars in the future. This combination leads to the fact that BVB is a great investment opportunity in the moment as this potential for growth is not yet realized.
Share price
Despite the fact that the share price has decreased slightly from its level one year ago, it has already factored in some of this growth potential. This brings us to the most important question in this investment case: is this share price factoring in all of the financial growth potential? I think not - mostly due to the quality of the team's game and due to the number of talented players. Thus, I would recommend two things: (1) either buying the stock now, (2) or waiting for a small fallback and buying the stock then.
Fig. 1 - BVB share price vs. DAX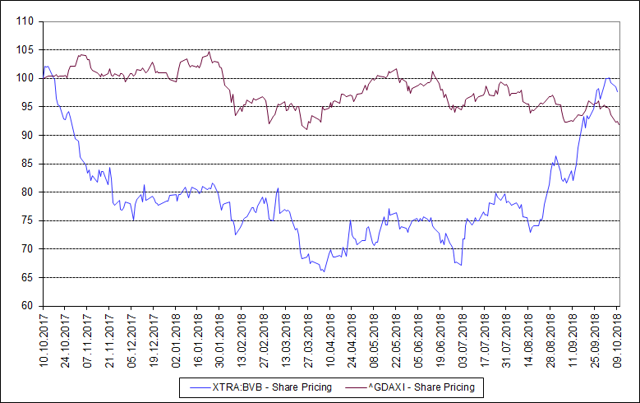 Source: CapitalIQ
New players
What BVB has always been good at is finding great talented players and then selling them on to their competitors. Eventually this led to BVB losing all they gained in terms of team quality, but receiving significant payouts via transfer values. Just look at the following transfers: Ousmane Dembele to Barcelona for a whopping EUR115m, Pierre-Emerick Aubameyang to Arsenal for EUR64m, Henrikh Mkhitaryan to Manchester United for EUR42m. Even more amazing considering the fact that the most expensive player that BVB had bought in these years cost only EUR30m (Andre Schuerrle from Wolfsburg).
Now, BVB has so a lot of players, who could bring in significant funds after they are sold. Moreover, there are cases when BVB has already increased a player's market value for a very small period of time. Just look at an American wunderkind Sancho, who was bought from Manchester City for EUR7m, but now his market value is EUR20m. BVB has just singed a new long-term contract with the player so we can only guess for how much he is going to be sold in 3-4 years (by the way, he is only 18 now).
Fig.2 - Julian Weigl market value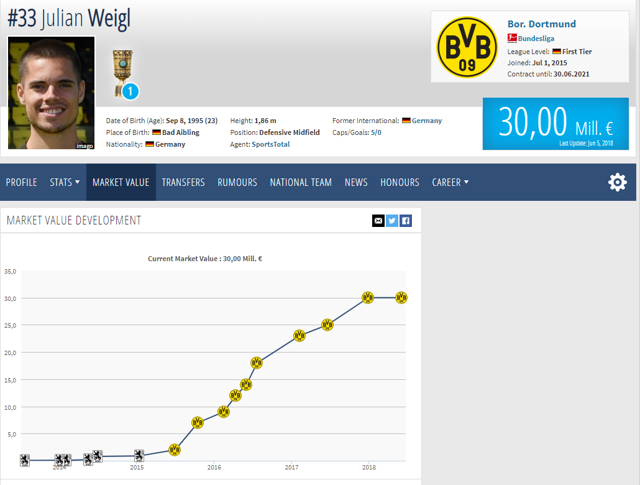 Source: Transfermarkt
There are a lot of cases like this one. For example, Julian Weigl, who was bought from 1860 Munich three years ago for EUR2m now costs EUR30m. To summarize, BVB is one of the best and most skilled clubs in terms of finding and nurturing talent to sell it later at a huge profit.
Fig.3 - Ousmane Dembele market value and transfer to Barcelona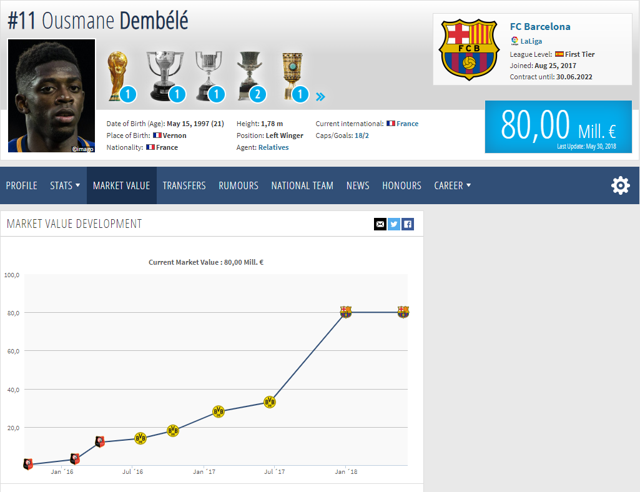 Source: Transfermarkt
New titles
This year, Bayern started the season by dropping a number of points, which led the club's president to say it's the manager's fault. Specifically, Mr. Hoeness said that "the coach is putting his neck on the line".
Seeing how Bayern is the strongest competitor of BVB in the national league with BVB already having a 4 point advantage, this could be a start of winning a new title. I understand that it is too soon, but look at BVB's two latest matches in the Bundesliga. Both were won in the last minutes with the team showing great spirit, which is extremely important in this game.
BVB has also demonstrated good results in the Champions League, where Real Madrid is in such a bad condition that it lost to CSKA Moscow 0-1 recently. This also means that there will be more chances for others to try to snap the Champions League title, as Real MAdrid was the one to win this tournament for the last three seasons. But even getting to semi- or quarterfinals would be a good result as getting into each successive stage brings a solid sum of money to clubs.
Relative valuation
Let's look at other traded football clubs to get a grasp of whether BVB is under- or overvalued compared to its competitors.
Looking at the mean and median multiples, BVB is trading more than 2-times lower than its peers. In particular, median EV/Sales multiple is 2.5x while for BVB it is 1.2x. As for EBITDA, median multiple for the sample below is 11.7x while for BVB it equals 5.2x.
Fig.4 - Traded multiples of other football clubs

Source: CapitalIQ
Using the mix of EV/Sales and EV/EBITDA multiples for a sample of non-premium football clubs, I arrive at a valuation of $11.73 - a 29% upside from the current market price of $9.
Disclosure: I/we have no positions in any stocks mentioned, and no plans to initiate any positions within the next 72 hours.
I wrote this article myself, and it expresses my own opinions. I am not receiving compensation for it (other than from Seeking Alpha). I have no business relationship with any company whose stock is mentioned in this article.