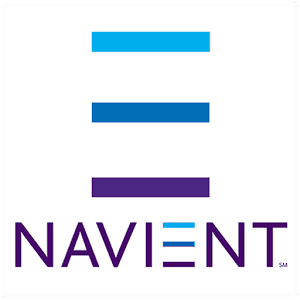 Based in Wilmington, Delaware, Navient is the nation's leading servicer of student loans, maintaining over $300 billion in loans on its books across roughly 12 million borrows. Having spun off Sallie Mae in 2014, Navient has long benefited from the culture belief of pursuing higher education, as more and more families plunge themselves into debt for the great paper chase. As the federal government guaranteed student loans on behalf of the tax payer, university tuition costs soared across the board, yet enrollment has not decreased. On the contrary, college enrollment has grown dramatically over the years, with most of those students needing to borrow, and a large number of them doing so through Navient.
The below shows how enrollment of young adults have increased between the years 2000 and 2016, according to the National Center for Education Statistics.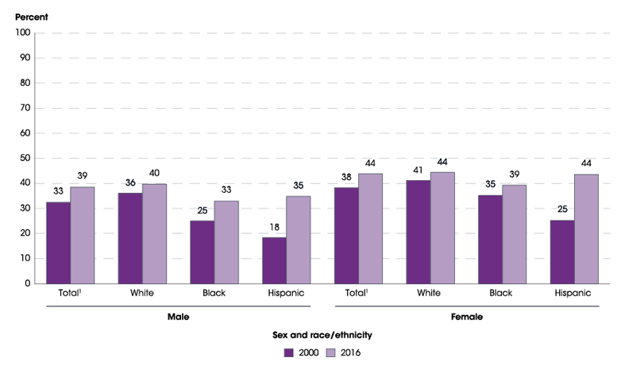 Now compare the growing enrollment rates to the alarming increase of overall higher education costs over the years, as povided by the College Board's report on tracking data trends pertaining to college and universities: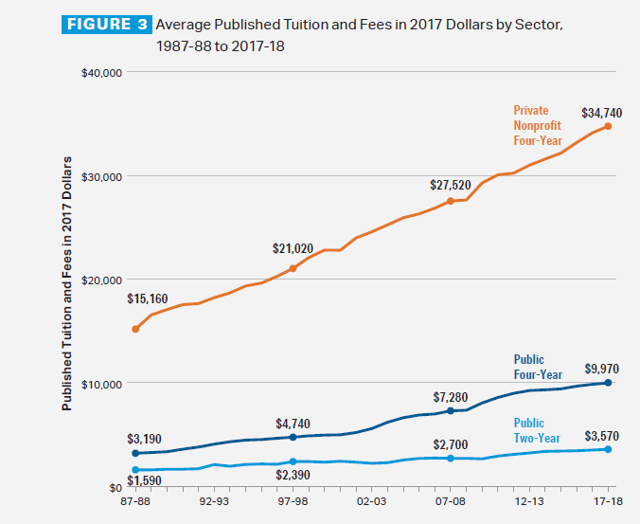 In order to afford the ever-increasing costs of higher education, students continue turning to student loan providers, and they have demonstrated that they are still willing to borrow in order to obtain their degree, suggesting that the demand for higher education is relatively inelastic. Overall student loan debt now amounts to an estimated $1.4 trillion dollars, that's trillion...with a T. Student loan debt is rapidly growing in proportion to GDP, and as of August 2017, student loan debt is carried by roughly 13% of the US population, with an average balance of $35,000 per borrower, up more than 60% from ten years ago. In order to afford the ever-increasing costs of higher education, students continue turning to student loan providers, and they have demonstrated that they are still willing to borrow in order to obtain their degree, suggesting that the demand for higher education is relatively inelastic. In short, student loans are increasing, they're everywhere, not going anywhere anytime soon, and as it just so happens, the nation's leading servicer of them is increasing its ability to capitalize off the service and grow its cash flows. Below I outline reasons to own Navient.
I) Navient's Student Loan Service
Navient is the largest holder in the private sector of student loans insured or federally guaranteed with the Federal Family Education Loan Program (FFEL), and is also the largest holder of private education loans, which are underwritten using a matchup of FICO score, risk-based price criteria, and personal or household debt-to-income ratios. By the numbers, Navient holds roughly $81 billion if FFEL loans and $23 billion in private. They have a weighted average life of 7 and 6 years respecivtely. According to Navient, its student loan business generates both significant and predictable cash flows, as its overall education loan portfolio is 78% funded, while its FFEL loan portfolio only bears a maximum 3% exposure to loss under the terms of the government's guaranty. Such a large safety net allows Navient room to operate with experimental procedures designed at either streamlining the loan repayment process, or reducing operating costs. Though its private loan portfolio bears a full loss risk to the credit of the borrower, Navient expects that its portfolio-generated cash flows will outweigh future debt service obligations by a wide margin.
Navient is also making a name for itself as being an acquirer or debt that originated with other providers. In Navient's view, purchasing existing debt and consolidating it on Navient's books allows it to leverage its economy of scale in servicing debt, which generates additional earnings and cash flows. By purchasing existing debt, Navient is able to quitely collect interest income on its portfolio. In 2017 alone, Navient acquired nearly $6 billion in FFEL loans to add to its already enlarged share of assets. The nature of FFEL loans allows Navient to backstop its losses from any default, as the contractual agreement with the federal governement insures the losses for 97 cents on the dollar.
In October, 2017, Navient announced its intent to acquire Earnest, another education finance provider. Since the acquisition, Navient has been originating Private Education Refinance Loans, which enable students to achieve their financial goals outside of the limitations of financial aid. They further allow borrowers to refinance their loans at a lower rate. Navient anticipates that its forray into the refinance loan business will also generate predictable and significant cash flows. After the acquisition of Earnest in late 2017, Navient went on to hold $1.3 billion of Private Education Refinance Loans, as opposed to just $225 million at the same time the year before.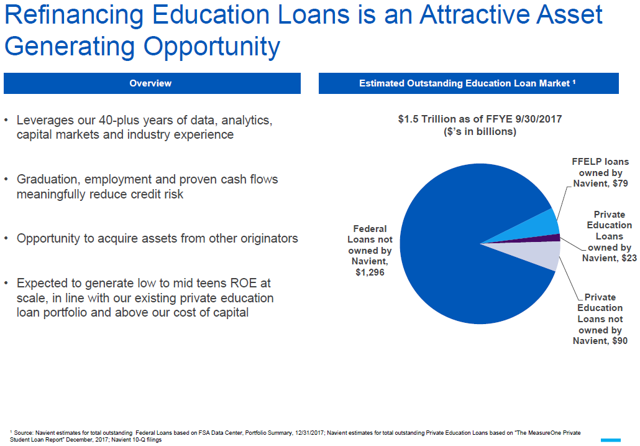 II) Debt Servicing Efficiencies
Being the country's leading provider of student loan financing has potential to open up many a can of worms relating to sluggish practices, pork barrel folly, and red tape bureaucracy. Navient navigates this with the grace of a Russian ballerina, and as a result has enjoyed successive years of streamlined collection processes as well as improved internal efficiencies.
The first area in which Navient has revolutionized the student loan industry is in repayment plan options. A few decades ago, there were only two repayment plan options (Standard & Graduated), with the most complex area of servicing being deferment, as borrowers had a wide range of options and criteria. Today's repayment options are far more numerous and complex, with repayment plans having grown now to sixteen, with factors like income, alternative, standard, and FFEL all taking part. These repayment plans exist to ensure that a product exists for every type of borrower, but it created additional management challenges as well. Navient handles the large volume of diversified borrowers via outreach. When a Navient borrower falls behind on payments, Navient has a 90% success rate in ensuring that borrower does not default, assuming the borrower can be reached. It is worth noting that most of the time the behind-payment borrower cannot be reached. Nonetheless, the average default rate among all student loan borrowers is 11.5%, while Navient boasts a default rate of only 7.8%. That's less money falling into forebearance and more flowing into Navient's coffers in the form of principal and interest repayments.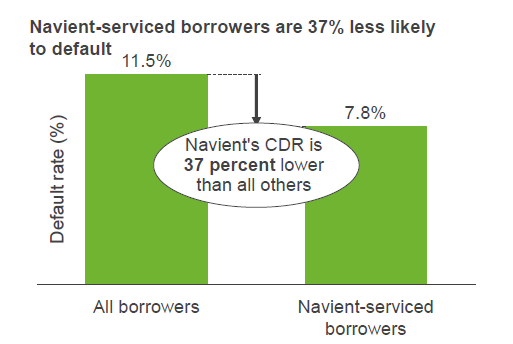 III) Current and Future Cash Flows
Navient is dedicated to its shareholders, assuring us in their quarterly report that it seeks to maintain the high dividend and provide capital returns. It also intends to return capital to shareholders in the form of a $500 million stock buyback program, whereby 43 million shares will be taken out of circulation. With what capital remains, Navient intends to reduce its liabilities and expand assets, seeking to secure more student loans on its books while reducing its debt obligations. Though Navient issued $500 million in unsecured debt in the 2nd quarter of this year, it also retired $1.3 billion of debt, eliminating the remaining 2018 maturities.
Regarding its loan cash flows, as of the second quarter of this year, Navient has YTD generated $1.4 billion in cash flows from its education loan portfolio alone, returning $85 million directly to shareholders in the form of dividends. Furthermore, Navient has acquired a total of $1.6 billion of new student loans in 2018. Navient estimates that there remains $25.9 billion worth of future cash flows over the next two decades to be captured from acquiring and originating student loans. The below chart, as shown in the Q2 investor presentation, indicates Navient's projections for student loan cash flows over the next five years.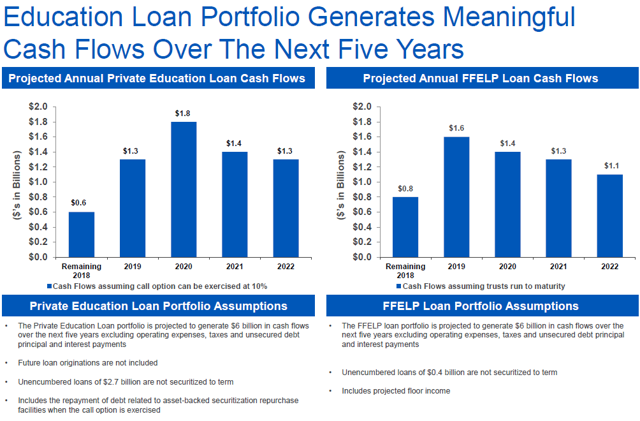 Conclusion
There are many reasons to be optimistic about Navient and its direction. Given the nature of student loans and higher education, one can logically conclude that Navient's services will be in constant demand. Its position in the market paired with its corporate vision will allow it to continue to dominate the student loan servicing sector, allowing shareholders to reap the benefits for years to come. Nay sayers have steared clear of Navient, as short interest in the stock is less than 5%, while investors are willing to pay a premium for its price to earnings ratio, giving credibility to Navient's sentiment that its practices create predictable and growing cash flows. As student loans grow over time, and college education costs continue to rise, why not own a piece of that pie as well? College education is arguably the second largest purchase an average individual can make in his/her lifetime (the first being a mortgage), and Navient is in place to continue its service as the largest student loan provider.
Disclosure: I am/we are long NAVI. I wrote this article myself, and it expresses my own opinions. I am not receiving compensation for it (other than from Seeking Alpha). I have no business relationship with any company whose stock is mentioned in this article.