The Consumer Price Index for All Urban Consumers (CPI-U) increased 0.1% in September on a seasonally adjusted basis, the U.S. Bureau of Labor Statistics reported today. Over the last 12 months, 'headline' inflation rose 2.3%.
This is the year's most significant inflation report, because it sets the final piece of data needed to determine Social Security's cost-of-living-adjustment for 2019. The COLA will be 2.8%, the highest annual increase since 2012.
The Social Security COLA is calculated by averaging the Consumer Price Index for Urban Wage Earners and Clerical Workers (CPI-W) over the months of July, August and September. (I explained this process in an August 1 article.) While this calculation sometimes undercuts the increase for seniors, that didn't happen this year. The 12-month increase in September CPI-W was 2.3%, well short of the next year's 2.8% increase.
Here are the numbers used in this formula: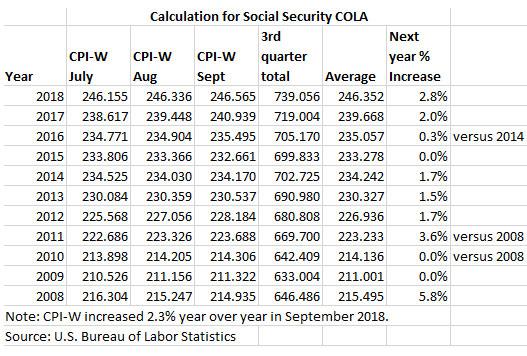 A few months ago, it looked very likely that the 2019 Social Security COLA would top 3.0%, but inflation has dramatically slowed this summer, dropping from an annualized rate of 2.9% in July to 2.3% in September. The COLA increase of 2.8% looks like a fair number, given that trend.
The cost-of-living adjustment will begin with benefits payable to more than 62 million Social Security beneficiaries in January 2019. The average benefit for all retired workers will increase from $1,422 to $1,461. In addition, for those still working, the maximum amount of earnings subject to the Social Security tax will increase to $132,900, up from $128,400. For more information, read the Social Security Administration's fact sheet.
New I Bond Variable Rate
Today's inflation report also provided the last piece of data needed to determine the U.S. Series I Saving Bond's inflation-adjusted variable rate. The rate will be reset on November 1, based on non-seasonally adjusted CPI-U from March to September 2018.
The BLS set the September inflation index at 252.439, an increase of 0.12% over the August number. Total inflation for the six-month period was 1.16%, which means all I Bonds will get a new annualized variable rate of 2.32%, slightly higher than the current 2.22%. This increase goes into effect November 1 for newly purchased I Bonds and will last for six months. For existing I Bonds, the actual starting date depends on the month when the investor purchased the I Bond.
Here are the numbers:

I'll be writing early next week on late-2018 buying strategies for I Bonds, which have purchases limited to $10,000 per person per year. The key factor will be the possibility of a higher fixed rate - up from the current 0.3% - coming on November 1. A quick reaction: The higher variable rate means there's little risk in waiting until November.
Treasury Inflation-Protected Securities
Holders of TIPS are also interested in non-seasonally adjusted inflation, which is used to adjust the principal balances of all TIPS. The September inflation report means that TIPS balances will increase 0.12% in November. Here are the new November inflation indexes for all TIPS.
September inflation came in under expectations
The headline inflation number of 0.1% was under the consensus estimate of 0.2%, and annual inflation at 2.3% dipped below the estimate of 2.4%. Core inflation - which removes food and energy - also increased 0.1%, matching expectations, but the annual number was 2.2%, below the estimate of 2.3%.
What does it all mean? Inflation is moderating in mid-2018 and that should take pressure off the Federal Reserve to accelerate future interest rate increases. In addition, this trend should help ease turmoil in world stock markets. This chart clearly shows the trend: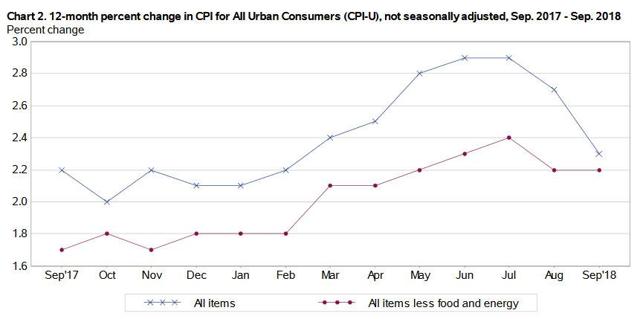 The September report showed that gasoline prices dropped 0.2% for the month, even though world oil prices have been surging recently. Food prices were flat. Prices for used cars and trucks dropped 3.0%. Shelter prices, however, continued to rise (up 3.3% for the year) and accounted for over half of the monthly increase in the all items index, the BLS said.
The Wall Street Journal noted this morning that moderating inflation has been good news for American workers:
... wages rose in September, as workers reaped the benefits of a tight labor market combined with muted inflation. After adjusting for inflation, average hourly earnings rose a seasonally adjusted 0.3% in September and are up 0.5% from September 2017.
Disclosure: I/we have no positions in any stocks mentioned, and no plans to initiate any positions within the next 72 hours.
I wrote this article myself, and it expresses my own opinions. I am not receiving compensation for it (other than from Seeking Alpha). I have no business relationship with any company whose stock is mentioned in this article.