Looking for a safe place to hide out from the market fallout? Maybe you should consider the new preferred offering from DCP Midstream LP (DCP). DCP Midstream LP, 7.95% Series C Fixed/Float Cumulative Redeemable Perpetual Preferred Units (DCP.PC) just started trading this week, and they are still under their $25.00 call value.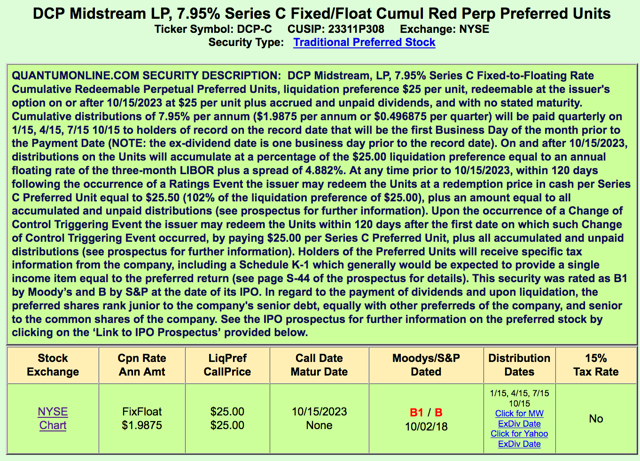 (Source: quantumonline.com)
DCP also issued another preferred series earlier in 2018, its series B units, DCP Midstream LP, 7.875% Series B Fixed/Float Cumulative Redeemable Perpetual Preferred Units (DCP.PB).
DCP's preferred units are rated B1 by Moody's and B by Standard & Poor's.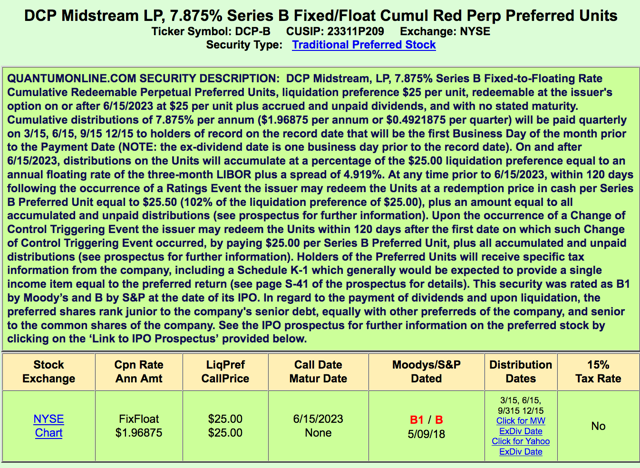 (Source: quantumonline.com)
Both units were trading at $24.60 on 10/10/18, barely moving, on a day when the Dow and the S&P 500 both lost more than -3%. To be fair, this was just the second day of trading for DCP.PC, but over 144,000 units did change hands. DCP.PB has drifted down ~4.5% from its post ex-dividend price over the past five weeks, but ranged from $24.50 to $24.60 on 10/10/18.
Compare that to these one-day losses for the Dow, the Russell 2000, and the S&P 500. In fact, the overwhelming majority of the preferreds that we cover were much more stable than the general market on 10/10/18. Of course, one day doesn't make a trend, but it may be that certain preferreds can offer a more stable place to hide out from market turbulence in the near future.

(Source: Schwab)
These are both cumulative shares, meaning that DCP must pay you for any skipped distributions, before paying common distributions.
In addition, they rank senior to the common units in a liquidation scenario, and they have much better dividend coverage. At $24.60, the current yield is 8.00% for DCP.PB and 8.08% for DCP.PC.
They should go ex-dividend next ~11/30/18. They pay in a Mar/June/Sept/Dec. cycle, and unit holders get a K-1 at tax time.

In Q1-2 '18, these preferred units had net income distribution coverage of 6.15X, and DCF coverage at a whopping 17.85X factor. Management also increased its DCF guidance for full-year 2018 in its Q2 earnings release.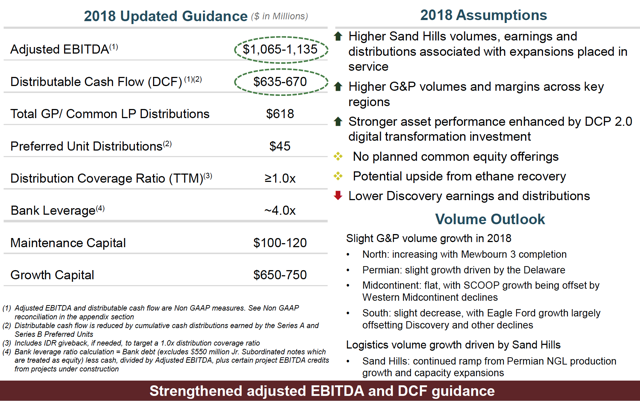 (Source: DCF site)
We put this table together to detail where DCP's preferred coverage is headed for 2018, using management's high and low guidance ranges.
On a net income basis, DCP should cover its preferred payouts by a range of 7.67X to 8.67X in 2018. Its preferred coverage on a DCF basis also should be very strong, ranging from 14.11X to 14.89X: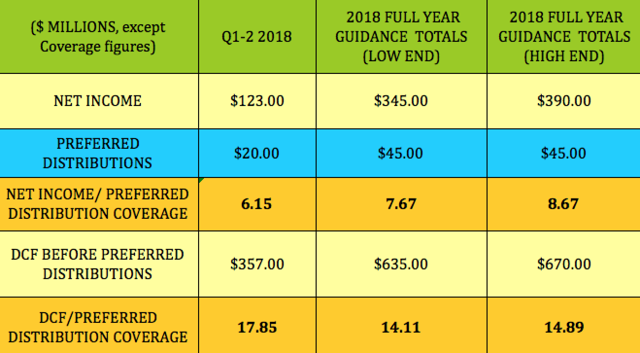 Another attractive feature for these preferred units is that they both have a floating rate provision, which offers investors some protection from rising interest rates in the future. The floating rate is based upon a fixed percent above whatever the current three-month LIBOR rate is, after the units' call dates in 2023.
This table details a scenario using the current three-month LIBOR rate of 2.42%. DCP.PB has a rate of 4.92% above the LIBOR rate, which would = a total rate of 7.34%, giving you an equivalent yield of 7.46%, based on a $24.60 price/unit.
The newer DCP.PC units have a slightly lower rate of 4.88% above three-month LIBOR, which translates into a total rate of 7.30%, for an equivalent yield of 7.42%, also based on a $24.60 price/unit:

Rate Floor: The lowest three-month LIBOR rate we found over the past 30 years was .23%, in 2014. That scenario would = a total rate of 5.15% for DCP.PB, and 5.11% for DCP.PC.
But wait a minute, what if LIBOR rates go much higher than 2.42% in the future? This table details a scenario in which the three-month LIBOR rate goes to 5%, which would result in a total rate of 9.92% for DCP.PB, and 9.88% for DCP.PC.
At this higher future 3M LIBOR rate, the equivalent yield would = 10.08% for DCP.PB, and 10.04% for DCP.PC, based on a $24.60 price.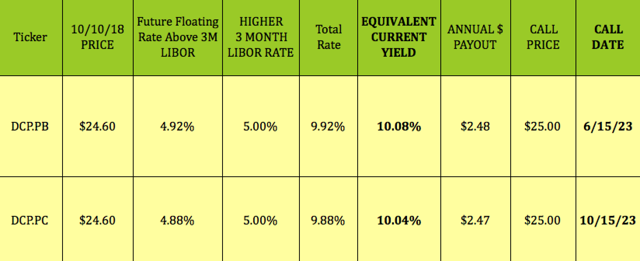 Although there are no maturity dates for these preferred units, they both have call dates in 2023. This table details your annualized yield to call date, if for some reason DCP were to redeem your preferred units on their respective call dates. Once again, the yields are very similar, with 8.47% for DCP.PB and 8.38% for DCP.PC:

Profile:
DCP Midstream, LP, together with its subsidiaries, owns, operates, acquires, and develops a portfolio of midstream energy assets in the US. It operates in two segments, Gathering and Processing, and Logistics and Marketing.
The Gathering and Processing segment is involved in gathering, compressing, treating, and processing natural gas, producing and fractionating natural gas liquids (NGLS), and recovering condensate.
The Logistics and Marketing segment engages in transporting, trading, marketing, and storing natural gas and NGLs, fractionating NGLs, and wholesale propane logistics. It owns and operates 60 plants and 62,000 miles of natural gas and NGLs pipelines, with operations in 17 states.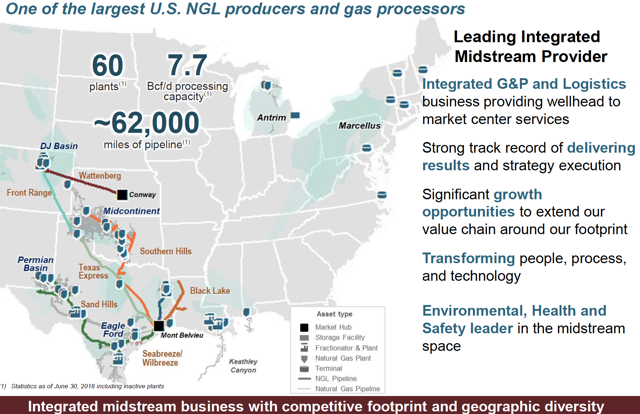 DCP is jointly owned by Phillips 66, (PSX), and Enbridge, (ENB):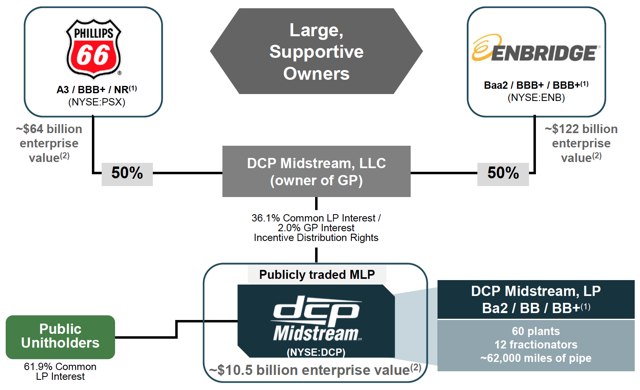 (Source: DCP site)
Earnings:
DCP had very good earnings growth in Q2 '18, except for net income, which includes non-cash depreciation and amortization. EBITDA grew 25%, distributable cash flow grew 39.5%, and revenue grew 18.88%.
One positive factor was the early completion of a Permian Basin pipeline project - "In the Permian, we expanded the Sand Hills NGL pipeline to 425,000 barrels per day, three months in advance for our announced timeline, resulting in increased volumes and cash flows earlier than forecasted."
"Across our asset base, we're seeing volume growth in areas, where we have existing capacity, providing capital efficient margin growth with little investment." (Source: Q2 '18 earnings call)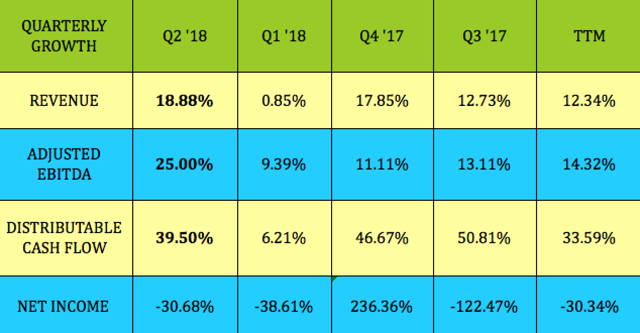 "Adjusted segment EBITDA increased to $207 million for the three months ended June 30, 2018, reflecting higher commodity prices, higher volumes from growth projects primarily related to DCP's DJ Basin System in the North region, higher volumes in the Eagle Ford system in the South region, and higher volumes and improved operational performance in the Midcontinent region." (Source: DCP site)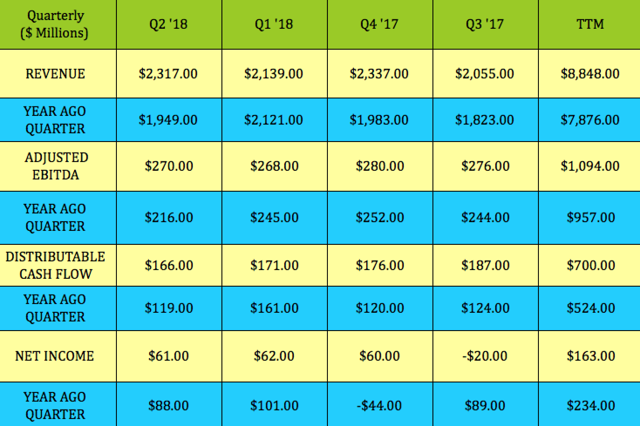 DCP's common units yield 7.34%, based on the price of $42.52, from 10/10/18. Management has kept DCP's common unit payout steady at $.78, since Q1 2015. Coverage has improved a slightly over the trailing four quarters to 1.07X. "We're targeting 1.2 plus. We've been delivering solid 1.1, and we've a lot of really strong cash flow coming online." (Source: Q2 '18 call)
When asked about the possibility of future common distribution hikes on the Q2 earnings call, management responded: "We believe that building coverage is the right thing to do now. Building coverage is going to provide us with great optionality on a number of different items."
They also were asked about the possibility of an IDR swap. We've covered a few of these IDR deals in the past year, and some of them have resulted in a distribution haircut for common unit holders. Management sounded adamant about preventing such an event at DCP on the earnings call: "We do not want to do as an IDR conversion and buying in the IDR since then at the same time giving a lowering over our distribution to our unitholders. We don't believe that is the right thing to do. The $3.12, (total annual common distribution) is tremendously important to us in the history of the company. We have never lowered distributions to our unitholders and we don't intend to start with that right now."
DCP also hasn't issued new common units in over three years - "we haven't been in the equity markets since early 2015." (Source - Q2 call)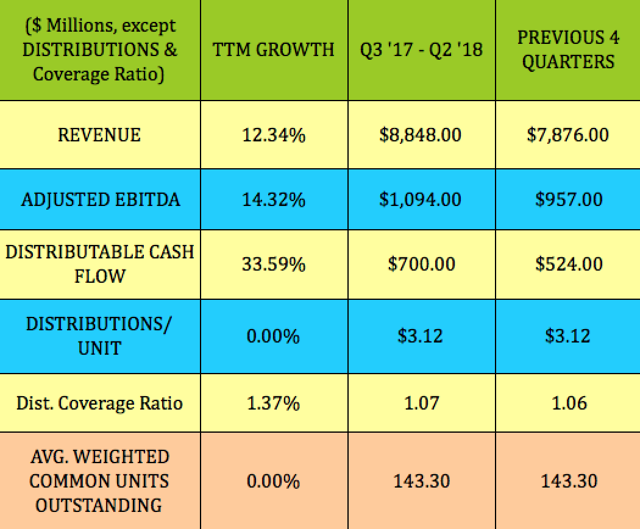 Segments:
The Logistics and Marketing segment contributed ~62% of gross revenues, and the Gathering and Processing segment contributed 38% in Q1-2 2018.

(Source: DCP Q2 '18 10Q)
Here's a breakdown of DCP's assets by capacity and Q1-2 '18 volumes. In terms of miles, its Midcontinent pipeline system is its largest by far, followed by its Permian system.
However, volumes were led by its Southern, Midcontinent, and Northern regions' systems in Q1-2 '18, followed by its Permian region.

(Source: Q2 '18 10Q)
Growth Projects:
DCP has several growth projects, including its Sand Hills pipeline expansion, which increased its capacity in the constrained Permian Basin to 425 MB/day in Q2 '18, and will further expand to 485 MB/day by the end of 2018.
Its Gulf Coast pipeline project is fully subscribed and is expected to come online in Q4 2019: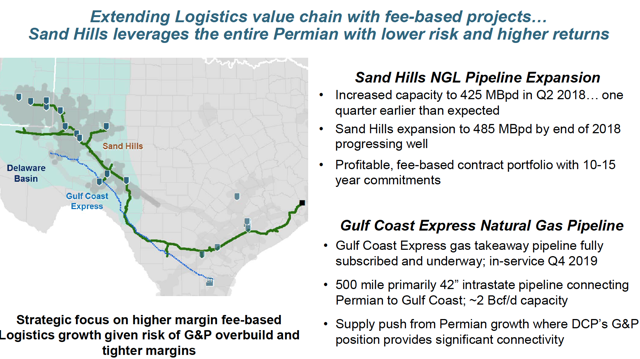 (Source: DCP site)
Here's a list of DCP's many current growth projects, which have in-service dates mostly in 2019, although its DJ Basin Mewbourn plant has recently come online. Clearly, 2019 is meant to be a watershed year for DCP's operations with so many projects coming online: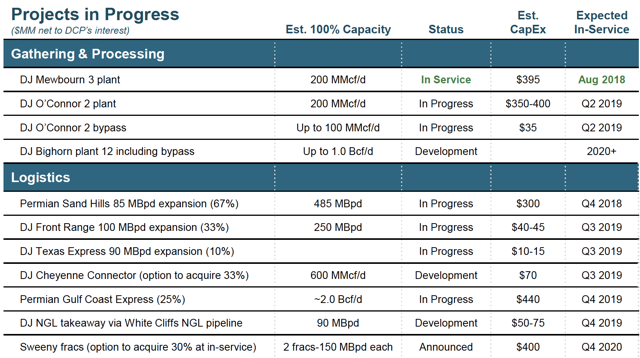 (Source: DCP site)
Risks:
Common unit coverage - DCP had some challenges covering its common distributions by 1X in 2017, which led to its GP's pledging to waive some IDR payouts that were due, in order to continue the $.78 quarterly common unit payout.
"Phillips 66 and Enbridge, Inc. (Owners) have agreed, if required, to provide a reduction to incentive distributions payable to DCP's general partner under the partnership agreement (the "IDR giveback") of up to $100 million annually through 2019 to target an approximate 1.0 times annual distribution coverage ratio, which provides downside protection for limited partners." (Source: DCP site)
However, their common distribution has improved in 2018, with no need for the IDR givebacks:
"Distributions paid during the six months ended June 30, 2018, reflect the distribution of $40 million of IDR givebacks to the IDR holders, in conjunction with the quarterly distribution, that were previously withheld in 2017 under the amended Partnership Agreement. We intend to continue making quarterly distribution payments to our unitholders and general partner to the extent we have sufficient cash from operations after the establishment of reserves. During the six months ended June 30, 2018, no IDR giveback was withheld from the distribution declared." (Source: DCP Q2 '18 10Q)
LIBOR vs. SOFR - The Fed is moving to replace LIBOR with another rate, called the Secured Overnight Financing Rate, or SOFR. "SOFR comprises a broad universe of overnight Treasury repo trade activity, making it a benchmark for all seasons, impervious to future structural shifts in market preferences between bilateral repo versus tri-party repo. It is based firmly on transaction data drawn from multiple and diverse sources.
(Source: CME Group)
This transition could create some uncertainty for LIBOR-related vehicles, but we wonder if the powers that be would be so daft as to endanger all of the thousands of mortgages and LIBOR-related vehicles that currently exist. We're betting that the transition will be handled prudently, without disruption.
Commodity Prices - Management has shifted the company to more of a fee-based operation, but a prolonged downturn in the energy patch could weigh upon future volumes.
However, they do have a hedging program in place, and are currently 79% fee-based and hedged in 2018: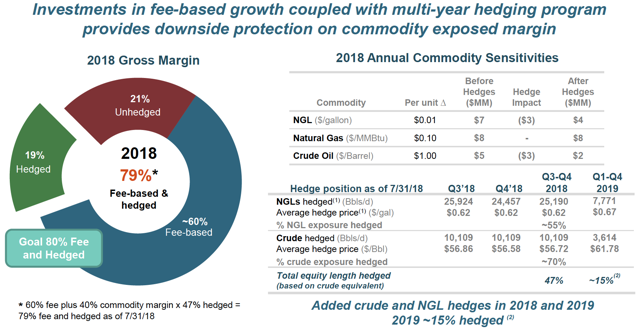 (Source: DCP site)

Analysts' Price Targets For Common Units:
At $42.52, DCP is 6% below the average price target of $45.23.
Although the main focus of this article is the preferred units, we took a look at DCP's overall valuations vs. other high yield midstream companies we cover. The two lower valuations that jump out here are DCP's price/book, which is below 1X, and its price/sales. Its current price/DCF is higher than average.



Financials:
Not much joy here yet - DCP's financial ratios trail these averages, excepting its debt/equity, which is much lower.



Debt and Liquidity:
We calculated a total net debt/ trailing EBITDA of 4.42X, whereas management uses a leverage figure that's related to its credit agreement.
"DCP has a $1.4 billion senior unsecured revolving Credit Agreement that matures on December 6, 2022. The Credit Agreement is used for working capital requirements and other general partnership purposes including growth and acquisitions. As of June 30, 2018, total available capacity under the Credit Agreement was $1.25 billion net of $125 million of outstanding borrowings and $25 million of letters of credit. DCP's leverage ratio pursuant to its Credit Agreement for the quarter ended June 30, 2018, was approximately 3.6 times. The effective interest rate on DCP's overall debt position, as of June 30, 2018, was 5.7%." (Source: DCP site)

DCP's earliest debt maturity is due in 2019, with larger amounts following annually in 2020 to 2023, in addition to 2025, and three other maturity periods: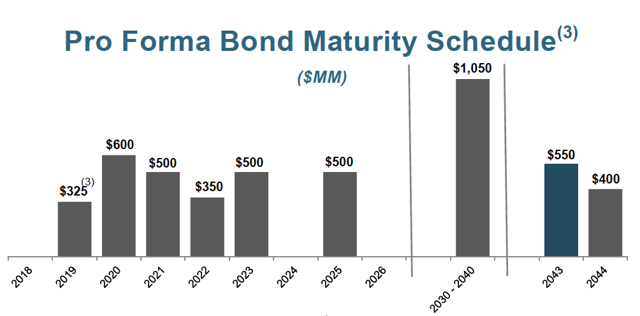 (Source: DCP site)
Options:
If you're more interested in DCP's common units, but you'd like to hedge your bet, here's a short-term trade we just added to our public Covered Calls Table, where you can also see over 25 other trades daily.

The November $45.00 call strike pays $.60, less than DCP's quarterly payout, but since it's $2.48 above DCP's $42.52 price/unit, there's enough price gain potential to compensate for the possible loss of the $.78 distribution, if the units get assigned before DCP's next common unit ex-dividend date, which should be ~11/6/18:

Conversely, if you're looking to make some short-term trading income from the DCP common units, but you're leery of buying them at their current price, you may want to consider selling cash secured puts.
The November $40.00 put strike has a bid/ask of $.80/$1.15, with breakeven of $39.20. You can see more details for this in and over 25 other trades in our Cash Secured Puts Table.

Summary:
We rate DCP's preferred units a long-term buy, based upon their attractive yields, strong coverage, and rising rate protection.
DCP's common units are interesting, but we'll wait to see how the growth projects work out and if its valuations become more compelling in the future - it's on our watchlist for now.

All tables furnished by DoubleDividendStocks.com, unless otherwise noted.
Disclaimer: This article was written for informational purposes only, and is not intended as personal investment advice. Please practice due diligence before investing in any investment vehicle mentioned in this article.

CLARIFICATION: We have two investing services. Our legacy service, DoubleDividendStocks.com, has focused on selling options on dividend stocks since 2009.
Our Marketplace service, Hidden Dividend Stocks Plus, focuses on undercovered, undervalued income vehicles, and special high yield situations.
We scour the US and world markets to find solid income opportunities with dividend yields ranging from 5% to 10%-plus, backed by strong earnings.
These stocks are often small cap, low beta equities that offer stronger price protection vs. market volatility.
We publish exclusive articles each week with investing ideas for the HDS+ site that you won't see anywhere else.
Start your Free Trial today.
Disclosure: I am/we are long DCP.PC.
I wrote this article myself, and it expresses my own opinions. I am not receiving compensation for it (other than from Seeking Alpha). I have no business relationship with any company whose stock is mentioned in this article.