Investment thesis
Bank OZK (OZK) is a small U.S. regional bank which is set to capitalize on rising interest rates and positive topline and bottom line momentum. The bank's shares have fallen significantly over the last year and therefore, present an extraordinary entry opportunity for all long-term investors.
Business profile
Originally, Bank of the Ozarks, rebranded as Bank OZK earlier this year, is a fast-growing U.S. regional bank headquartered in Little Rock, Arkansas. The bank has been recognized as the best performing regional bank for eight consecutive years, outperforming 77 banks assessed on core financial metrics such as profitability, asset quality, and loan growth. Today, the bank has over 2,500 employees and plans for further expansion in new markets.
Remarkable track record of strong fundamentals
Bank OZK has a strong fundamental track record. Since 2010, all three key financial measures - revenue, normalized diluted earnings per share, and free cash flow - have been in a strong uptrend. Based on Reuters' calculations, 5-year, 3-year, and 1-year averages of revenue growth amounted to 27, 46, and 61 percent. Likewise, 5-year, 3-year, and 1-year twelve months trailing averages of earnings per share growth total 12, 27, and 24 percent. Clearly, these are outstanding figures suggesting an accelerating business momentum.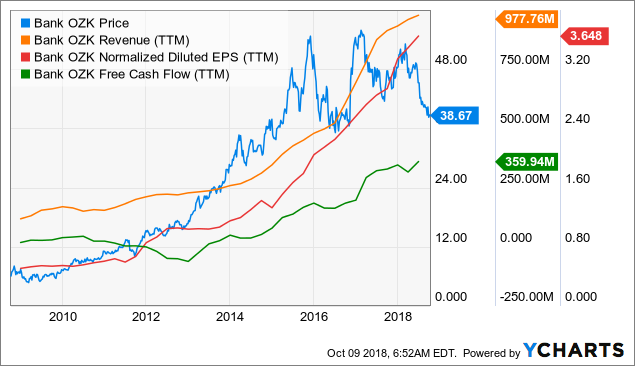 George Gleason - key person, chairman, and CEO
Since 1979, the bank is led by George Gleason, a former banking lawyer who bought the company for $28 million in assets. According to a recent article by Dwain Hebda, George Gleason is a numbers guy, although he focuses on the qualitative side of the business as well:
In 2005, 2006, 2007, we saw many competitors getting very aggressive on credit terms and very aggressive on pricing and our philosophy has always been that credit is primary to success. You should never, as a banker, be willing to take credit risk that you're not fully comfortable with, that don't meet your standards."
High interest rate environment is good for the banks
With the ongoing interest rates recovery, most financial institutions and banks might be at the beginning of a new golden era. Bank OZK's net interest margin, a closely watched financial indicator in the banking sector, stood at 4.7 percent in the financial quarter ended on March 31. To put this number in perspective, the U.S. industry's average net interest margin hovers slightly above 3 percent.
Source: Ozk Bank's 2017 10-K report
Valuation
Based on valuation technique commonly called the Peter Lynch earnings line, OZK Bank's shares look very attractive. Using the FAST Graphs forecasting calculator with 20 percent adjusted operating earnings growth rate assumption, the company's intrinsic value by the end of December FY2023 is forecasted to hit US$176.77, which implies a total annualized rate of return upside potential of more than 30 percent. Including the effect of dividends, the estimate of OZK Bank's intrinsic value could be as much as US$212, implying a potential total annualized rate of return of 39 percent.

Key risks
The company's success depends on key personnel, and an inability to keep or attract new qualified employees could significantly harm the business.
The company's operations are significantly impacted by changes in interest rates, and any unexpected sudden decrease could negatively affect the company's bottom line.
The company faces various environmental risks - its business depends on the condition of local and regional economies where the company operates.
The company's inability to properly manage a credit risk could seriously harm the company's business.
The company faces serious risks stemming from the value of real estate.
The company faces strict regulations which are subject to change from time to time.
Cyber-attacks and data breaches can negatively impact the company's operations.
The bottom line
To sum up, Bank OZK is an exceptional bank in many respects, trading publicly at an attractive price level. In the environment of rising interest rates, Bank OZK's business is set to thrive. Lastly, I believe that experienced management coupled with remarkable business momentum will move the needle on the bank's expansion in current and new markets.
Author's note: To bring similar articles to your attention, please consider subscription of my SA feed by clicking on the ''Follow'' button at the top of this page.
Disclaimer: Please note that this article has an informative purpose, expresses its author's opinion, and do not constitute investment recommendation or advice. The author does not know individual investors' circumstances, portfolio constraints, etc. Readers are expected to do their own analysis prior to making any investment decisions.
Disclosure: I/we have no positions in any stocks mentioned, but may initiate a long position in OZK over the next 72 hours.
I wrote this article myself, and it expresses my own opinions. I am not receiving compensation for it (other than from Seeking Alpha). I have no business relationship with any company whose stock is mentioned in this article.