October 1st to October 7th every year is China's National Day Golden Week, a week-long holiday implemented to encourage travel and consumption. For this year, China's Ministry of Commerce reported retail and catering grew by 10.3% year over year. JD.com (JD), one of the nation's leading e-commerce platforms, also reported (link in Chinese only) its GMV grew 40% year over year for the Golden Week. The 40% growth rate is encouraging given that the company only guided a 25%-30% sales growth rate for the July–September quarter during the previous earnings conference call.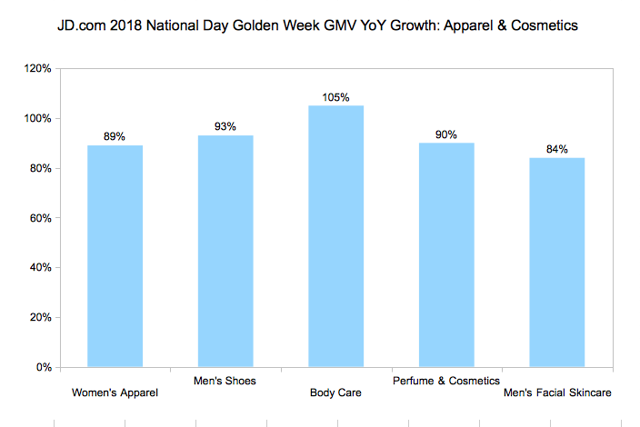 One data point of particular interest from this report is the growth of Women's Apparel category, which reached 89% year over year.
Women's Apparel is an all-important category for Chinese e-commerce platforms because it typically has high margins and hence has more money to spend on advertising. Women's apparel is estimated to account for about 50% of total ad spending on Chinese e-commerce platforms.
That explains why Alibaba (NYSE:BABA) allegedly used its dominant market position to force apparel brands out of JD and other competitor's platforms last year, and also why JD and Vipshop (NYSE:VIPS) issued a joint statement denouncing Alibaba's anti-competitive practices last July.
As a result, JD's Women's Apparel category has stopped growing and even declined in the first two quarters of 2018 year over year.
This 89% growth rate during National Day Golden Week is a good sign that things are turning around. We believe that JD's Women's Apparel business is poised to resume growth for several reasons.
First, the impact from Alibaba's alleged anti-competitive action anniversaried this August, meaning from this August, it will be easier yoy comparisons for JD. Moreover, many brands were said to have entered into a one-year contract with Alibaba from last August, which would also have expired this July.
Second, we do not believe any non-market anti-competitive practices are sustainable in the long run. This is not the first time JD faced so-called "choose one out of two" practices from incumbents. In 2010, when JD took on Dang Dang, the largest online bookseller at that time, Dang Dang forced top publishers to pull out of JD. Similar things happened when JD tried to take on home appliance incumbents Suning and Guomei in 2012.
After years of fierce competitions, JD emerged as the winner for both categories, largely by providing better customer values, e.g., faster delivery and superior after-sales services. According to Analysys reports, JD is already the largest online player in books and appliances (reports only available in Chinese).
Compared to books and home appliances, women's apparel tends to be much more fragmented. There are fewer mega brands and a lot more niche players. Customer tastes are more fickle, and brands have much less staying power. In other words, big brands that sell only on Alibaba run the risk of losing market share to lesser known brands by ignoring other platforms, especially when other platforms are growing fast.
It seems that time may have come. The fast growth of Pinduoduo (NASDAQ:PDD) and JD pingou (JD's competitor to PDD) is weakening Alibaba's hold on women's apparel category. PDD grew its active buyer base by 245% year over year in Q2 2018. JD pingou has also seen (report in Chinese only) its new users grew 1400% times in August compared to January 2018, and its total orders up 400% in its 10-day August pingou festival compared to July.
JD pingou, according to its executive, prioritizes categories that do not sell that well on the main JD Mall app. Women's apparel is mentioned as one such top category. We suspect JD pingou may have played a significant role reaching the above-mentioned 89%.
While we do not expect JD to become the number 1 platform for women's apparel like it did in books and appliances anytime soon, due to this category's extremely fragmented nature, we do expect JD to grow its market share in this category from a low base.
Faster growth in women's apparel will bring more ad money to JD's platform and improve JD's profit margin. This development, together with the 5 factors mentioned in my previous article JD.com Is A Solid Value At The Current Price, should bode well for the company's prospect in the long term.
Disclosure: I am/we are long JD.
I wrote this article myself, and it expresses my own opinions. I am not receiving compensation for it. I have no business relationship with any company whose stock is mentioned in this article.