The share price of U.S. ethanol producer Pacific Ethanol (PEIX) has taken the company's investors for a wild ride this week as the market has digested President Donald Trump's decision to allow year-round E15 sales. The company's share price climbed by nearly 60% to $3.15 on October 8 and 9 after Reuters reported that Mr. Trump would be announcing the pro-ethanol move at a October 9 campaign rally in Iowa (see figure). It then proceeded to rapidly reverse direction and ended October 10 at $2.35, just barely above its October 3 intraday high of $2.28. This was an unprecedented amount of volatility even for a company that leads the sector in terms of share price movements in both directions.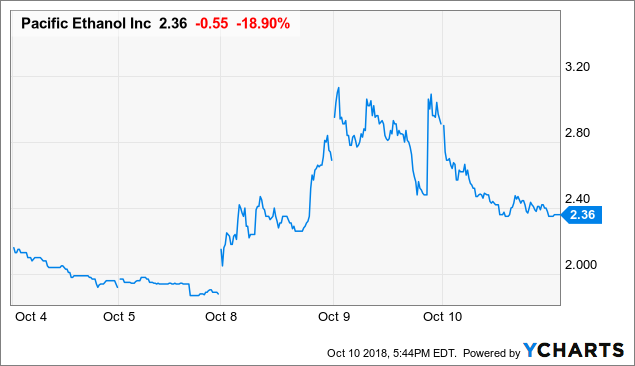 Pacific Ethanol's share price performance contrasted sharply with that of its larger peer Green Plains, Inc. (GPRE), which rose by 6% on October 8 and 9, and that of its more profitable peer REX American Resources (REX), which rose by less than 2% over the same period (see figure). Pacific Ethanol's share price was also the only one of the three to be higher at the close of trading on October 10 than it was on October 3. While investors might be tempted to view this strength as a sign that the company's long-suffering share price (down 57% over the last year) is finally turning around, the response of its investors to the E15 announcement actually illustrates the company's primary weakness.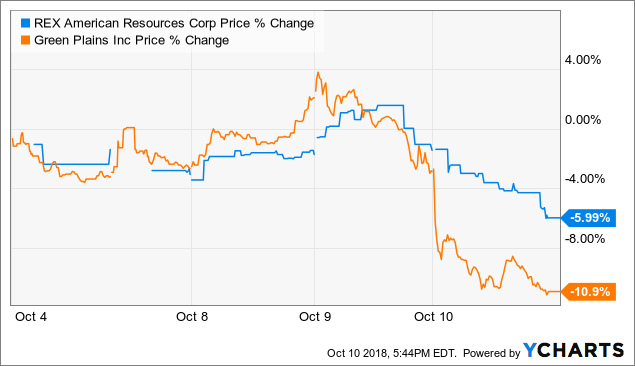 Pacific Ethanol's operations used to be centered on the West Coast, and the region's high fuel prices and access to California's Low Carbon Fuel Standard never quite offset the impact of its higher corn cost basis on the company's margins (see figure). Pacific Ethanol took advantage of the ethanol industry's downturn that followed 2014's falling fuel prices to expand into the Midwest but its margins have still lagged those of its peers despite its subsequent access to cheaper feedstock. As the industry's low-margin producer Pacific Ethanol's outlook has been very exposed to the divergence in the price of ethanol relative to that of gasoline that has occurred since July 2017; whereas the price of gasoline has rallied strongly over that period, the price of ethanol has remained stagnant and now trades at a substantial discount to gasoline.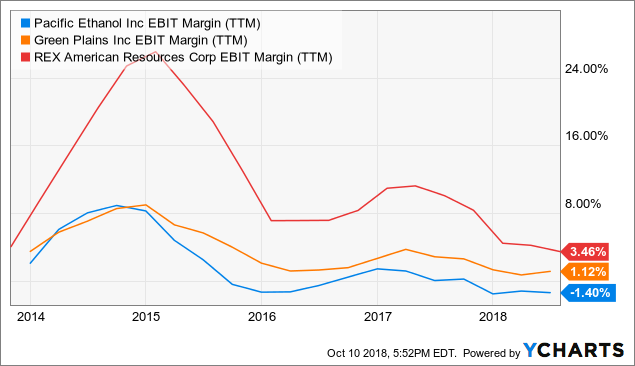 As the industry's largest low-margin producer Pacific Ethanol's fortunes are closely tied to overall U.S. ethanol demand. It is able to achieve positive EBIT margins when ethanol prices are high, as was the case in early 2014, or when demand is strong, as was the case in late 2016 and early 2017. The rest of the time, however, its EBIT margins are negative even when those of its peers are positive, as has happened over the last year.
This position in the sector is why Pacific Ethanol's share price has recorded much larger losses than those of Green Plains, Inc. and REX American Resources over the last several quarters (see figure). The period since July 1, 2017 has been characterized by reduced ethanol demand as the U.S. Environmental Protection Agency has actively worked to weaken the U.S. biofuels blending mandate via the widespread distribution of so-called "hardship waivers" to U.S. refiners. These waivers have effectively reduced the annual mandate for corn ethanol by 7-8%, or more than 1 billion gallons. That has in turn caused ethanol's price premium relative to gasoline in 2017 of 30-40% on an energy-equivalent basis to be replaced by a slight discount. Industry-wide corn ethanol production margins have in turn fallen to close to zero.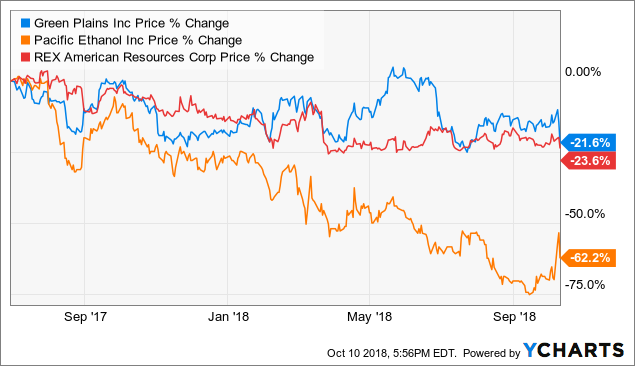 Pacific Ethanol's investors celebrated (albeit briefly) the news of the Trump administration's decision on E15 to the degree that they did because of the effect that a large increase to national ethanol demand would have on the company's earnings. The company's status as the sector's low-margin producer means that its share price and price/book ratio fare worse than those of its peers when margins are low but rebound strongly when margins rise sharply (see figure). Its share price strongly outperformed those of its peers when industry-wide production margins rose by almost $1/gallon over the course of 2016, for example (see next figure). The prospect of U.S. ethanol demand being increased by 50% in response to the Trump administration's decision on E15, or approximately 7.5 billion gallons in increased annual demand, prompted this week's rally. I explained why this was an overly-optimistic take on the decision even before it was announced, though, and the market appears to have come to the same conclusion over the last two days.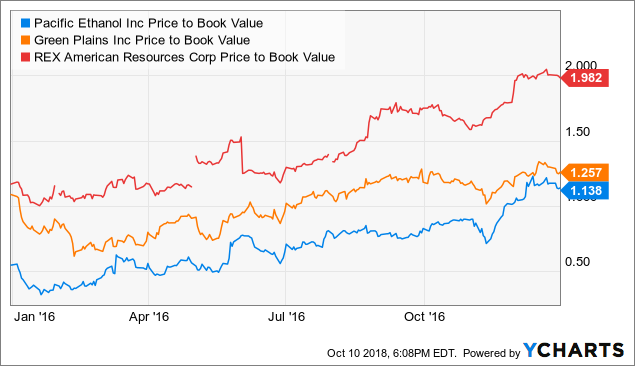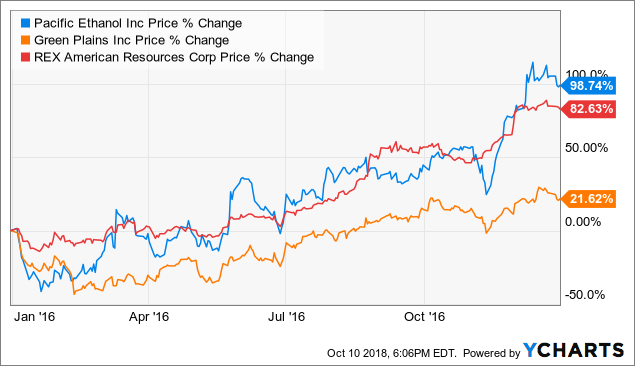 Pacific Ethanol's share price would be a major beneficiary of the type of ethanol demand increase envisioned by proponents of the decision to approve E15 sales year-round in the U.S. This is so because of the earnings weakness that the company exhibits relative to its peers when demand is weak and/or ethanol prices are low, however. That could cause investors to view the company as an attractive play on increased future ethanol demand in the wake of the E15 decision, especially given the decline from this week's share price highs. I am skeptical that the decision will result in increased demand for the reasons outlined in my earlier article, however. Much must happen before the decision can result in higher demand, including a lengthy EPA rulemaking process, opposition lawsuits brought by refiners, and infrastructure upgrades at C-stores. Most importantly, a major shift in consumer acceptance of E15 must happen despite having not occurred in the six years since E15 was first cleared for use in non-summer months. The latter could materialize quickly in the event that crude prices returned to their 2007-08 highs, of course, in which case consumers would recognize cost savings with E15. Barring such an unexpected improvement, though, the risk with a long PEIX position is that it's share price will continue to decline in response to low operating margins while investors wait for a demand increase outlook that is contentious at best.
Disclosure: I/we have no positions in any stocks mentioned, and no plans to initiate any positions within the next 72 hours.
I wrote this article myself, and it expresses my own opinions. I am not receiving compensation for it (other than from Seeking Alpha). I have no business relationship with any company whose stock is mentioned in this article.