Editor's note: Seeking Alpha is proud to welcome Kevin Karty as a new contributor. It's easy to become a Seeking Alpha contributor and earn money for your best investment ideas. Active contributors also get free access to the SA PRO archive. Click here to find out more »
When the measure becomes the target, it ceases to be a good measure. - Charles Goodhart
Goodhart's law is the Heisenberg Uncertainty Principle of modern economics, and it's suddenly very relevant.
If you're at all tracking macroeconomic indicators, then you certainly have read about the flattening yield curve (which is defined as long-term yields minus short-term yields). Normally, long-term (10-year) bonds have a higher rate due to uncertainty than short-term (3-month to 2-year) bonds. Leading up to recessions, however, short-term interest rates rise while long-term rates flatten, and the yield curve may even invert. These inversions are remarkably good predictors of recession and figure strongly in several long leading recession indicators (for example, New Deal Democrat's excellent weekly update).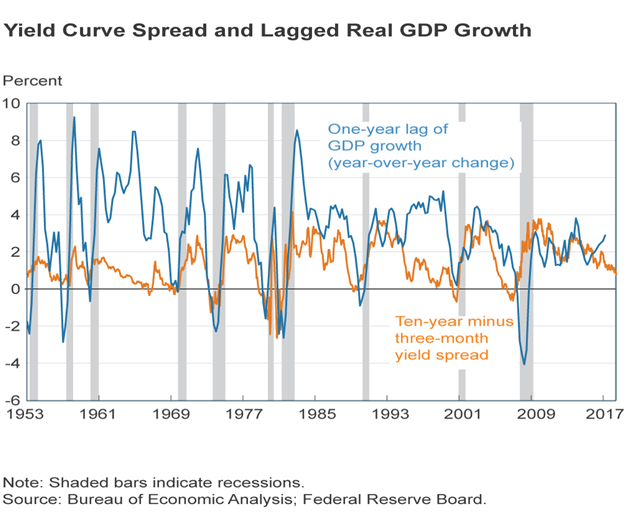 There are a lot of really good reasons that the yield curve could be a great signal for a coming recession. Among other things, when investors buy long-term bonds even when short-term yields are high, that means they expect yields to drop and want to lock in their high returns. This is further exacerbated by a reduction in the "neutral rate" which anchors the long end of the curve as demand-side austerity reduces the economy below its full capacity and creates an output gap. The Federal Reserve has been putting out a lot of research on the topic lately, and people have been paying attention.
Google Trends for "Flattening Yield Curve"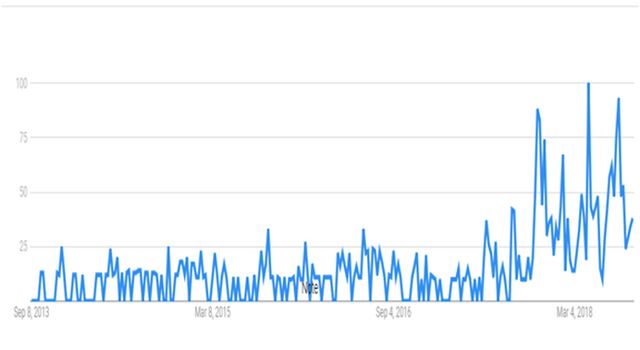 The key question is whether the yield curve is still a good predictor, and this question hinges on Goodhart's Law. Essentially, will all of the attention on the yield curve ruin its reliability?
Causation or Correlation?
The answer depends on a deep question in any statistical model: are we measuring causation or correlating outcomes? Getting causation right is incredibly difficult. Important people (and important organizations) make catastrophic mistakes when they get it wrong. Over the last two decades, the US government, academia, and pharmaceutical industry have poured tens of billions of dollars into developing drugs to treat Alzheimer's disease that target beta amyloid plaque based on early observations that plaque was highly correlated with early symptoms of dementia. Not only did most of these treatments fail badly, but they also diverted attention and funding away from other mechanisms of action.
What does this have to do with the yield curve?
Economists do not yet know exactly why the yield curve predicts recessions, though there are many theories. They do know however that the Federal Reserve can prevent the yield curve from inverting because monetary policy has proven highly capable of impacting short-term interest rates. The Fed could cut short-term rates on the short side and sell off Treasuries and bonds on the long side (dropping the price and raising long-term rates). The question is whether this will prevent a recession, or simply prevent the yield curve from properly signaling that a recession is coming. In other words, is fixing the yield curve just treating the symptoms rather than the disease?
In all likelihood, we are about to get an answer to our question within the next few years, because the Federal Reserve is conducting a nearly perfect experiment to answer our question.
Operation (Reverse) Twist
Operation Twist was executed in two parts by Bernanke's Fed, spanning from September 2011 to December 2012. In total, it consisted of selling about $667 billion in short-term securities and purchasing the equivalent amount of longer-dated securities. It fell between QE2 ($600 billion) which ended in June 2011 and QE3 (open ended) which was announced in September 2012. Some would question whether Operation Twist should be included as a major monetary action since it did not actually issue new debt; however, if we view money as nothing more than a zero-duration bond and consider the fact that banks were sitting on $1.6 TRILLION of excess reserves at the time (on which they were earning interest), one can provide an easy theoretical defense of Operation Twist. Regardless, the raw data suggests it was highly effective. Depending on when one locates the start and end date (which depends very much on market expectations since bond markets typically front run the Fed, as we can see with the current high short interest on long-term bonds), Operation Twist appears to have contributed to a 150 to 200 basis point decrease in long-term interest rates.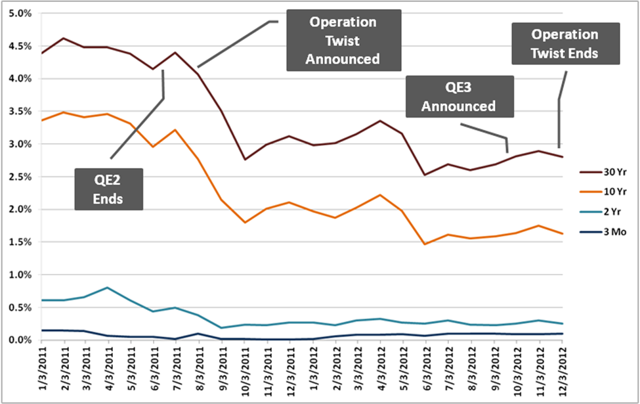 The impact on mortgage rates was rather direct and immediate.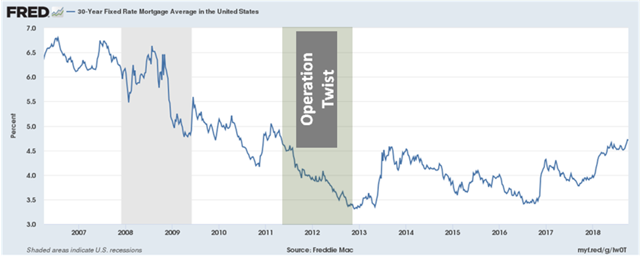 For those who question whether this made an impact, consider that from 2009 to 2011, distressed home sales (short sales and foreclosure sales) accounted for up to 42% of all home sales in the United States in spite of two massive rounds of Quantitative Easing. Indeed, one could make a legitimate argument that Operation Twist was the turning point in the recovery of the housing market (though many other factors like the ramp-up of HAMP coincided with it).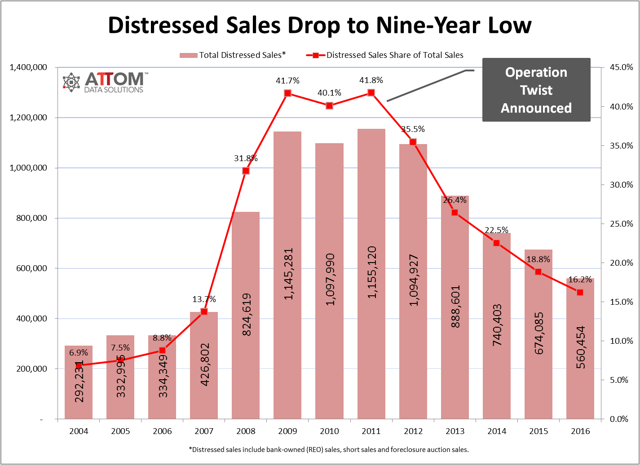 Further strengthening the idea that Operation Twist proved effective is the fact that banks did very little to directly support the mortgage and long-term lending markets during this time period, possibly because they were being paid to leave vast sums of money in excess reserves with the Federal Reserve (something that can only be considered a direct subsidy to quietly recapitalize banks - to the tune of $15 billion in 2014 alone - while effectively helping to sterilize prior Quantitative Easing injections).
Excess Reserves of Depository Institutions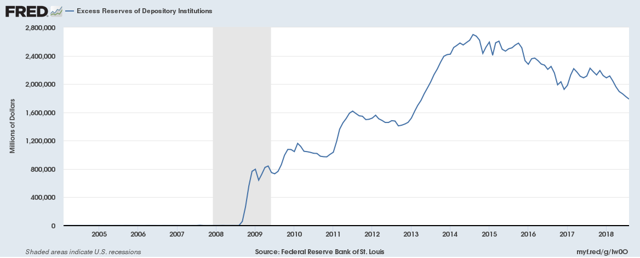 The Impact: 30-Year Treasuries at 5.5%?
During Operation Twist, the Federal Reserve purchased approximately $50 billion a month in long-dated bonds. The current Quantitative Tightening regime is liquidating securities at a lower rate, with the runoff cap increasing to $30 billion in Treasuries and another $20 billion in asset backed securities, though actual redemptions will vary due to the maturity schedule. Various early estimates have suggested the total impact of Quantitative Tightening might be a steepening of the curve on the order of 10 to 15 basis points, which hardly seems dramatic.
If we consider the magnitude of the flattening of the yield curve during Operation Twist (150 to 200 basis points), however, a 10 to 15 basis point steepening seems like it's off by an order of magnitude. From this point of view, the combination of planned reserve rate increases over the next year (a hundred basis points according to the Fed's dot plot) and Quantitative Tightening could take the yield on the 30-year Treasury up to 5% to 5.5%, which is currently far more than the market is anticipating and would almost certainly represent a recession-inducing economic shock (unless we believe that the economy is about to experience massive productivity gains that will increase the mythical "neutral rate" that has obsessed Chairman Powell).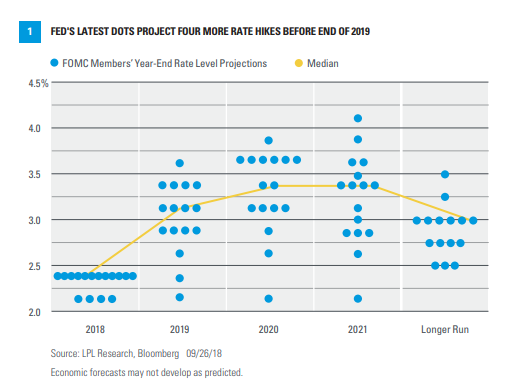 It is important to call out a few major caveats to the simple math above: First, Quantitative Tightening ($50 billion per month) is proceeding somewhat slower than Operation Twist ($60 billion per month), and thus may have a reduced effect. Second, the Federal Reserve is not actually selling long-dated Treasuries. It is running them off as they mature and not reinvesting proceeds. According to this argument, a 30-year Treasury Bond that is one month from maturity is hardly different than a one-month Treasury Bill, so exchanging a zero duration maturing bond for cash should have little more effect than sucking a little bit of money out of the massive hoard of excess bank reserves (still at $1.8 trillion). If not for the massive federal deficit, this would offer strong consolation, but the US fiscal deficit is on track to hit nearly a trillion dollars next year. While the Treasury appears to be funding only a portion of this with long-dated debt ($15 billion in 30-year bonds were sold at the October auction), the $20 billion a month in mortgage-backed securities that the Fed is redeeming every month puts direct pressure on long-term mortgage rates. This effect is just starting to be felt as the Fed runs off a mortgage-backed security portfolio that is over 2.5 times as large as its long-dated US Treasury Bond holdings.
Federal Reserve Holdings of Mortgage-Backed Securities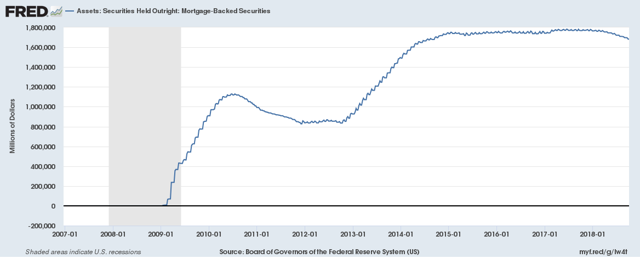 So Is the Yield Curve Still Useful?
There is a very real risk that the answer is NO, and the danger here is that the Federal Reserve may be actively tightening while remaining highly confident that there is no recession lurking around the corner due to a non-inverted yield curve. The problem, quite simply, is that the 80-year history of the yield curve as a recession indicator does not include any stretch of time in which the yield curve was rising because the Federal Reserve was directly manipulating the long end of the curve.
Remember Goodhart's Law: "When the measure becomes the target, it ceases to be a good measure." If the Fed actively targets the yield curve, and it turns out that inverted yield curves only predict recessions but do not actually cause them, then we could be in for a very bad ride.
The impact is already being felt in the housing market. Each 50 basis point increase in interest rates translates into an approximately 6% reduction in affordability. With 30-year mortgage rates having risen 70 basis points since the start of the year, that's a significant constraint on home buyer purchasing power in an already strained market, even taking into account moderately accelerating wages. Others have already documented the increasing number of warning signs in the housing market (softening prices, increased inventory, longer time to sell, fewer bids, declining rents in hot markets), so there is no need to rehash this here.
Taken together, Chairman Powell's Federal Reserve is thus setting us up for a perfect test of the yield curve as a factor in driving recessions. Assuming the Fed goes through with its plans, we are highly likely to experience a good bit of excitement in the next few years. Indeed, the excitement seems to have already begun.
Disclosure: I/we have no positions in any stocks mentioned, and no plans to initiate any positions within the next 72 hours. I wrote this article myself, and it expresses my own opinions. I am not receiving compensation for it. I have no business relationship with any company whose stock is mentioned in this article.