Let's say you already have a million dollar portfolio, mostly invested in the index funds. The bull market of the last 10 years has helped your portfolio tremendously due to the outperformance of the broad market indexes. It has been difficult for most people and strategies to beat the broad market indexes in the last few years. You are sitting pretty with the thought that with other income streams like social security and maybe some pension you are going to sail through retirement comfortably with one million dollar portfolio. We agree to a large extent. But there are a few "kinks" in this scheme of things, and that depends on what the markets are going to do in the next few years and when you would start needing withdrawals from the portfolio.
The elephant in the room is the question of how much longer this bull market would continue. At least we don't pretend to know. The perception of most folks changes, depending upon when you ask this question. If the market has been up mostly in the last week or ten days and touched new highs, the answer would be highly optimistic. However, if the same question was asked after a big drop over a couple of days, half of the folks would waiver in their answer. Suddenly they would not be so sure and all the worries like rising interest rates, inflation concerns, late cycle in the bull market, geopolitical and trade issues, would come to the forefront that could derail the bull market.
However, in our opinion, you should ask a simple question to yourself and try to answer honestly. Do you care more for the wonderful gains that may lie in the future or are you more worried and restless to preserve your financial assets? Normally, there is no simple yes or no answer to a complex question like this. But one can simplify this question a little bit and divide the question into two scenarios.
Bull market continues for the next 2 years, and you stay fully invested in the current shape or form. The million dollar portfolio becomes $1.3 million in two years. If you change your strategy at this point, you may lose some of these wonderful gains (though not all) that may lie ahead. The bull market suddenly loses steam and turns into a full-blown correction. The rising inflation and interest rates finally catch up with the economy, and there is a mild recession as well which keeps the markets low for a couple of years. Usually, the big corrections don't give you time to bail out in time, unless you have a pre-decided strategy in place. Your million dollar portfolio becomes $650,000 and hovers under $700K for a few years. For retirees, it could be even worse if they need to withdraw money for their regular expenses.
Now, it may be slightly easier to answer the original question. Does the second scenario scare you enough or are you comfortable with the thought of riding out the storm? If the second scenario is too scary for your comfort-level and you don't have the luxury to wait out the storm, maybe, you need to search for an alternative investment strategy which may be somewhere between the two scenarios and is more aligned with your comfort level.
Now, as we stated before, we do not know the short-term or mid-term market direction. Even the vast majority of market experts or talking heads have the slightest clue where the market will be in six months or a year from now. Also, we want to emphasize that the purpose of this article is not to scare anyone or predict a doomsday scenario. If anything, we are optimistic that the current bull-market conditions should continue for at least another year. But we can't be sure. The goal here is to prepare ourselves now when we still have time. Our approach should not be guided by too much fear or excessive greed but by practical and realistic expectations.
The Middle Approach: Road to Safety and Success?
There are several steps that we can take:
The first thing that we should do is to convert our portfolio into an income-producing one rather than total return oriented. It may not be for everyone, and especially if you are very young, there may not be a need to do this. But it would be desirable for most folks, especially over 50. If possible, divide your portfolio into multiple sub-portfolios (or baskets), each with unique goals, income levels, and risk-levels. Diversify your holdings not just in stocks, but try to diversify them into different asset classes.
A Portfolio Structure For The Good Times and Bad:
Essentially, we want a portfolio structure that works well both in the good times and bad times. Is it too good to be true? We believe it is not. But it needs discipline, some planning and on-going work, and above all perseverance. We will structure our overall portfolio in three baskets. Now, you don't need to be scared of three different portfolios (or baskets), simply because two of the three baskets are simple, easy to maintain, set-up once and almost forget except an annual or bi-annual review and adjustment. This can be done by opening separate accounts with different brokerages or by opening multiple accounts with the same brokerage. The key to selecting a brokerage is to have low trading/commission fees or possibly no trading fees at all. There are brokerages that offer a certain number of free trades on a monthly or annual basis provided you hold a minimum account-balance with them.
Basket 1: DGI Bucket (40% of the capital)
Basket 2: Fixed Income Bucket (25% of the capital)
Basket 3: Preserve the Capital Bucket (35% of the capital)
Here are three bucket portfolios in details:
Basket-1: DGI Bucket (40% of the capital)
Goals:
Long-term investments
4% Dividend Income
Long-term total return in line with the broader market.
In this bucket, we will invest 40% of the total investable funds. It will be our core investments in solid, blue-chip dividend stocks. It is relatively easy to structure and form this bucket. Obviously, there can be many options. For more passive investors, they could just select some of the prominent low-cost dividend-ETFs divides the amount equally among them. Sure, they will pay some on-going fees for the ETFs, but it is a trade-off for ease and simplicity.
The more active investors amongst us, they should go for carefully selected individual stocks. Roughly 30-40 stocks could provide more than enough diversification, though this will depend upon the size of the portfolio capital. For smaller size capital, 20-25 could be enough.
Below is a sample of our selection, if we were to choose 25 stocks today yielding an average of 4% income. Please note the diversification among various sectors and industry segments of the economy. We have also included some stocks that have low yield but high dividend growth prospects. The average yield of the portfolio is > 4%.
We also have a DGI Portfolio since October 2014, which we have reviewed regularly on the SA platform that can provide some insight. There are many other prominent DGI authors on SA who regularly publish their work on DGI stocks.
A Sample DGI Portfolio:
Table 1
| | | | | | |
| --- | --- | --- | --- | --- | --- |
| Symbol | Company Name | Industry | Sector | (10-08-2018) | Reason for Selection |
| | | | | | |
| (BUD) | Anheuser Busch InBev NV | Beverages | Cons. Staples | 5.28% | Valuation, High-Yield DGI |
| (UL) | UNILEVER N.V. | Consumer Staples | Cons. Staples | 3.30% | Solid DGI, Growth |
| (PM) | Philip Morris International Inc. | Tobacco | Cons. Staples | 5.66% | Valuation, High-Yield DGI |
| (BA) | Boeing Co | Defense/Aerospace | Industrials | 1.87% | High Div Growth |
| (UPS) | United Parcel Service, Inc. | Delivery/ Logistics | Industrials | 3.12% | Reasonable Val., Yield, Growth |
| (ITW) | Illinois Tool Works Inc. | Industrials | Industrials | 2.80% | Valuation, High Div Growth, Quality |
| (D) | Dominion Energy Inc | Electric Utility | Utilities | 4.85% | High-Yield, Quality Util |
| (SO) | Southern Co | Electric Utility | Utilities | 5.63% | High-Yield |
| (ENB) | Enbridge Inc | Energy | Energy | 6.10% | Valuation, High-Yield DGI |
| (EPD) | Enterprise Products Partners L.P. | Energy/ Midstream MLP | Energy | 5.91% | High-Yield |
| (XOM) | Exxon Mobil Corporation | Energy Major / Oil & Gas | Energy | 3.84% | Valuation, Stable growth |
| (O) | Realty Income Corporation | REIT | REIT | 4.64% | Quality REIT, Yield |
| (VNQ) | VANGUARD Real Estate Fund ETF | ETF - Real Estate | REIT | 4.29% | ETF - Diversified REIT, Low fee |
| (MET) | Metlife Inc | Finance/Insurance | Financials | 3.56% | Valuation, Yield |
| (ABBV) | AbbVie Inc | Healthcare | Health Care | 4.07% | High-Yield, High Div Growth |
| (AMGN) | Amgen, Inc. | Healthcare | Health Care | 2.59% | High Div Growth |
| (GSK) | GlaxoSmithKline Plc | Healthcare/Drugs | Health Care | 4.79% | High-Yield |
| (SBUX) | Starbucks Corporation | Beverages/ Retail | Cons. Discretionary | 2.58% | High Div Growth |
| (HD) | Home Depot Inc | Home Improvement/ Retail | Cons. Discretionary | 1.99% | High Div Growth |
| (LRCX) | Lam Research Corporation | Technology | Information Tech. | 2.91% | High Div Growth |
| (IBM) | International Business Machines Corp. | Technology/IT | Information Tech. | 4.14% | High-Yield, Low Stable Growth |
| (TXN) | Texas Instruments Inc | Technology/Semiconductor | Information Tech. | 2.90% | High Div Growth |
| (QCOM) | QUALCOMM, Inc. | Technology | Information Tech. | 3.41% | Reasonable Val., Yield |
| (BCE) | BCE Inc. | Telecom | Communication | 5.76% | High-Yield, Low Stable Growth |
| (T) | AT&T Inc. | Telecom | Communication | 6.00% | High-Yield, Low Stable Growth |
| | | | | | |
| | Average Yield >>>>> | | | 4.08% | |
Basket-2: Fixed Income Bucket (25% of the capital)
Goals:
Investment in the fixed-income type of securities
5% Income in good times and bad
Much smaller drawdowns than the broader market.
This basket can be structured in many ways as well. The bond funds can be outright dangerous in the current rising inflation and rising rate environment, but individual bond would not be. Individual bonds have a set maturity date, and you get back your principal (along with all the periodic interest payments) on the date of maturity barring bankruptcy of the individual company. There are many companies that you could research and find out that has the remotest chance of declaring bankruptcy, but their bonds still pay a decent interest rate. Sure, you should choose a maturity date that you can hold onto. We don't specialize in individual bond funds and as such going into any more details would be out of the scope of this article. But there are many authors on SA who regularly write on such topics.
The other option would be to diversify this portfolio into many different asset classes and securities that could provide a decent income and still do well as a group. Below is one example.
Table 2 - Fixed Income Bucket
Symbol

Fund Name

Percentage Holding (of the basket)

Yield/Dividend

(TIP)

iShares TIPS (Treasuries Inflation Protected) Bond ETF

20%

3.03%

(PFF)

iShares US Preferred Stock ETF

20%

5.63%

(PCI)

PIMCO Dynamic Credit and Mortgage Income Fund

20%

8.09%

(BBN)

BlackRock Taxable Muni Bond

20%

6.98%

(SHY)

iShares 1-3 Year Treasury Bond ETF

OR

Money-market funds

OR

Laddered CDs

20%

1.47%

Total/Ave.

100%

5.04%
TIP:
In the current environment, this security actually offers you the best of the two worlds. If the inflation rises, it will protect your returns and principal from it. If the yields were to fall in the future, the Treasuries would appreciate in prices and you principal would go up in value.
PFF:
This is one of the largest ETF of preferred securities and is highly diversified. It also pays a nice dividend of 5.6%. If the stock market does well, preferred securities will do fine as well. If the market hits a rock and the prices fall, you will keep collecting the nice dividend while you wait.
PCI:
Why PCI, a Closed-End Fund in this portfolio? Many of the readers will find it a surprising entry here in this otherwise conservative basket. But we feel it is worth keeping here for many reasons in this portfolio. First, PIMCO managed funds are some of the best funds you can find out there. Secondly, 60% of its assets are invested in Mortgage-backed securities, which have been appreciating in value in the last many years as the mortgage delinquencies have been falling. We are far away from a situation that we saw in 2008-2008, where MBS were considered toxic. Also, the fund is offered at a small discount where its cousin PIMCO Dynamic Income Fund (PDI) in the PIMCO stable is trading at a premium. Last but not least, this will diversify our asset base in this portfolio and compensate for the low yield from some other securities.
BBN:
This is the Municipal closed-end fund from BlackRock. It is not the tax-exempt version, hence more suitable for tax-deferred accounts. For taxable accounts, one could use a tax-exempt fund like Nuveen Muni High Inc Opp (NMZ). These funds use leverage and likely to have a little higher volatility, but you are well compensated with high yield. However, the underlying assets are largely safe and diversified investments in municipal and build-America bonds.
SHY:
This is the short-term Treasuries fund. It has low yield but should provide stability and low volatility to this bucket. It could also be replaced with money-market funds or laddered CDs (Certificate of Deposits).
Basket 3: Preserve the Capital Bucket (35% of capital)
Goals:
Preserve the capital
Drawdowns to be less than 15-20%, one-third of the broader market
Total-return to be > 9% over the long term.
The main purpose and goal of this portfolio are twofold:
To remove the negative emotion of excessive fear every time market throws some tantrums and move downwards. The investor would be secure in the thought 60% of his principal (25% from bucket-2 plus 35% from Bucket-3) is reasonably secure. Even the rest 40% (bucket-1) is invested not in speculative stocks, but in rock-solid blue chip stocks that will continue paying good dividends.
To achieve market-matching returns over a long-term basis. We will see below in the back-testing model that this basket is no laggard when it comes to long-term performance. It has outperformed the S&P500 over the last 22 years. On a 10-year rolling period basis, this basket has lagged the overall market (as measured by S&P500) only once (out of 12 such periods). However, during very strong bull-markets, as we have witnessed recently, this portfolio would most likely lag the market a few percentage points but should make up during crisis situations.
There can be many techniques and strategies that can be deployed to put a portion of your capital (in this example, 35%) inside a firewall, so to speak. In other words, when the broader market is in a downward spiral for any reason, be it just a much-needed correction or an outright recession or even a full-blown financial crisis like 2008, this bucket will be relatively safe from a huge drawdown or loss of capital. Sure, there will be some drawdown, but only to a point, after that, the portfolio rules would recognize the dangers and kick-in the protection-mode. Once the danger-clouds clear up, however long it may take, the portfolio rules will switch back to growth mode.
Study after study, we can see that though it is somewhat important how much you make during bull-markets, more critical is how much you "not lose" during big corrections and/or recessionary times. We will see some more examples of this in the back-testing models that we are going to present below.
Risk-Adjusted Model Portfolio: Back-Testing
This model is simple enough and easy to implement. We will use two broadly-held securities and one out-of-the-market (risk-averse) security. These three securities are:
Out-of-the-market security:
Vanguard Total Bond Market Index Inv (VBMFX).
This model invests in one of the two better-performing assets (Vanguard 500 Index Investor Fund, Vanguard Total Intl Stock Index Fund) over the previous 6 months. The rotation is on a monthly basis at the end of the month. If none of the two assets have performed better than near risk-free rate such as money-market-funds, the money is moved to "out-of-market" security (in this case, Vanguard Total Bond fund. One could also use the money-market funds in place of Vanguard Total Bond fund.
Note: We are using VBMFX for the back-testing model, but if you are concerned about the viability of a bond fund (VBMFX) in today's rising-rate environment, you could replace it simply with CASH or a money-market fund. Our back-testing models show that by using CASH instead of a bond-fund, performance deteriorated by one percentage point over the last 22 years. For some, it may be a small sacrifice for peace of mind if that is an overwhelming concern.
We are using the Vanguard funds since they have long histories going back to 1996 (or more). However, one could easily replace them with popular ETFs. Here are the corresponding equivalent ETFs.
| | |
| --- | --- |
| Vanguard Fund | Equivalent ETF |
| VFINX | SPY |
| VGTSX | CWI |
| VBMFX | AGG |
Our RA Model portfolio had a maximum drawdown of only 17% versus 50% for the S&P500, over two full-blown bear markets.
| | | | | |
| --- | --- | --- | --- | --- |
| Drawdown Period | Start | End | RA Model Portfolio | S&P 500 |
| | | | | |
| Dotcom Crash | Mar-00 | Oct-02 | -10.7% | -44.8% |
| Financial (Subprime) Crisis | Nov-07 | Mar-09 | -17.7% | -50.9% |
Performance Comparison:
Here is the comparison of the performance of our RA-Model portfolio vis-à-vis S&P500 from 1997-2018: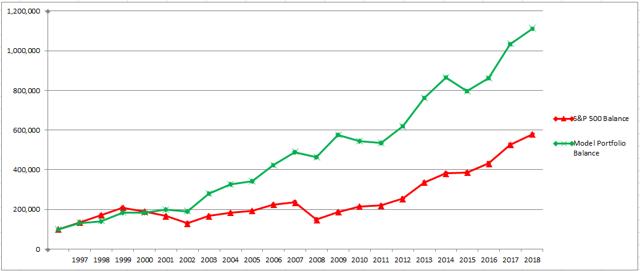 The next two tables below show the returns for each of the beginning (commencement) years, until 2018. If the tables lack clarity, we also provide the graphs below them.
Table 3A: The performance of Model Portfolio for each of the beginning years:

Table 3B: The performance of S&P500 for each of the beginning years:

10-Years Rolling Returns:
The chart below shows the comparison of 10-year rolling returns for the Model portfolio and the S&P500, starting from years 1997 to 2008. For example, 1997-2006, 1998-2007, 1999-2008 and so on, until 2008-2017.

You can see that the model portfolio outperforms for each 10-year rolling period except one (2008-2017).
5-Years Rolling Returns:
The chart below shows the comparison of 5-year rolling returns for the Model portfolio and the S&P500, starting from years 1997 to 2014. For example, 1997-2001, 1998-2002, 1999-2003 and so on, until 2014-2018.

The S&P500 portfolio starts leading in the 5-year rolling results staring 2009, due to the very strong bull market of the recent years.
Conclusion:
While it is important to capture growth as much as possible, however, it is even more important to manage or mitigate risk on an on-going basis. Un-managed risk can cause havoc with a portfolio, especially if you are in the withdrawal stage or very close to it. Younger folks who have a very long horizon, say 20 or more years, have the luxury of time on their side, provided they can handle the volatility and wide swings.
The approach described above is just one option and in our opinion, is a highly balanced approach. At the same time, 2 out of 3 buckets hardly need any work after the initial set-up. However, the third bucket, which is a critical part of the overall approach, does need some work on a monthly basis. This portfolio of three buckets may provide SWAN (sleep well at night) type characteristics while providing regular income as well as market meeting or beating total returns in any 10-15 year rolling period.
Disclaimer: The information presented in this article is for informational purposes only and in no way should be construed as financial advice or recommendation to buy or sell any stock. Please always do further research and do your own due diligence before making any investments. Every effort has been made to present the data/information accurately; however, the author does not claim 100% accuracy. Any stock portfolio or strategy presented here is only for demonstration purposes.