The Canadian dollar – after a prolonged period of weakness – has been seeing significant strength against the U.S. dollar over the past few months: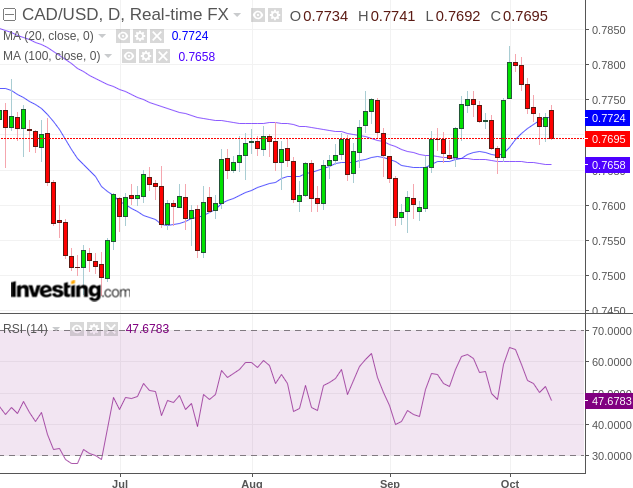 Source: investing.com
Moreover, from the monthly chart we can see that the CAD/USD is still trading well below levels seen pre-2015: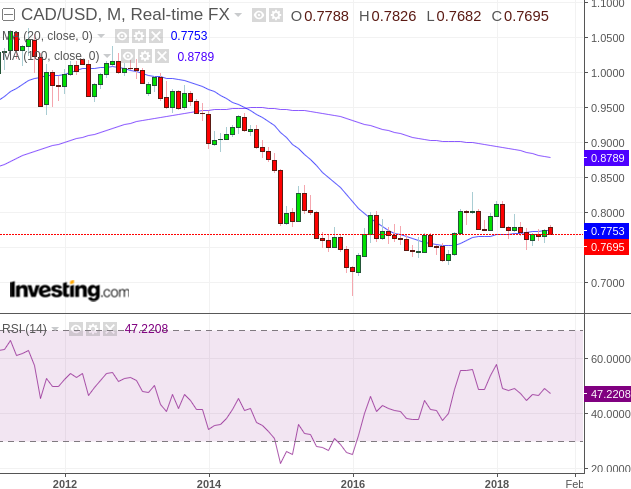 Source: investing.com
That said, here is what is interesting from a technical perspective – the RSI (or Relative Strength Index) is still well below 70 – which is the point at which the CAD/USD would be indicated to be overbought.
Purely on a technical basis, this would indicate that the Canadian dollar would have further room to rise against the greenback.
That said, there are also macroeconomic-based reasons to suggest that the loonie is set to climb further.
One of the big things keeping the loonie under pressure has been uncertainty over the future of Canada's trading relationship with the United States. For instance, we saw earlier this year that even as oil prices were rising, the loonie was remaining weak as Canada's capacity to export future supplies to the U.S. was being called into question.
However, with a new NAFTA deal having been struck between Canada, Mexico, and the United States, this has increased the likelihood that Canada will accelerate the pace of interest rate hikes. Moreover, with Canada's auto parts industry receiving a quota of an annual $32.4 billion which is considerably above the value of Canada's total export volume to the United States in this industry, export growth is set to be driven further by such a development. Additionally, with Canada increasing exports of strong tank cars that carry crude to the United States, crude oil transports by rail to the United States has almost doubled since last year.
In this regard, a stronger export market bodes well for Canada's currency, and it is likely that we will see the loonie continue to appreciate should this trend continue.
That said, are there any particular risks to the loonie that investors should be aware of?
Well, rising exports are somewhat of a double-edged sword. The past few months have clearly demonstrated that Canada's economy is significantly dependent on exports for growth, and this has clearly been reflected in the rise of the CAD/USD.
With the possibility of continued trade tensions between major economies such as the U.S. and China threatening global growth, there could be a chance that the loonie would see a renewed decline against the greenback. For instance, the International Monetary Fund is forecasting that global growth could grow by 3.7 percent in 2018 and 2019, which is 0.2 percent lower than originally forecasted.
Should the Bank of Canada take the view that rate hikes would be premature given a perceived risk to global growth, then it is possible that the loonie could face downward pressure against the USD under these circumstances.
To conclude, the CAD/USD is on an upward trend at this point and I don't see this ceasing in the immediate future. A breach of the 0.80 level is not unrealistic, but only time will tell whether sustained growth will lift the loonie beyond this level.
Disclosure: I/we have no positions in any stocks mentioned, and no plans to initiate any positions within the next 72 hours. I wrote this article myself, and it expresses my own opinions. I am not receiving compensation for it (other than from Seeking Alpha). I have no business relationship with any company whose stock is mentioned in this article.