It was a quarter of pluses and minuses for Delta Air Lines (DAL).
The Atlanta-based carrier delivered its 3Q18 results on Thursday morning. Revenues of $11.95 billion were barely enough to reach consensus estimates, let alone my more optimistic $12.07 billion projection presented late last month. Adjusted EPS, which deserves some deeper analysis, matched my expectations to the penny while beating the Street by six cents.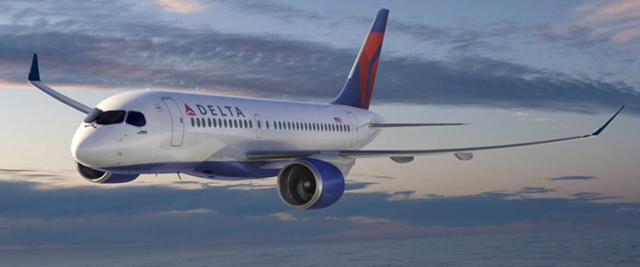 Credit: Delta News
The numbers, certainly not disastrous, fell short of driving the "easy beat" that I had predicted in my earnings preview. Starting with the top line, revenue growth on a per-capacity unit basis (measured as TRASM) looked relatively solid at 4.3%, but I had been expecting a more optimistic 5%. The 80-bp drop in occupancy reported for September, perhaps properly discounted by investors as a fluke due to the effects of Hurricane Florence, seems to have spoiled my plans of above-consensus top-line performance. On the plus side, cargo continued to perform very well, along with a strong business and premium segment that seems to reflect the robustness of the global economy.
Further down the P&L, the feared bump in fuel costs met my expectations. The EPA had previously released 3Q18 data suggesting that jet fuel expenses had increased about 33% YOY per gallon. Delta saw a rise of 35% in total fuel costs ex-hedge and refinery, with 32% attributed to higher per-gallon prices (the balance, to increased activity). Compensation expenses remained largely under check, despite what I expected to be wage pressures driven by a tight labor market. In the end, reported op margin of 13.7% fell only 10 bps below my expectations, amounting to a $27 million op profit miss vs. my estimate - roughly the size of the financial damage caused by Hurricane Florence, as quantified by the management team.
Below the op line, interest expenses and other non-op items surpassed my expectations by a very meaningful $74 million. With net debt having increased $1.2 billion YOY, the number was a bit surprising to me. I calculate that this P&L line alone, nearly irrelevant to the operational performance of the airline, drove a seven-cent EPS improvement to both my estimate and year-ago levels.
See summarized income statement below, on a non-GAAP basis.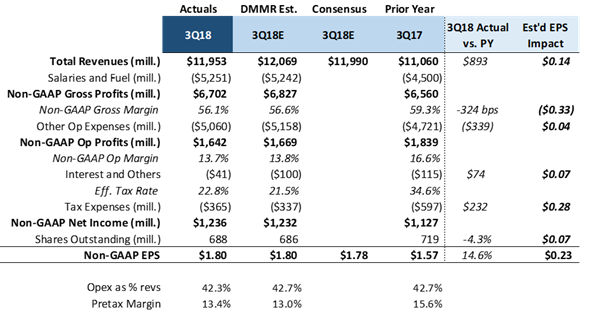 Source: DM Martins Research, using data from company reports
On the stock
Even though DAL traded up nearly 5% by late morning on Thursday, I cannot claim to have been overly excited about the carrier's 3Q18 results. Partly explaining the bullish reaction, in my view, is a stock that lost 17% in the three weeks prior to earnings day, probably unjustifiably so. With total revenue growth guided at a solid 8% and CASM ex-fuel (a measure of per-unit cost) limited to flat in 4Q18, I believe investors got reminded this morning that Delta continues to be a strong performer in a sector that often faces macro level challenges.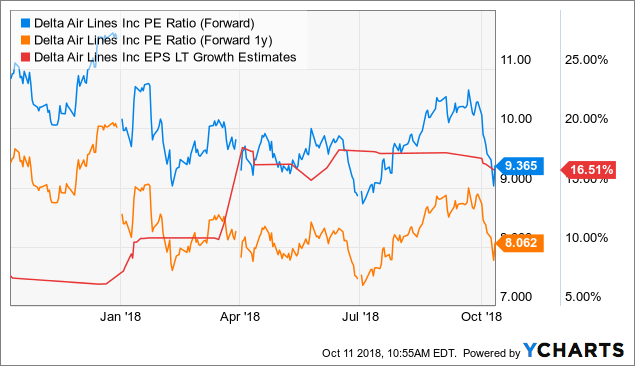 In the end, I continue to believe that DAL is one of the best plays in the airline space, for all the reasons that I highlighted recently: Best per-unit revenues in the industry that probably reflect superior connectivity in the U.S., strong cash flow generating abilities, and robust balance sheet. Now, the stock is selling at an even more attractive 9.4x current-year earnings multiple that is lower than the valuation of peer United Continental (UAL).
Understanding the risks of owning airline stocks amid recent fears over the fate of the economy, DAL definitely deserves room in my diversified, risk-balanced portfolio.
Note from the author: I have recently concluded a study on the U.S. airline sector, and shared my findings first - along with my working Excel file containing all the details - with my Storm-Resistant Growth group. To access all the premium material and dig deeper into how I have built a risk-diversified portfolio designed and back-tested to generate market-like returns with lower risk, join the Storm-Resistant Growth community. Take advantage of the 14-day free trial, read all the content written to date and participate in the discussions.
Disclosure: I am/we are long DAL.
I wrote this article myself, and it expresses my own opinions. I am not receiving compensation for it (other than from Seeking Alpha). I have no business relationship with any company whose stock is mentioned in this article.