Closed-end funds do not seem like the best place to be for active traders, at least on paper. However, these products have been our bread and butter for a while now, and as long as we are capable of detecting opportunities and successfully acting on them, we intend to keep on rolling.
Active followers have taken note of the "Weekly Review" series, and it would only be appropriate to complement these articles with a follow-up, like this one, whose goal is to highlight the funds of interest to us.
Statistical Comparison and Potential Trades
On Sept. 26, 2018, the Federal Open Market Committee decided to raise the target range for the federal funds rate to 2% to 2.25%. Ironically, this meeting pulled the trigger. Over the past two weeks, we observed a constant increase of the Treasury yields, which led to sell-off in some of the fixed-income assets.
The situation around the interest rates is important for the municipal bonds CEFs. Fixed income instruments can be divided into several types. For instance, Munis are interest-sensitive due to their higher duration compared to the corporate bonds, high yield (junk) bonds or floating rate bonds. On the other side, they have less chance of default and provide some downside protection in a recessionary environment. Below I have plotted a comparison chart between the main benchmark and 10-year Treasury note yield. You can easily see the relationship between them.
Since the beginning of September, the price of the main index - iShares National AMT-Free Muni Bond ETF (NYSEARCA:MUB) - fell by more than $2.00. A situation which we saw earlier in the year, as well.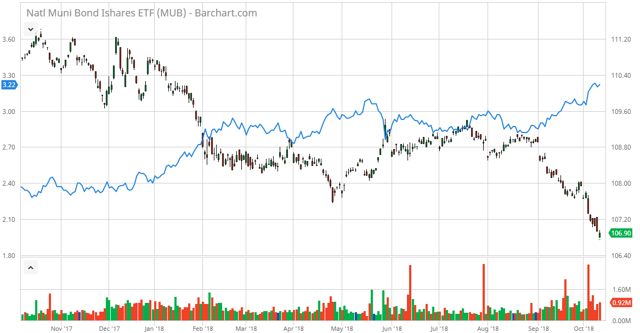 Source: Barchart, iShares National AMT-Free Muni Bond ETF & CBOE 10-Year Treasury Note Yield Index

Yes, the current market environment is unfavorable for most of the closed-end funds which invest in municipal bonds, but we believe there is still a way to be profitable if you choose the right strategy. Now the question should be: What is the right strategy? Currently, the Munis provide us with strong statistical reasons to review them as potential additions to our portfolio. We strongly recommend having a hedging reaction which you can use in case of some market turbulence. The hedging reaction should be some fund which is traded at a premium or relatively high Z-score. Of course, you can use directly iShares National AMT-Free Muni Bond ETF as a hedge.
The potential "Long" candidate I am going to review today is BlackRock Long-Term Municipal Advantage Trust (NYSE:BTA). Currently, the fund's spread between price and net asset value is 10.35% and it is accompanied by a Z-score of -1.60 points. Compared to the rest of the funds the discount and the statistical edge of BlackRock Long-Term Municipal Advantage Trust do not seem soo impressive, but the quality of the fund is the main reason why I decided to review it as potential "Buy" candidate. In the beginning, let's briefly review the investment approach of the fund:
BlackRock Long-Term Municipal Advantage Trust's investment objective is to provide current income exempt from regular federal income tax. The Trust seeks to achieve its investment objective by investing, under normal market conditions, at least 80% of its assets in municipal obligations and derivative instruments with exposure to such municipal obligations, in each case that are exempt from federal income tax (except that the interest may be subject to the federal alternative minimum tax). The Trust invests, under normal market conditions, primarily in long-term municipal bonds with a maturity of more than ten years at the time of investment and, under normal market conditions, the Trust's municipal bond portfolio will have a dollar-weighted average maturity of greater than 10 years. The Trust may invest directly in such securities or synthetically through the use of derivatives.

Source: CEFConnect.com, BlackRock Long-Term Municipal Advantage Trust
The current dividend is $0.0545 per common share. The current yield on net asset value is 5.41% and the current yield on price is 6.04%. Both of them are above the average for the sector.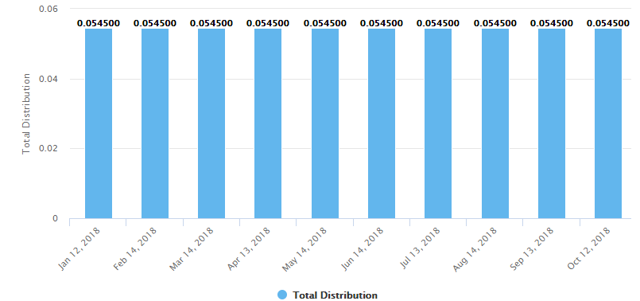 Source: Fund Sponsor Website
Compared to its peers, the fund provides us with a good combination of a discount and a distribution on net asset value. As per the latest report, the coverage ratio of the fund is positive and its UNII balance per share remains in a green territory.

Source: CEFdata.com, BlackRock Long-Term Municipal Advantage Trust

Source: VixCentral.com

The main part of the investments are with a rating of "AA" and takes 30.43% of the total portfolio. The assets in the portfolio from issuers located in New York are 16.52% and these from Texas are 9.60%. The number of holdings in the portfolio is 265, and "Prerefund/Escrow" and "Health" are the sectors with the biggest weights.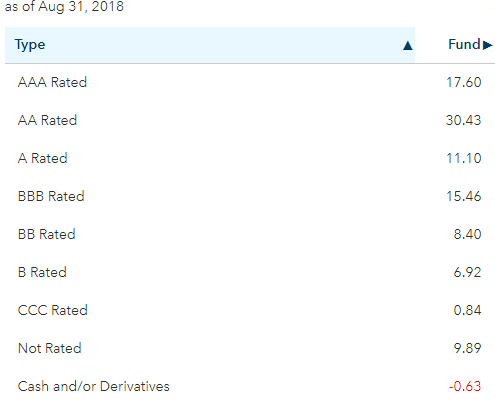 Source: Fund Sponsor Website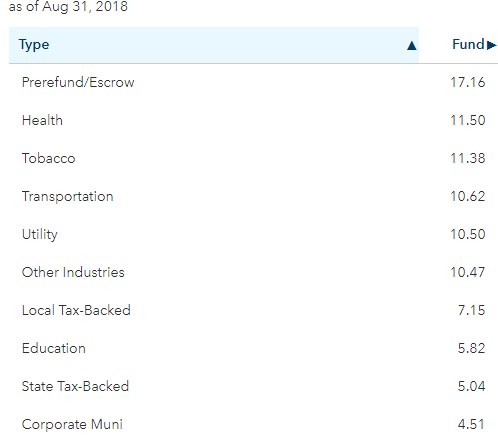 Source: Fund Sponsor Website
As a hedging reaction, you can use the BlackRock MuniYield Investment Fund (NYSE:MYF). Over the past year, their net asset values tended to move together, but we observe a price deviation. The BlackRock MuniYield Investment Fund is currently trading at its net asset value and its six months Z-score is 0.90 point.
Source: Ycharts, BlackRock MuniYield Investment Fund and BlackRock Long-Term Municipal Advantage Trust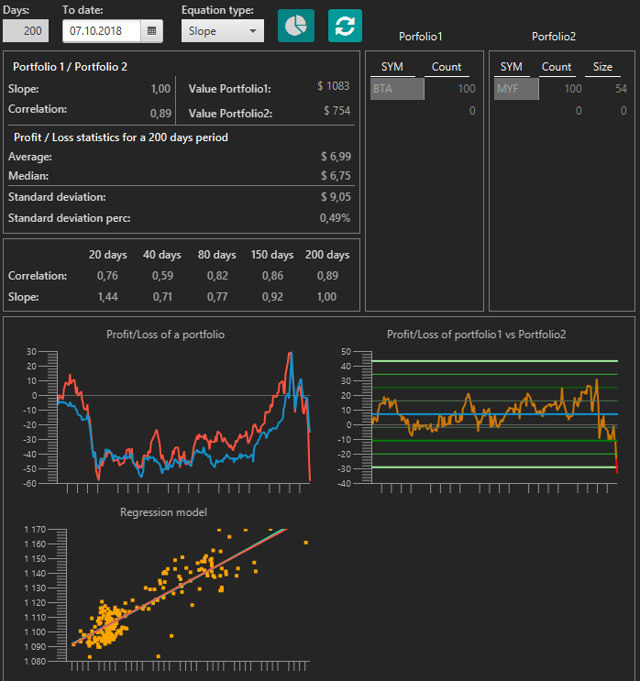 Source: Author's software
Conclusion
Municipal bond closed-end funds seem beaten up, shaken by dividend cuts - which are a healthy necessity most of the time - and full, or perhaps not as much by now, of investors who are scared of the rising interest rate environment. There is a good reason to consider restructuring your portfolio in accordance with the bigger picture. However, in our view, the selling might have gone too far, and there are candidates from this sector for a mean reversion trade, at the very least.
Based on the data that I have reviewed, BTA can be a potential "Long" addition to your portfolio and MYF can be used as a hedging reaction.
Note: This article was originally published on Oct. 7, 2018, and some figures and charts might not be entirely up to date.
Trade With Beta
At Trade With Beta we also pay close attention to closed-end funds and are always keeping an eye on them for directional and arbitrage opportunities created by market price deviations. As you can guess, timing is crucial in these kinds of trades; therefore, you are welcome to join us for early access and the discussions accompanying this kind of trades.
Disclosure: I/we have no positions in any stocks mentioned, but may initiate a long position in BTA over the next 72 hours.
I wrote this article myself, and it expresses my own opinions. I am not receiving compensation for it (other than from Seeking Alpha). I have no business relationship with any company whose stock is mentioned in this article.