General Cannabis Corporation (OTCQX:CANN) is an unimpressive general holdings company which is in a hyper-competitive industry. The revenue growth which is touted by the company is by no means impressive, and no clear path to profitability has been presented to shareholders. Insider selling is rampant, and General Cannabis sells no unique products/services - a major issue in such a competitive industry. With so many other young promising legal cannabis companies and the rise of various ETFs which track the entire industry, the bull case for General Cannabis is a hard one to swallow.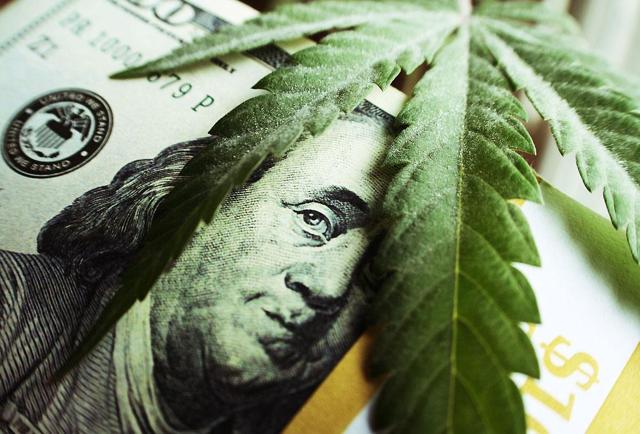 Make no mistake, even though the legal marijuana industry is expected to grow rapidly in North America due to the ongoing legalization efforts, it does not mean that there will be free money. When the automobile industry was still in its infancy (1900s), there were nearly 500 auto companies vying for dominance in the United States. Today, cutthroat competition has caused the vast majority of those companies to vanish completely; only a few today remain. The ones that do still exist have created immense amounts of shareholder value, but focusing on the survivors creates an illusion. Not everyone won out when the auto industry boomed and not everyone will win when the marijuana industry booms.
What makes the cannabis industry such a difficult one to navigate is the economics of cannabis itself. Cannabis is a commodity, and it will be at the mercy of supply/demand economics. Even though General Cannabis doesn't cultivate and sell cannabis, it will still be affected by the turbulent economics of cannabis.
Based in Denver, Colorado, General Cannabis does most of its business in that region; all of its subsidiaries are Colorado-based corporations. Although General Cannabis likes to say that it operates in both California and Colorado, most of its infrastructure and business activities still lie within the state of Colorado. It does offer protection services in California, but the operation is not large enough to warrant any praise. To its credit, General Cannabis has also recently expanded its presence on the East Coast by establishing an office in New York. But it remains to be seen if these efforts will actually be worthwhile or not for General Cannabis. Perhaps if General Cannabis was more transparent in disclosing the specific origins of its revenue, I would have given the expansion plans the benefit of the doubt.
The reason I bring this up is to highlight how undiversified General Cannabis' cash flow stream is. The company having so many different subsidiaries operating in different market segments doesn't matter when all of that business activity is concentrated in one specific region. The price of cannabis dictates how active investment flows and consumption are in the region, thus influencing the demand for the services which General Cannabis provides. If we were to see a prolonged period of oversupply in either Colorado or California, then it would stand to reason that General Cannabis would be adversely affected.
In the case where cannabis is legalized on a nationwide level, or if the state barriers for selling legal cannabis were torn down, then it would be difficult for the state of Colorado or any entity to control the price per gram. This leaves the fate of General Cannabis to uncontrolled supply/demand factors. Its different subsidiaries would have a difficult time growing if the cannabis market were to suffer from a depression caused by oversupply.
Which leads me to my next point that General Cannabis' subsidiaries are either not very profitable or are being poorly managed. A growing revenue stream is harmful when that stream leads to losses.
The income statement includes four different segments. The finance segment is defunct, but the security, marketing, and operations segments are all successfully growing their revenues.

Source: Q218 Earnings Press Release
All three segments achieved double-digit y/y revenue growth last quarter, contributing to the total revenue growth of 34%.
I am confident that breaking the $1 million quarterly revenue level in the second quarter is a proof of concept for our ability to be the comprehensive national resource to the regulated cannabis industry. - Source: Michael Feinsod, Executive Chairman of General Cannabis, Q218 Earnings Press Release
Breaking $1 million in quarterly revenues would be very impressive if it weren't for the scale and increasing expenses of General Cannabis' segments.
Total costs and expenses rose 67% y/y, growing from ~$2.15 million to ~$3.6 million. This was only outpaced by the 88% y/y increase in operating expenses from ~$1.3 million to ~$2.5 million. The quarterly net loss rose by over $2 million in just a quarter, representing a percentage gain of 130%! No matter how you chop it, revenue growth is not impressive when expenses are increasing disproportionately along with revenues.
The bulls would fire back and say that General Cannabis is at best doing only slightly over a million in revenue a quarter at the moment, so those expenses should be expected. But that argument raises another issue, why has General Cannabis only now managed to achieve over $1 million per quarter in revenues? Why has it taken this company so long to jump over such a small hurdle in a booming industry?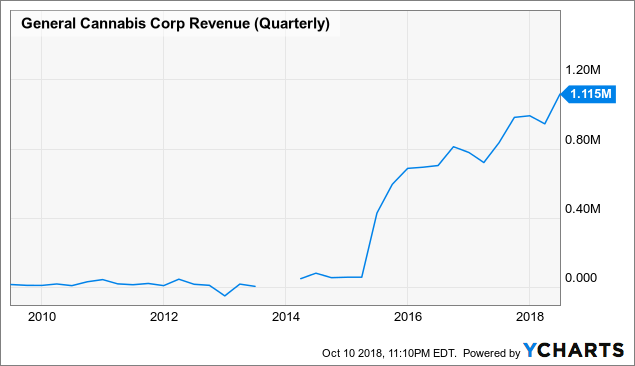 To give some perspective, General Cannabis completed its rebranding and name change on June 24, 2015. It has three different segments, but is really barely growing its revenue streams. It's taken General Cannabis three years to achieve $1 million in quarterly revenues. Will it take the company three more to achieve $2 million?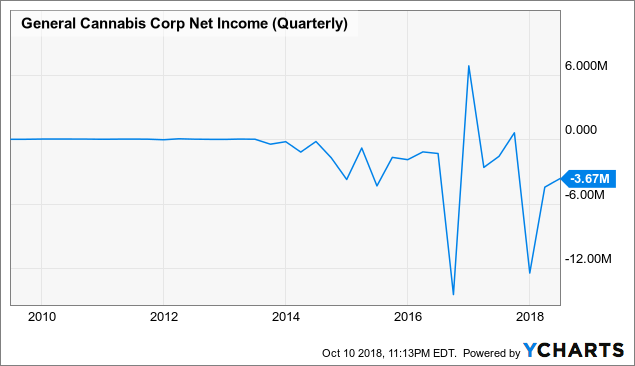 This also raises another serious question, how does General Cannabis expect to achieve profitability? The company has not been able to consistently make a profit so far, what is the guarantee that it can in the future? General Cannabis should present a serious and in-depth plan regarding how it plans on achieving profitability in the near future. It would reassure investors and set in motion an action plan. Until at the very least this happens, I would stay far away from the idea of ever buying shares of General Cannabis.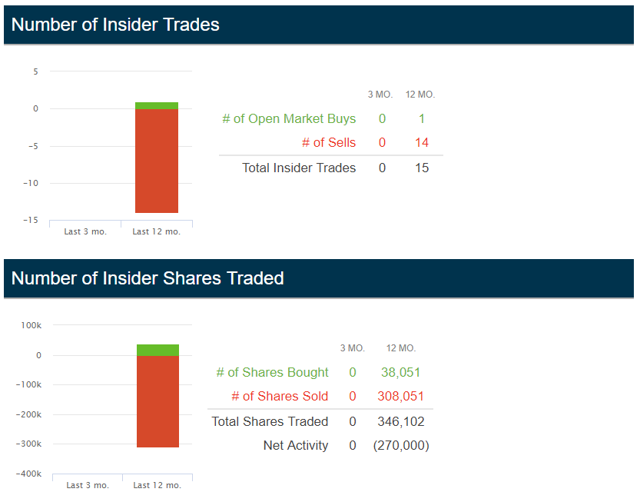 Source: NASDAQ
Insiders have the best knowledge of the direction of a company. And it's very bearish to see waves upon waves of insiders dumping shares. Instead of choosing to reassure investors by buying shares or even just holding onto their existing ones, the insiders are dumping their positions. The one buy in the past 12 months was also a purchase at prices significantly below the market price at the time.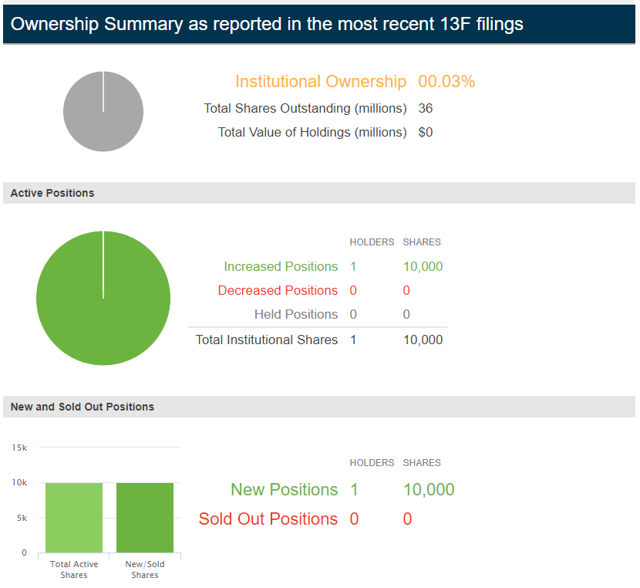 Source: NASDAQ
The insiders are jumping ship, and no institutions seem to want to hop on board. Having 0.03% of your shares outstanding being owned by large institutions is extremely bearish. It means that institutions, with their advanced tools, resources, and analytical techniques, are deciding to pass on General Cannabis. Why should the individual retail investors invest when the big money isn't buying?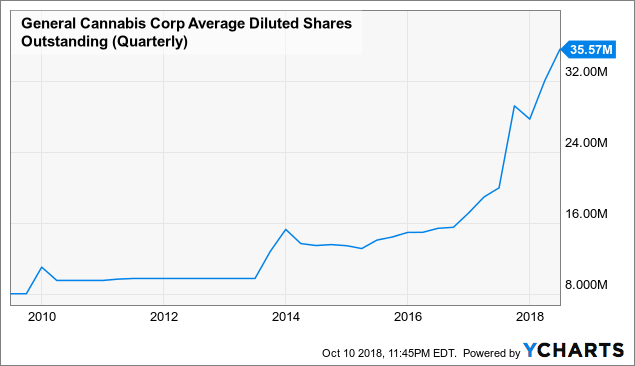 Making matters even worse, General Cannabis has a long history of diluting its shareholders, which I assume judging from the low institutional ownership percentage. Until General Cannabis manages to achieve profitability, it can only really sustain its operations through dilutive offerings or by going into debt; both options are toxic for shareholders.
Conclusion
It is all too easy to get lost in the hype of the cannabis craze. There will certainly be winners in the end, but there will be many more losers. Sadly, it looks like General Cannabis is not a winner, but just a company which is trying to take advantage of the speculative nature regarding the hype surrounding Cannabis legalization.
Unless you are an expert in the field, I would recommend staying away from the Cannabis industry in general. There are too many zombie-companies like General Cannabis, and there are less risky alternative investments out there. Whatever the case, it is important to always do your due diligence.
Disclosure: I/we have no positions in any stocks mentioned, and no plans to initiate any positions within the next 72 hours.
I wrote this article myself, and it expresses my own opinions. I am not receiving compensation for it (other than from Seeking Alpha). I have no business relationship with any company whose stock is mentioned in this article.
Editor's Note: This article covers one or more stocks trading at less than $1 per share and/or with less than a $100 million market cap. Please be aware of the risks associated with these stocks.