Delta Air Lines (DAL) just reported its third quarter results. Personally, I have been looking forward to these numbers. Not only because Delta is one of the world's biggest full service carriers, but also because we might get a lot of insights into the state of the US economy and the effects it has on Delta. All things considered, I think Delta did a good job in its third quarter despite being on the receiving end of rapidly rising input prices.

Source: Delta News Hub
Lower Taxes Saved The Day
Before I looked at Delta's quarterly results, I expected to see a big impact from the recent inflation trend. Oil is currently trading above $70 while a tight labor market and basic materials inflation negatively impact (almost) every single industry. I also expected to see higher passenger and cargo numbers given the strong state of the US economy. If you want to know more about the state of the US economy, feel free to read this article which includes both a growth outlook as well as a leading inflation indicator.
That said, EPS came in at $1.80. This is $0.05 above expectations and 15% higher on a year-on-year basis. It is also at the high end of the company's guidance of $1.85. Also, note that this is the 5th consecutive EPS beat.
Source: Estimize
EPS growth was mainly provided by strong revenue growth, tax benefits and a share count that is down 4% compared to Q3 of 2017.
Speaking of sales. Total sales came in at $11.95. This is in line with expectations and 8% higher compared to its prior-year quarter. Adding to that, the sales growth trend started in Q2 of 2017 which is exactly the point when transportation companies (in general) started to grow their sales after the economy bottomed in Q1 of 2016.
The bigger trend as seen below shows the company's long-term sales and net income trend. Sales perfectly display the resumed uptrend in 2017 while net income is actually more or less flat over the past few years.
So far so good, but let's break down where sales came from. Total sales growth of 8.2% was supported by every segment but Latin America. Domestic sales improved 9.2% while unit sales increased 3.3%. Atlantic activities generated 10.7% higher sales with 7.8% higher unit revenue. Pacific sales added 3% with unit revenue being up 4.8%. In other words, higher economic growth has indeed once again resulted in very strong sales in the passenger segment.
But that's not everything. Cargo sales improved 18.5%. This is not necessarily a segment that decides Delta's fate given that cargo is (usually) just a very small part of full service carriers' sales. However, it is a good indicator of the US economy. And a growth number of 18.5% is always a good sign - even if total cargo sales are rather low.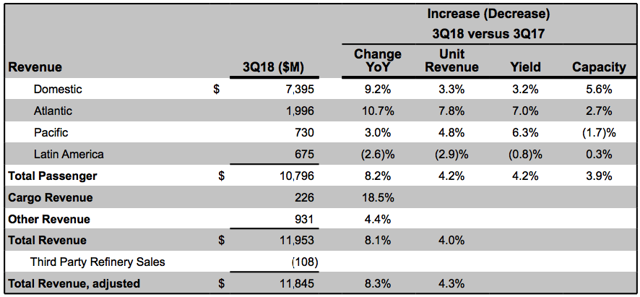 Source: Delta Air Lines Q3/2018 Earnings Press Release
That said, the company was also able to grow total revenue passenger miles by 3.8% while revenue per available seat mile improved 4.2% to 14.81 cents.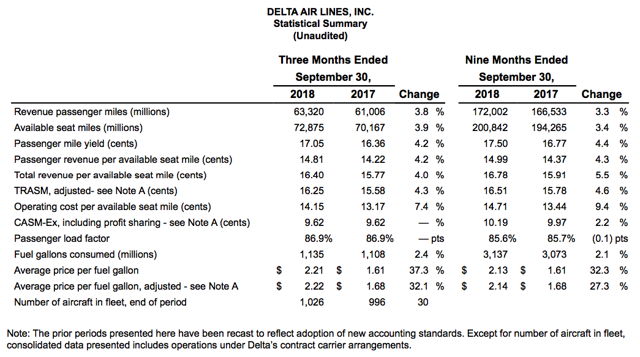 Source: Delta Air Lines Q3/2018 Earnings Press Release
Operating cost per available seat mile, on the other hand, increased 7.4% which is no surprise given that total operating costs increased 11.3%. This pushes operating margins down to 13.7% from 16.5% in Q3 of 2017.
Fuel prices were up 35% ($655 million). However, 85% of the fuel price increase was offset by flat non-fuel unit costs.
"The September quarter marked an important inflection point in changing our non-fuel cost trajectory, and we expect to deliver on our full-year target of one to two percent non-fuel unit cost growth," said Paul Jacobson, Delta's chief financial officer. "Continued focus on cost control, along with incremental efficiency gains from re-fleeting and One Delta, give us confidence in our ability to keep our non-fuel unit cost growth below two percent next year."
Last but not least, there is no way around the fact that the company's bottom line was saved by lower tax expenses. Operating income was down 10% while income before taxes was down 6%. Net income however improved 13% thanks to 41% lower tax expenses.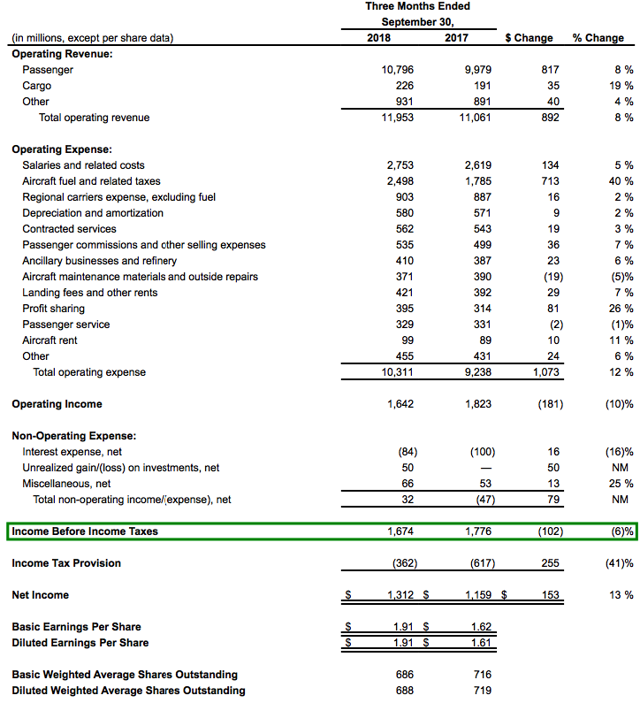 Source: Delta Air Lines Q3/2018 Earnings Press Release
What's Next?
I believe the graph below is a good summary of the current situation at Delta. The stock bottomed in 2012 when the US consumer recovery started. This rally got additional momentum in 2014 when oil price started to accelerate. Then, in 2015, things slowed again when the manufacturing peak of 2014 started to pressure the consumer which resulted in a stock price decline to almost $30. At this point, we are about to enter the third year of the current economic expansion (2016-now). Note how weak this rally has been. The stock is still trading at 2014 levels despite the average transportation stock (XTN) being up 62% since Q1 of 2016.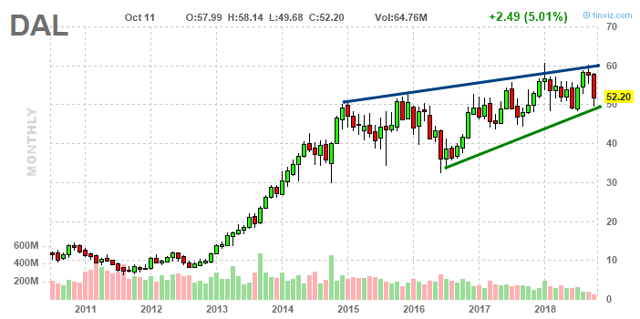 The problem Delta has is not unique. The company is depending on economic growth to support passenger miles growth and to justify further capital investments (new planes) while sustaining a high utilization rate. This also means that fuel costs will continue to be a big factor. Especially because we once again saw that higher input costs would have reduced the company's profit if it were not for a tax expenses decline.
When it comes to the market reaction, we see that the stock is up 5% while I am writing this. Investors bought the company's earnings beat and were relieved about Delta's ability to contain input inflation.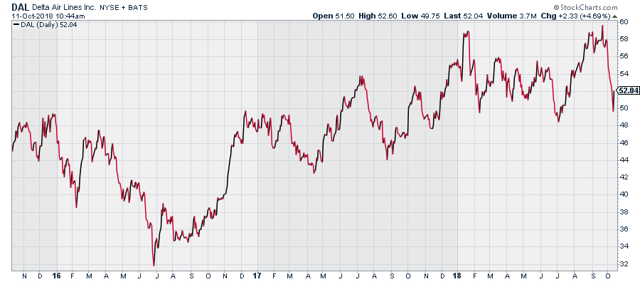 I agree with investors. The stock had fallen back to $50 which is an interesting buying level considered that economic growth is still at multi-year highs. We also see that oil has fallen a bit over the past few days while the company has mentioned that higher fuel prices are expected to last.
In other words, a lot has been priced in already. This is also visible when looking at the stock valuation. At this point, the company is trading at 10 times earnings with a forward P/E ratio of 7.7. The PEG ratio is at a mere 0.62. Expectations are low as these numbers suggest.
Going forward, I expect the stock to stabilize a bit. I am becoming bearish once the economy shows clear signs of a slowing trend. This would then pressure utilization rates in an environment that is already skeptical when it comes to airlines.
Stay tuned!
Thank you for reading my article. Please let me know what you think of my thesis. Your input is highly appreciated!
Disclaimer: This article serves the sole purpose of adding value to the research process. Always take care of your own risk management and asset allocation.
Disclosure: I/we have no positions in any stocks mentioned, and no plans to initiate any positions within the next 72 hours.
I wrote this article myself, and it expresses my own opinions. I am not receiving compensation for it (other than from Seeking Alpha). I have no business relationship with any company whose stock is mentioned in this article.