Welcome to our Discover Cannabis series, where we publish in-depth research to introduce new cannabis companies to our coverage.
Overview
Trulieve Cannabis (OTCPK:TCNNF) is a recently listed U.S. cannabis company that has seen some quite amazing price movements since the IPO. The stock started trading on the CSE on September 25, 2018, after it completed the RTO with a Canadian shell company. Trulieve is another significant player in the U.S. cannabis industry and joins a growing list of U.S. companies listed in Canada including Liberty Health (OTCQX:LHSIF), MedMen (OTCQB:MMNFF), Green Thumb (OTCQX:GTBIF), iAnthus Capital (OTCQX:ITHUF), MPX Bioceutical (OTCQX:MPXEF), Golden Leaf (OTCQB:GLDFF), Charlotte's Web (OTCQX:CWBHF), and Sunniva (OTCQB:SNNVF). We have been initiating coverage on U.S. cannabis companies and plan to cover all of them in the next few weeks. We believe that after the Canadian cannabis sector achieved its huge success in the public markets, we are up to see more success out of the U.S. stocks. We believe that the U.S. cannabis industry will benefit from an increasing number of states that legalize cannabis which will improve their ability to access capital from both public and private sources. Trulieve is one of those companies that managed to establish a dominant position in its home market, and it is worth taking a look if you are interested in investing in the U.S. market.

Company Overview
Trulieve operates a vertically-integrated cannabis business in Florida only. The company received the first medical dispensary license in 2015 and has since grown to a total of 16 stores across the state. The company operates a total of 468,000 square feet cultivation facilities with plans to add an additional 95,420 square feet in 2018. The company has processing capabilities and offers over 80 SKUs in its stores. As of August 2018, Trulieve boasts 83,000 active registered patients and was the first to start offering next-day delivery services across the state. The company was a clear first-mover in the Florida cannabis market with the largest number of dispensaries operating. The company claimed in its offering document that it sold 70% of all cannabis sold in Florida as of July 27, 2018. The company operates 3 production sites with an annual capacity of 17,199 kg with an additional 9,804 kg of capacity currently under construction.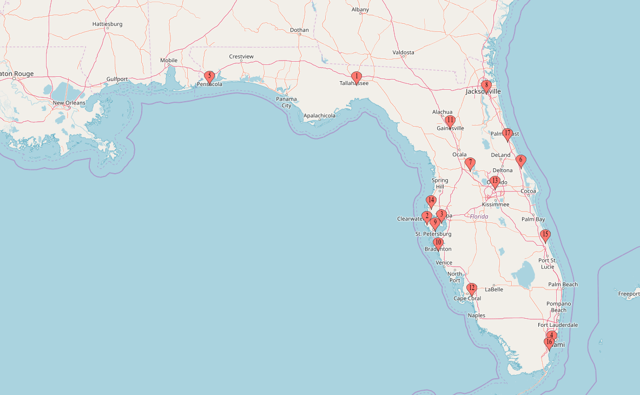 The company competes with a number of Florida-based cannabis companies, including Liberty Health which we have covered extensively. Note that Curaleaf is another company that is planning to go public in Canada via RTO. The key takeaway is that Trulieve is by far the largest and most successful operator in Florida, and it offers the most complete suite of products.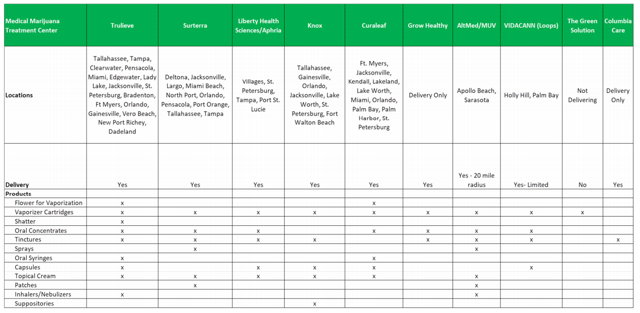 (Company filings)
As part of the RTO, the company also raised C$65 million by selling around 11 million shares at C$6.0 per share. The proceeds will be used to fund additional store openings in Florida and potential entry into other markets where cannabis has been legalized. Post the transaction, Trulieve has 110 million fully diluted shares which imply a market capitalization of around C$2 billion. The stock rose 66% on the first trading day to close at C$9.98, and the momentum continued in the following days to fresh all-time highs.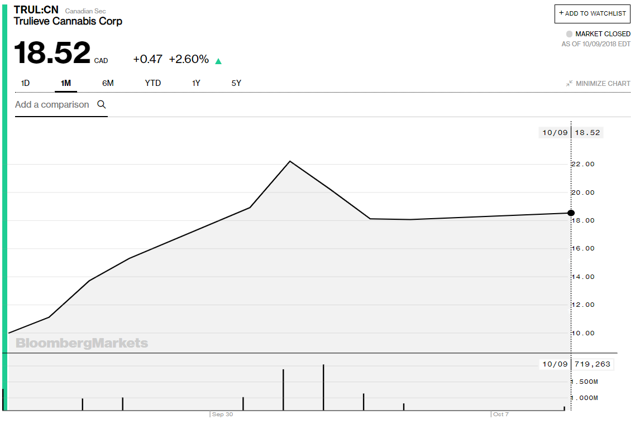 Financials
Trulieve has the highest amount of revenue reported as of 2018 Q2 when the company reported an impressive growth of revenue and EBITDA. Trulieve is also one of the very few companies that have positive EBITDA, not to mention the strong EBITDA margin. The company has been able to achieve significant scale and operational efficiency, and we have to say that it is truly amazing to see a cannabis company reporting strong financials at this early stage when most of its peers are still incurring significant losses.

When compared to peers, Trulieve has the largest revenue as reported, and its market capitalization is only behind Green Thumb. It is interesting to note that MPX is the cheapest in the group despite its significant revenue generated so far. It is also worth mentioning that Trulieve's competitor, Liberty Health, only has a very small amount of revenue despite its plans to significantly increase its presence in Florida to 12 stores.

Risks and Competition
The biggest risk for Trulieve is that Florida is limiting each license holder to a maximum of 25 stores, and its Health Department was recently ordered by the court to start issuing more licenses. The company made the following disclosure in its offering document which is available on SEDAR.
In 2017, the Florida Legislature passed legislation implementing a constitutional amendment pursuant to the Initiative and codified the changes set forth in the constitution. The law provides for another four licenses to be issued for every 100,000 patients, added to the registry and limited license holders to a maximum of 25 store locations with the ability to purchase locations from one another and for an additional five locations to be allowed by the State for every 100,000 patients added to the licensed entity's registry.
Notwithstanding the outcome of Trulieve's appeal to exclude its stores opened prior to the date of this legislature, we think Trulieve will eventually face a stall when it reaches the store limit. The key question here is what is the total addressable market for Trulieve in Florida? The Florida market will eventually become saturated as other producers gradually open more dispensaries, some of them potentially in close proximity to Trulieve. We think it is inevitable that Trulieve has to expand into other markets, and whether they can achieve the same level of success remains to be seen. Trulieve achieved its success in Florida because it had the first-mover advantage. However, they won't have that advantage in other states because they are already too late. We think Trulieve will face significant challenges when expanding into other states because it won't have the scale and efficiency it has in Florida. They will also face significantly more competition in other states which will pressure their profits. These are medium to long-term concerns as Trulieve still has some room for growth in Florida.
Among the U.S. cannabis companies that we have covered so far, almost all of them are pursuing aggressive growth agendas. We think Trulieve is the only company that has focused a single market so far. Liberty is similar in that its main operation is focused in Florida, but it is actively looking to expand into MA. We would expect Trulieve to announce entry into other markets soon, given that it will soon reach its 25 store limit in Florida which could be a positive catalyst for the stock. However, if Trulieve failed to expand into other states, we see limited long-term growth potential for this stock.
Putting Everything Together
Trulieve has delivered impressive returns in a matter of days for its investors, but we think the stock is not without its risks. Despite having one of the best, arguably the best, financials we have seen so far among cannabis firms, we just think the stock might have risen a little too much and too fast. It is not uncommon for stocks to pop right a highly anticipated IPO and followed by a period of consolidation. For early investors, it has been a great outcome. For potential investors on the sideline, we would consider initiating a small position but await a potentially better entry point, given the risks of a pullback in the near term. The stock has a loyal following based on a quick scan on the social media which could have contributed to the rally. At the end of the day, Trulieve should be a case study for all cannabis firms that are looking to become profitable and reach scale. We have seen too many firms sacrifice profits for the sake of growth after all perhaps it is possible to achieve both. The biggest concern we have for Trulieve is its limited growth potential in Florida given its existing market share. Compared to companies like Charlotte's Web (OTCQX:CWBHF) that have the entire U.S. market potentially at its disposal, we think investors should pause and debate whether Trulieve has a limited addressable market. If and when they do announce expansions into other states, we will evaluate and potentially adjust our position accordingly.
Author's Note: Follow us to receive our latest publications on the sector. We also publish a widely read Weekly Cannabis Report, which is your best way to stay informed on the cannabis sector.
Disclosure: I/we have no positions in any stocks mentioned, and no plans to initiate any positions within the next 72 hours. I wrote this article myself, and it expresses my own opinions. I am not receiving compensation for it (other than from Seeking Alpha). I have no business relationship with any company whose stock is mentioned in this article.
Editor's Note: This article covers one or more microcap stocks. Please be aware of the risks associated with these stocks.