Summary
Why we should worry when the next bear market finally arrives.
The gain from pain.
Today's market in context and where we stand today in the current correction.
Why we should worry when the next bear market finally arrives. It has been nearly a decade since the calming of the financial crisis. And in the years since, any time the stock market started going down, even if it was for just a few trading days, policy makers scrambled to the rescue with injections of stimulus and reassuring words that they would do whatever it takes to support asset prices. While this has been tremendous in building the false confidence of a generation of investors, it has also set us up for a very big fall at some point in the future. Why? Because so many investors now have simply no tolerance for pain.
Gaining from pain. The benefit of character building experiences is right there in the name. For when everything is great all of the time, it can lead to thinking and behaviors that are frivolous, inattentive and careless. It can also encourage inappropriate risk taking. But when you go through a difficult, challenging, or just plain awful experience in life, it impacts you in a deeply ingrained way that often leads to greater seriousness, thoughtfulness, and prudence. And it also fosters greater resolve and determination to overcome the various obstacles that are inevitably thrown in our path along the way. Character building experiences are not fun. Instead, they are hard and painful. But the grit and determination that we gain from battling through these experiences help make us stronger.
Every investor gets a trophy. Unfortunately, investors have been deprived of any such character building experiences over the past decade. Instead, investors have been trained to think that they will automatically win simply by participating in the U.S. stock market. And the notion that the stock market can never go down, not even for a moment any more, has become embedded in the thinking not only of many investors but also policy makers and the financial media. And if we cannot as investors handle a period when the stock market as measured by the S&P 500 Index falls by -5% over a handful of trading days, what's going to happen when the stock market finally starts dropping by -20%, -30%, -40% or more over the course of a few years?
(Important note: I know some of you maintain the view that such a 'character building' decline would be a reason to celebrate for the few in a lifetime, long-term buying opportunities that it would bring – you know who you are and I know you already have a game plan in place for when such a day finally comes - I look forward to reading your comments and great insights!).
Today's market in context. Let's get this straight. The headline S&P 500 Index, the benchmark again which so many investors regardless of where they are participating in capital markets rightly or wrongly measure their performance, came within a single point – A POINT – of a new all-time intraday high on October 3, 2018. This date, of course, was last Wednesday. Just six trading days ago. Since that time, the S&P 500 Index has fallen by -6%. Not -40%. Not -30%. Not -20%. Not even -10%. But -6%. Over the last six trading days.
Moreover, it's closing price at 2765 on Wednesday is not only still more than +4% higher than where it was trading at the end of last year on a price basis alone, but is higher than where the market was trading just a few months ago in July and would have represented a new all-time high for stocks by a wide margin as recently as less than a year ago.
OK. Just wanted to make sure we were all on the same page.
Now the last few trading days have certainly been challenging. And Wednesday was the first time that we saw the S&P 500 Index fall by more than -3% since early February. But it wasn't even the worst trading day of the year at down -3.29%, as February 5 and 8 were worse at down -4.10% and -3.75%, respectively, when the S&P 500 Index fell as low as 2532 before finally getting its footing. Once again for emphasis, the S&P 500 Index closed at 2765 on Friday, nearly +10% higher than these February 2018 lows.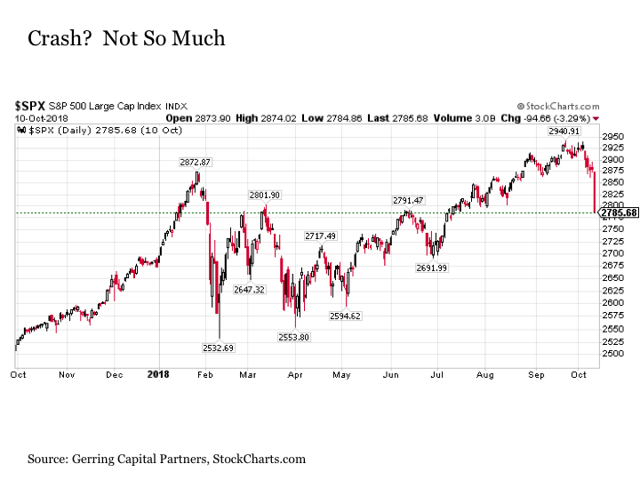 On the financial media. So how is this current stock market pullback being referenced in the financial media, the source to which many investors of varying levels of experience turn for answers during times like these? Consider the following descriptions that I have read in the news today – "crash", "wipeout", "wreck", "turmoil", "plunge", "chaos". Really? A stock market pullback of roughly -6% from all-time highs in the past week that still has the market higher for the year and we're using these types of adjectives to describe what's playing out right now? C'mon. I asked "Are You Ready?" in a post on Seeking Alpha this past weekend. Apparently, the financial media was not.
Now this is not to say that the current market pullback may not evolve into something much bigger than what has taken place thus far. It may actually be the very beginnings of a new full fledged bear market. Then again, it might be the latest in a very long line of post crisis U.S. stock market head fakes. Only time will tell. But even in the worst case scenario, this is an evolution that would almost certainly take place over a long period of time and will include sharp countertrend rallies that are just as swift as corrections we have seen over the past week. Put more simply, stocks do not drop in a straight line.
To highlight this point, consider the higher risk emerging market stock category, which has been rotting all year since the January 2018 highs. It is now in technical bear market territory at down -24% to date, but this has certainly not been a drop in a straight line.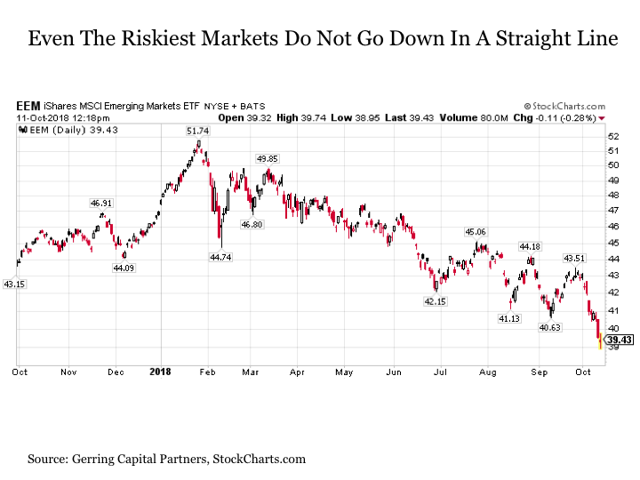 Even one of the most legendary stock market declines in history – the stock market crash starting on Monday, October 28, 1929 – saw stocks trading essentially flat nearly six months later on April 17, 1930 versus where they closed the day prior to the crash on Friday, October 25, 1929.
In short, even in the most dramatic character building scenarios, the lights do not go out on stocks all at once. It takes time. And its not "chaos" if you're ready for it in advance. Instead, it's a market of risk assets behaving like a market of risk assets. Sometimes you win. Sometimes you lose. Sometimes you lose badly. Such is the cost of playing, or at least it should be.
So where do we stand today? The market is down -6% over the past week. Whether it goes further or not remains to be seen. What should we reasonably expect from here?
Holding support. First, the S&P 500 Index needs to hold its 200-day moving average (red line below) currently at 2765 and rising. The benchmark index did drop as low as 2745 by around 11:30PM Thursday, but has since bounced back over this key support level. The S&P 500 Index is also now deeply oversold, so finding support at its current levels would be a reasonable outcome. And even if it were to close marginally below its 200-day moving average for a few trading days, this support level that has been strong dating back to the correction at the start of the year would still be intact.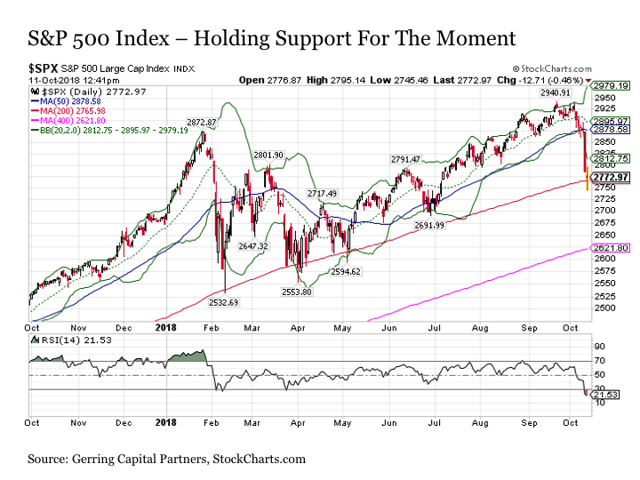 Now if the S&P 500 Index eventually breaks in a definitive way below its 200-day moving average support, expect a fairly quick move to around 2625, which is where its rising 400-day moving average (pink line above) currently resides. Things get a bit more tricky under this scenario. For if the S&P 500 Index holds support at this level and particularly if it bounces strongly, then the bull market continues on unchecked. However, if the S&P 500 Index slashes its way through this support level, then we will need to more actively begin considering scenarios where the longest bull market in history by some measures may finally be drawing to a close. Doesn't mean the S&P 500 Index still won't have a lot of bounce left in it, but the game does potentially start to change once the pink line is definitively crossed.
Supporting cast. Highlighting in real time what a definitive break of the 200-day moving average by the S&P 500 Index might look like, let's consider the performance of the large cap S&P 500 Index's supporting cast in the S&P 400 Mid Cap Index (MDY) and the small cap Russell 2000 Index (IWM). Both indices failed to hold support at their respective 200-day moving averages and are now descending toward their 400-day moving averages.
This development does not bode well for the S&P 500 Index, as these market indicators often lead the headline index and suggest that it too may eventually break to the downside. Of course, as the post crisis period has repeatedly demonstrated, such challenges for the S&P 500 Index are not insurmountable either. But if either or both of these U.S. stock market supporting cast members break below their respective 400-day moving averages, the probability of the S&P 500 Index eventually following suit rises along with it.
Earnings season. Another challenge for the S&P 500 Index to overcome will be the latest quarterly reporting season that starts in earnest tomorrow with the banking quartet of Citigroup (C), JP Morgan Chase (JPM), Wells Fargo (WFC), and PNC Financial (PNC) all reporting before the open on Friday. A number of companies have already lowered guidance in recent days and their stock prices have been taken to the woodshed for it, but it will be particularly important to watch over the next few weeks whether reported earnings can live up to their still lofty expectations.
What about bonds? By now, I believe many of us can conclude that the notion we can simultaneously trash the bond market (TLT) while singing the praises of the stock outlook is folly. Investors can justify paying more than 22 times earnings for the stock market today largely because bond yields have been so low. But once bond yields start screaming higher, the stock market simply cannot handle it. So for those market masters of the universe that are calling for 5% to 6% 10-Year U.S. Treasury (IEF) yields, know that such a move very likely comes with an ugly, UGLY bear market for stocks. From my perspective, I believe we are more likely to see 10-Year U.S. Treasury yields back below 2% long before they make their way above 4%, but that's one person's view. Unfortunately for stock investors, the trip in either direction for bond yields is very likely a "character building" one for stocks. Thus, in the meantime, investors should hope that 10-Year Treasury yields can hold in the 2.75% to 3.25% range for as long and as placidly as possible.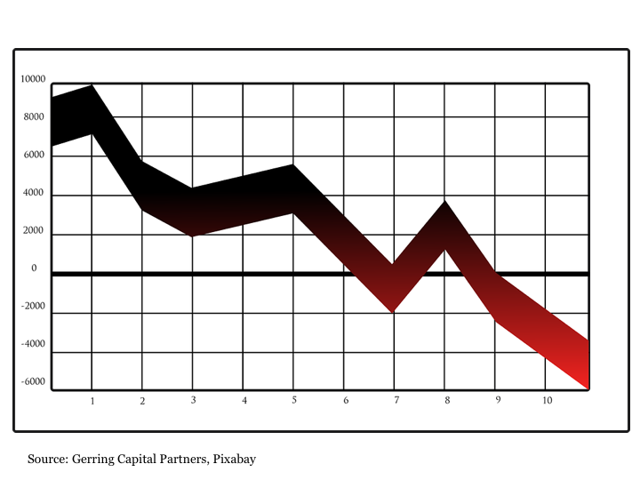 Build character. The past week for stock investors has been unpleasant. But it hasn't been a "crash", the market is not "wiped out", life is not in "turmoil", and nothing about it has been "chaotic". Instead, it is something from which we can learn. And the basis of this learning may already be over, or it may continue through the rest of October if not longer.
Experiences like what is playing out in the market right now should be a stark reminder why the risk evaluation process is so important when managing your portfolio. And it is a reminder for those that may feel blind sided by the market's recent developments that for as much as the stock market rise feels endless, that the higher it goes the more quickly and jarringly the downside corrections can come.
So how can investors go about building character? Do your own homework and look beyond the headlines found in the mainstream media. If you have not already done so, turn to sources such as Seeking Alpha and identify contributors and commenters who you believe present well-reasoned, balanced and cogent points of view. When compiling this list, search for those with viewpoints that you not only agree with, but also those with viewpoints that are starkly opposed to your own view as well as those presenting perspectives that you may not even understand at first. Consider all sides and understand these varying viewpoints even if you do not implement them, for it helps to make your own investment strategy stronger, potentially more robust from a risk-adjusted returns perspective, and better prepared for whatever lies ahead. You may not always win, but you will be a better, more confident, and resilient investor for it.
Disclosure: This article is for information purposes only. There are risks involved with investing including loss of principal. Gerring Capital Partners and Retirement Sentinel makes no explicit or implicit guarantee with respect to performance or the outcome of any investment or projections made. There is no guarantee that the goals of the strategies discussed by Gerring Capital Partners and Retirement Sentinel will be met.
Looking for character driven solutions for investing across the broad global capital markets spectrum? If so, come join us on Retirement Sentinel, my premium Marketplace service on Seeking Alpha, as this is a key focus of our portfolio modeling, research and discussion. A two-week free trial is now available for those interested in learning more. I look forward to you joining us on Retirement Sentinel.
Disclosure: I am/we are long WFC, TLT. I wrote this article myself, and it expresses my own opinions. I am not receiving compensation for it (other than from Seeking Alpha). I have no business relationship with any company whose stock is mentioned in this article.
Additional disclosure: I am long selected individual stocks and mutual funds as part of a broad asset allocation strategy.