The recent news of Ensco (ESV)-Rowan (RDC) merger (I wrote about it here) provoked discussion on whether the offshore drilling industry is really fragmented or consolidation will bring pricing power. The recent days were characterized by increased volatility, but I managed to find time to work with the Bassoe Offshore database and I want to present my findings.
The Bassoe database contains 125 (!) offshore drilling companies. Some of them are not really companies - they are just investment vehicles (which, most likely, represent unfortunate investments) or yards owning newbuild rigs, primarily in China. However, sometimes a company with one rig manages to employ this rig. There are 32 such one-rig companies. Also, there are 20 2-rig companies. The remaining 73 companies have three rigs or more. Note that the database also counts newbuilds that were ordered but haven't been delivered. Without further ado, here's the list: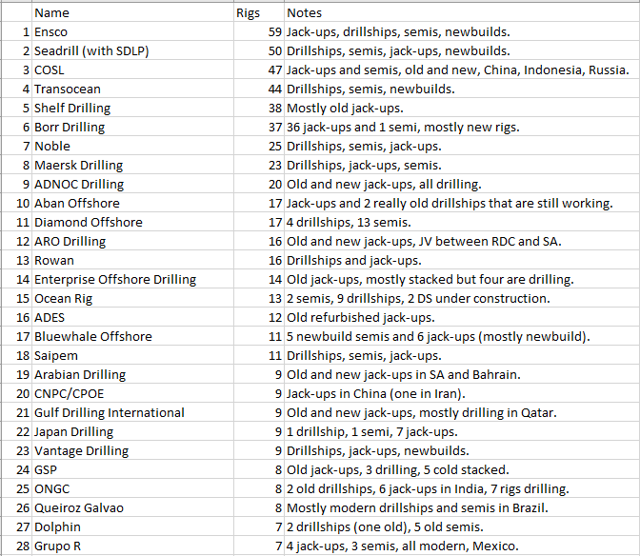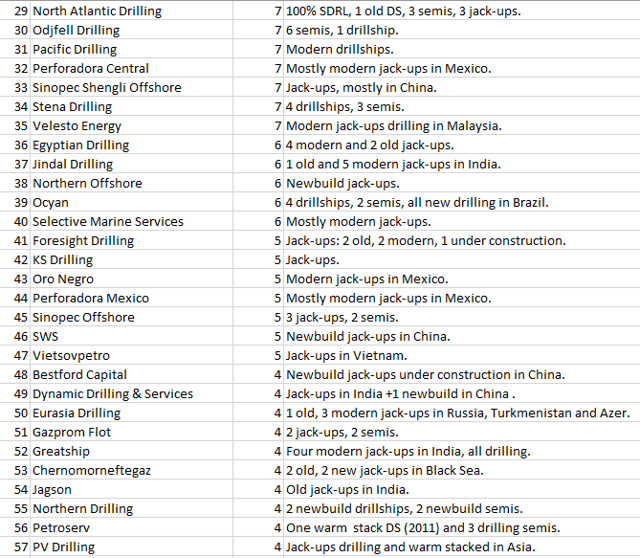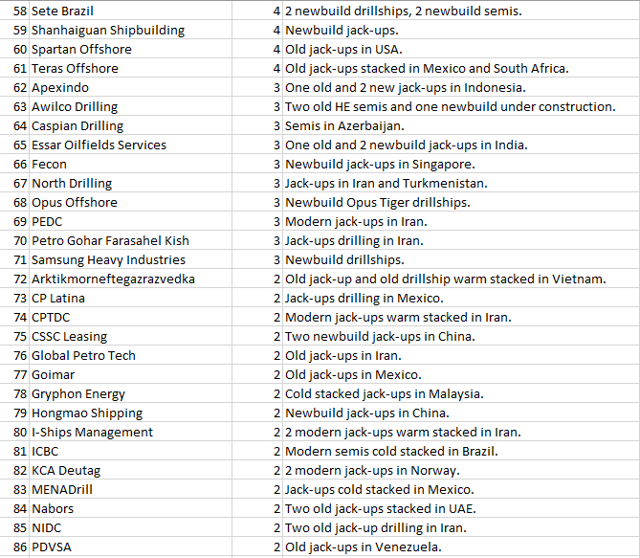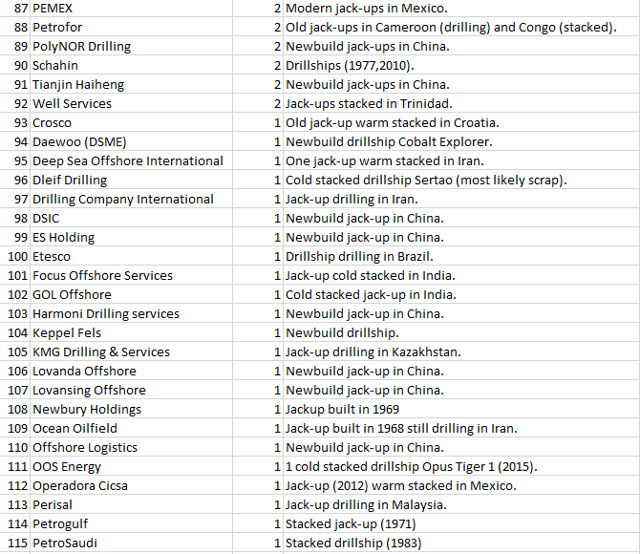 Source: Bassoe Offshore database, author's work.
In my opinion, judging by the data, the industry still appears highly fragmented. The situation is easier on the drillship side, which is understandable since owning drilling ships is a costly and technically difficult enterprise. The upcoming purchase of Ocean Rig (ORIG) by Transocean (RIG) and a merger between Ensco and Rowan will make drillship ownership more concentrated, but I do not think that it will automatically bring increased pricing power. Besides Transocean and Ensco/ESV, Seadrill (SDRL), Seadrill Partners (SDLP), Noble Corp. (NE), Maersk Drilling, Diamond Offshore (DO), Vantage Drilling, Pacific Drilling (OTCPK:PACDQ), Stena Drilling and a couple of Brazilian companies are notable players in this field. Only an increase in jobs and, therefore, utilization can solve the problem of this market segment. Consolidation, while generally positive for the industry, is not going to bring additional pricing power right now because too many companies are competing.
On the jack-up side, there is a myriad of companies, and many of them are fighting for jobs. While we can probably discount a number of one-rig speculative companies that built their jack-ups in China and now found themselves in deep trouble, there is still too many competitors, and this means that pricing will remain competitive until we see an increase in utilization. Major drillers with higher-spec rigs will likely have an upper hand, but it's hard to say that a rapid increase in dayrates is just around the corner.
Conclusion: The offshore drilling market remains highly fragmented as seen in the table above. The deal between two major drillers, Ensco and Rowan, is a major development for the industry, but investors should not expect that it will immediately have any effect on pricing - there's plenty of competition both on the jack-up and the floater side. I continue to expect that the upcoming earnings season will have a sobering effect as results will significantly lag expectations if we measure expectations by share price dynamics. As usual in the past years, this will present a multitude of trading opportunities in the segment. Longer-term investors should be ready for multiple bumps on the road to recovery. Stay tuned.
If you like my work, don't forget to click on the big orange "Follow" button at the top of the screen and hit the "Like" button at the bottom of this article.
Disclosure: I/we have no positions in any stocks mentioned, and no plans to initiate any positions within the next 72 hours. I wrote this article myself, and it expresses my own opinions. I am not receiving compensation for it (other than from Seeking Alpha). I have no business relationship with any company whose stock is mentioned in this article.
Additional disclosure: I may trade any of the above-mentioned stocks.
Editor's Note: This article covers one or more microcap stocks. Please be aware of the risks associated with these stocks.