Salesforce's (CRM) recent decline in share price warrants for additional analysis of the company to determine whether this decline calls for buying the stock. In this article I argue that even at this share price, the stock is too overvalued and brings no significant competitive advantage and return in the long run.
Fig. 1 - CRM share price dynamics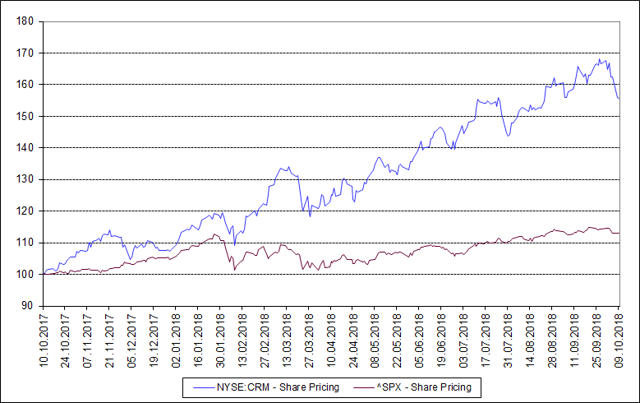 Source: CapitalIQ
Financials
CRM generates revenues from two sources: "(1) subscription revenues, which are comprised of subscription fees from customers accessing enterprise cloud computing services and from customers paying for additional support beyond the standard support that is included in the basic subscription fees; and (2) related professional services such as process mapping, project management, implementation services and other revenue." Subscription revenues accounted for more than 90% of total revenues in fiscal 2018. Therefore, one of the main operating metrics to judge whether the company will continue generating growth is its customer base and churn rates.
Unfortunately, CRM does not report its churn rates, which is worrying, because investors should have this knowledge as it is incremental in determining the company's operation performance. What CRM reports is net additions in terms of customers - 17% growth in 2019 as compared to 2018 in small clients with reported 40% and 67% in clients with annual revenue of $10m+ and $20m+, respectively. In fairness, it doesn't say much, as these figures don't match with average revenue growth, which is 20-25%. That means average contribution of one client is declining and that is an extremely bad sign.
Fig. 2 - CRM customer base forecast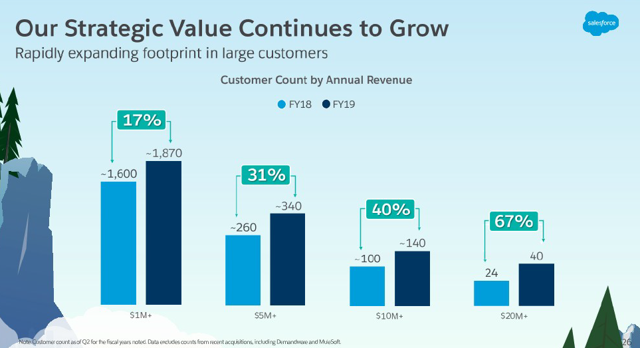 Source: CRM's investor day presentation
We also have to consider the fact that CRM is quite an active acquirer - at least more than 23 acquisitions in the last 5 years. That is a lot. When you consider slow growth rates you've got to wonder: What would happen with revenue growth without these deals? The most obvious answer is that it would be even lower, and that should frighten CRM's shareholders. Because if you can sustain these growth rates only by keeping capital expenditures at a high level, these rates will be quite hard to sustain.
Fig. 3 - CRM's revenue and EBITDA dynamics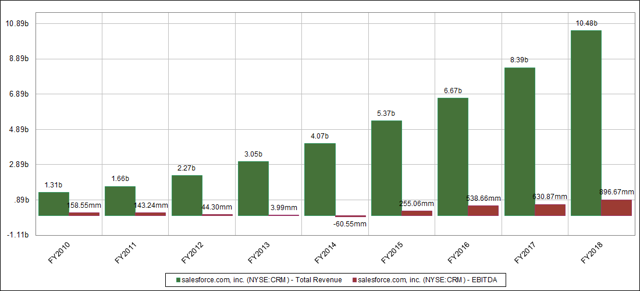 Source: CapitalIQ
But why does EBITDA margin not increase? Gross profit declined in 2017 by 200 basis points and stayed at this level in 2018. Actually, what helps CRM to decrease its expenses is pushing down SG&A, but that is not a good sign in terms of business model feasibility - if you can't increase margins by anything apart from SG&A, then your business might not be that good. One more topic in question is CRM's ability to decrease marketing expenses as % of sales. In 2018, this figure equaled 46% as compared to 47% a year before - only a slight change of 1%.
Market
Another point to consider here is that the CRM market growth rates are approximately 13-15% per year as per CRM's presentation. Keeping in mind that CRM is the market leader in practically all of these segments, its revenue growth is limited by the market growth (as they can not take 100% of the market and the market share growth is quite limited as well) - I'm speaking of the long-term forecasts, of course. That means, there is a strong limit in terms of the company's revenue growth we should consider while evaluating this investment case.
Fig. 4 - CRM market segment growth rates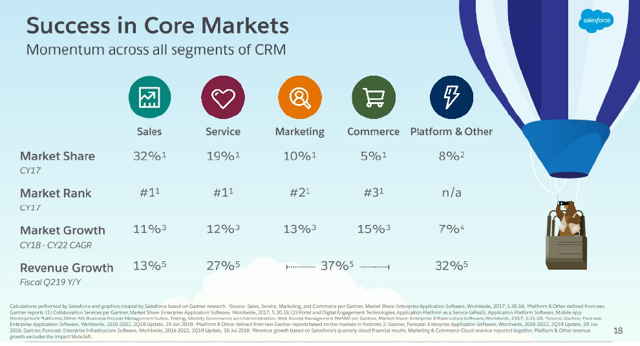 Source: CRM's investor day presentation
Relative valuation
Fig. 5 - Competitors' trading multiples (as of 10/10/18)
| | | |
| --- | --- | --- |
| Company Name | TEV/Total Revenues LTM | TEV/EBITDA LTM |
| Workday, Inc. (WDAY) | 11.0x | NM |
| Adobe Inc. (ADBE) | 14.1x | 39.2x |
| Citrix Systems, Inc. (CTXS) | 5.2x | 16.9x |
| Splunk Inc. (SPLK) | 9.9x | NM |
| HubSpot, Inc. (HUBS) | 11.4x | NM |
| VMware, Inc. (VMW) | 6.2x | 22.9x |
| SAP SE (SAP) | 5.4x | 20.4x |
| Oracle Corporation (ORCL) | 4.6x | 11.4x |
| Ceridian HCM Holding Inc. (CDAY) | 7.4x | 56.1x |
| Paycom Software, Inc. (PAYC) | 15.8x | 67.1x |
| salesforce.com, inc. | 9.6x | 102.8x |
Source: CapitalIQ
Based on the range of multiples for CRM's competitors, I arrive at a target price of $55.8, which is more than 2.5x times lower than the current market share price. Of course, it doesn't mean that I believe the stock price can get down to this level in the nearest future, but it can give a hint of how much this company is overvalued at the moment.
Conclusion
To summarize, for now CRM is overvalued due to extremely high multiples relative to competitors and due to active M&A activity, which is the crucial factor of sales growth rates, which are not that high as is.
I recommend to wait until there are more signs CRM's business model is feasible and allows the company growing faster and without significant CAPEX for M&A. As for now, my recommendation is to sell the stock.
Disclosure: I/we have no positions in any stocks mentioned, and no plans to initiate any positions within the next 72 hours.
I wrote this article myself, and it expresses my own opinions. I am not receiving compensation for it (other than from Seeking Alpha). I have no business relationship with any company whose stock is mentioned in this article.