Understanding GE's $23 Billion Goodwill Write-off - You Bet It Affects Cash
I recently watched David Faber conduct an interview on CNBC's "Squawk On The Street" with Yale management guru Jeffrey Sonnenfeld, and Bob Wright, former GE Vice Chairman and former NBC Universal CEO. Asked a question whether the dividend would be cut due to GE's announced goodwill impairment charge, part of Mr Wright's response was,
Don't forget this $23 billion is goodwill, it's not cash, right?
The other members of the interview panel did not object to this proposition. They should have. Writing down the value of a goodwill asset is a recognition of a reduction in expected future cash flows. Ratings agencies include expected future cash flows in assessing a company's ability to service debt. A large goodwill write-down is very significant for credit ratings. The sudden large change in assessed value of Power goodwill signals a recent recognition by GE management that Power will not stage a recovery to previous levels of profitability. The recognition of the loss of future cash flows from Power will influence decisions on the amount of debt the continuing core business can carry, with implications for Healthcare debt load, or restructuring, or both.
The Sequence Of Events At GE Leading Up To The $23 Billion Goodwill Write-off
Alstom was acquired in FY-2015, and only 2 months of operations were included in that year's results. Finalisation of Alstom purchase adjustments, including goodwill, was not completed until late 2016. FY 2016 financials included a full year of Alstom's operations and the finalized purchase adjustments. TABLE 1 is included below to aid in the discussion.
TABLE 1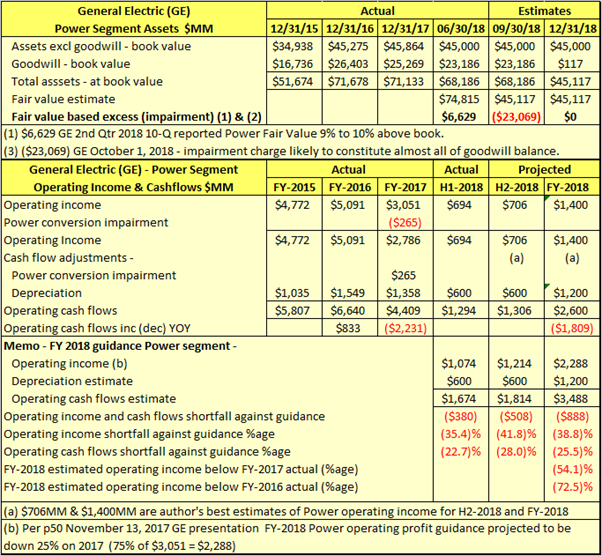 FY 2016 Power Segment Fair Value
Per TABLE 1, Power operating cash flow, with a full year of Alstom's operating cash flows included, was only up $833 million, to $6.64 billion, This was despite the Alstom Acquisition adding ~$17 billion to Power goodwill. The GE audit committee would/should have discussed this, particularly as to whether the cash flow projections used in the Alstom acquisition were still considered achievable. Discount rates used in General Electric's (GE) reporting unit valuations for FY-2016 ranged from 9.5% to 16.5%. (GE 2016 FORM 10-K p91). It is assumed Power discount rate would be towards or at the bottom of that range at 9.5%.
FY 2017 Power Segment Fair Value
Per TABLE 1, Power operating cash flow for FY-2017, with a full year of Alstom included, was $4.41 billion, down by $2.23 billion from FY-2016, and down by $1.4 billion from FY-2015, which included only 2 months of Alstom. By this stage, it had been recognized within GE, the Power segment had severe problems. The operating cash flows projected in the FY-2017 fair value calculations would almost certainly have been significantly reduced from those adopted for FY-2016. Despite this, only a relatively minor impairment charge was recorded. Power fair value calculation is based on total Power segment assets. Excess value of existing assets could be used to offset the impairments in goodwill of acquired businesses. The reduction of the lower bound of DCF rates from 9.5% in 2016 to 9.0% in 2017, likely used in the Power fair value calculation, would have also limited the amount of impairment (GE 2017 FORM 10-K p83).
FY 2018 Power Segment Fair Value Review
Public disclosures by GE of progress with "fixing" Power, and updates on fair value -
Something occurred in the nine weeks between July 27 and October 1, 2018, to cause the fair value assessment of GE Power segment to decrease by ~$30 billion, resulting in a goodwill reduction of $23 billion, and the replacement of the CEO. My thesis is, the GE audit committee, in reviewing the Power fair value calculations, found the board had not been informed of the full extent of the problems at Power. Furthermore, I believe it was only because management had to provide projected yearly cash flow numbers far into the future, for the purpose of fair value calculation, that the audit committee became aware of the extent of the problem. This was inexcusable, because the board relies on management for full and timely disclosure of all relevant matters, as explained below.
The Board Relies On Management For Full And Timely Disclosure - No "Surprises"
Board and management have a somewhat symbiotic relationship. The board is responsible for management's actions, and management relies on the board for advice and support. The board in providing that advice and support relies on management to keep them fully informed. Trust and cooperation are paramount in such a relationship. The board meeting is the primary place where matters of importance to the company are discussed between board and management. Where the CEO is also Chairman, the management effectively controls the agenda. With a packed agenda covering many important issues, there are difficulties for an individual board member to bring additional items on to the agenda for in-depth discussion. With 18 board members, as GE did have, directors have even more limited opportunity to raise matters that are not on the set agenda - it effectively dilutes the potential contribution of each director. In these circumstances, management has the responsibility, and obligation, to see everything relevant to the board's performance of its role is presented to the board in a timely manner. The board has a right to expect management will meet its obligations and ensure no "surprises" due to the failure of management to keep the board fully informed on a timely basis.
The GE Board Audit Committee Doing Its Job Was The Most Likely Trigger For The Events Of October 1
It is an important task of a board audit committee to diligently review asset fair value assessments, and impairments arising, to allow the board to have confidence in approving the financial statements put before them. The following are excerpts from GE's Audit Committee Key Practices document -
2. Review of Periodic Reports - Form 10-K in detail with the CEO, the CFO and the full board Form 10-Qs with the CFO.

4. The CFO shall review earnings releases with the chair of the committee prior to their release to the public, … Prior to the event, the CEO or the CFO shall review with the committee, or the full board, the substance of any presentations to analysts or rating agencies which constitute a major shift in company strategy or outlook.

14. The committee will also review and discuss with management and functional leaders areas that relate to the financial statements, …..and significant accounting judgments
The audit committee would have conducted their formal review of Power fair value sometime between late July and the announcement of the $23 billion goodwill impairment on October 1, 2018. This would be the first time newly appointed board members had been involved in such a review of Power segment fair value. I expect the committee members would have started by conducting a review, with the CFO, of the detailed assumptions used in the Q2-18 fair value assumptions calculations. These assumptions most probably were similar to those used in the FY-2017 fair value calculations and resulted in an excess in fair value of ~$6 to $7 billion (see TABLE 1). These assumptions would include discount rate, number of years of future cash flows included, growth/inflation rates, and basis for determining terminal value. The audit committee members have, among their number, suitably qualified persons to form judgments on these assumptions, both as to suitability for fair value calculation, and consistency with principles adopted for previous fair value calculations. But the audit committee would need assurances from and justification by management on the Power long-term cash flow projections.
The CEO of Power was evidently unable to give the necessary assurances Power would recover beyond 2020 -
The final and most important assumption to be reviewed would have been the actual yearly amounts of operating cash flows included in the cash flow projections. The committee would/should have discussed the Power operating cash flow projections included in the fair value calculations with the CEO of Power. These discussions would/should have been conducted without the CFO or CEO present, and assurances on the numbers should have been sought and received. I believe the CEO of Power must have been unable to give the necessary assurances as to how and when Power would recover from the current depressed levels of operating cash flows.
The Chairman and CEO of GE was evidently unable to give the necessary assurances Power would recover -
In the absence of assurances from the CEO of Power, the matter would have been discussed with the Chairman and CEO. If there continued to be an inability to provide the necessary assurances, that would have elevated the fair value assessment from one of -
"...review and discuss with management and functional leaders areas that relate to the financial statements, …..and significant accounting judgments"
to
"...a major shift in company strategy or outlook.
The Major Shift In Outlook For GE, Of Power Never Recovering To FY 2017 Levels, Has Serious Ramifications
The ramifications for GE of an acknowledgment by the Chairman and CEO that no assurance could be given of how and when Power segment would ever recover from the current depressed levels of operating cash flows, would have been enormous. The ramifications include:
a major shift in company outlook requiring public disclosure
potential necessary downward revision of GE internal long-range cash flow forecasts, with implications for liquidity
a reduction in projected cash to repay long term debt from reasonably assured future operating cash flows
potential impact on announced restructuring plans
lowered expectations for normalized EPS in the long term
lowered expectations for share price recovery, due to lower normalized EPS in the long term
The Major Shift In Outlook For GE Power Was An Unacceptable "Surprise"
On June 26, 2018, GE issued a press release - "GE Focuses Portfolio for Growth and Shareholder Value Creation"
Larry Culp, appointed Chair and CEO on October 1, had only taken his board seat 2 months previously, so had limited opportunity to influence in the final stages of planning that had taken place over 12 months. It is clear, from the following excerpts from the June 26 press release, this was the plan of the "old guard", Flannery, and former lead director Jack Brennan -
John Flannery, chairman and CEO of GE, said, "We are aggressively driving forward as an aviation, power and renewable energy company - three highly complementary businesses poised for future growth. ..." Flannery said in respect of Jack Brennan former lead director, "He has been especially helpful over the last year as we have conducted our review of the company and developed our plan to position GE for the future." (author's bolding)
I believe when the audit committee conducted their review of Power fair value assumptions, it was discovered management had failed to disclose a major shift in the longer term outlook for Power segment. This was an unacceptable surprise, and a failure of management to meet its obligations to the board. It is likely the combination of a simple fair valuation calculation and the diligence of an audit committee has brought down the Chairman and CEO of a Fortune 500 Company.
Author's note: I am close to proceeding with a Marketplace offering to crowd-source the analysts among us (professional, amateur, and aspirants), to join cooperatively and assist each other, contributing our individual experience and skill sets, to develop and share comprehensive and meaningful research reports and projections for a wide range of companies of interest to us. If interested in learning more and keeping abreast of my progress, please press the "Follow" button opposite my name at the start of this article.
Disclaimer: The opinions in this document are for informational and educational purposes only and should not be construed as a recommendation to buy or sell the stocks mentioned or to solicit transactions or clients. Past performance of the companies discussed may not continue and the companies may not achieve the earnings growth as predicted. The information in this document is believed to be accurate, but under no circumstances should a person act upon the information contained within. I do not recommend that anyone act upon any investment information without first consulting an investment advisor and/or a tax advisor as to the suitability of such investments for their specific situation.
Disclosure: I/we have no positions in any stocks mentioned, and no plans to initiate any positions within the next 72 hours.
I wrote this article myself, and it expresses my own opinions. I am not receiving compensation for it (other than from Seeking Alpha). I have no business relationship with any company whose stock is mentioned in this article.