Alibaba (BABA) continues to be a favorite among analysts and clearly to their detriment. These same analysts are content spending endless hours poring over the bullish fundamentals and why we must buy before it's too late, but won't spend 30 seconds pulling up a chart of the stock. According to most of them, technicals are voodoo and akin to reading tea leaves, but the tea leaf readers are clearly getting the last laugh. While there's no denying the strong fundamental picture for Alibaba with robust earnings and sales growth, the sour technical picture trumps this. While fundamental analysts might know the supply/demand picture for a stock in terms of the fundamentals, they cannot predict how all market participants will use this information - the only way to do this is by taking a temperature of the stock and watching charts. The charts for Alibaba have been broken for several months now, but some analysts continue to load up their portfolio with more while averaging down with no consideration for how this could affect them. Until Alibaba can put in a weekly close back above its 40-week moving average, the stock will remain in a bear market.
Taking a look at strictly the fundamental picture for Alibaba, we've got a sea of green below, and earnings and revenue growth which is unrivaled by any mega-cap companies that I'm aware of. Annual earnings per share have soared higher from $0.41 in 2011 to expectations of $7.55 for full-year 2019. This is growth of nearly 2000% over an 8-year span which is incredible for any company regardless of their industry. The bulls should also be comforted by the fact that annual earnings growth is accelerating based on full-year 2019 projections with growth expected to jump from 12% for 2018 ($5.00-5.58 estimates), to $5.58-7.55 for 2019 (35% growth). An acceleration in earnings growth is always a good sign for the bulls, and this is a reason why the fundamentals remain rock-solid for Alibaba.
On the revenue growth side, the numbers are just as impressive. Revenue growth was sitting in the mid 40% range for the last two quarters of 2016 and has continued to accelerate since and is now in the high 60% to low 70% area. This steady acceleration is extremely impressive as the most exceptional opportunities from the long side when earnings growth is coupled with revenue growth. This is because many companies can make progress with their earnings growth but it comes from cost-cutting or lumpy one-time items. When it shows up in the revenue growth as well as the earnings growth, you know that it's likely a stable uptrend with more room to go.

(Source: Author's Table, Microsoft Excel, Zacks.com)
We can get a better look at the trend in revenue growth below which consolidated briefly in the high 40% to low 50% for three quarters on a two-quarter average basis and has been trending higher since. While the two-quarter average for revenue growth dropped off from 71% to 70.5% last quarter, this is only a rounding error and I would consider it immaterial.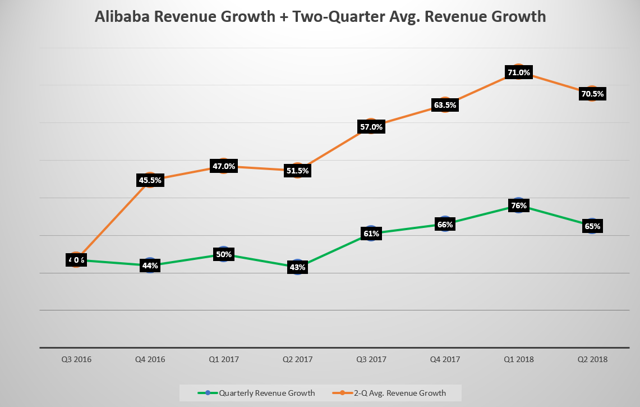 (Source: Author's Chart, Microsoft Excel, Zacks.com)
Based on looking only at the fundamental picture which the perma-bulls and fundamental-only analysts seem to be doing, there would be every reason in the world to buy the dip. The trouble with only looking at the fundamentals is that it paints an incomplete picture. Bruce Kovner had a famous quote which relates to the Alibaba bulls:
Fundamentalists who say they aren't going to pay attention to the charts are like a doctor who says he's not going to take a patient's temperature".
While the Alibaba bulls may have the fundamental picture nailed down and couldn't have picked a more solid company, the technicals are busy telling a completely different story. Taking a look at the weekly chart below of Alibaba, we can get a glimpse of this. The stock saw a massive uptrend from the 2017 low but has been consolidating for the past 12 months now. The breakout to new highs earlier this year was immediately sold into, and the stock saw its failed breakout turned into a base breakdown just over a month ago. Instead of bouncing back from the bottom of its base immediately like it did on past tests of the $170.00 level, the stock instead sat there listlessly unable to get back inside its box. This was a clear sign of institutional selling and this showed up very clearly in the monthly volume bars shown below. The big money cannot hide what they are doing in a stock, and as of Q2 2018, they were clearly net sellers with massive distribution bars showing this.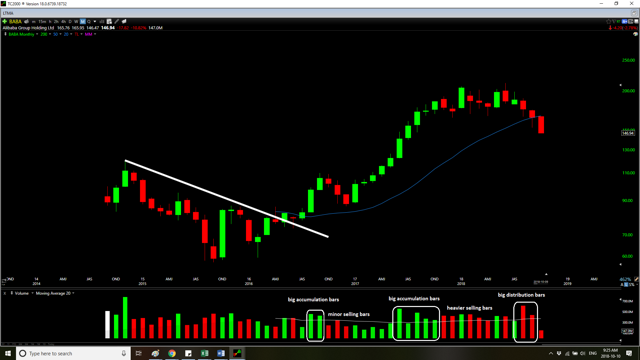 This mini base below the larger base shown below saw a breakdown just this week, and the stock ultimately looks like it's headed lower than the current $147.00 level.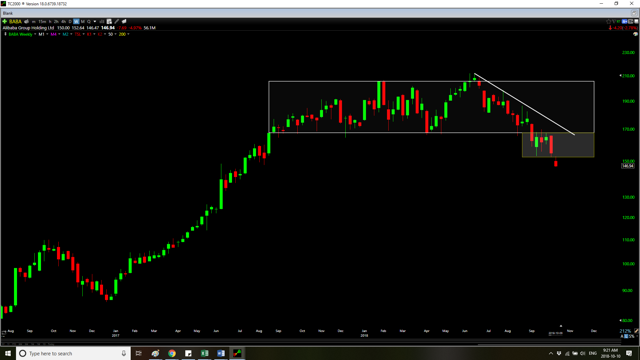 (Source: TC2000.com)
Taking a look at a daily chart of Alibaba from a trend-following perspective, the stock was saying "get out" over three months ago in early July. Alibaba had broken down beneath its 200-day moving average, the 50-day moving average (blue line) had begun to roll over, and the stock was clearly being sold into any rallies. This was the last real chance for longs in Alibaba to exit their positions, and at the minimum was a big sign suggesting to stay away and stop trying new long positions.
Despite this loud and clear signal to exit the stock and not attempt to start new long positions, we've had bullish analysts continuing to pound the table on the stock. This is the trouble with using only half of the picture to make one's investment thesis. While charts may seem like nonsense to some, especially in a market that only rises, we quickly see when a market heads into a correction who's been swimming naked as Warren Buffett famously said.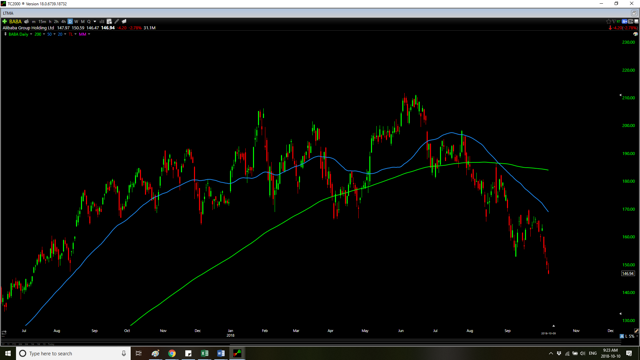 (Source: TC2000.com)
Moving to another daily look at the stock, we've had the stock trading in a descending channel for months. I don't know about most technicians, but I do not want to be long a stock that cannot even rise in a strong market. It should be obvious what might happen to it when it's forced to face a struggling market like we're currently seeing.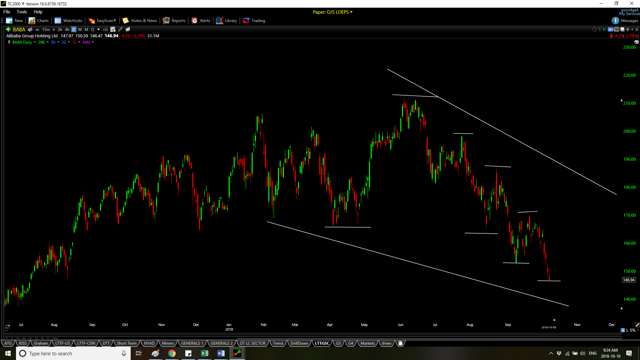 (Source: TC2000.com)
Based on the technicals for Alibaba, I have been calling the stock an avoid for months now and warning longs that were in the stock that it was not a sound investment. The inability for the stock to show any follow-through to its base breakout was not a good sign, and the confirmation when the stock broke down through the bottom of its base was an even worse sign. While I have not been short the stock, I have stayed far away.
So what are Alibaba longs to do now?
I believe that any sharp rallies in the stock are opportunities to exit positions at less of a loss and I see resistance for the stock at both $169.00 and $181.00. The next support for the stock does not come in until near the gap-fill area at $126.00 and this looks like the most likely target medium-term. I would consider any rallies in the stock to be noise if they cannot get above the 40-week moving average on a weekly close. The 40-week moving average for the stock currently sits at $182.00.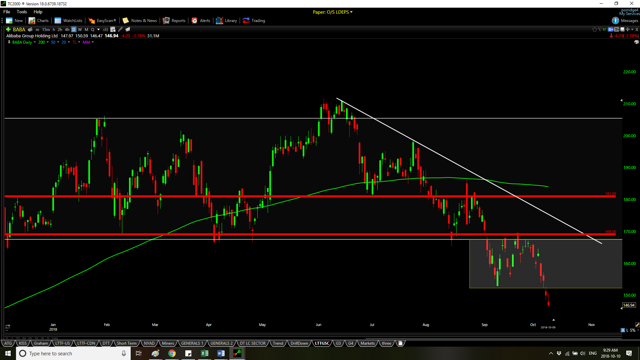 (Source: TC2000.com)
For those that are skeptical of price charts, paying attention to volume was also a huge asset in being warned of a potential top. As we can see in the below monthly chart of Alibaba, the smart and big money was accumulating in 2016 and early 2017, but they have been net-sellers since the second half of 2018 (shown by the large red volume bars below). The stock is now breaking below its 20-month moving average and I expect it to close below there on a monthly basis ($166.00).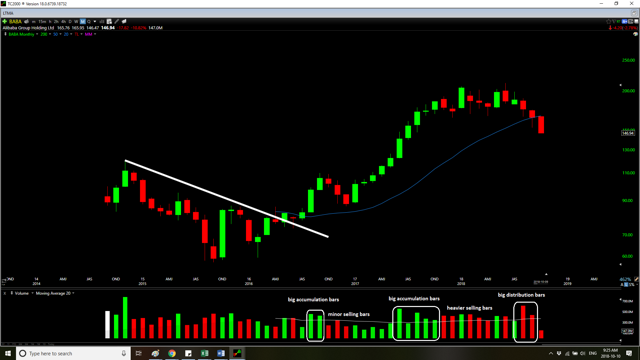 (Source: TC2000.com)
In summary, I believe Alibaba to be a sell into rallies and I believe that any rallies that can't reclaim the 40-week moving average are simply bear market rallies and opportunities to get out of losing positions. While the stock has exceptional fundamentals, the technicals are telling a completely different story. The trouble with fundamentals is that they act as a weighing machine, but in the short-term, the supply/demand and technicals act as a voting machine. The voting machine that is the technical picture and the bigger money will ultimately decide where a stock is going. While it's great to buy an exceptional company with strong fundamentals, it does not help if the institutional investor selling sends the stock leaves an investor at a 30% loss due to poor timing on an entry. This is why I believe that it's so important to look at both sides of the picture, and not solely the fundamentals. Just as I would not buy a terrible company with an enticing looking chart, I would not buy a great company with a terrible looking chart.
I absolutely do not marry nor even enter positions where the fundamentals are diverging from the technicals, and Alibaba is a great case study of why that is. It's fine to be ignorant and traders/investors will get away with it for a while, but in most cases, this will catch up to them. Just like you might change your doctor if he was never willing to take your temperature or perform other routine scans, you might want to consider changing your approach from fundamental-only and being open-minded to taking a look at what the big money is doing in your favorite stock. Alibaba remains in a bear market and will need a weekly close above the 40-week moving average to change this. Until then, I expect sharp rallies in the stock to be sold into.
Disclosure: I/we have no positions in any stocks mentioned, and no plans to initiate any positions within the next 72 hours.
I wrote this article myself, and it expresses my own opinions. I am not receiving compensation for it (other than from Seeking Alpha). I have no business relationship with any company whose stock is mentioned in this article.