A Day to Remember
We almost forgot that market can go down. Sharply.
Wall Street tumbled the most since February as fresh concerns about the impact of the trade war with China roiled technology (XLK) and industrial (XLI) shares.
The Nasdaq-100 (QQQ) tumbled over 4.3%, for its worst day in seven years, as investors seem to (finally) start abandoning the technology sector that had become (long ago) a very crowded and an extremely extended trade.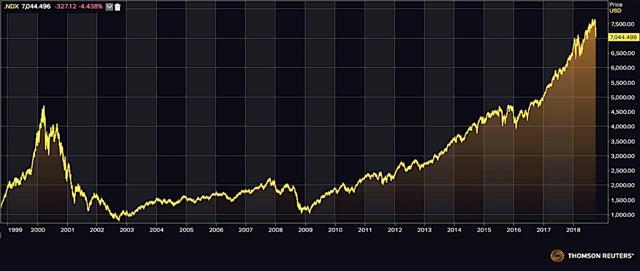 S&P 500 (SPY) is experiencing the longest slump since November 2016, the beginning of the Trump era.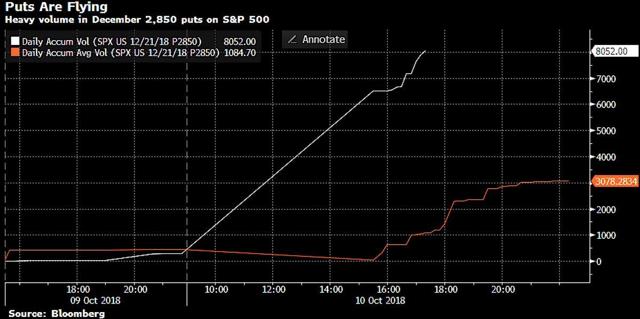 Dow Jones Industrial (DIA) dropped 832 points. Margin calls could trigger a bigger sell-off.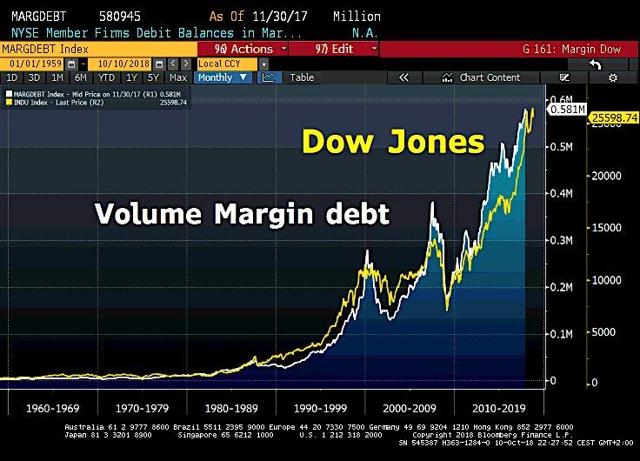 Two interesting observations:
1. 30-year Treasury yields ended the day higher. Long-dated government debt is no haven right now.
2. Small caps performed better than the large caps, with value doing much better than growth. The latter is not a big surprise; long due.
iShares Russell 2000 Value ETF (IWN) down 2.23%
iShares Russell 2000 Growth ETF (IWO) down 3.43%
iShares Russell 2000 ETF (IWM) down 3.59%
Crying for Help
Of course, in such days, we are looking for the "responsible adult in the room" to come and calm us, investors, down. You know, that guy who will say the right thing and put things into the right perspective.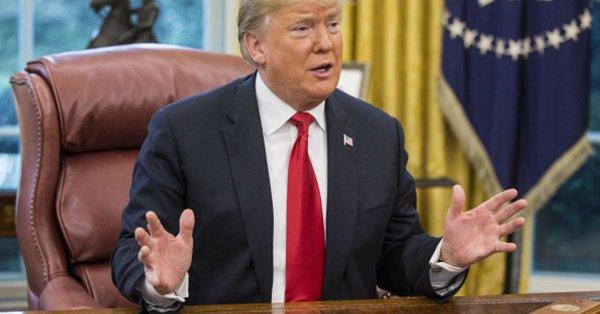 I must admit that I'm not seeing that person as of yet.
The fact that president Trump thinks that "the Fed has gone crazy" isn't helping much, to say the least. In his first reaction to yesterday's stock market plunge, he said:
It's a correction that we've been waiting for for a long time, but I really disagree with what the Fed is doing."
As for me, I agree with (and understand) what the Fed is doing on the monetary policy side much more than I do with (or understand what's going on) the fiscal policy side.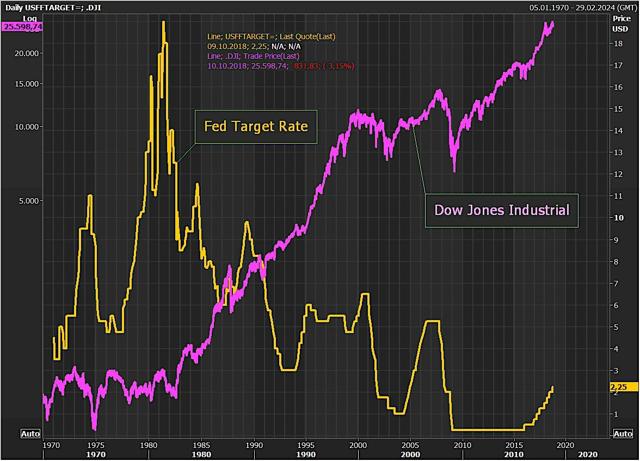 Perhaps it's only me, because, based on yesterday's rout, capping five straight trading days of declines for the S&P 500, there might be those who agree that the Fed is overdoing. The 5-day losing streak for the S&P 500 has started shortly after Fed Chair Powell's comments, on October 3rd, where he made it clear that the central bank is "a long way" from getting rates back to a neutral level.
Mohamed El-Erian, the former PIMCO's chief, believes that (it's a good thing that) the stock market drop won't stop the Fed from normalizing rates.
It's not an easy transition. It's going to be volatile but over the long term it's better for the health and robustness of markets
Due to the strong US economic data, El-Erian expects this pullback to be short-lived.
As always is the case, only time will tell.
Not Such A Great Morning in Asia Either
Unsurprisingly, things in Asia aren't looking that bright this morning as the Asian market is responding to yesterday's selloff in the US:
Hong Kong (EWH): The Hang Seng is off 3.8%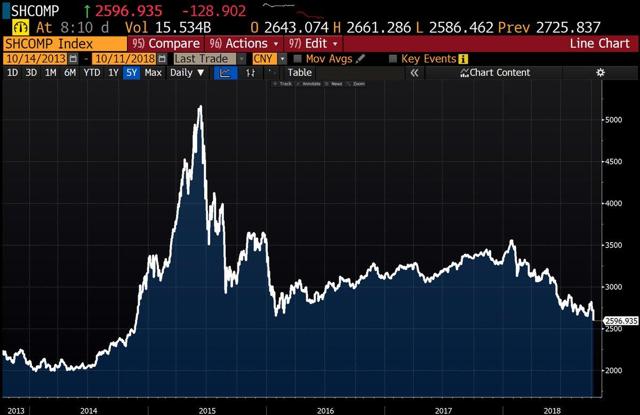 Taiwan (EWT): TAIEX is down about 5.8%. Why do we mention such a relatively small market like Taiwan? Because the 7.7% slide in Taiwan futures yesterday was the biggest fall since November 2000!!!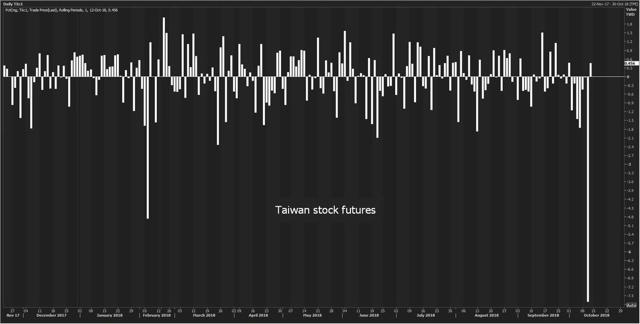 Following today's Nikkei plunge, all major markets in Asia are now in the red for the year, with China leading the way - down over 20% YTD.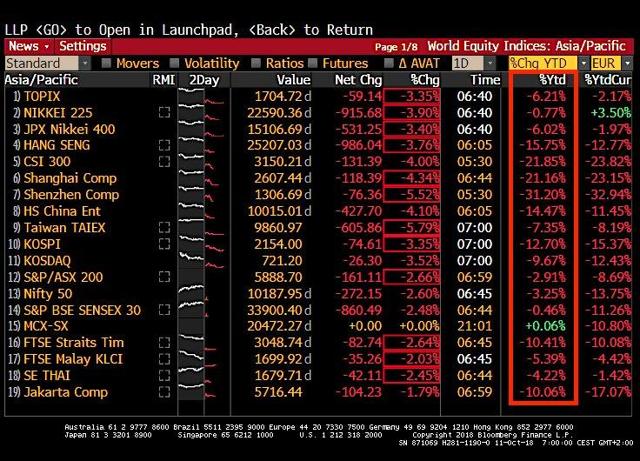 The broader MSCI Asia Pacific index dropped most since June 2016, when the United Kingdom's (EWU) vote in favor of Brexit rattled the markets.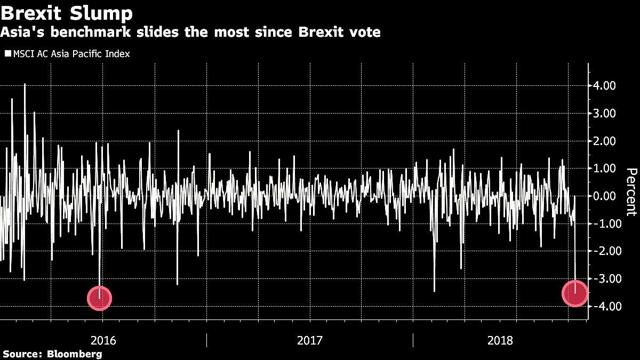 Massive Outflows Wherever You Look
It was only five days ago when we declared that we are "Rowing Against The Tide." Inflows into high-yield (HYG, JNK, AWF) and outflows from treasuries seemed weird at best, and we were saying (well, writing...) loud and clear:
This is not only another sign we are late in the cycle, but it's also a red-shining warning flag. Deterioration in quality (of debts) and investors willing to buy anything (regardless of risk) is a lethal combination that never ends well. Never!

US HY spreads at their lowest levels in five years make no sense whatsoever. Make no mistake: Such low spreads are insufficient and provide very little protection to investors.
It appears that money is flying out of corporate debt, from the riskiest to the safest bonds (AGG, LQD), at least based on ETF flows. These are pretty huge weekly outflows among the biggest credit ETFs, and they seem to be accelerating.

Investors continued to pull money from corporate debt ETFs overnight, building on one of the worst weeks ever in terms of outflows from these funds. HYG - the biggest high-yield bond ETF - has seen nearly $3B of withdrawals in the past week alone!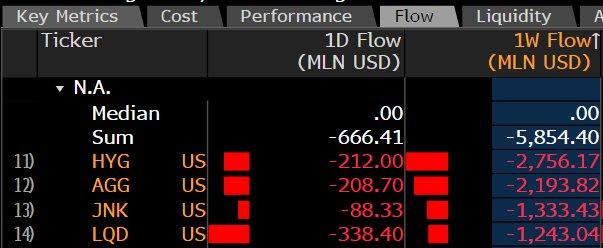 Have no doubt: Bond market slump is now clearly hitting high-yield funds. JNK, the 2nd largest high-yield ETF, sees biggest outflow in months.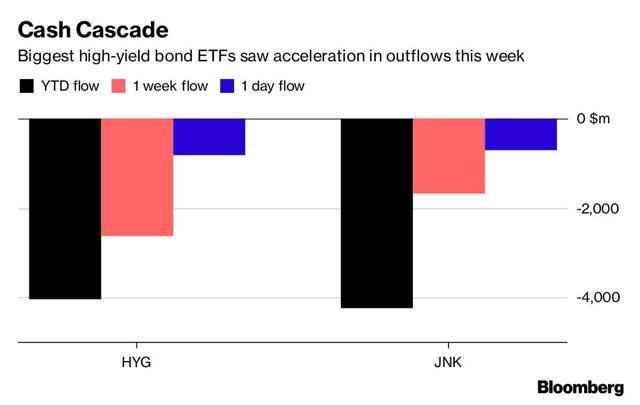 Yields on corporate bonds are also rising but at a slower pace than Treasuries.
Things Have Started to Deteriorate Much Earlier
We have been warning about credit markets over and over during the past few weeks, calling (high yield and long duration) bonds a "Runaway Train" and describing investors (in those bonds) as "walking towards and/or blindly falling off the cliff ".
Well, there you go...
This is data from the day before yesterday, i.e. October 9th:
BlackRock's (BLK) broad bond-market ETF (AGG) saw nearly $2B withdrawn from it. This is the biggest one-day ETF flow I can recall seeing.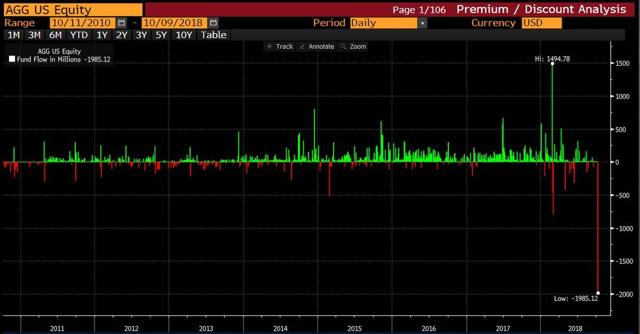 The huge spike in share volume that day is an indication that this wasn't necessarily just a one-off type-of-trade executed by a large asset manager.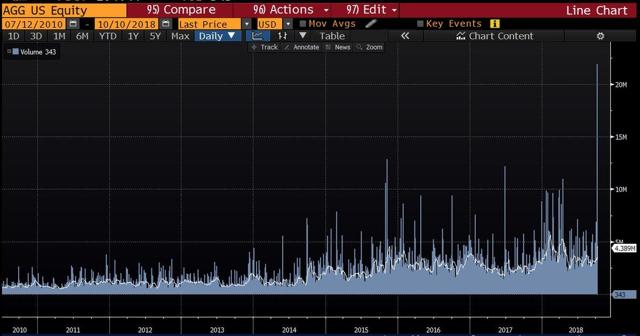 Came yesterday (10/10) and the above sentence should be revised to: "The huge spike in share volume that day a clear indication that this wasn't a one-off type-of-trade", rather a big, flashing, warning sign hanging on the wall (street).
But wait - that's only the tip of the iceberg (As much as $2B can be referred to that way...)
The AGG saw a massive $5.5B outflow over the past week alone. That's about 4-5x worse than any other week in recent memory.
According to JPMorgan analysts, citing Lipper data, investors pulled $5.4B from high-yield bond funds between October 4th-9th, the most since February when there was the second-biggest withdrawal on record.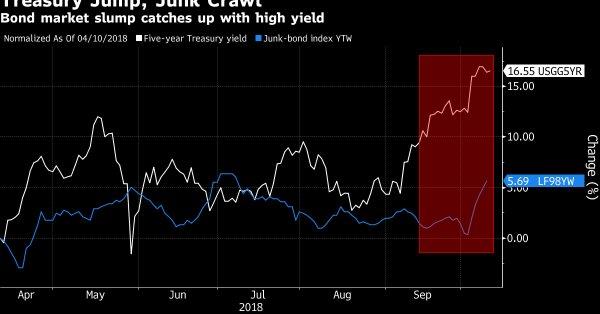 And if all of this isn't enough - there comes the punchline: Short interest on HYG has risen to the highest on record, which means that 56% of shares are currently shorted. Needless to say, that is the most ever on a percentage basis as well.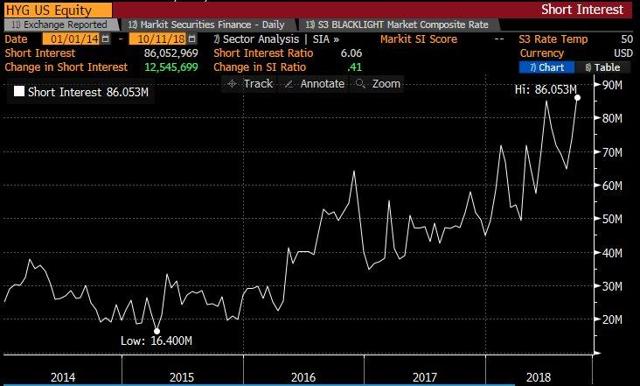 How flashing bright (or black...) can it be more than that?
Automotive as an Example
Last month, on September 5th, General Motors (GM) got itself a very good deal when it sold $900M of 30-year debt carrying a coupon of (only) 5.95%.
This bond buyers? Not so much... Since this debt was sold, price has fallen by nearly 7%.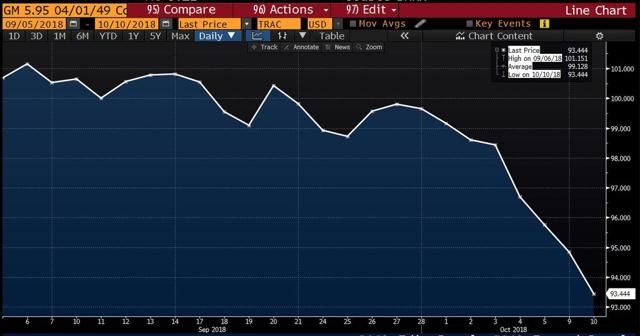 How many times have we mentioned that long-duration is a death trap for bonds investors over the past month? More than I can recall.
According to Trace data, seven of the ten worst-performing US investment-grade bonds yesterday belong to that very same General Motors and its colleague Ford (F).
It's unclear what the exact catalyst is, considering that these automakers have faced some serious known challenges for a while. However, my point is that when you look at the maturity dates, they are all long. Very long.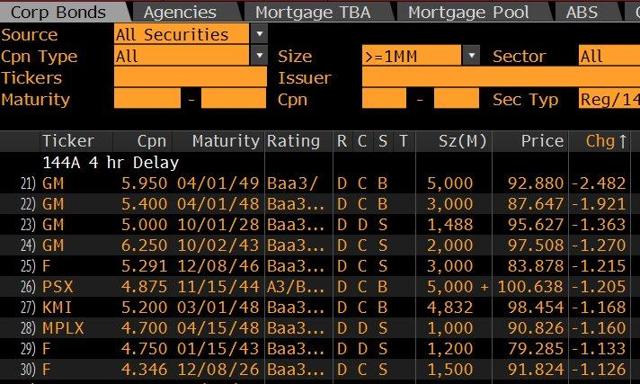 In spite of these bonds carrying an IG-rating and with no specific news to drag them down, it's clear that the main cause for that negative trend is the duration - the single-biggest risk across US credit markets these days!
Credit Quality
Having said all of that, high yield (HYG, JNK) bonds spread widening is very muted during this equity sell-off, suggesting that this is not a complete roll-over in risk appetite after all.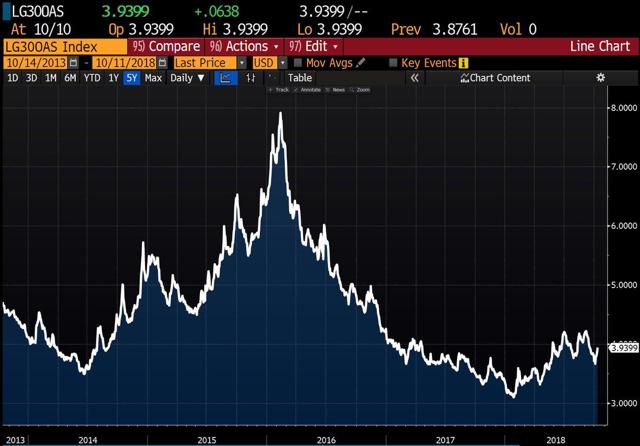 However, that's not telling the real story overall.
According to Bloomberg Barclays data, US high-yield bond spreads rose by 37 bps in the past four days, the most for a similar period since December 2014!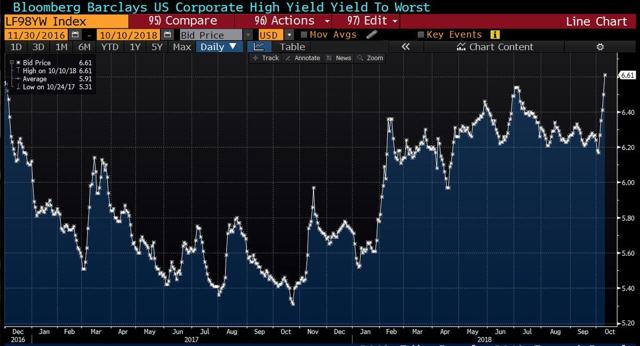 All-in yields on junk bonds are now the highest since November 2016!
This isn't stopping at HY, though! US investment-grade bond yields are now at their highest levels since early 2011.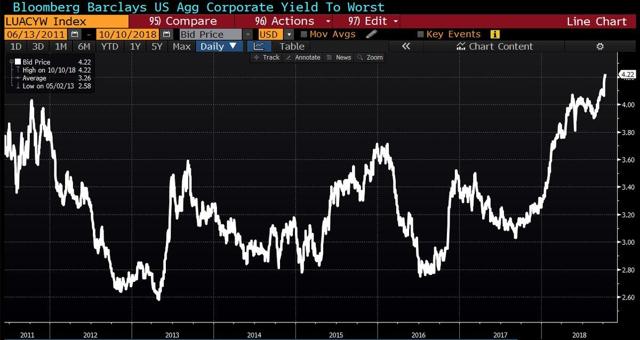 This is a significant repricing of the $5T credit market.
Thing is, corporate credit quality - measured by ratings distribution among S&P 500 companies - is far weaker than it has been during the previous credit cycle peaks of 2000 and 2007. It isn't even close. Much of this deterioration has occurred since early 2015.
This means that companies like Tesla (TSLA) are facing much greater difficulties in meeting their debt obligations.
Higher funding costs (due to rising rates/yields) and a huge debt wall for corporate America is a lethal combination. Corporations have to deal with unfavorable terms and conditions like they never had to face at any point in time over the past (almost a) decade (post subprime crisis).
As a matter of fact, Tesla has only 142 left days before some very big debt bills start coming due.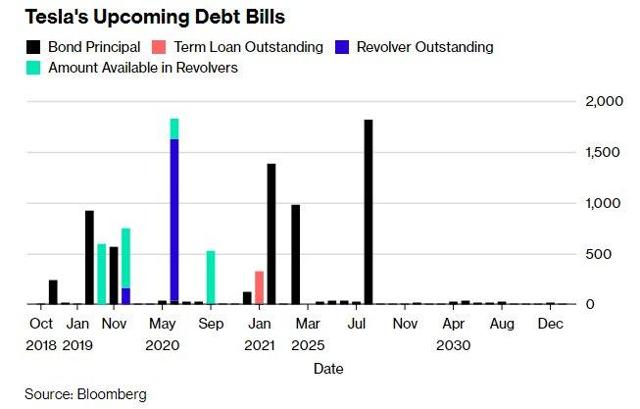 Guess Who's Back?
The CBOE S&P 500 Volatility Index, aka VIX, has spiked yesterday by a whopping 44%, on a toxic mix of micro and macro problems, to over 20 after a long, long time of trading in single digits.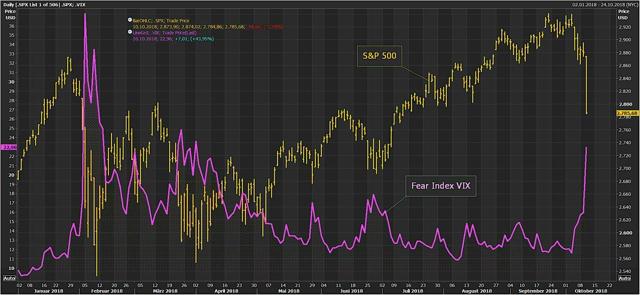 Yesterday's sharp move up means that the "fear index" is now very proud with its over 100% this year.
Of course, as always is the case with ETFs that suffer from decay (just another reason to avoid many of those), this isn't exactly shown in the iPath® S&P 500 VIX ST Futures™ ETN (VXX) tracker with only about 1/5 of the VIX's return this year.
Guess Who's Not?...
Gold, on the other hand, is no longer a safe haven asset. Price of the precious metal kept dropping, even yesterday, in spite of the stock market rout and VIX spike.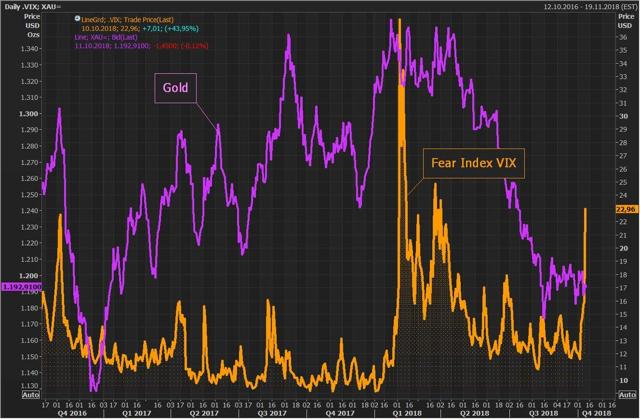 Last but Not Least
We started with Asia, so let's finish with Asia.
Japanese (EWJ, DXJ) banks bought a record amount of foreign bonds in September.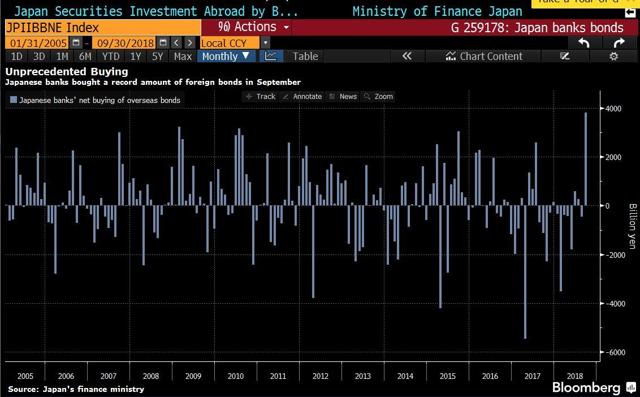 This is what I call a (not so) perfect timing...
Bottom Line
Bonds were already on pace for their worst year in history (since 1976) before yesterday's action. Nevertheless, yesterday is another shining reminder that when it comes to bonds:
1. Don't fool yourself! What You See Is What You Get
2. It's never too late to do the right thing! Fasten Your Seatbelts, It's A New Ball Game
3. Stick to the place where you can find the best risk/reward profile - The United States, the one and only master of the (investment) universe and, more importantly, the place that is now offering what investors view as a dream come true (from a credit perspective): Higher yields and lower risks.
Regarding higher yields:
The US-Germany (EWG) yield spread is at its highest level since 1988!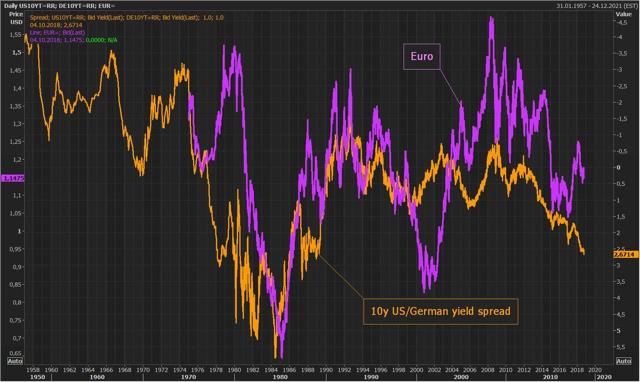 Regarding lower risks:
I won't repeat everything I've already wrote about Europe (VGK, EZU), Italy (EWI), Spain (EWP), Turkey (TUR) or Greece (GREK) - you can find it all in here - but it's enough to look at the below chart and compare it to the Fed policy that we already discussed above.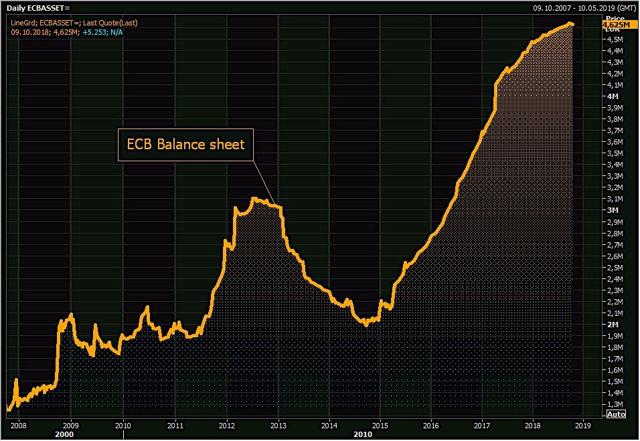 It almost feels like a free lunch. Won't you like eating the cake and have it too?
Hardly ever colossal mistakes lead to important discoveries or positive outcomes. It's a wonderful world with a great divergence that can't, i.e. won't, last for too long.
As always, hope for the best, prepare for the worst!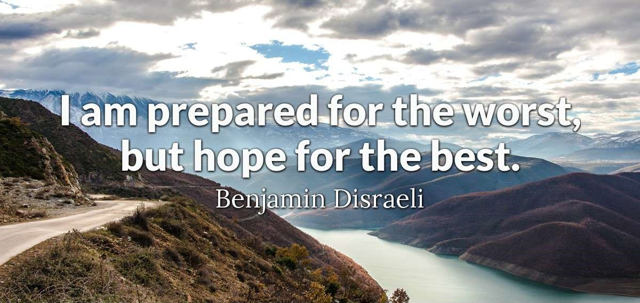 Author's note: Blog post notifications are only being sent to those who follow an author in real time. In order to receive notifications for both articles and blog posts, go to Author Email Alerts, which lists all the authors you follow, and turn on "get e-mail alerts" (see below).


The Wheel of FORTUNE is one of SA Marketplace's most comprehensive services. We view our service as a "supermarket of ideas" with an emphasis on risk management and risk-adjusted returns.
We cover all asset-classes: common stocks, preferred shares, public debts, baby bonds, options, currencies, and commodities.
With Trapping Value on-board, you're getting two leading authors for the price of one.
Before committing to the service on a long-term basis, take advantage of the two-week free trial.
Disclosure: I am/we are long JPM.
I wrote this article myself, and it expresses my own opinions. I am not receiving compensation for it (other than from Seeking Alpha). I have no business relationship with any company whose stock is mentioned in this article.