Magna International (MGA) was recently listed as one of my top three buys. Since that buy call in mid August, however, the stock has sold of another 11%+, bringing it to levels last seen 13 months ago.
Despite this apparent "bad" call, I am celebrating these developments. Here is why:
Reason #1: The Tariffs Aren't As Damaging As They May Seem
In my August 19 article on Magna, I highlighted as part of the bear thesis:
The U.S. trade war with China and ongoing NAFTA uncertainties will knock ~$60 million per year off of Magna's profits.
Since then, NAFTA negotiations have been resolved, with minimal impact to MGA (in fact, they have a larger presence in the U.S. than they do in Canada, making them indifferent to where they manufacture vehicles and auto parts). In fact, shares surged immediately following the deal. What brought shares back down was a combination of weakness in the auto sector with increasingly negative rhetoric between the U.S. and China in their ongoing trade war.
However, it is important to remember that before the NAFTA negotiations were completed, MGA management projected after a thorough analysis that the tariffs would only result in a $60 million short-term hit to profits. Eventually, assuming the tariffs do not subside, some of this cost will be passed on to consumers, mitigating the impact. Furthermore, MGA's strong positioning around the globe enables it to be quite flexible in running its supply chain. While the impact is real and should not be entirely ignored, as management highlighted a few weeks ago at an investment conference, they have numerous levers at their disposal for navigating the tariffs in order to minimize impact to their business. For example, they recently formed a partnership in Morocco to capitalize on cheaper labor and easier shipping access to their fast-growing European market. Regardless, it should be obvious that the impact of the tariffs is not significant enough to warrant a nearly 30% decline in share prices off of 52-week highs.
Reason #2: The Business Remains Very Healthy
Despite some challenges in their Chinese transmission business, the overall business remains very healthy as what Jim Cramer calls "the best single auto parts and assembly manufacturer." Despite this setback and the impact of tariffs, MGA still set all-time records for sales and EPS in Q2 and envisions continuing to set new records in the quarters and years to come. Q2 revenues were up 12% year-over-year, Adj. Diluted EPS was up 15% year-over-year and, thanks to strategic investments made over the past several years, CapEx is beginning to fall off in their core businesses even as revenues and earnings continue to grow, meaning that their free cash flow is projected to grow substantially over the next several years. Even with the impact of tariffs they are expecting to generate well over $6 billion of free cash flow between 2018 and 2020, equaling roughly 40% of their current market cap.
On top of that, they are moving their business into position to sustain their strong growth momentum into the future and capitalize on what CEO Donald Walker calls a "huge opportunity" in the automotive industry. They have established a significant equity stake in and autonomous vehicle technology development partnership with Lyft, bolstering their position in a field where they have always outgrown the industry. Furthermore, they recently formed an EV joint venture partnership in China, adding to their already impressive assortment of partnerships with Silicon Valley groups that have contributed significantly to their strong position in vehicle electrification. By leveraging these partnerships in conjunction with their efficient manufacturing competitive advantage and strategic tuck-in acquisitions, MGA is confident they will continue to achieve strong growth, despite a slow-down in the overall automotive sector.
Reason #3: The Company Is Buying Back Shares Hand Over Fist
With a very strong balance sheet, impressive free cash flow generation, and a stock that is trading at a very low multiple, management is unlocking shareholder value by aggressively repurchasing shares, reducing the share count by ~30% over the past seven years and by over 7% over the past year alone: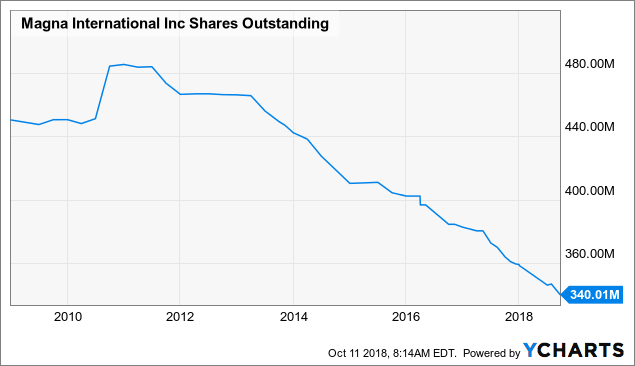 With free cash flow rapidly increasing and share prices plunging to a P/E multiple of ~6.5x forward earnings, the pace of buybacks should only increase moving forward. The more share prices fall, the more shares management can repurchase, thereby increasing investors' free cash flow per share.
This is especially exciting given that recently MGA sold its global fluid pressure business at a significant premium to its current valuation multiple, a non-core operation, in order to free up cash flow to focus on its core/growth CapEx and shareholder capital return programs. By ploughing the proceeds into share repurchases, management can instantly unlock significant shareholder value.
Investor Takeaway
Anytime a healthy business with low leverage is trading for less than 7x forward earnings, with much of that in the form of free cash flow, it is an attractive buy. When that business is also well positioned as an innovator and manufacturer in cutting edge technology while growing EPS at a double-digits pace alongside increasing its free cash flow as a percentage of operating cash flow, it is a screaming buy. Due to overblown fears of tariff impacts, the strong underlying health of the business, and management's capacity and demonstrated focus on rapidly reducing the share count, I am cheering the falling share prices and am gradually adding to my position.
Disclosure: I am/we are long MGA.
I wrote this article myself, and it expresses my own opinions. I am not receiving compensation for it (other than from Seeking Alpha). I have no business relationship with any company whose stock is mentioned in this article.