Canada is on the cusp of nationwide recreational cannabis legalization. Unlike the United States, where it's legal only in nine states and still illegal at the federal level, Canada is going all-in on the Mary Jane. With landmark marijuana legislation passing in the Great White North, the burning question seems to be: Is now the time to invest in cannabis, eh?
As my Seeking Alpha colleagues Daniel Shvartsman and Mike Taylor aptly observed in a recent episode of their podcast, Behind the Idea (shout-out to Behind the Idea), pot stocks are less of a black box than they were just a few years ago. In other words, pot stocks are less smoke and blazes - they're more transparent, and well, you might even say management is more blunt in some cases. Nonetheless, as Daniel pointed out in the companion article to the podcast, current price action may indeed indicate that MJ stocks are in a bubble.
We connected with Jonathan Cooper, who's been writing about pot stocks on Seeking Alpha since last year, and a Canuck who's on the ground in-country, to give us his take on the current state of cannabis and find out just how potent of a market this is for investors. Jonathan authors the newly launched The Growth Operation on Marketplace, and he had some sharp observations to share. A few of the highlights: public sentiment on cannabis is shifting favorable, the market opportunity is enormous as more countries may jump on the legalization bandwagon, and his current favorite cannabis idea is Quebec-based HEXO (OTCPK:HYYDF) - quite the growth story indeed. We're quite (s)toked to bring you this interview, so let's get to it.
Seeking Alpha: Give us a lay of the land. What's the current state of the cannabis market?
Jonathan Cooper: Recreational cannabis is legal in nine U.S. states, although it is still federally illegal. Meanwhile, recreational cannabis will be legalized nationwide in Canada on October 17. I would expect the early stages of Canadian legalization to be similar to what happened in Colorado and Washington - a rocky start followed be several years of strong growth. On legalization in October, there is likely to be too few stores and too little cannabis, resulting in long lines and sold-out products. According to Canopy Growth (CGC) CEO Bruce Linton, there is "no chance" licensed cannabis producers will be able to meet demand in October 2018.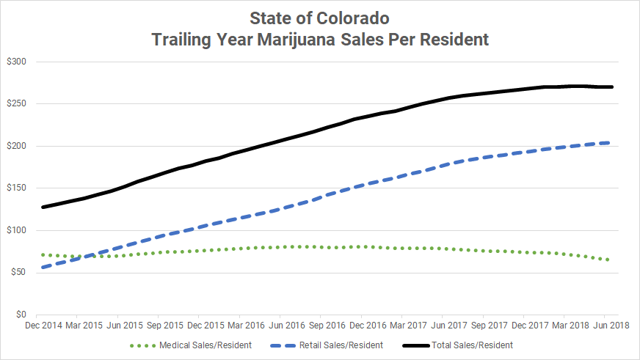 (Jonathan Cooper, from "American Cannabis: A Potential $90+ Billion Market")
As with Colorado, I expect that the Canadian cannabis market will see years of growth after initial legalization. On October 17, Canadian cannabis producers will be able to sell only a limited range of products. For example, edibles and vape pens will be off-limits until some time in 2019. Despite that, there's already a "gold rush" to the market and combined market caps of Canadian cannabis companies are more than C$70 billion.
Americans companies, to date, are much smaller than Canadian companies. This is related to the state-by-state nature of legalization and the federal illegality of cannabis. This has meant that American cannabis companies only have access to smaller Canadian public markets and are not found on the US exchanges with the likes of Canopy Growth, Tilray (TLRY), and soon Aurora Cannabis (OTCQX:ACBFF). This has also meant that big investments from outside cannabis – like those from Constellation (STZ) and Molson Coors (TAP) – have been made into Canadian companies rather than American ones.
SA: Why should investors care about this space?
JC: Investors should care about this space because of the enormous potential of the market as cannabis laws liberalize around the world. Cannabis has been a multi-billion dollar market for decades, but investors have not before been able to invest in that market. This is quickly changing.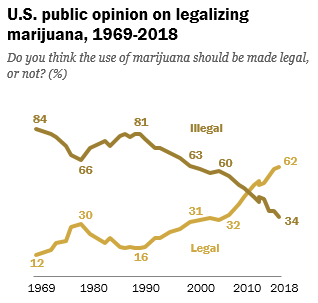 Public opinion is in favor of cannabis legalization. A Pew study from October 8 found that 62% of Americans are in favor of legalizing cannabis – up from only 31% in 2000. This public opinion shift will lead to market opportunities as countries vote to legalize cannabis, for both medical and recreational purposes.
The potential market will be enormous. Market size estimates vary, with Constellation Brands and Canopy Growth using a figure of $200 billion USD by 2032. That figure is very speculative but could still be too low. For comparison, the global alcohol market, with only modest growth, will be 10 times that size.
Cannabis companies are competing for a slice of that global market. Over the next decade, I expect to see phenomenal growth in the legal cannabis market and the creation of enormous amounts of wealth.
SA: How do you evaluate cannabis stocks? What are the key metrics you use to identify a solid idea?
JC: Right now, we have limited information on what a large-scale cannabis company looks like. The largest cannabis companies today generate relatively little quarterly revenue. In their most recent quarters, Canopy Growth reported revenue of C$26 million, Trulieve (OTCPK:TCNNF) $23 million, and Aurora had pro forma revenue of C$33 million (after their merger with MedReleaf). These revenues are dwarfed by potential revenue when Canada legalizes cannabis next week – Deloitte estimates that market could be C$4.3 billion in the first year and increase rapidly from there.
Because of the nascent state of the market, investors must use their judgment and pick the beta metrics we can from the data that is available. Traditional ratios like EV/EBITDA and P/E ratios will be important, but projecting EBITDA and earnings is much more speculative than it would be in an established market. In Canada, we have a few data points that we can use. Distribution of cannabis in Canada is handled at the provincial level – by a government body in nearly every province (except Saskatchewan). The agreements to supply those distributors with cannabis will be key to having your product on store shelves in that province. So, we can look at how many supply agreements each company has signed.
About one-third of those supply agreements disclose an order size. The quoted figures vary - some are annual figures while others are initial order sizes, and some figures are minimum orders while others are maximum orders. While the reported figures aren't all apples-to-apples comparisons, they are perhaps the best guide we have to potential future revenue – it is telling that, for example, Quebec's order from HEXO (OTCPK:HYYDF) will escalate to 45,000 kg/year by year three when Quebec's next-largest single order was 12,000 kg/year from Aphria and Canopy Growth.
Other metrics we can use include a company's ability to produce cannabis – how much greenhouse space do they have and how many kilograms/year of dried cannabis (or cannabis oil) can they produce? I'd also look at when exactly that production will come online. There have been frequent warnings that cannabis supplies will be short for about the first year of legalization, matching what happened in Colorado and Washington state. It is more valuable to have production online today – when cannabis will be in short supply and every producer will be able to sell nearly every gram they grow – than it will be in a few years. Production size will also be beneficial for cannabis companies looking to attract big investors into the space – companies like Altria (MO) or Coca-Cola (KO) will want to produce products at massive scale, and that will require access to a lot of cannabis.
More detailed thoughts on these ideas can be found in my article, "Investing In Canadian Cannabis: A Brief Primer."
SA: You recommend diversifying one's cannabis portfolio. What does that mean, and how is it different, if at all, from "regular" diversification principles?
JC: Diversification within the cannabis space is especially important because of the volatility of these companies. This is a greenfield industry, which means that all management teams are inexperienced with growing and running cannabis companies of this size. I believe that the cannabis market will be a tremendous growth market going forward, but companies will share those gains unequally – some companies will go on to generate hundreds of millions or billions in revenue while others will fall by the wayside. Investing in only a few players in this space risks missing out on the secular momentum behind this industry.
As with any investing, there are many types of diversification. Diversification within cannabis includes geographic diversification, but also diversification beyond that.
Different producers are focused on different niches within the market. The most valuable cannabis companies like Canopy Growth are vertically-integrated and own everything from the greenhouse that plants grow in to stores that cannabis will be sold in. However, there are also more specialized companies in the industry. Some cannabis companies have a heavier focus on growing cannabis itself, like Aleafia (OTCQX:ALEAF). Meanwhile, Emblem (OTCQX:EMMBF) has next-to-no cannabis production and instead purchases cannabis from Aphria, and focuses on converting that raw ingredient into finished goods like cannabis oil, edibles, drinks, medical products, and more. There are also other investment angles like Miracle-Gro (SMG), which is opening a cannabis research facility in British Columbia, or GW Pharmaceuticals (GWPH), which makes cannabis-based pharmaceuticals like Sativex and Epidiolex.
Other types of diversification would include investing in geographically diverse cannabis companies – like adding U.S. holdings to a Canadian portfolio. There are also different focuses even among cannabis growers. For example, Village Farms (OTCQX:VFFIF) may be a strong investment based on a belief that cannabis will be a commodity, as their existing greenhouses could be switched to cannabis production without much expense. On the other end of the spectrum, Supreme Cannabis (OTCQX:SPRWF) focuses on growing premium-quality cannabis that is aimed at cannabis connoisseurs. Their idea is that cannabis is not a commodity and that frequent users will be willing to pay a premium for top-quality cannabis.
I recommend as much diversification within the industry as possible, along all of these axes and more.
SA: What are the differences in cannabis investment opportunities in Canada vs. America? Do you have a preference, and if so, why?
JC: I prefer investments in Canada right now. Because of federal legalization, Canadian companies are going to be much larger than American peers over the next year. Further, Canadian companies have access to American capital markets while American companies do not, and Canadian companies are receiving enormous investments from multi-national corporations like Constellations Brands' $4 billion investment in Canopy Growth. There have also been rumored investments from Coca-Cola (KO) or Altria (MO) in Canadian companies, which would help shareholders of the Canadian recipients.
As a result of this capital, Canadian companies are not likely to stay Canadian for long - they are looking globally, and not just to their local market:
"Canopy plans to use the proceeds to bolster their global leadership position in the cannabis industry by building or acquiring key assets needed to establish global scale. Strategic priorities beyond Canada include the U.S. and the nearly 30 countries currently pursuing a federally permissible medical cannabis program, intellectual property development across medical and recreational opportunities, while also preparing and creating brands and products for the new legal recreational cannabis markets."
Rob Sands, CEO of Constellation Brands, on CGC Q1/FY19 CC
That said, there are still great investments on both sides of the border, and I would not ignore American companies. When American legalization comes - and cannabis reform could be "very soon" according to Fox Business - companies on both sides of the border will benefit.
SA: You've also talked about how cannabis stocks are somewhat of a "gold rush," creating a bubble in certain pockets. Are there areas of the market, then, that you'd recommend investors should stay away from? What are they, and what are the risks there?
JC: I would recommend that inexperienced investors shy away from certain companies and certain types of companies. For example, I have recommended against an investment in Tilray (TLRY) specifically. Their low-float IPO has created share prices that are – in my view – unsustainable and not backed by any fundamentals, be it production capacity or forecast revenue.
I would also recommend that inexperienced investors be very cautious when investing in small or newly-listed cannabis companies. On its first day of trading, Australis Capital (Aurora's spin-off of its U.S. assets) opened at C$10 before falling rapidly - to ~C$2.00 today. I would be very cautious investing in any companies that have small floats, have had high recent run-ups (IGC went from C$1.08 to C$13.00 in 11 trading days), or which are newly-listed. These companies can be extremely volatile and may trade at wild prices detached from fundamentals. That doesn't mean investors will necessarily lose money – many Tilray investors have profited handsomely – but it means those investments will be more volatile than many investors are comfortable with.
SA: The other sector you write about a lot, and that has a significant weighting in your portfolio is technology. Would you call yourself a growth investor, because both sectors seem to lend themselves to that?
JC: I invest in growth companies, but I would not call myself a pure growth investor. I try to combine aspects of both growth and value investing, but I look at price/value offered by a company too much to be considered a pure growth investor. In general, I try not to get caught up in labels. I invest in companies that I believe are attractive investments regardless of whether those companies are considered growth or value companies.
Some of my investments, like my investment thesis for Roku (ROKU) and for many cannabis companies, are based on strong secular growth. However, other investments, like my investments in Corby Spirit and Wine (OTC:CRBBF) and GameStop (GME), are value investments into companies with either low-growth or even negative growth.
SA: What is a favorite cannabis investing idea, and what's the story?
One of my favorite ideas in cannabis is HEXO (OTCPK:HYYDF). HEXO has the security of a sweetheart deal from its home province of Quebec, has supply deals with the three largest provinces, and has a joint venture with Molson Coors that could lead to success in non-alcoholic, cannabis-infused beverages.
HEXO's current enterprise value of ~C$1.5 billion can be justified based on their Quebec supply deal alone. That deal could result in sales of ~45,000-55,000 kg/year of cannabis in three years, for revenue of ~C$250 million. At the EV/Revenue multiples of STZ and MO, HEXO's current price might be justified based on this Quebec supply deal alone.
And that Quebec deal may end up being too small: Quebec has ordered significantly less cannabis/resident than other provinces. In their first year, Quebec ordered only ~7 grams/resident, while neighboring New Brunswick ordered three times as much cannabis. If Quebec needs to order additional cannabis, they are likely to turn to HEXO as both the only Quebec-based supplier to the province and the largest supplier to the province.
In addition to the Quebec deal, HEXO also has supply agreements with the other two largest provinces, British Columbia and Ontario. HEXO also has an investment in Fire & Flower stores, which will put their products on store shelves across Western Canada and Ontario.
In addition, HEXO and Molson Coors have formed a joint venture called Truss to develop non-alcoholic, cannabis-infused beverages. It is speculative to suggest whether or not this joint venture will be successful, but having the backing of Molson Coors – and their knowledge of marketing and distribution in the beverage space – will be a big head-start for HEXO in competing for a future beverages market when edibles are legalized in 2019.
***
Thanks to Jonathan for sharing his cannabis savvy with us on the Roundtable. Check out his author page to read more of his public analysis of the cannabis and tech sectors. And if you're looking for ways to capitalize on legalization in Canada and dive deep into buy-and-hold pot and tech stock ideas with a strong growth trajectory, then consider a subscription to The Growth Operation. Jonathan is currently offering a savings of $30/month or $240/year - a 33% discount off the regular rate. This low price will only last through the weekend, so if you want in, sign up today.
And be sure to follow this account for updates on all things Marketplace!
Disclosure: I/we have no positions in any stocks mentioned, and no plans to initiate any positions within the next 72 hours.
I wrote this article myself, and it expresses my own opinions. I am not receiving compensation for it (other than from Seeking Alpha). I have no business relationship with any company whose stock is mentioned in this article.
Additional disclosure: Jonathan Cooper is long CGC, ACBFF, APHQF, CNTTF, ROKU, CRBBF, GME, HYYDF.