There's a small group of stocks that I'm constantly re-evaluating and I can't make my mind up about them. Lululemon (LULU) has been in and out of my portfolio for over a month now, and with the recent dip in price (down almost -10% over the past week), it's again on my radar.
Lululemon's intangible assets are the most attractive part of its value. Below, I will review how its intangibles differentiate the company from its competitors, then I'll review its growth drivers and risks before diving into the valuation.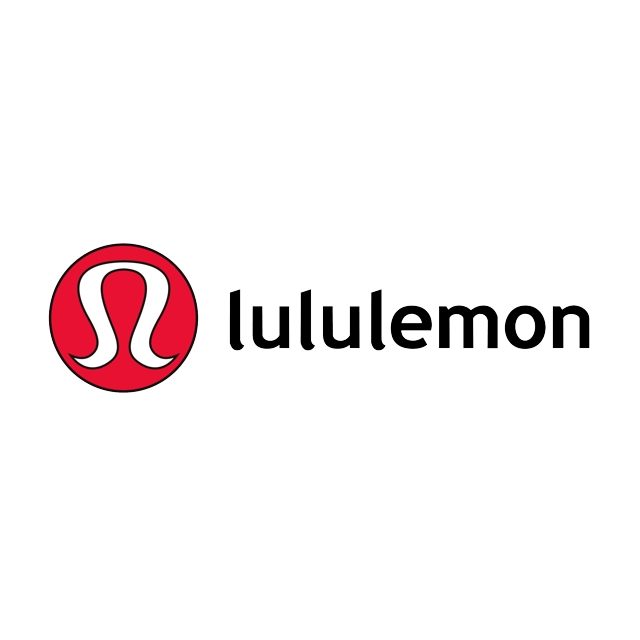 Source: Lululemon
Brand Value
Lululemon is trying to establish itself as a company similar to Nike (NKE), but with a focus on higher quality, fashionable clothing, and the psychological impact of wearing Lululemon. I'll dive into the psychological strategy later, but first, Lululemon's brand is tied to high quality and fashion.
Unlike almost every other athletic apparel company, Lululemon started its brand by marketing towards active women rather than men. Even though Lululemon is admittedly a weird company, it basically created the industry of athleisure wear.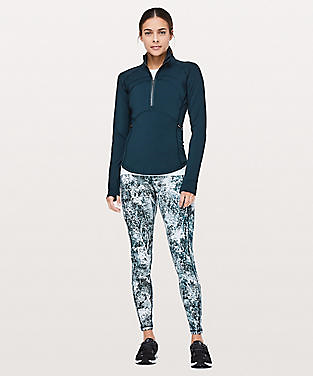 Source: Lululemon
This is why its branding is one of its greatest assets. Lululemon has first mover advantage and is the original athleisure brand.
Lululemon started with a focus on yoga, which is overwhelmingly dominated by upper-middle-class women. Rather than spread to other sports or athletic wear, Lululemon has followed its client base to create clothes for customers outside of the studio.
Bringing it back to an investing standpoint, Lululemon's brand name has allowed it to expand its products to include dresses, jackets, and bathing suits, all while maintaining the premium price tags. Similar to other fashion companies, this allows Lululemon to expand on the strength of its brand name. Customers are willing to pay up for the Lululemon brand. And with both athleisure wear and "chic" wear trending, this is excellent news for Lululemon.
Customer Loyalty
Expanding on the above, this translates to customers becoming loyal to the brand. Lululemon sells clothes, but its brand sells "healthy living". From EVP Miguel Almeida:
"Human relationship is at the core of who we are. It's never been only about physical products but always about creating a community hub as the core foundation."
The core of this strategy means that Lululemon wants to create and utilize a fan base for its products. This leads to the company investing heavily in gathering engagement and customer data to create a community feeling for its brand.
For investors, this means that Lululemon will be able to have a high level of customer engagement and recurring sales. In an article from Barron's, it highlights a finding of a MKM Partners survey, noting:
"Among Lulu shoppers, 19% of males surveyed said they wore the company's clothes on a daily basis, and 10% of females said the same. "In our view, this not only reflects strong brand loyalty, but supports stable athletic wear trends," wrote MKM's Roxanne Meyer in a research note Thursday."
Customer loyalty, driven by investments in customer engagement and branding, will be key to protecting market share from other retailers hoping to enter into an expected $350 billion industry.
Next step? Loyalty program. Lululemon is rumored to start a loyalty program soon, and I believe this is long overdue, especially to reach more discount shoppers. Lululemon won't discount its clothes at risk of losing brand value and alienating its upper-income image, but a loyalty program could help attract new customers looking for value, as well as open up cross-selling opportunities. As I highlighted in my article on Ulta (NASDAQ:ULTA), a retail loyalty program can easily increase brand loyalty, data collection, and the psychological benefits of shopping.
Psychological Effects
As alluded, the psychological factor is by far the greatest asset Lululemon has, and one it must protect at all costs, even if it means a smaller potential market.
What this means is that it can't have a discount rack, clearance sale, or a mass market offering. Exclusivity is a key component to create a fan base.
To sound like an old-fashioned marketing agent, Lululemon sells:
Health
Happiness
Belonging
Wealth
Success
This is how Lululemon is able to sell items with a higher price tag than its competitors. Its brand is associated with yoga and fitness, two industries that are focused on creating positive feelings for consumers.
I'll use two examples. Lululemon focuses on attaching its brand not only to yoga and fitness, but also to the feelings associated with it. Wearing an athleisure outfit can give you similar feelings as a workout does. This is what allows Lululemon to sell attire for the gym, and for outside the gym. A company that can sell happiness will have an edge.

Source: The Atlantic (link here)
The other example is how Lululemon designs its clothes. As mentioned before, Lululemon is a weird company that gets into odd public relations scenarios. Regardless of whether this was good or bad marketing, Lululemon sells good health, which translates to body image. This comes in two parts: 1. Lululemon clothes are not only a status symbol for wealth, but also one for health. Its clothes, even the jackets, are form fitting, which specializes in highlighting the body. 2. The material and clothes are designed to make the consumers look skinnier, another selling point based on psychological impact.
Lululemon isn't just selling its outfits. It's selling wealth, happiness, and health. As long as it is able to maintain this brand image, the company will be able to utilize its intangible assets to drive its growth.
However, this also means increased spending and overhead for the department stores, marketing spend, and material costs, which I'll cover in the risks section.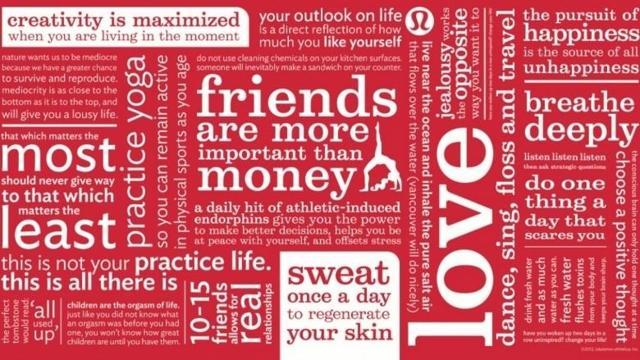 Source: Lululemon Manifesto
Growth Drivers
Lululemon's share appreciation has been driven by high levels of comparable sales (20% growth) and direct-to-consumer sales (48% growth).
The company has a strong customer base, so cross-selling new products to its customer base will continue to provide growth opportunities. Also, the implementation of a loyalty program will also be a huge driver.
The two main growth drivers are sales to men, and e-commerce sales. Lululemon is planning to take high-income young male consumers away from other athletic retailers like Nike, and offer them stylish and exclusive clothes. Two quotes from management in the earnings call highlight its success with men:
"Our men's business continues to accelerate, reaching a total penetration of 22% in the quarter with great new styles planned for the second half. And looking forward to fall, we're really excited for the expansion of our outerwear business. Despite the heat in August, we're already getting great initial reads on our early jacket and outerwear offerings."
And regarding how Lululemon is attracting men:
"In Q2, we opened up 7 co-located stores, and they are averaging over 40% growth and close to 70% growth in men's in particular since open. This gives us confidence as we look to open an additional 18 this year and more into next as well."
Apparently, physical stores are an exceptional way to target the male consumer. As its male business picks up, the company will likely be able to convert men to higher-margin e-commerce sales. Tracking its success in male clothing will be imperative, especially in two quarters, which will cover holiday sales and outdoor wear season.
Another strategy Lululemon may take is celebrity endorsements for men. Again, it won't be able to have such a large number of athletes like Nike and Under Armour (NYSE:UA) (NYSE:UAA) because its brand image relies on being exclusive, not mass appeal. However, a celebrity such as Tom Brady, Idris Elba, or Michael Fassbender, basically any celebrity that focuses on "class" as part of their brand, will be what Lululemon looks for. After all, Lululemon is known for women's clothes, so there is still a need to change its image. Longer term, international sales will become a growth driver as well.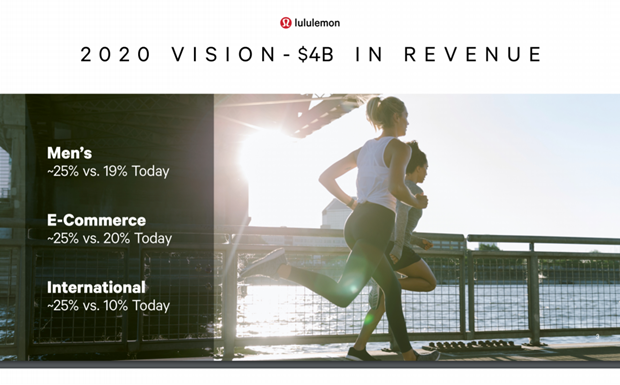 Source: Lululemon
Risks
While there are many competitors, most are targeting different demographics. Athleta by GAP (GPS) is an upcoming competitor, but GAP's brand name and its use of discounts and sales don't invite the same atmosphere as Lululemon. Fabletics is a bigger concern, already backed by Kate Upton and Demi Lovato.
I'm not sure how Lululemon would handle a recession. Its margins and brand name are driven by their premium prices, and even though demand will still be there, customers may go back to Athleta or Nike instead. However, Lululemon's investments in social media, loyalty programs, and engagement are attempts to drive the psychological factor, which could help its defensive attributes.
All of the above analysis has been based on intangible assets. While these all create a strong competitive advantage, these assets aren't secure, meaning a couple of bad PR moves, another product failure, or poor management decisions could all dilute its brand image, similar to what happened to Michael Kors (KORS) for example.
In line with this, Lululemon will have to spend money to protect its assets. This will mean that the company will need to remain trendy and fashionable, which are both factors that change rapidly and without warning. To do this, Lululemon has to not only spend on quality materials and invest in athletic performance studies to ensure its products feel and perform better, but also spend on marketing to create high levels of engagement and customer experience. Luxury shouldn't look cheap. Due to the nature of these investments, failing to create an exclusive atmosphere or failing to be trendy could seriously lower its brand value.
Also, the brand image is reliant on selling wealth, happiness and health. If upper-middle-class consumers either find another brand or feel recession constraints, this could hurt Lululemon, especially since switching to mass appeal isn't a smart option either. If a recession also causes consumers to reevaluate their spending on fitness and higher costing healthy options, this may inadvertently affect Lululemon.
Valuation
Lululemon's valuation looks more attractive than it did a week ago, and may continue to sink with the market.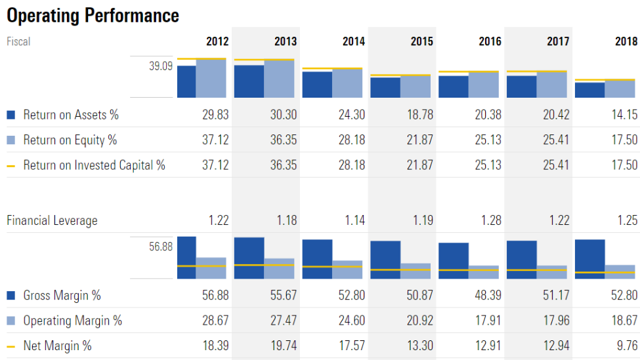 Source: Morningstar
Both margins and ROIC have been decreasing. ROIC is likely depressed due to investments in international and men's markets, with results still to be determined. Gross margins are also down, likely due to constantly needing to innovate for higher-quality products, and introducing men's clothing, although this is recovering.
These metrics would be more concerning if it weren't for the beat and raise quarter the company had, with 20% revenue growth. Also management has been clear about its strategy of investing heavily in e-commerce, the men's market, internationally, and physical store expansion. Investors will give management leeway when it is properly informed of what to expect.
With this said, margins should begin to slowly increase back to the mid-teens within a year or so, or else management will need to explain itself.

Source: Seeking Alpha
I wanted to cover operating performance before valuation, because with that context, Lululemon isn't as overvalued as it appears. Planned margin depression for aggressive growth has inflated P/E ratios, and a return to the historical valuation ratios shouldn't be expected because of this. The growth drivers are leading to revenue growth rates near and above 20%, and along with net margin growth recovery, the company can bring down the P/E ratio very fast.
Similar to many investments, investors need to decide if Lululemon will be successful in its growth strategies, including analyzing whether its entry into international and male markets, and its e-commerce growth, is sustainable. If these growth drivers are successful, the P/E ratio will look like an excellent deal at the present. However, if management is too slow in raising net margin back up, or revenue growth slows down too early, Lululemon will not be able to support its valuation and will come down, perhaps close to Morningstar's fair value of $77, which is interestingly low.
Interest Takeaway
As mentioned before, Lululemon's growth drivers are easy to see, and the company is performing so far. The main factor in whether it succeeds however is whether its intangible assets remain as valuable as they are now. Brand dilution as a result of aggressive growth is the number one risk for Lululemon.
It will be interesting to see how low the sell-off takes Lululemon. As of this writing, I do not own the stock, but I am very interested in a buying opportunity. The company's founder has also released a book recently, and I don't believe this will lead to positive news, if any, for Lululemon.
If Lululemon is able to complete its corporate strategy before a recession, its intangible assets will provide defensive protection through psychological effects and a loyal customer base. However, there will be price pressure from upstarts and Nike, and Fabletics is growing as well. Lululemon does have a path to growth, and will need to continue to execute.
Disclaimer: The above references an opinion and is for information purposes only. This information is general in nature and has not taken into account your personal financial position or objectives. It is not intended to be investment advice. Seek a duly licensed professional for investment advice. Past performance is not an indicator of future performance.
Disclosure: I/we have no positions in any stocks mentioned, but may initiate a long position in LULU over the next 72 hours.
I wrote this article myself, and it expresses my own opinions. I am not receiving compensation for it (other than from Seeking Alpha). I have no business relationship with any company whose stock is mentioned in this article.