TG Therapeutics' ublituximab showed treatment benefit in mid-stage MS study
Nanocap TG Therapeutics (TGTX) announced positive results from a phase 2 study of its lead candidate ublituximab (TG-1101) in patients with relapsing multiple sclerosis. Patients saw only annualized relapse rate of 0.07, and at week 48, 93% of patients were relapse free. For a less than half a billion dollar company trading near its 52-week lows, with $136mn in cash and almost $100mn in annualized cash burn, this is good news indeed, and makes for an interesting investing opportunity.
TG-1101 is a "next generation" anti CD20 antibody that has shown treatment benefit in rituxan refractory patients, a class of MS patients with poor prognosis. It has a shorter infusion period than all other anti CD20 antibodies.
Other parameters of the trial were also satisfactory. Lesions that appear in MRI scans of MS patients, called T1 Gd-enhancing lesions, were completely eliminated at week 24 and the effect was sustained at week 48, demonstrating treatment benefit of the monoclonal antibody. The other type of MRI detected lesions, the T2 lesions, also reduced 10.6% in volume at weke 48. 17% of patients treated met the criteria for 24-week Confirmed Disability Improvement (CDI) at week 48.
The trial compared TG-1101 to Ocrevus and the drug showed marginally better efficacy profile to the latter, as follows: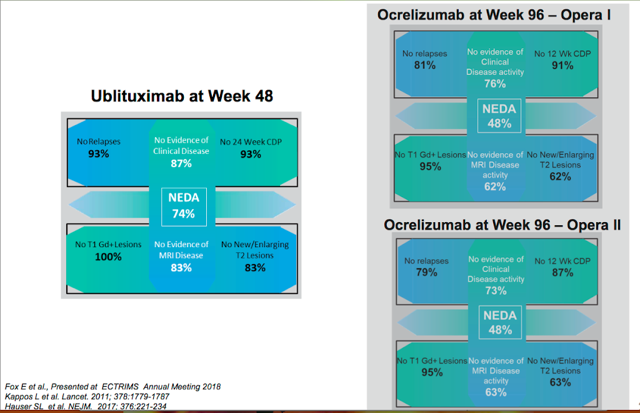 TG-1101 had a poor show lately when it announced that its phase 3 trial in CLL in combination with its other candidate umbralisib will not continue with the accelerated approval process. This happened because the company backed off from its previous primary endpoint of ORR as the IDMC refused to use immature ORR data to vote for a continuation of the trial. The company now has PFS as the secondary endpoint, there's not going to be accelerated approval, and data will be released in 2019 instead of earlier this year, as had been maintained. The stock lost significant value on this news in September.
So the positive data from the present trial is like a backup plan, and an opportunity for investors to get in on the game at a low price, assuming they believe in the potential of ublituximab in MS.
Iovance Bio expects to file U.S. marketing application for lead candidate in H2 2020
Iovance Bio (IOVA) announced that its end of phase 2 meeting with the FDA went well, and the company expects to file an NDA for lead candidate LN144-01 in second half of 2020. The company will add anew cohort of upto 100 melanoma patients, thus delaying the process somewhat. So, while the company thought it went well, investors were unhappy with the delay and shares went down marginally. A 37% ORR was observed in preliminary results in advanced melanoma patients previously treated with a PD-1 inhibitor and a BRAF inhibitor for those patients with a BRAF mutation.
Selected Other News:
Disclosure: I/we have no positions in any stocks mentioned, and no plans to initiate any positions within the next 72 hours.
I wrote this article myself, and it expresses my own opinions. I am not receiving compensation for it (other than from Seeking Alpha). I have no business relationship with any company whose stock is mentioned in this article.