Each quarter, AeroAnalysis provides an estimate on Boeing's (BA) earnings. One of the key elements in our model estimates are the revenues of the Commercial Airplanes segment. Because this segment is so important to Boeing, but also in our model, we are now sharing our estimates for the revenues separately. The model calculates the revenues based on our pricing assumptions for aircraft and the delivery volume. In this report, we have a look at the orders and deliveries per type during the quarter and their value, and we will discuss whether the order inflows during the quarter were appreciable and whether the deliveries were in line with what you could reasonably expect based on production rates.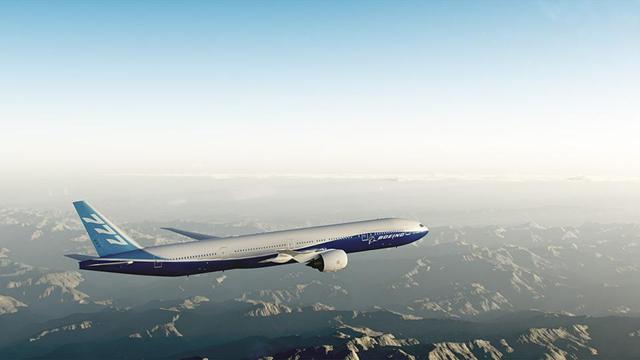 Source: Boeing
Deliveries
Table 1: Projected deliveries Q3 2018 using production rate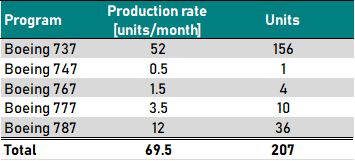 Based on communicated production rates, we'd expect 207 deliveries. Typically, we see deliveries pick up towards year end, so actual deliveries are a bit lower in the first half of the year and pick up pace. What this basically means is that in the third quarter, deliveries should be higher than what the average monthly production multiplied by 3 would suggest. Corrected for this, we should see around 215 deliveries in Q3 2018.
Table 2: Actual deliveries Q3 2018 versus the deviation from the corrected estimate

What we see is that with 190 deliveries during the third quarter of 2018, deliveries did fall behind expectations. The number of actual deliveries is lower than the production rate and lower than the corrected estimate. What we're seeing shouldn't come as a surprise; Boeing 737 deliveries actually are the cause of the shortfall, while Boeing 747 and Boeing 777 deliveries offset lower Dreamliner deliveries. This is in line with what you would expect knowing that Boeing had a production emergency that started showing some months ago.
As many of you know, I focus on the aerospace industry and especially the commercial aircraft industry. I didn't pick Boeing or Airbus (OTCPK:EADSF) (OTCPK:EADSY) as names to cover because they perform well, but because this is my field of expertise. Being committed to a niche means that I have gathered a lot of information and built some tools that should allow me to even further improve premium content as well as regular content, even though Seeking Alpha already is the best platform for aerospace investment research. One of the tools that I built is the valuation tool for orders and deliveries. This tool allows us to process the monthly order announcements, but also allows us to value the deliveries. Where possible, we bring some "premium taste" to the regular platform. This time we do this in the form of sharing the value summary from our valuation model with you.
Table 3: Output AeroAnalysis valuation tool Boeing Q3 deliveries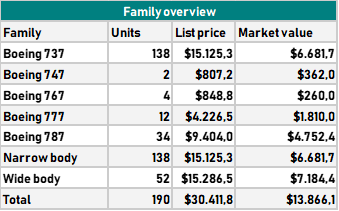 What we see that the Q3 deliveries are valued $30.4B at list prices and $13.9B after discounts. This is an important output that we will be using for our Q3 earnings estimates. What we also see is that wide-body jets make up for 52% of the delivery value while they make up for only 27% of the delivered units. Compared to last year, it seems that the delivery value is roughly $1B lower.
Orders
Boeing also received commercial aircraft orders during the quarter. What we found is that order inflow and deliveries were balanced nicely. Boeing received orders for 137 narrow-body aircraft and 57 wide bodies while it delivered 138 narrow-body aircraft and 52 wide-body jets. The value of the orders was $30.1B at list prices and $15.4B after discounts. So the book-to-bill during the quarter was close to 1 and in terms of market value even higher than 1 due to an order for 18 tankers.
Conclusion
Boeing will be satisfied with the deliveries in the third quarter despite deliveries still lagging behind what you should be expecting for a third quarter. At the start of the year, there were some concerns about BA being able to meet its delivery target as Boeing 737 and Boeing 787 deliveries were fairly low. However, the H1 deliveries were meeting expectations, so Boeing was able to recover each time at quarter end. That is not the case in Q3 as our figures show. This has already been expected as Boeing said Q3 deliveries would be affected by the supply chain issues it faces on the Boeing 737. The jet maker expects full recovery in Q4.
Overall, we remain positive on the commercial aircraft market and ability for both jet makers to benefit from this growing market.
If you enjoyed reading this article, don't forget to hit the "Follow" button at the top of this page (below the article title) to receive updates for my upcoming articles. Join the AeroAnalysis Marketplace service for early looks and detailed reports.
Disclosure: I am/we are long BA, EADSF.
I wrote this article myself, and it expresses my own opinions. I am not receiving compensation for it (other than from Seeking Alpha). I have no business relationship with any company whose stock is mentioned in this article.