Goldman Sachs' (GS) quarterly earnings calls have followed a pretty standard structure: the only executive on the line is the CFO. With Lloyd Blankfein never on the call, it always felt that more could have been done to give information to analysts and investors, particularly when it became apparent that Marty Chavez wasn't completely suited to the role of CFO. With a whole new executive team in place, there may be more than just a solitary voice on the line.
With the calendar third quarter earnings release expected next week, here are the key points that investors should be watching for.
Management's new strategy
The reason why I opened this article by discussing how earnings calls have traditionally been run by Goldman is because I believe David Solomon will use this as his first opportunity to publicly communicate his leadership strategy as CEO. Based on what has already been said, we can expect the following:
Expansion of the consumer banking business.
Squeezing more out of existing business units, most likely asset management.
Expansion of the technological side.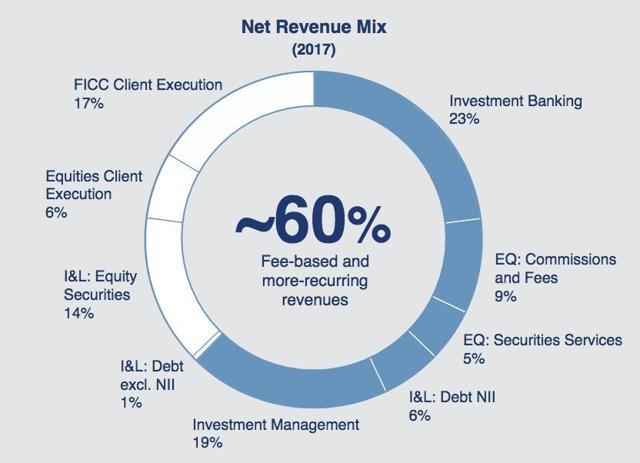 Goldman's strategy under David Solomon will be to increase the fee-based and recurring revenues. Source: Goldman Sachs
Will the change be immediate? Probably not, because Lloyd Blankfein will remain as Chairman until the end of the year before David Solomon takes on that role too. Therefore, while new strategy signals will be made over the next few months, implementation should really begin in 2019.
Significant departures and what the effect may be
While senior departures aren't uncommon with a change in leadership, it's worth highlighting the overhaul of staff over the past few weeks:
These three departures all come from the sales and trading business.
In an earnings preview report on JPMorgan (JPM), I included the chart below which highlights the development of the sales and trading businesses at three bulge-bracket investment banks.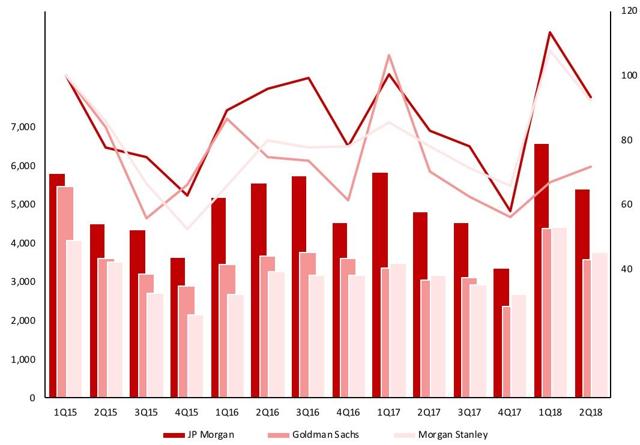 Sales and trading revenues (bar chart, left-hand axis) and normalized revenue growth since 1Q15. Units: $ millions (left). Source: JPMorgan, Goldman Sachs, Morgan Stanley investor relations.
Let's now drill down further into what Goldman Sachs was traditionally famous for: fixed income trading. Over the past few quarters, Goldman's business has performed much like Morgan Stanley's (MS).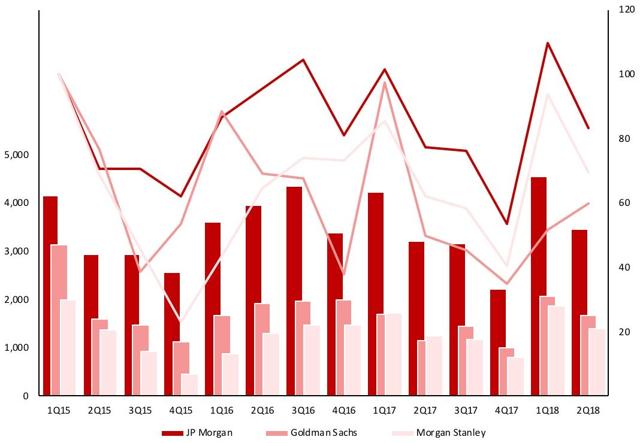 Fixed income sales and trading revenues (bar chart, left-hand axis) and normalized revenue growth since 1Q15. Units: $ millions (left). Source: JPMorgan, Goldman Sachs, Morgan Stanley investor relations.
The first two departures listed above come from fixed income backgrounds, so it appears that Solomon's team is looking to rejuvenate the business, and sales and trading as a whole. I expect that this business line will be a major part of the discussion in the earnings call.
Asset management is a key priority for growth
An issue with Goldman Sachs is that revenues are very volatile, and that contrasts with JPMorgan and Morgan Stanley, which both have relatively more stable revenues. JPMorgan generates a lot of revenue from its banking business while Morgan Stanley derives stability from wealth management.
For Goldman, the most stable business line is asset management. However, as of 2Q18, it only accounted for 19.6% of total revenues. It's my expectation that David Solomon will prioritize the expansion of GSAM in order to stabilize revenues further.
I recently wrote a report on how the firm is likely to do this – which I won't repeat here – but the conclusion is that it will most likely acquire a firm. But in order to achieve the desired revenue stability, it would have to acquire a large manager with over $1tr under management. That effectively limits the potential acquisition pool to just a handful. Based on what has been said, an expansion of the firm's existing alts business would be the most desirable trait for a potential acquisition.
It's something that should be addressed in the conference call, although likely just that the firm is looking at ways to boost the unit's revenue.
Growth in the Marcus business
Continuing the theme of generating more stable revenues, Goldman Sachs need only look at JPMorgan to see how consumer banking benefits in the top and bottom line. In the past two years, Goldman's consumer banking business, Marcus, has already become the fastest-growing online lender in history.
Progress has been promising so far. But there is a lot more that can and will be done. Investors should be looking for continued growth in Marcus deposits in the third quarter, which I expect will have hit $27bn. There should also be discussion about the launch of Marcus in the UK, and whether there are plans for further international expansion.
I'll write a review of the earnings release soon after they're published. Readers can find my other calendar Q3 earnings previews and reviews of asset managers and investment banks here.
Disclosure: I/we have no positions in any stocks mentioned, and no plans to initiate any positions within the next 72 hours.
I wrote this article myself, and it expresses my own opinions. I am not receiving compensation for it (other than from Seeking Alpha). I have no business relationship with any company whose stock is mentioned in this article.